Growing up we definitely had a set few meals that we would rotate through regularly; chicken enchiladas, pizza benders, spaghetti (with marinara or carbonara), tacos, and bbq chicken. They were all delicious meals, and we were all happy to eat them over and over again because we liked them so much.
When we had BBQ chicken I remember that we almost always had it with baked potatoes as the side dish. Perfection.
This meal is a perfect combination of that. A baked potato with shredded barbecue chicken on top. Plus whatever other toppings you might like added too. (Ps. I ended up not loving the sour cream with the bbq chicken, just fyi)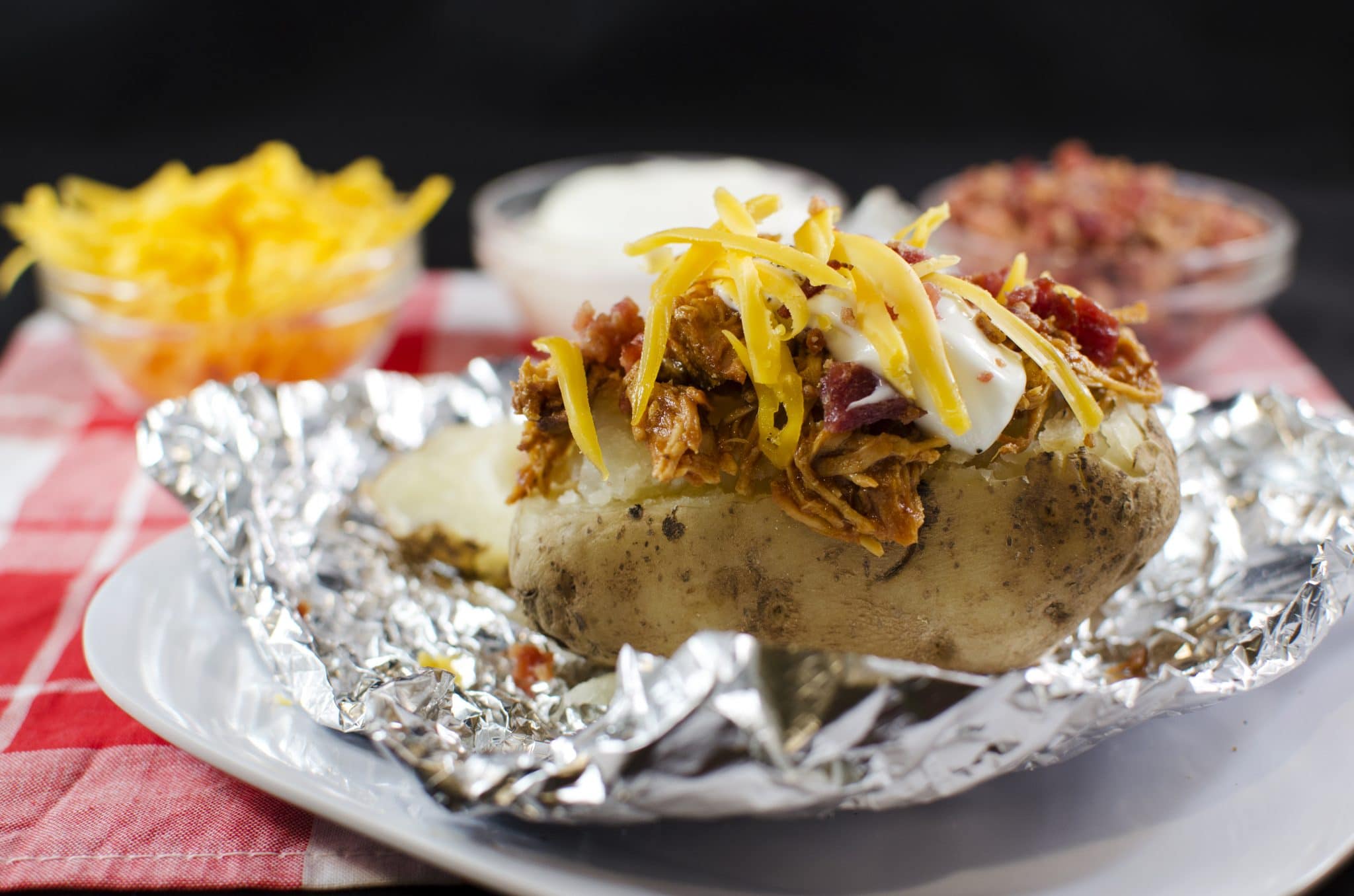 I cooked the chicken in the crock pot all day, and I ended up making WAY more than we needed, but shredded bbq chicken is a great thing to have leftover for bbq chicken pizzas, or sandwiches or whatever else you might want it for. So here's the amount of chicken I made, but it makes a lot.
3 large chicken breasts
2 cups water
1 cup bbq sauce
1/4 cup brown sugar
potatoes (1-2 per person)
butter
salt and pepper
shredded cheese
bacon bits
sour cream
chives/green onions
etc.
1. Put chicken breasts, water, bbq sauce and brown sugar in your crock pot. Cook on low for 6-7 hours or on high for 4-5 hours.
2. An hour and a half before you want to eat, preheat your oven to 350 degrees.
3. Wash your potatoes and stick them with a fork a few times.
4. Cover potatoes in aluminum foil and bake in oven for about 70 minutes or until soft. (Or for instructions on how to microwave bake a potato go here)
5. Shred chicken in crockpot using 2 forks. Drain excess liquid out. Add more bbq sauce if desired
6. Cut baked potato open and top with a little bbq chicken, bacon bits, cheese, or whatever toppings you'd like.
Enjoy.