Mmm. I love salad. Is it weird that salad is one of the things I've "craved" during my pregnancy? Actually I take that back – I don't feel like pregnancy cravings are real. Maybe I'm ruining this excuse for all women out there, or maybe its just me, but I haven't had any stronger cravings since being pregnant than I had before I was pregnant. Like, some days non pregnant me thought – mmm pizza sounds good for dinner, and sometimes pregnant me thinks – mmm pizza sounds good for dinner. Or salad, yum salad sounds good for dinner. But I have wanted sour patch kids too. But like I said, I personally haven't had any of those – oh I need ice cream or a burger or french fries, right now.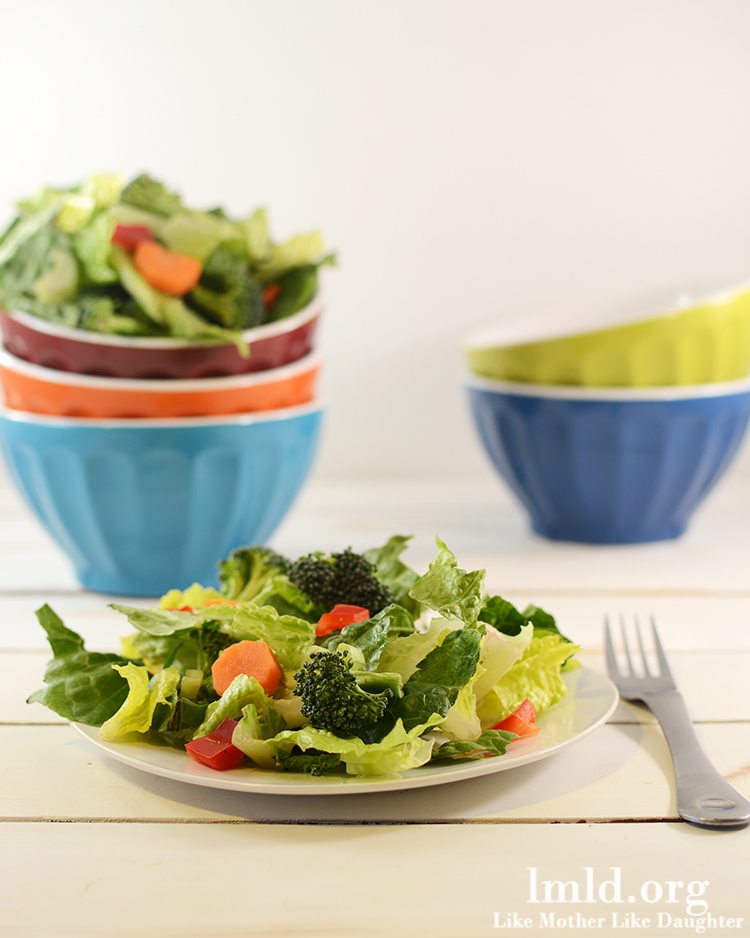 Anyway, I have wanted salad. And this salad is so easy to throw together. Just a few healthy and natural (all vegetables) ingredients. Just prepare them, clean em, chop em up, toss em together. And the great thing too about salads is you can put whatever veggies you want in your salad. But this is what we had, and what I like too. We added carrots, broccoli, celery and red pepper. You could also top your salad with croutons, and that might help your husband to want to eat it too.
Easy Side Salad
Ingredients
1 head of romaine lettuce
1 large carrot, peeled and sliced
2 celery stalks, sliced
1 red pepper, diced
1 broccoli floret, chopped
Directions
Prepare all your ingredients. Rinse, dry, peel, slice, dice, etc.
Mix all your ingredients in a large mixing bowl.
Serve salad with a variety of dressings.
http://lmld.org/2014/01/17/easy-side-salad/
Enjoy this healthy salad as a side dish to any main dish your having.