This is the perfect appetizer of baked goat cheese spread with a bit of spice from chili oil and roasted tomatoes use with crackers or toast or eat straight from a spoon.
Pin this baked goat cheese spread for later.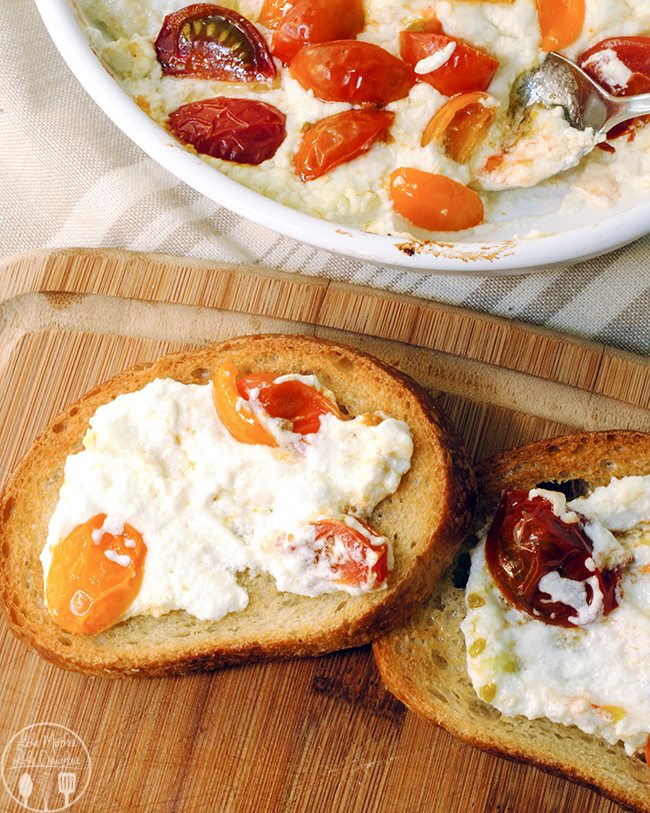 I love goat cheese! Love, love, love goat cheese. Sometimes I wonder where it has been all my life.
Honestly I did not realize what a sheltered food life I lived while growing it. I guess we were your typically meat and potato family with the occasional exotic foods of spaghetti and tacos throw in. I now realize only ordering hamburgers at any and every restaurant as a child really limited my experiences. Thank goodness I have widen my experiences and opened my taste buds to a bit more.
And of course goat cheese is right up there as a gift to those taste buds. I could just eat it in spoonfuls but I don't. Well, I may have with these baked goat cheese spread. Normally I eat my goat cheese plain or with a little honey on figs, crackers, or toast, and sprinkled on top of salads. But since discovering this baked goat cheese spread it has become my newest favorite, Craig even loved it (which he isn't opposed to goat cheese he just doesn't love it like I do.) And I am sure you will too. But if you are a little bit food life sheltered let this baked goat cheese spread be the first to open those taste buds up.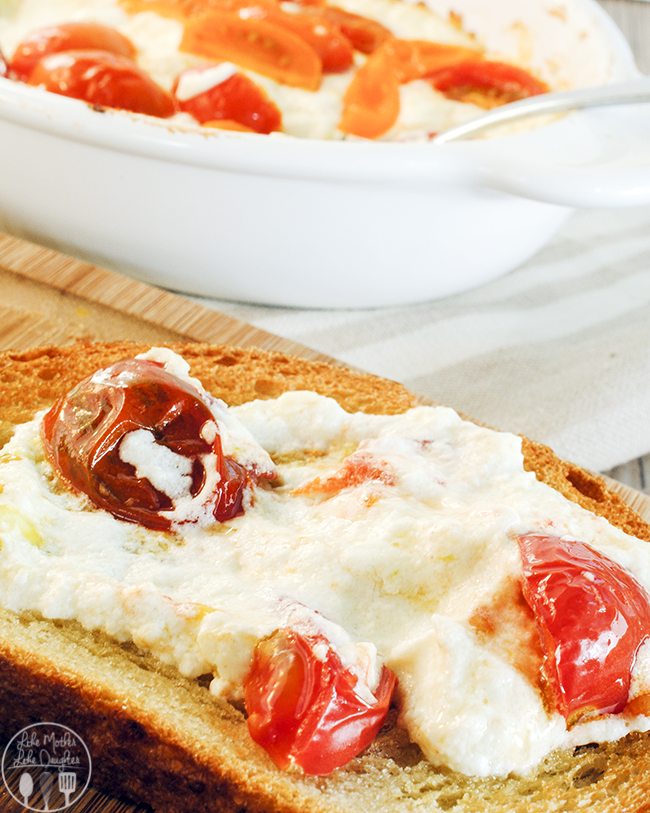 It is quite easy to make. There is the preparation of making the chili oil, which is simple in itself with a little olive oil and dried red pepper chilis simmered together.  This baked goat cheese spread only uses a couple of teaspoons so store the rest of your chili pepper oil in the fridge for another time.
Then it is just a matter of putting everything together in an oven proof bowl, bake for a 5 minutes, broil for 3 and you are ready to dive right in. Spread the baked goat cheese over crackers, toasted sourdough, or eat by the spoonfuls. You will love it.

Baked Goat Cheese Spread
Ingredients
6 to 8 ounces goat cheese
5 to 7 cherry tomatoes
1 to 2 tsp chili pepper oil
Instructions
To make chili oil - in a saucepan add ¼ cup olive oil and 1 to 2 tsp dried red pepper flakes
Simmer for 5 minutes, remove from stove top to cool.
Preheat oven to 350 degrees
Spread goat cheese in a 1 cup ovenproof bowl with at least an 1 inch lip
Quarter cherry tomatoes, spread all over goat cheese
Drizzle 1 to 2 tsp chili pepper oil over tomatoes and goat cheese
Bake for 15 minutes
Turn oven to broil and broil for 3 to 5 minutes
Serve warm over a good bread (I used sourdough slices) toasted with a little butter