Oh, how I love a good banana bread.  This one just took it to the next level by making it into a banana blueberry bread..  I combined two recipes taking the best of each part and made one. The original 2 recipes are found here – Coconut Banana Bread with Lime Glaze and  Sugar-free Blueberry Banana Bread.  The spelt flour idea came from my sister in law's blog Grain Crazy because she is always using new kinds of flour.  I loved that I have been able to find all kinds of flour at my local WinCo store in their bins section.  I believe you could use all purpose completely or perhaps a little whole wheat instead of the spelt. I believe it is the addition of blueberries and coconut that makes this just so, so good.  I have fallen for these two flavors a lot lately, using them in so many good ways.  The blueberries I have been adding to salads, pancakes and my mouth.  The coconut to more cookies than I ever really need to eat.  I hope you will enjoy this recipe, I think it is delicious and wish I was not giving the loaf away.
Banana Blueberry Bread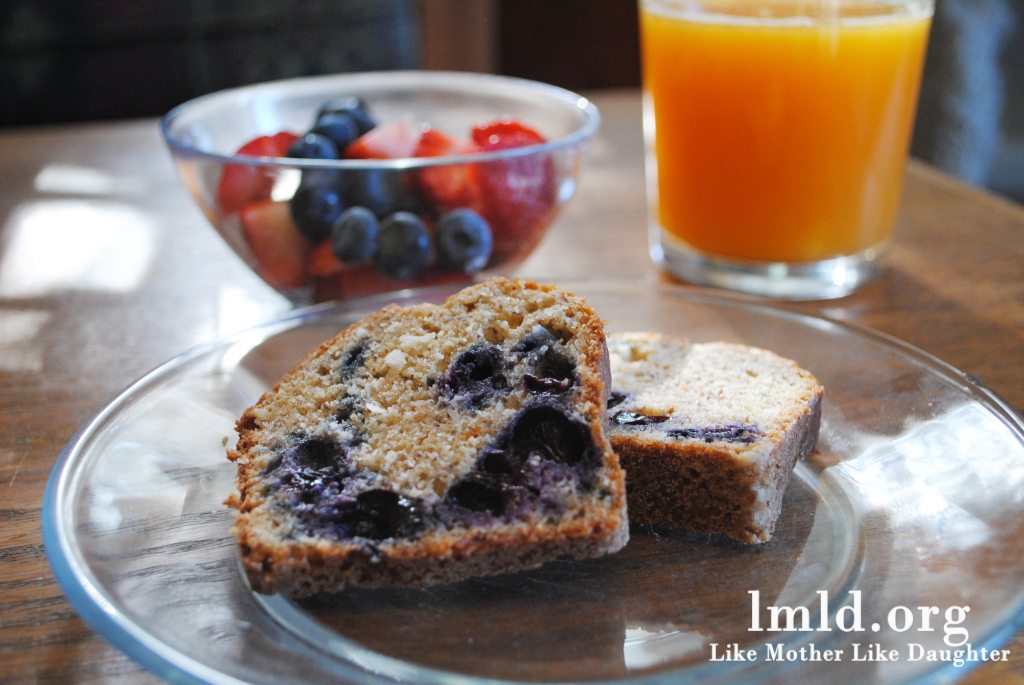 Ingredients
1½ cups all purpose flour
½ cup spelt flour
1 TBS. flaxseed
¾ tsp baking soda
½ tsp salt
1 cup sugar
¼ cup melted butter (this probably made all the difference but I always prefer applesauce but did not have any)
2 eggs
3 small to medium bananas
1 6 oz container peach Activa yogurt (use whatever yogurt you have, it just adds a new dimension)
1 tsp vanilla
½ cup flaked sweetened coconut
1 cup blueberries
Instructions
Preheat oven to 350 degrees. Grease and flour 1 9×5 loaf pan.
Melt butter and mix in sugar. Add eggs one at time and mix in well.
Add bananas and mash while mixing in.
Add yogurt and vanilla and blend in well.
Add flours, flaxseed, baking soda and salt. Blend in well.
The first few steps you could use a hand mixer but now just gently stir in with a large spoon the coconut and blueberries.
Pour into greased loaf pan and bake 55 to 60 minutes, until knife inserted in the middle comes out clean. Mine took 60 minutes. I had enough for 1 mini loaf also that took 55 minutes to cook.
Cool in pan 5 to 10 minutes, remove gently and cool on wire rack. After cooling, serve and eat.