This bruschetta chicken combines the perfect flavors of tomato bruschetta on top! Its garlic seasoned chicken breast, topped with chopped tomatoes, basil and balsamic vinegar for an amazing lighter meal you'll love!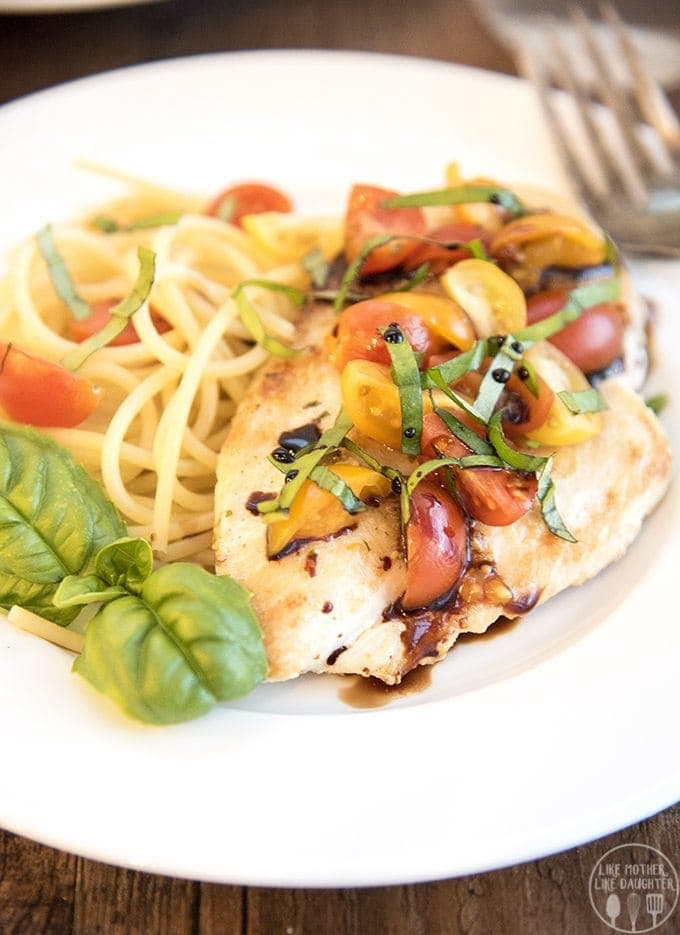 Confession time, I don't like tomatoes. Okay, that's a bit of a generalization, but generally I don't like tomatoes. I like ketchup, I like salsa, even fresh salsa with chopped up tomatoes, but I don't want tomatoes on my burgers, or sandwiches, or in my salads. But recently I've been converted to fresh chopped up tomatoes on bruschetta.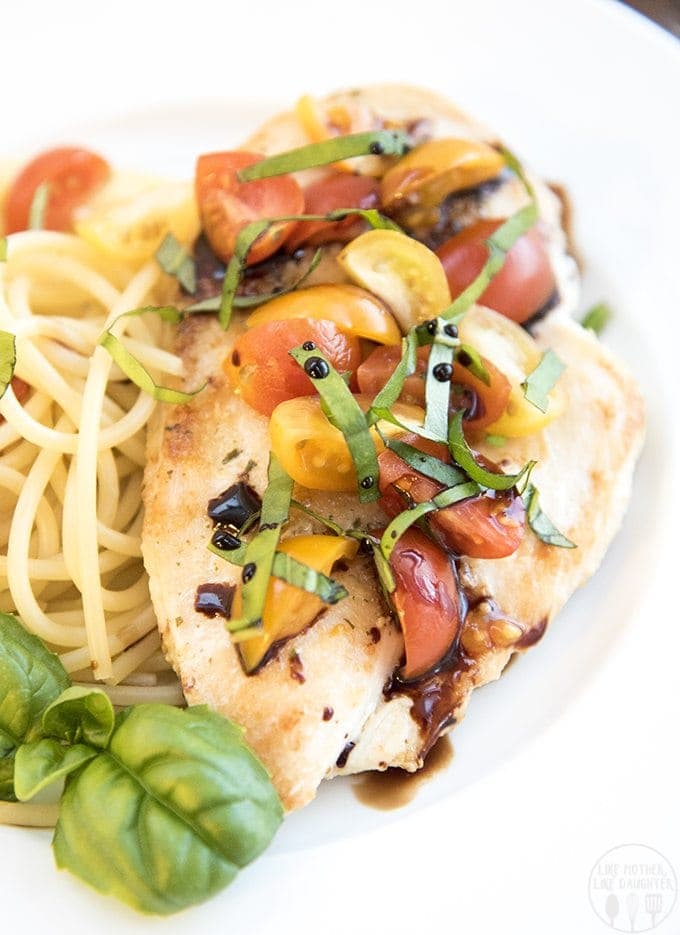 Nate and I sometimes like to do a late dinner together after Colby has gone to bed, so we can have a little date night in. We make something a little nicer than our traditional dinners. And the other night when we had our dinner and we made tomato bruschetta and bruschetta chicken. Both were amazing, and although "fancier" they're ready with just a few minutes of prep. I've re-made them both multiple times since for dinner, or lunch too.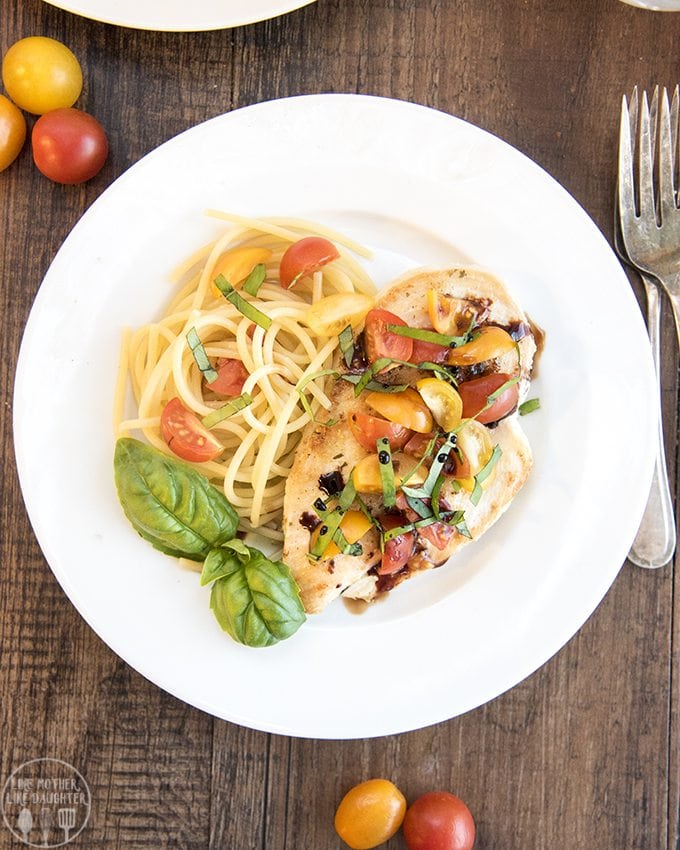 So basically, this bruschetta chicken is a delicious sauted chicken cooked in a little olive oil and seasoned with garlic salt. Top the chicken with chopped tomatoes (I really like a mixture of small tomatoes for this, cherry tomatoes, grape tomatoes, etc – I like a mix of the red and yellow and orange ones.) Then sprinkle it with fresh sliced basil and drizzle with a balsamic vinegar reduction. Its seriously one of my favorite dinners lately!
Bruschetta chicken is a perfect lighter meal, and great paired with a side of cooked pasta too. Its basically what you'd find on top of sliced crostinis for bruschetta, but on top of chicken instead!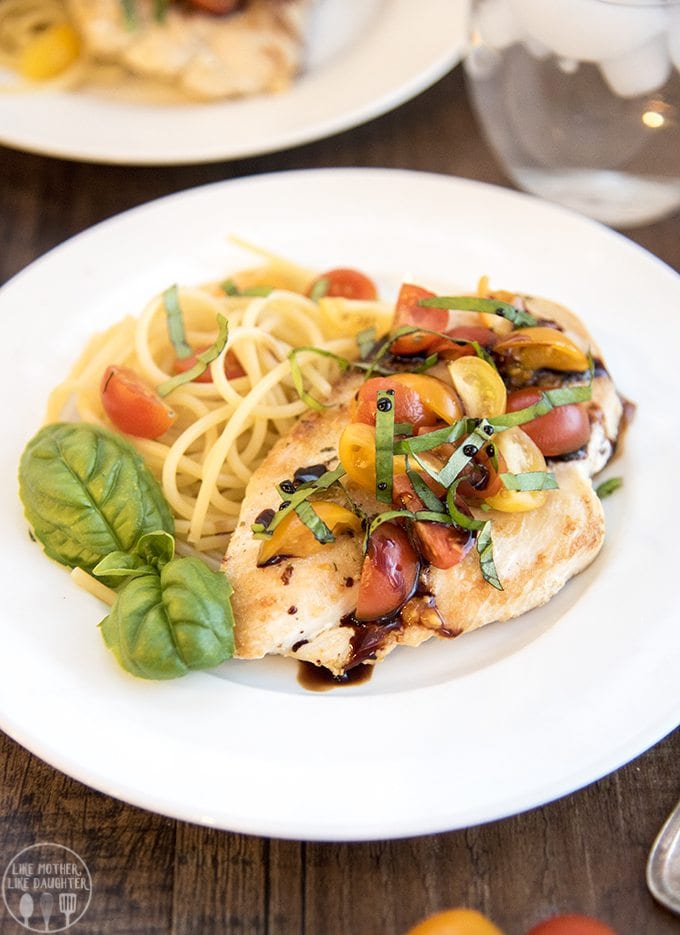 Bruschetta Chicken
Ingredients
1 TBS olive oil
4 chicken breasts
½ TBS garlic salt
½ cup chopped tomatoes
¼ cup chopped fresh basil
½ cup balsamic vinegar
Instructions
Heat olive oil over medium high heat in a large saute pan.
Sprinkle all sides of each chicken breast with garlic salt. Place in preheated pan.
Cook chicken for 5-6 minutes until cooked half way through (depending on thickness of chicken) and flip.
Continue to cook until chicken is cooked through and reaches an internal temperature of 165.
While chicken is cooking prepare tomatoes and fresh basil and set aside.
Pour balsamic vinegar into a small pot over medium heat.
Once boiling reduce heat, and simmer for about 5 minutes until thickened slightly, stirring occasionally. It is reduced when it coats the back of a spoon.
When chicken is cooked, spread tomatoes over the top evenly, sprinkle with fresh basil, and drizzle balsamic reduction over each piece.
Serve immediately.