This cheesy garlic pull apart bread has melted mozzarella and garlic butter stuffed into the cracks of the bread, so every bite, is garlicky, cheesy goodness!

This shop has been compensated by Collective Bias, Inc. and its advertiser. All opinions are mine alone. #EatLightEatRight #CollectiveBias #ad

Pin this cheesy garlic pull apart bread for later.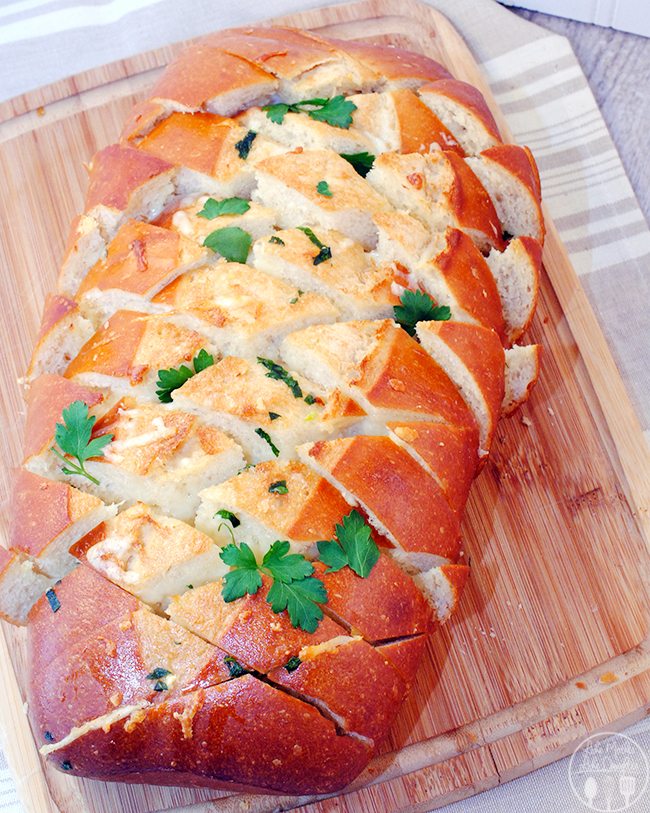 Comfort food, family time, heartwarming, healthy, well balanced meal, quick and easy.  I am always seeking for a dish that fulfills all of those descriptive words. And sometimes it is really hard, really really hard. But I discovered that with Progresso® Light Soups, it isn't that hard.  Soup really brings to mind comfort and heartwarming and family, with Progresso® Light Soups such as their Light Italian Style Meatball or their Light Italian Style Vegetable and this simple cheesy garlicky bread I can have a perfectly well balanced healthy meal in no time.  Throw in a side salad and you have it made but your soup covers your vegetables because it is packed with pasta, vegetables, a light tomato base broth, and meatballs.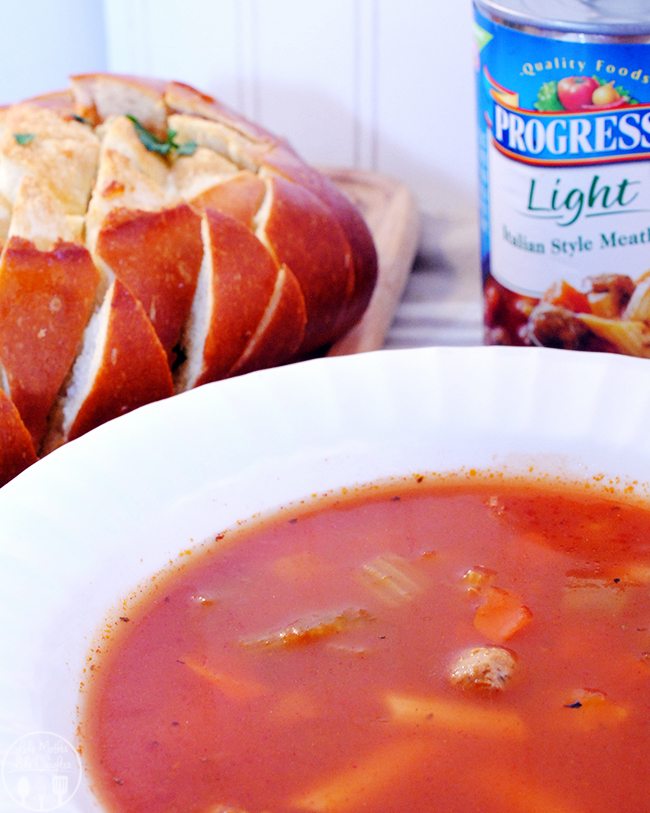 Our family loves to gather around the table to eat together.  And we have fun cooking together too.  Preparing this cheesy garlicky bread together was simple; while I was slicing the bread Craig was grating cheese.  I slathered on the garlic butter, stuffed mozzarella cheese in, popped my cheesy garlicky bread into the oven for 20 minutes while our soup simmered, and then we were ready to sit down together.  Progresso® Light Soup is just the right amount for two of us.  We laughed over grabbing and pulling the bread while the other was grabbing and pulling off pieces too.  We gobbled almost the whole loaf down in one sitting, it was so good.
Craig dipped his bread in his Progresso® Light Italian Style Meatball soup while I ate mine on the side.  Either way it was cheesy and garlicky with a crunchy outside and soft inside.  All heartwarming, healthy, well balanced, quick, easy comfort food for you, me, your family, and mine. And I think that is what we all want as we gather around the family dinner table.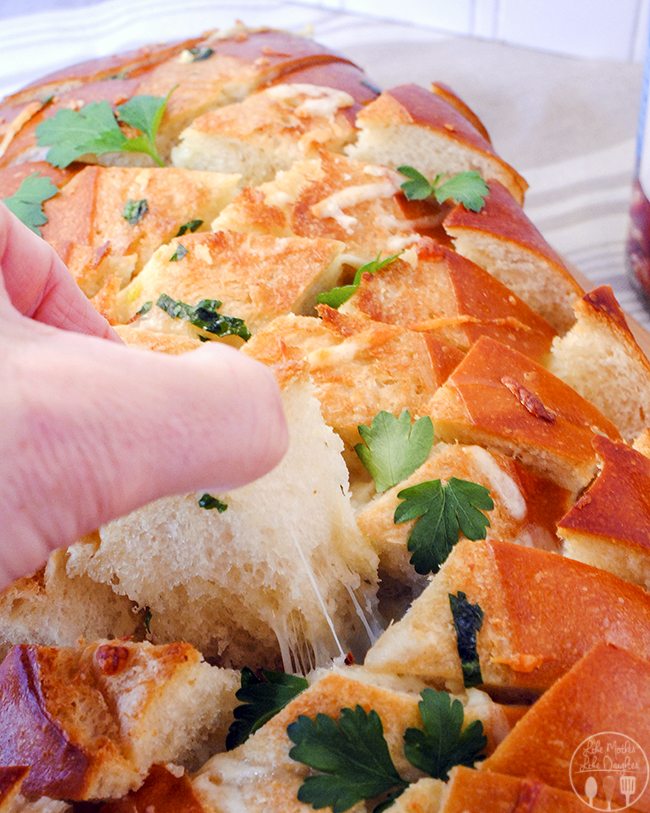 Cheesy Garlicky Bread
Ingredients
1 loaf crusty bread
¾ cup shredded mozzarella cheese
¼ cup butter - melted
2 cloves garlic - minced
2 TBS fresh parsley - chopped finely
½ tsp salt
Instructions
Preheat oven to 350 degrees
In a small bowl; add melted butter, minced garlic, chopped parsley, and salt. Mix together.
Slice diagonally your crusty bread loaf but don't cut all the way through.
Spread ¾ of the butter mixture on the inside of each cut
Cut bread diagonally the other direction, so you have crisscrosses on your bread, but don't cut all the way through.
Spread the rest of the butter mixture on the new bread cuts.
Stuff shredded mozzarella cheese in between each cut.
Wrap loaf in foil and bake for 15 minutes.
Open foil and let top of bread loaf toast for another 5 minutes
Serve and enjoy warm.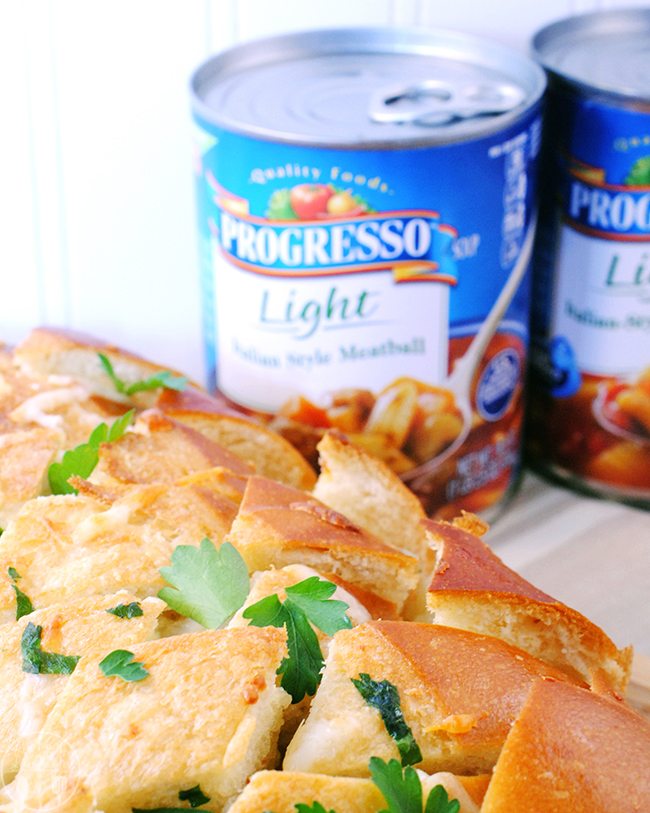 I was amazed at all the choices with Progresso® Light Soup. Check out Progresso® for more family healthy recipes ideas to keep your family time routine.  And Progresso® Light Soup can be found at your local Walmart and don't forget to use this $1.00 off coupon for four cans for an even better deal. Which Progresso® Light Soup will you start with?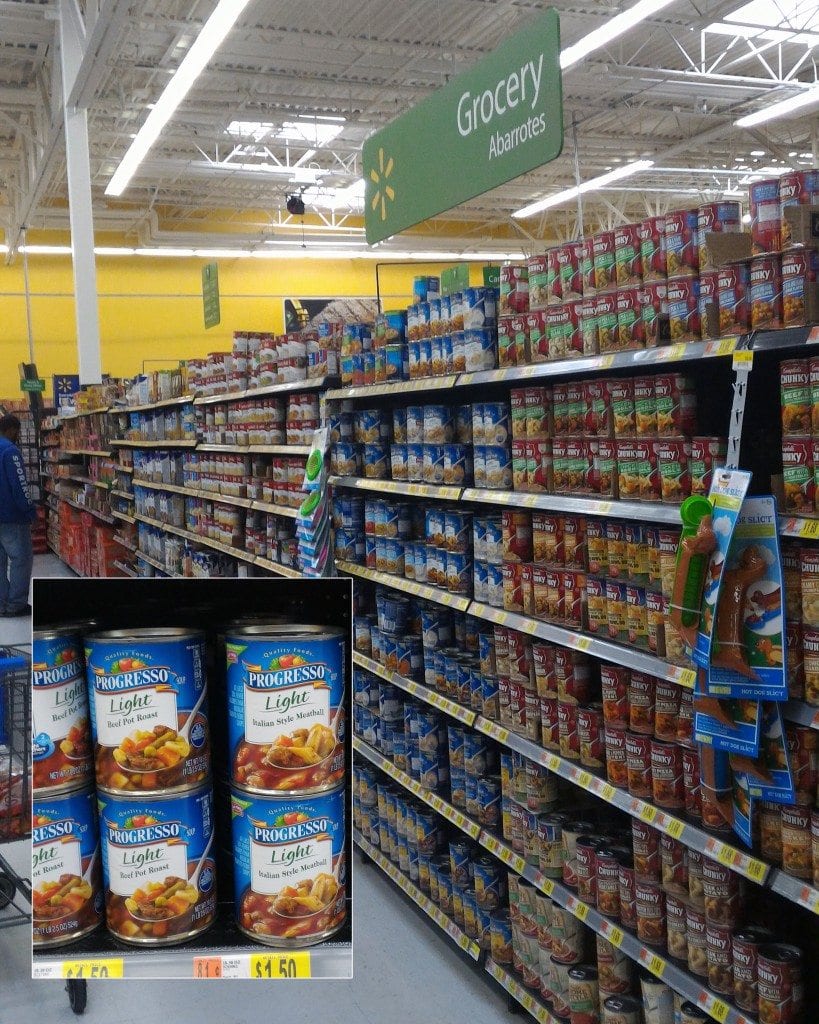 Did you know Progresso® Soups are part of the Box Tops for Education?  I didn't but my granddaughter did and she was pretty excited for me to share my Box Tops with her for her classroom.  Box Tops for Education have been another part of our family since my children were in school.  We have been collecting Box Tops for Education for maybe 20 years, even when I didn't have any children in school, I just shared with friends' children – they were so excited.  Now I make sure to clip, save, and mail them to my granddaughter, it's easy and a good thing.