Yesterday when I shared the recipe for roasted red pepper hummus I promised that I'd be sharing a flatbread sandwich recipe to go with it. Well, this chicken and red pepper hummus flatbread sandwich is just that.
Pin this chicken and red pepper hummus flatbread for later!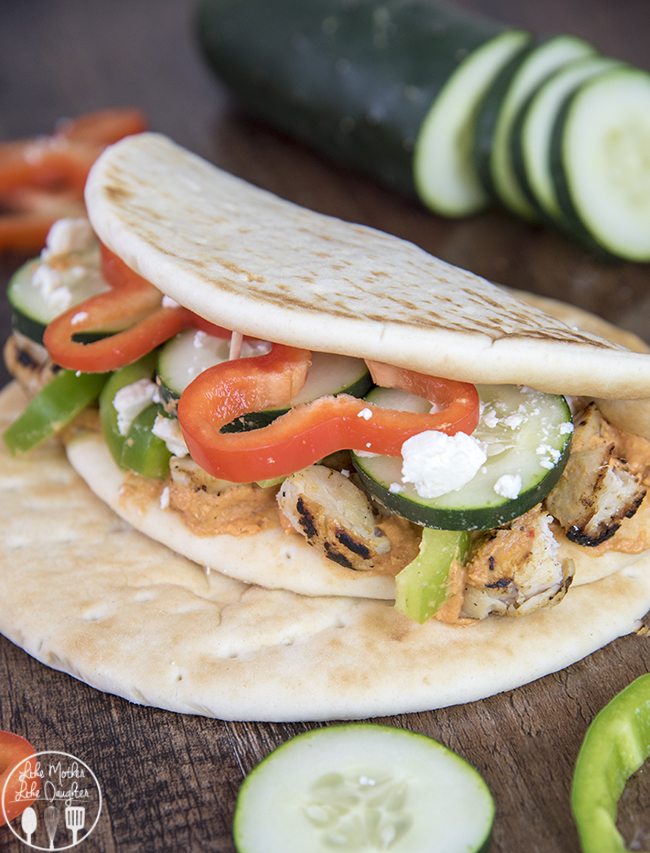 This sandwich has a flatbread pita for the "bread" with a layer of red pepper hummus, grilled chicken, sliced cucumbers, sliced red and green bell peppers all topped with a sprinkle of feta cheese. It is so delicious! The combination of flavors are so good, but I also really love the crunch that the fresh vegetables add.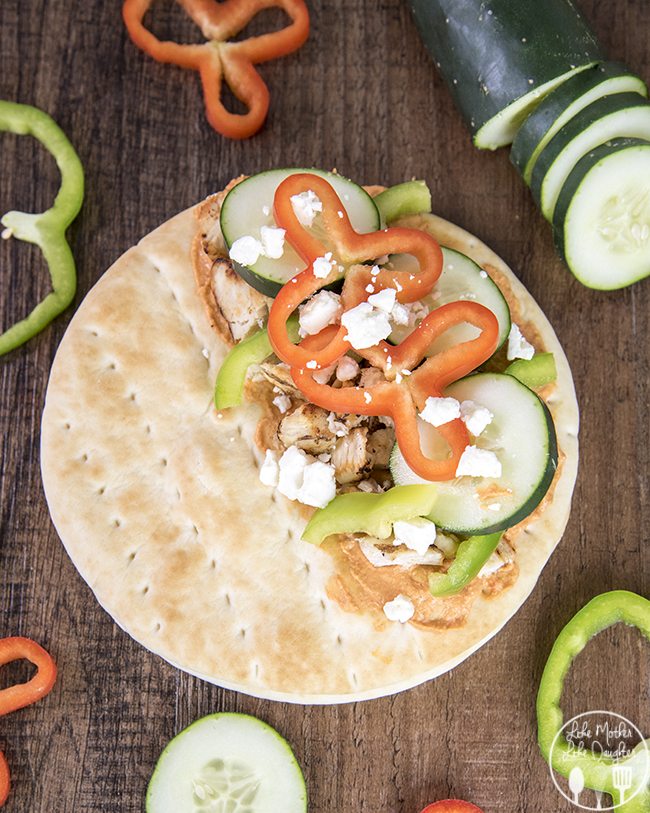 The other great thing about this flatbread sandwich is its pretty healthy too! Its the perfect healthier lunch or dinner because its also simple to make, even if you have to start from the beginning and make your red pepper hummus. I used frozen grilled chicken we had that I was able to reheat in just a couple minutes, but you could also use rotisserie chicken, or any leftover pulled chicken you might have lying around.So you'll sprinkle your chicken with just a little salt and pepper for seasoning, and then with the delicious red pepper hummus spread, and the sweet vegetables and pita you are good to go!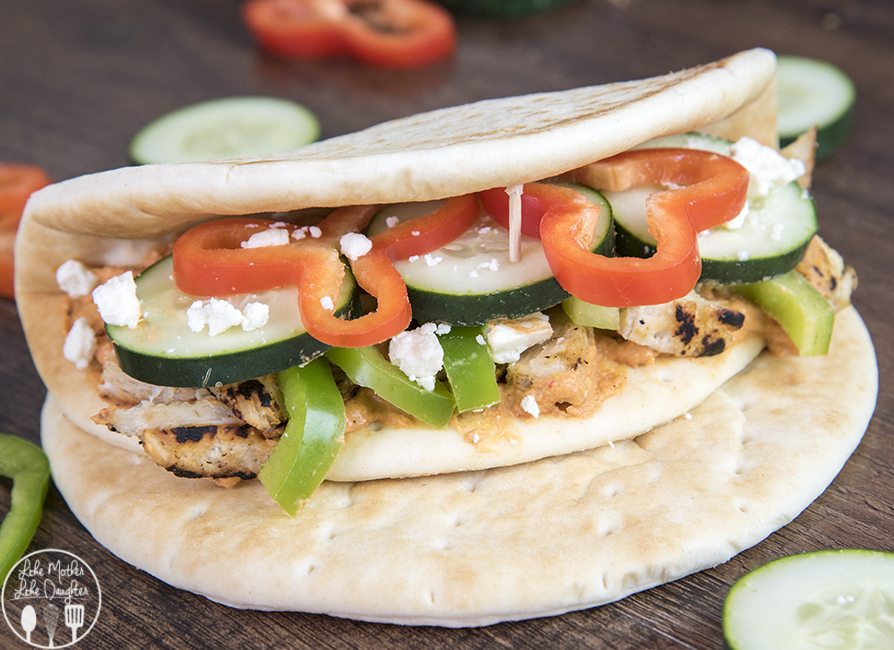 Just look at all those layers of goodness!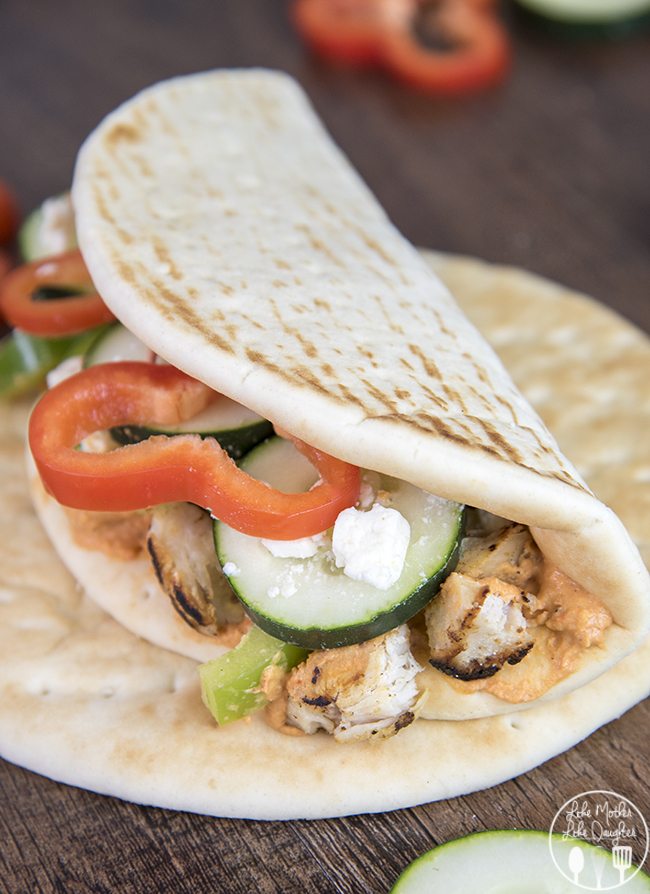 And although this isn't really a "recipe" here you go!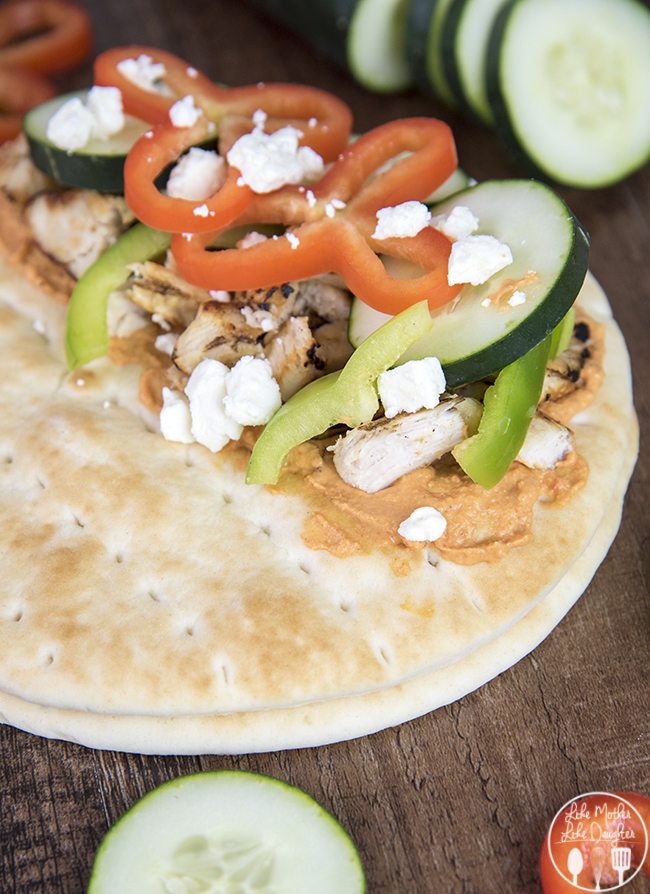 Chicken and Red Pepper Hummus Flatbread
Ingredients
1 red pepper
1 green pepper
1 cucumber
4-6 pitas
2 cups grilled and chopped chicken
¼ cup feta cheese
Instructions
Slice your red and green pepper, and your cucumber into thin slices. set aside.
Spread 1 to 2 TBS of your hummus onto half of each pita.
Spread your chicken evenly over each pita.
Layer red pepper slices, green pepper slices and cucumber on top of your chicken.
Sprinkle the top with feta cheese.
Fold pita in half and enjoy.