This an amazing combination of chicken and vegetables over pasta.
The other day at work, Shelby and I were discussing what we were going to make for dinner. Sometimes you just have moments like that, food is what is on your mind and you really can use some new dinner ideas.  Shelby (one of my bosses and a coworker) just has a way to simplify food and bring it down to earth.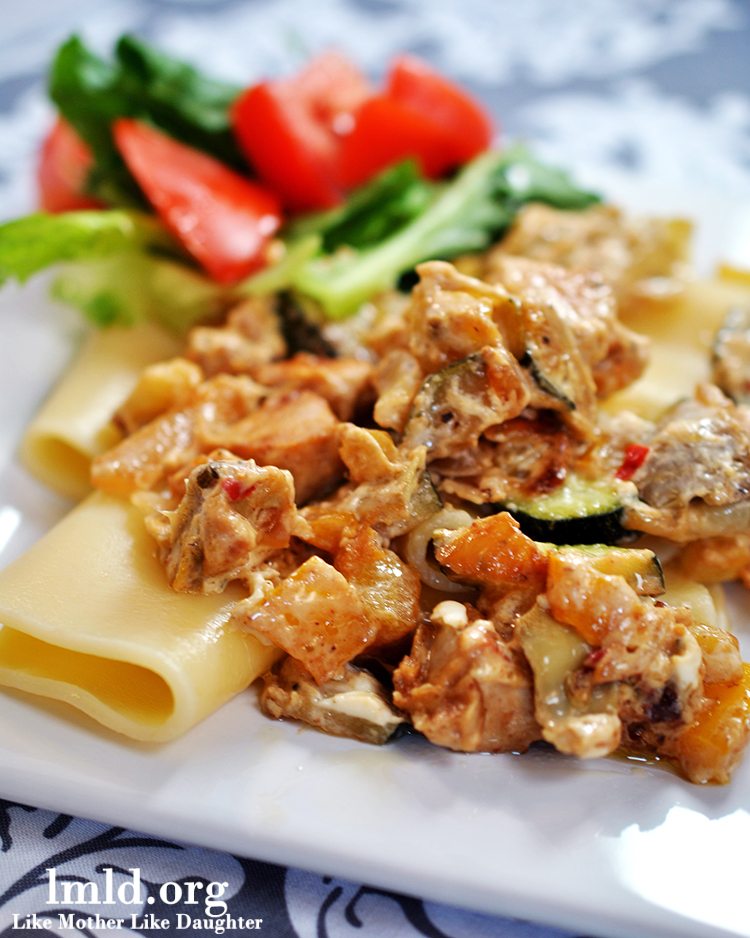 That is this recipe, maybe the sound of chicken, artichokes, vegetables over pasta sounds complicated but it really isn't.  When Shelby starts describing a recipe, it is just a few ingredients and a few steps.  Your choice of vegetables is what you have on hand, I had the summer garden vegetables of peppers, zucchini, and summer squash. There are a few key ingredients though – marinated artichokes, Italian dressing, chicken, and cream cheese. I used Neutchatel cream cheese, to me it is just as tasty as cream cheese but with less calories and fat.  Luckily, the day Shelby and I were discussing meals I had all those ingredients on hand.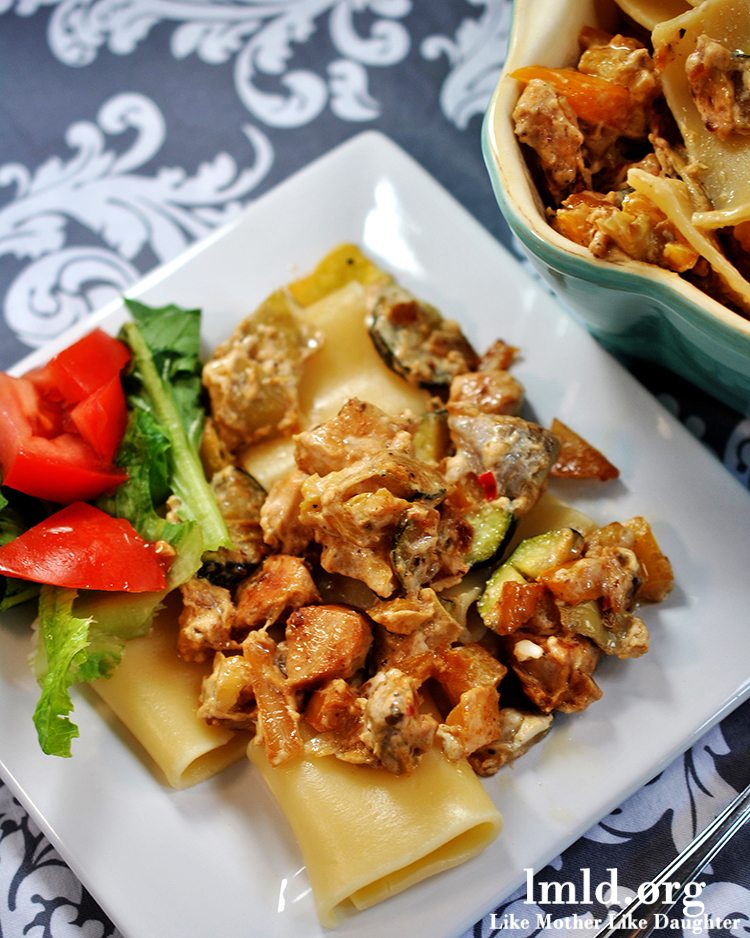 So let's get to the recipe on hand.
Creamy Italian Chicken and Vegetables over Pasta
Ingredients
4 chicken tenderloins - cut into bite sized pieces
2 to 3 TBS artichokes marinate
¾ to 1 cup Italian dressing (I happened to used Olive Garden's)
2 cloves garlic - minced
¼ of a large yellow onion - diced
½ of a summer squash - quartered lengthwise and then sliced into ¼ inch pieces
1 small zucchini - quartered lengthwise and then sliced into ¼ inch pieces
1 half of a yellow pepper - diced
4 oz Neufchatel Cheese - softened (or you can use full fat cream cheese)
2 pinches of salt or to taste
½ tsp pepper or to taste
½ cup of marinated artichoke hearts - cut into bite size pieces
8 oz cooked pasta - your choice: spaghetti, fettuccine, penne, (I made mine with schiaffoni)
Instructions
In a medium to large saucepan pour your artichoke marinate and half of your Italian dressing.
Start to simmer over medium heat.
Add your chicken bits and cook thoroughly, allow the pieces to be covered with the marinate and dressing - soaking all that goodness in
Start to add your vegetables, beginning with the garlic and onion - saute until the onion is transparent
Add your summer squash, zucchini, and peppers- saute to cook al dente
Continue to add more dressing as needed, you don't want the chicken and vegetables drenched in the dressing, although you do want the dressing to start to thicken. (Just add more dressing if there isn't enough to flavor your vegetables)
Season with the salt and pepper
Continue to saute
Add the artichoke hearts, cook just enough to warm them
Last add the Neufchatel cheese, stir around to coat everything with the cream cheese and letting the cream cheese melt a little
Serve over pasta or intermixed with the pasta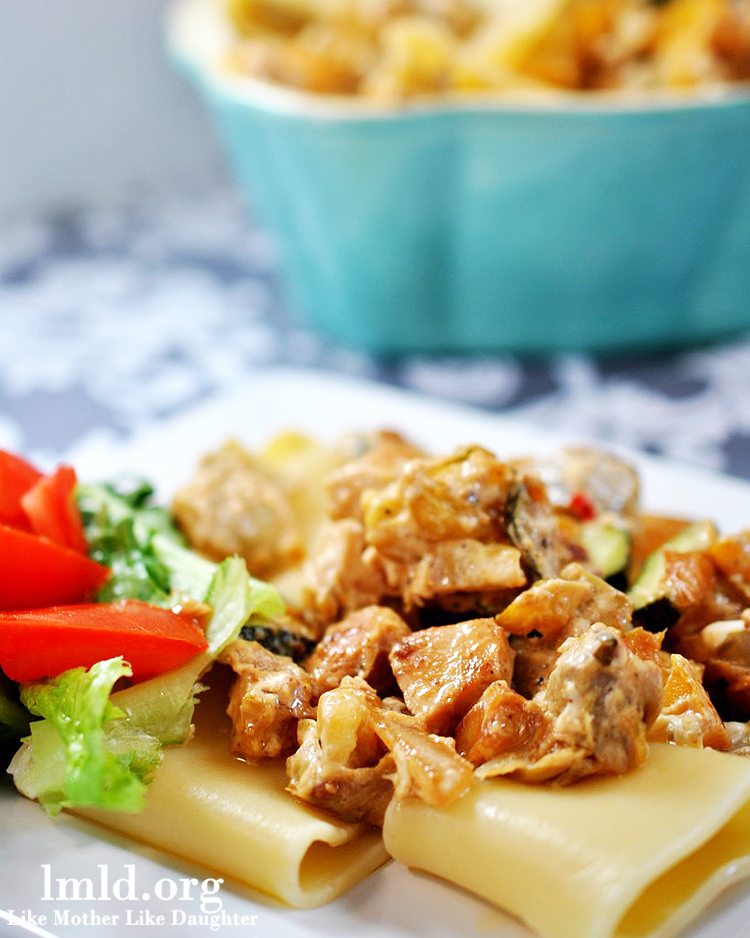 Probably your only challenge is to know how much Italian dressing to use, this is kind of a play it by ear experiment. It really depends on how creamy or saucy you want your chicken, artichokes, and vegetables.  Using the pictures as your guide you can get a feel for how much I used and how long I sauteed everything by comparing how yours looks to mine and if you need to cook more or add more dressing.
Craig and I had this chicken, artichoke, vegetables over pasta for our lunch the next day – I liked it cold too.