These healthier for you chocolate banana blender muffins are only a few ingredients, with no refined sugar, no white flour and no oil and are perfect for a delicious snack or breakfast!
Pin these chocolate banana blender muffins for later!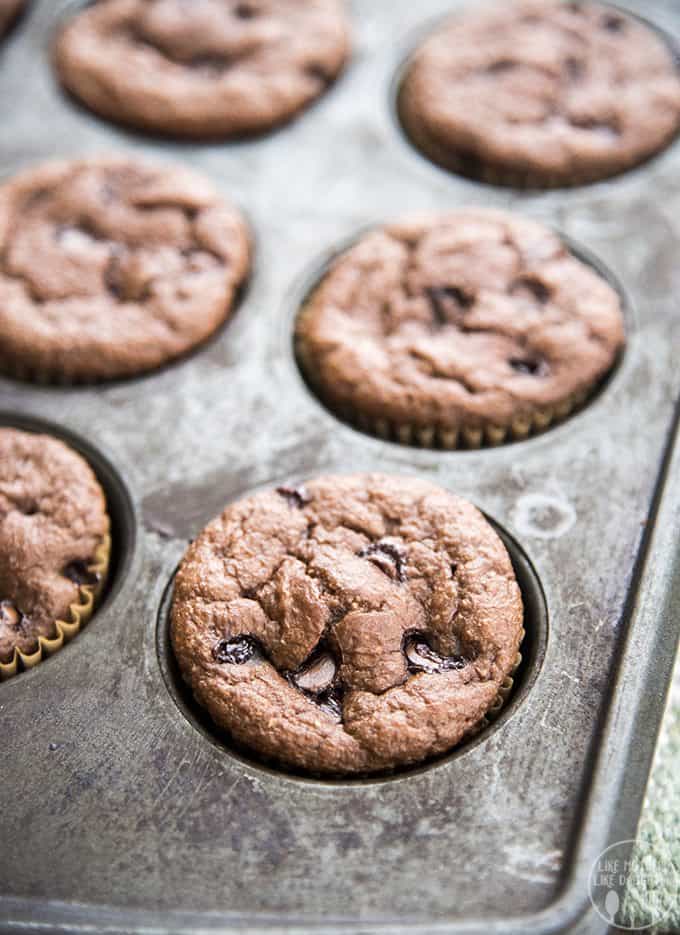 With the new year, many of us are looking for ways to cut back and eat a little healthier. Now, I have the biggest sweet tooth, maybe of anyone ;), so its hard for me to go a day, or even a couple hours without eating something sweet.
These chocolate banana blender muffins are a great way to satisfy my sweet tooth, without being so bad for me. They are full of all healthier ingredients, with no white flour, no refined sugar (unless you add a few chocolate chips), and no oil. Instead they have oats, a little honey and bananas to keep them sweet, and greek yogurt. They also have a couple eggs, salt, vanilla, baking soda and baking powder, and cocoa powder. You just throw all of those into your blender and mix it all up till its pretty smooth.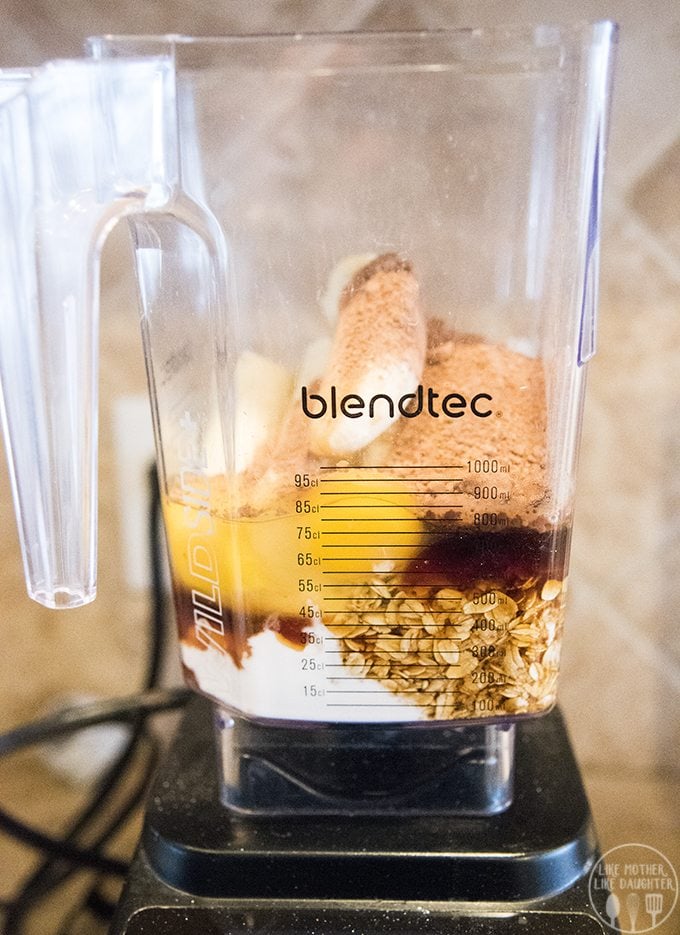 Pour the batter into cupcake liners in a muffin tin and bake them up. They make a perfect breakfast on the go, or sweet snack throughout the day that you and your kids will love. And that you won't feel bad about eating either. **Now fair warning, the texture of these muffins is not the same as a typical muffin. They are moist throughout, they are a little chewier than traditional muffins, and obviously a little less sweet – but still delicious and so much better for you.
Delicious chocolatey banana-ey goodness!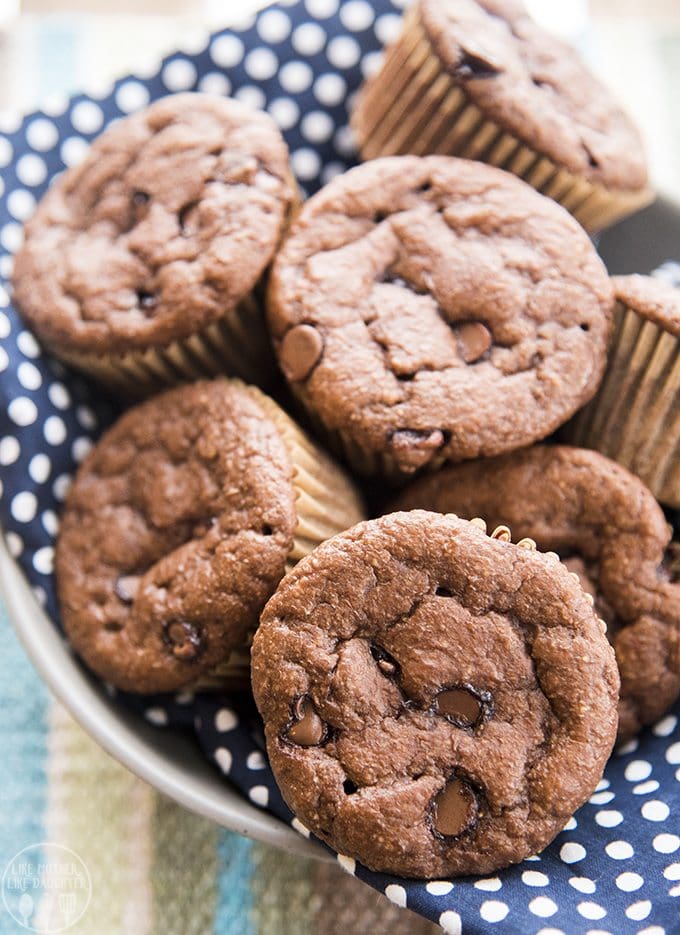 You can add a few chocolate chips or nuts to the batter, for a little extra sweetness in each bite, or for a little crunch throughout.
Even with the added chocolate chips, each muffin is only about 150 calories. (Of course this depends on the yogurt, banana size, egg size, how many chocolate chips you use, etc.)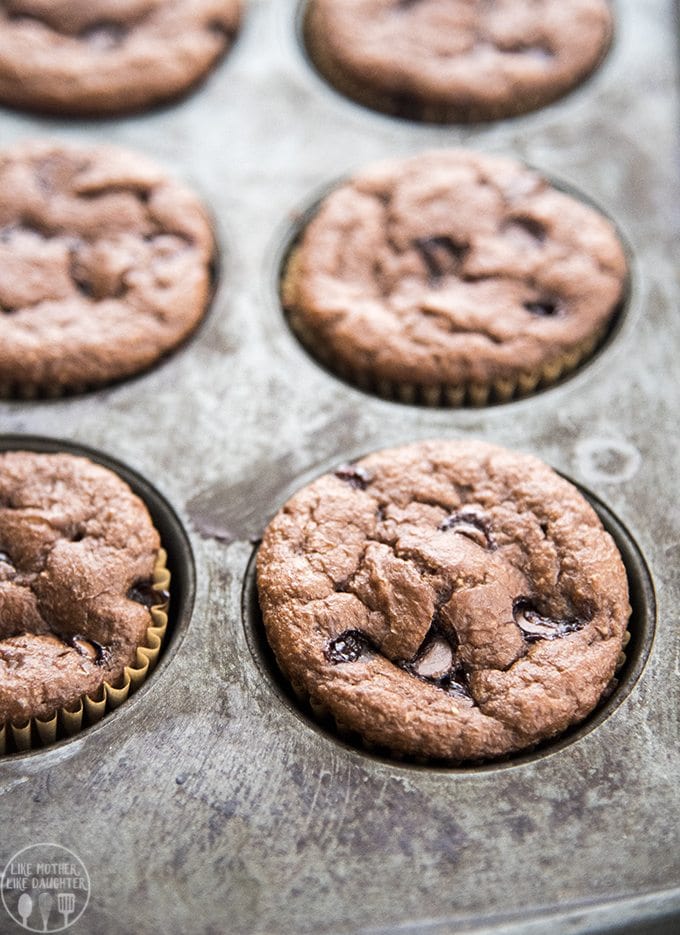 Chocolate Banana Blender Muffins
Ingredients
2 cups old fashioned oats
2 bananas, peeled
2 large eggs
1 cup low fat vanilla (or plain) greek yogurt
¼ cup honey
¼ cup cocoa powder
1 tsp baking powder
½ tsp baking soda
½ salt
¼ - ½ cup chocolate chips or nuts, optional
Instructions
Preheat oven to 400 degrees.
Place all ingredients (except chocolate chips or nuts) into a blender and mix until smooth.
Mix in chocolate chips or nuts if desired
Pour batter into a muffin tin lines with muffin liners, or grease muffin tin (regular or mini)well with nonstick spray. Fill ¾ full.
Bake for 7-8 minutes for mini muffins, and 10-12 for regular muffins.