I'm sure by now you know I love donuts and you know that I've fallen in love with making them at home – the easy way with canned biscuits. These easy jelly filled donuts are just as easy to make starting with canned biscuits again.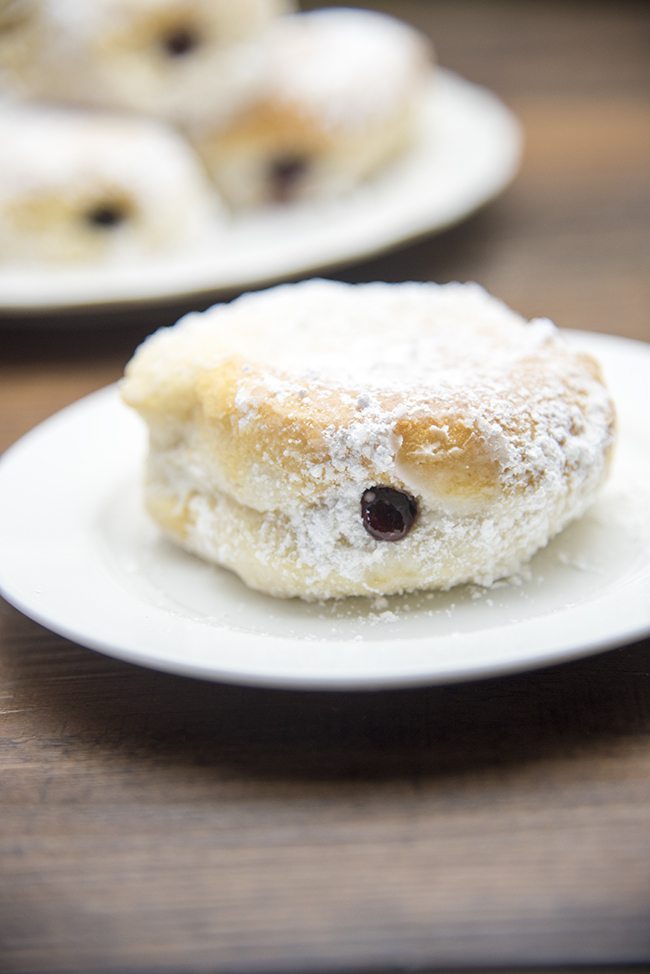 Instead of cutting out a donut hole you're going to fry up the whole biscuit. Then you're going to insert jelly into the middle with a pastry bag and tip. Then cover donuts with powdered sugar and enjoy.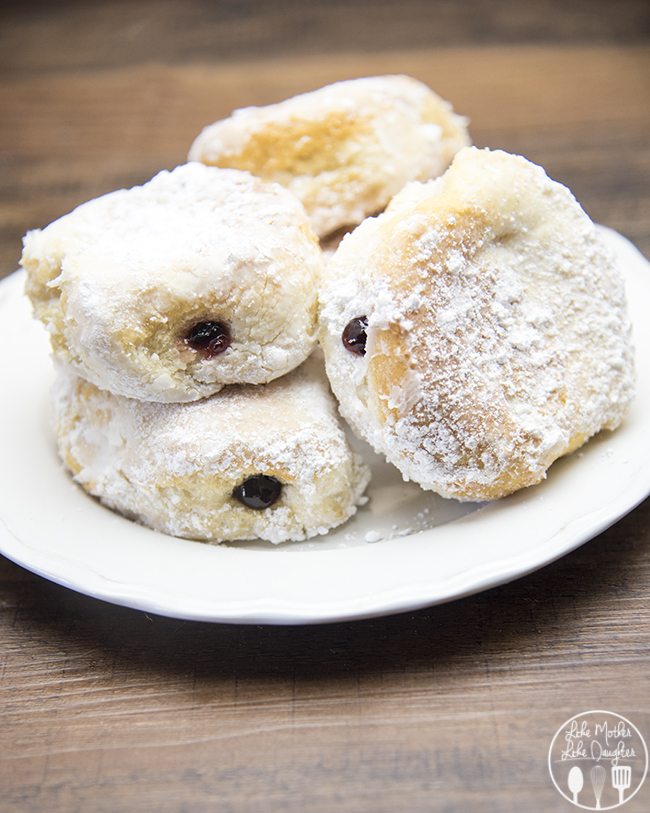 Easy Jelly Filled Donuts
Ingredients
1 can large biscuits (not flaky)
raspberry jelly
powdered sugar
Instructions
Heat a large bottomed pot over medium high heat filled with ½ inch of oil.
Fry a few donuts at a time for about 1 to 2 minutes, then flip over to fry both sides till golden brown.
Scoop your jelly into a pastry bag or baster. Insert baster end into the side of the donut and squeeze a small amount into the center of each.
Pour powdered sugar into a medium sized bowl and dip all sides of each donut into the powdered sugar.
And now for 16 more donut recipes, to celebrate national donut day today. Be sure to try one of these!
Maple Donuts on Like Mother Like Daughter
Cinnamon Sugar Biscuit Donuts on Like Mother Like Daughter
Fried Apple Rings on Like Mother Like Daughter
Baked Gluten Free Lemon Blueberry Donuts on Tried and Tasty
Easy Custard Bismarks on Real Mom Kitchen
Easy Chocolate Glazed Donuts on Summer Scraps
Lightened up Strawberry Lemonade Donut Ice Cream Sandwiches on Happy Food Healthy Life
Baked Cinnamon Sugar Donuts on Creations by Kara
Easy 15 Minute Maple Bars on Butter with a Side of Bread
Homemade Cronuts on Ashlee Marie
Chocolate Glazed Donuts on Jamie Cooks It Up!
S'more Donuts on Ashlee Marie
Pumpkin Donuts on Real Mom Kitchen
Glazed Donuts on Jamie Cooks It Up!
Baked Powdered Sugar Donut Holes on Cupcake Diaries
Maple Bacon Donuts on Ashlee Marie