Mini Cadbury Egg Blondies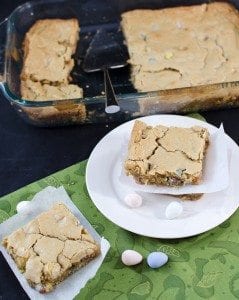 1½ sticks melted butter
2 cups brown sugar
2 large eggs
2 tsp vanilla
2 cups flour
1 tsp baking powder
¼ tsp salt
1 cup cadbury mini eggs
Preheat oven to 350 degrees. Prepare a 9x13 inch baking pan with cooking spray.
Whisk together butter and brown sugar in a large bowl until combined.
Add the eggs and vanilla extract and mix well.
Add the dry ingredients (flour, baking powder, salt) and stir again to combine.
Pour in your cadbury mini eggs and fold them into the batter.
Pour batter into your prepared pan and spread evenly using a rubber spatula.
Bake for about 30 minutes, or until an inserted toothpick comes out clean.
Allow to cool slightly before cutting and serving.