Probably my favorite soup in the whole world is tomato soup.  Often it comes from a can but after making this fresh tomato soup, with all its amazing goodness, I don't know if I can ever go back to canned.  Fresh tomato soup is made from just that fresh picked tomatoes, fresh herbs, cream, broth, and other vegetables all blended together for this delicious taste of goodness and freshness.
I grew up loving tomato soup; there probably wasn't a better meal than cream of tomato soup with buttered saltine crackers and a slice of cheese on a chilly winter day.  Serve that with grilled cheese and I was set.  This summer I planted about 10 different tomato plants; 1 heirloom – so fat and meaty, 1 cherry tomato – the best for snacking on straight from the vine, a couple of beefy Early Girl, and several Roma tomatoes.  Each kind serves their own purpose but I really wanted to cook with the Romas and decided that homemade fresh tomato soup would be just what I wanted to make.
So today I picked all my ripe Roma tomatoes and brought them in for the soup.  I had a whole bowl worth which was 6 to 8 cups of tomatoes.  I peeled all of them and used half in the soup and froze the other half.
Now, peeling tomatoes sounds like one big mess and it can be a little messy but it is actually a lot easy than you might imagine.  First remove the stems of the tomatoes, rinse them, and then put them in a nice big pot of boiling water for about 1 to 2 minutes.  I use my pasta pot because it is a large and comes with its own strainer.  After a minute or two of boiling your tomatoes, remove the pot from the stove, remove the strainer from the pot, and dump your tomatoes into another bowl of cold water.  I do all of this last part in my kitchen sink to contain the mess.  Leave the tomatoes in the cold water for another minute or two and then strain the water off the tomatoes.  Now to the peel, pick each tomato up and the skin mostly if not complete just falls off into your hands.  Discard the peel and save that juicy tomato in a large measuring cup or bowl. Repeat for each tomato until they are all peeled.  Now you have fresh tomatoes ready for use in soups or sauces.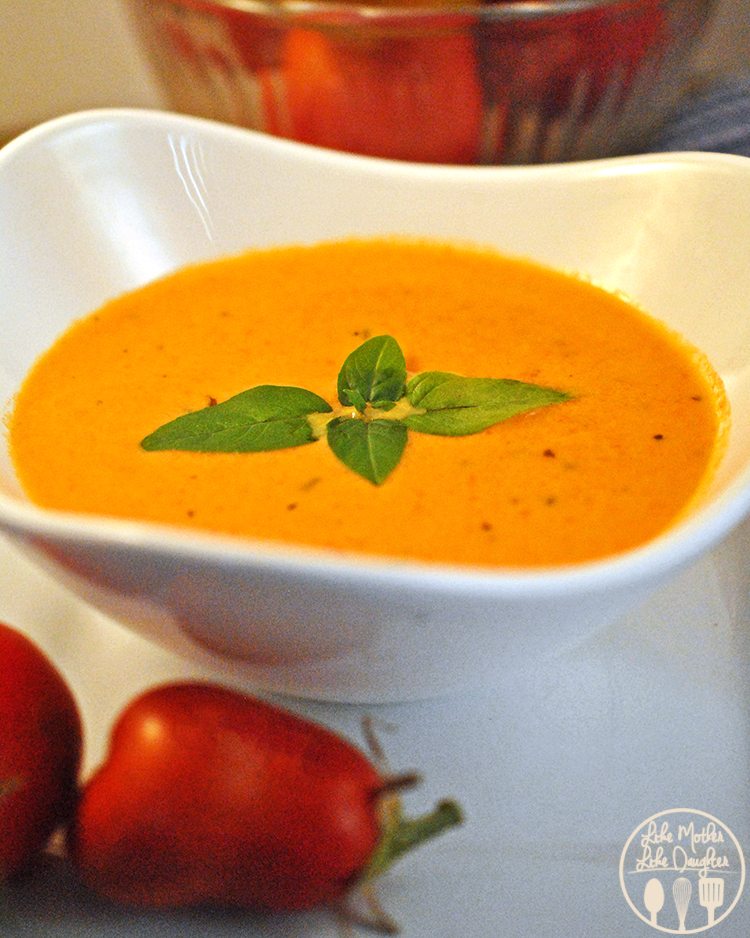 Often recipes called to seed the tomatoes too but I used Roma which means there were less seeds and a lot more tomato meat, and I didn't really worry about a few seeds in my soup.  I also ended up simmering the soup for about 1 hour (totally not necessary) which softened the seeds too. The only reason my soup simmered so long was because the hubby ended up coming home 1 hour later than planned – busy husband woes.
I still love a big bowl of tomato soup with a grilled cheese sandwich, even on a hot summer day.
Fresh Tomato Soup
Ingredients
3 cups tomatoes - peeled and chopped (I used Roma)
1 carrot - diced
½ yellow onion - diced
½ sweet pepper - diced (I used yellow but you can use orange or red)
2 Tbs butter
½ cup heavy cream
1½ cup chicken or vegetable broth
3 to 4 sprigs fresh thyme - chopped
1 sprig of fresh basil leaves - chopped
1 to 2 sprigs of fresh parsley leaves - chopped
1 tsp of dried Italian herbs
1 tsp salt - or to taste
¼ tsp black pepper - or to taste
a sprinkle of sugar (optional)
Instructions
In a medium to large saucepan, melt your butter
Add your onions, sweet peppers, and carrot, saute for 5 minutes
Add your fresh tomatoes (see notes on how to peel tomatoes)
Add your fresh herbs, dried herbs, and other seasonings
Let the tomatoes saute and break down cooking for about 10 to 15 minutes, chopping them somewhat with your stirring spoon
In a blender pour half of your soup (don't put the lid on tight - I left the pour spout open) blend your soup for 30 seconds to a minute, pour into the bowl with the broth
Repeat with the other half of your soup, blend until mostly smooth
Return all the soup and the broth to your saucepan
Stir together and let simmer for another 5 minutes
Add your heavy cream, stir in and let simmer on low for about 5 minutes or longer until ready to serve