A delicious chicken enchilada casserole with green chili sauce for dinner tonight.
We've got just a few more guest posts lined up for you guys and hopefully I'll be able to get back into the swing of things of cooking and blogging again when my mom leaves next week! But for now Katie from Clark's Condensed is sharing a delicious Green Chile Enchilada Recipe with us!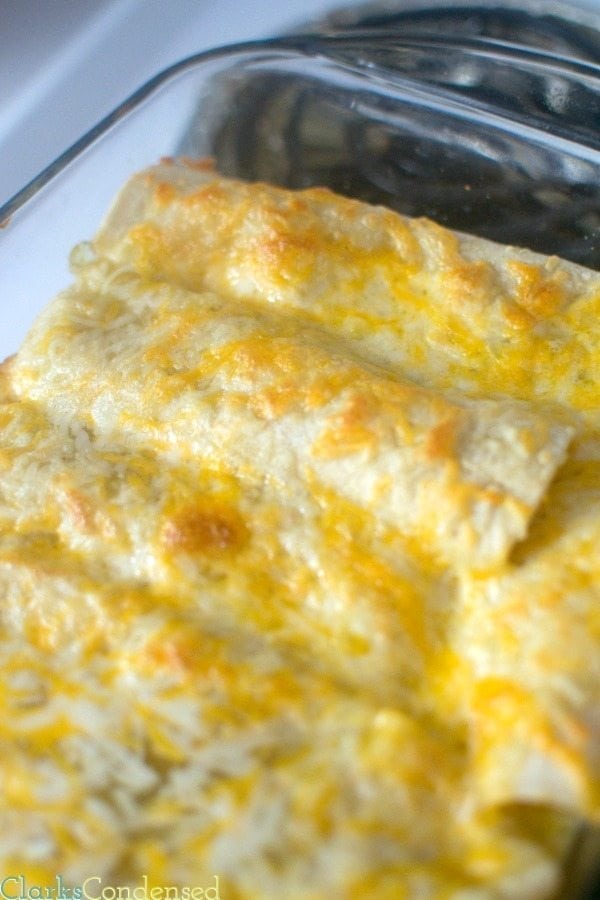 Hi everyone! My name is Katie, and I blog over at Clarks Condensed where I share lots of yummy recipe, parenting and pregnancy tips, travel reviews, thrifty living tips, and a little bit of everything. I'm so excited to be guest posting on Aimee's blog as she takes a break to enjoy her sweet baby boy!
Keeping with the theme of babies, I thought I'd share one of my favorite meals to bring new moms — chicken enchiladas. Not only do I love bringing this to friends and family, but I love making it for my own family. My mom always made this growing up, and it continues to be a family favorite. They are super easy to throw together and really delicious. I don't know anyone who doesn't love them.
These can easily be frozen, and are great for those days when you just need a quick and easy meal! While I usually just make them as I listed in the recipe below, we recently started adding a little bit of lime and honey to the chicken and also to the enchilada sauce. It tastes great and puts a fun twist on this simple recipe.
Green Chile Enchiladas
A delicious chicken enchilada casserole with green chili sauce for dinner tonight.
Ingredients
16

corn tortillas

2

cans

chicken*

1 1/2

cans

green chili enchilada sauce

1

bag

shredded cheese**

8

oz

cream cheese***

(softened)

Oil for frying

Lemon pepper

(to taste)
Instructions
Preheat oven to 350 degree.

In a small frying pan, heat oil.

When it is hot enough, fry the tortillas and set on paper towel to drain grease.

In another pan, heat 2 tbsp of oil. Put chicken in pan and sprinkle lemon pepper on top.

Cook for about five minutes, breaking up the chicken with a spatula.

If you want to use cream cheese, mix in at this point.

Pour a small amount of green chili sauce into the bottom of a 9x13 pan.

In another dish, pour the remaining green chili from that can onto a plate (one that the sauce won't spill over the edges.)

Put one tortilla in the sauce and coat both sides.

Put about 1 1/2 tbsp of chicken across the middle of the tortilla, and sprinkle cheese.

Close edges and place in pan.

Repeat with remaining tortillas.

Pour about 1/2 can of enchilada sauce on top and cover with cheese.

Cover with tin foil and cook for 15 minutes.

Uncover after 15 minutes and baked for another 10-15 minutes, or until cheese is completely melted.
Notes
*or equivalent amount of grilled chicken strips
**colby jack mixture is my favorite
***optional
Thanks so much to Katie for visiting and sharing this delicious enchilada recipe. Chicken enchiladas are my favorite food and these ones sound amazing! Be sure to check out Clark's Condensed for more delicious recipes and other fun ideas too! Check them out on Facebook – Pinterest – Instagram – Twitter too.