These hawaiian pulled pork sliders have a sweet and tender pulled pork, topped with a pineapple slice, crunchy ham, and crispy cabbage. These are the perfect sliders, great for game day, or just for dinner!
This is a sponsored post written by me on behalf of Campbell's Slow Cooker Sauces for IZEA. All opinions are 100% mine.
I love easy dinners, and these Hawaiian Pulled Pork Sliders perfectly fit the bill. These sliders have delicious and flavorful pulled pork, topped with a sweet and juicy pineapple slice, crispy ham and crunchy cabbage for a perfect dinner or game day food.
Pin these Hawaiian Pulled Pork Sliders for Later!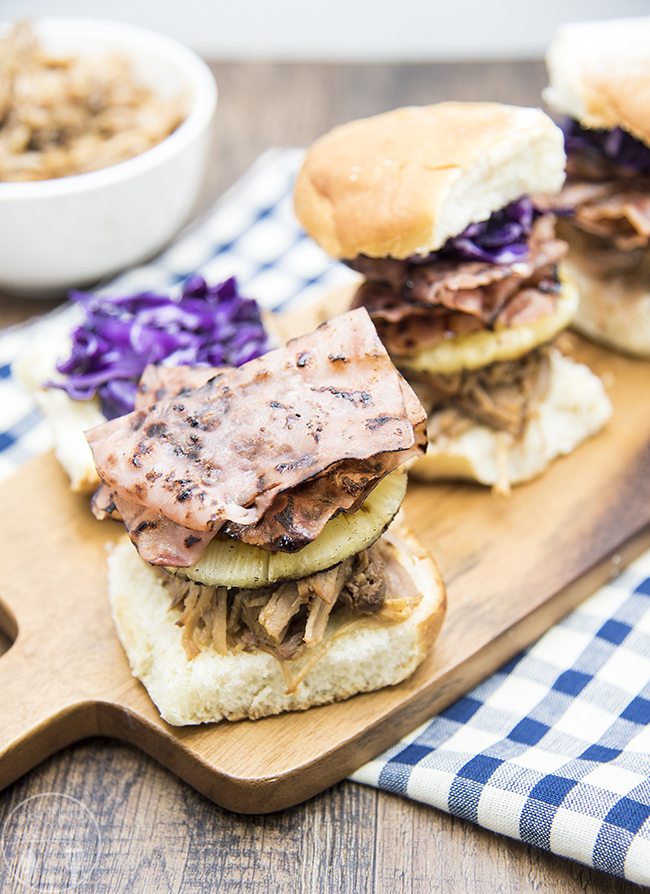 These sliders are so easy to make, because you'll cook your pork roast in the slow cooker for several hours with Campbell's Hawaiian Pork Slow Cooker Sauce. They only take about 5 minutes of prep time, you just need to put your pork roast in your slow cooker and top it with the Campbell's Sauce and let your slow cooker do the rest of the work.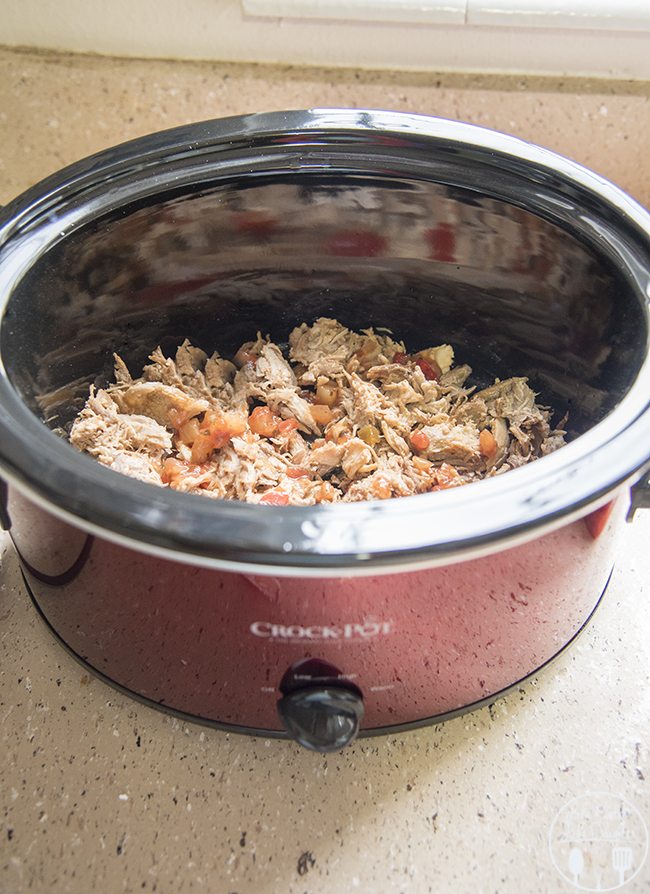 The pork is delicious on its own, or to prepare it for your sliders you'll need a few extra ingredients. You'll need some Hawaiian dinner rolls (or other small dinner rolls), deli sliced ham, sliced pineapple and purple cabbage.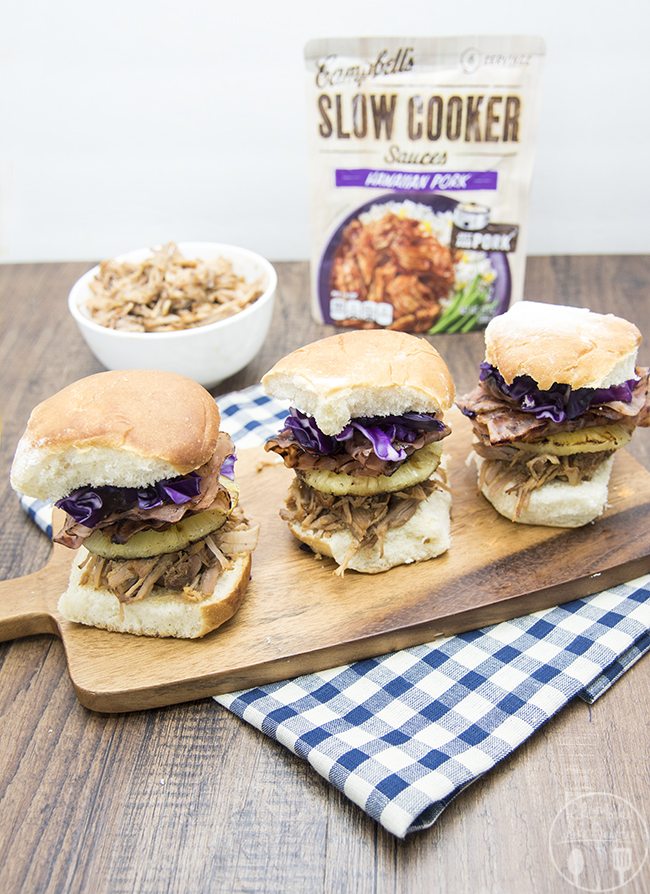 Another great thing about these sliders is your family will love eating them for dinner, like we did – just make a couple side dishes to go along with them. Or their great for game day, whether you're watching the football or basketball game – just serve them with some yummy chips and dip too!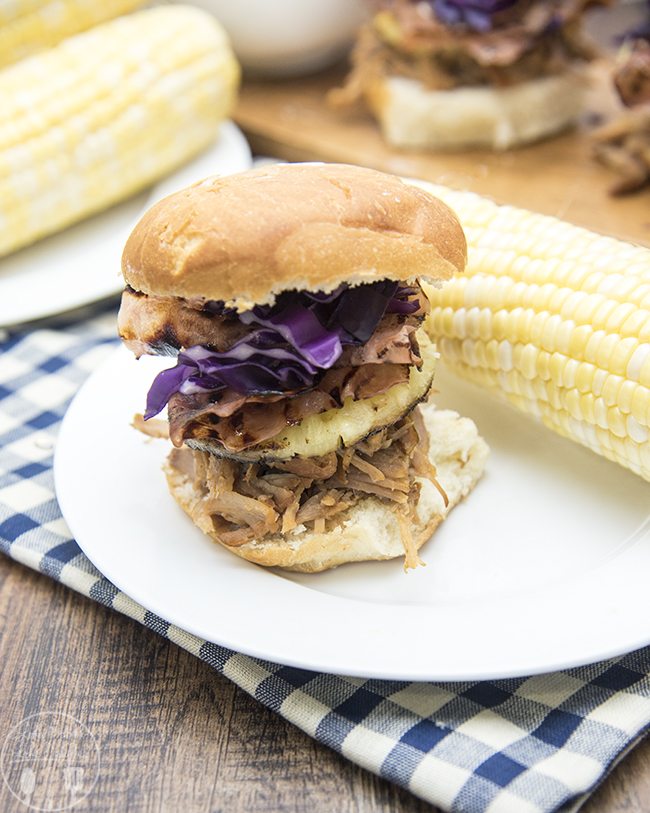 I just love the way the sweet pineapple hawaiian flavored pork combines with the crisp ham and cabbage and the sweet pineapple slice. I mixed a little teriyaki sauce with my pork to place it on my sandwich, but you could use sweet and sour, barbecue sauce too.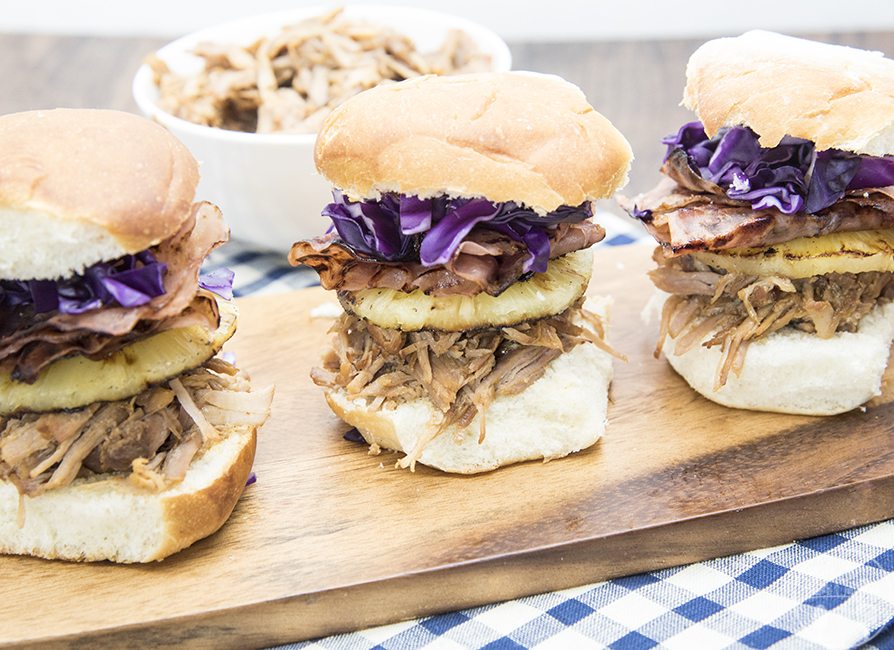 Hawaiian Pulled Pork Sliders
Ingredients
2-3 lb pork shoulder
1 package Campbell's Slow Cooker Hawaiian Pork Sauce
teriyaki sauce, optional
pineapple rings
deli sliced ham
cabbage, diced
Hawaiian or potato dinner rolls
Instructions
Place your pork roast in the slow cooker and pour your Campbell's Slow Cooker Hawaiian Pork Sauce over the top.
Cook on low for 7-8 hours or on high for 4-5.
Remove pork from slow cooker and shred.
Return about half of the juices and mix together with the shredded pork.
Cut your dinner rolls in half.
Place 3 to 4 TBS of pork onto each roll. (Top with teriyaki sauce if desired)
Place 1 pineapple ring on each slider.
Saute 2 pieces of ham per slider in a pan over medium heat till beginning to brown.
Fold ham pieces in half and place 2 per slider.
Spread about 1 TBS of diced cabbage on top of each slider and closer slider with top bun.
We had some pork leftover that we had this pork again for lunch the next day. Delish!
Campbell's Slow Cooker Sauces are great for every day meals or for game day gatherings with friends. Meals made with Campbell's Slow Cooker Sauces are delicious and so easy to make! Only 5 minutes of prep time and you're ready for a delicious meal! Take the Game Day Great, Every Day Easy Challenge and experience it for yourself! Try any of the Campbell's Sauces varieties : Tavern Style Pot Roast, Apple Bourbon Pulled Pork, Beef Stew, Southern BBQ, Sweet Korean BBQ and this amazing Hawaiian Pork. "Campbell's – Made for Real, Real Life"