A delicious oven baked herb roasted chicken and potatoes dish, seasoned with simple fresh herbs and lemons!
Would you like a simply delicious chicken recipe? that's what this herb roasted chicken and potatoes is.  Roasted chicken with a simple herb sauce tossed in with a few potatoes and sliced lemons.  Simply delicious, simply easy, simply good, simply dinner.
Pin this Herb Roasted Chicken and Potatoes for Later.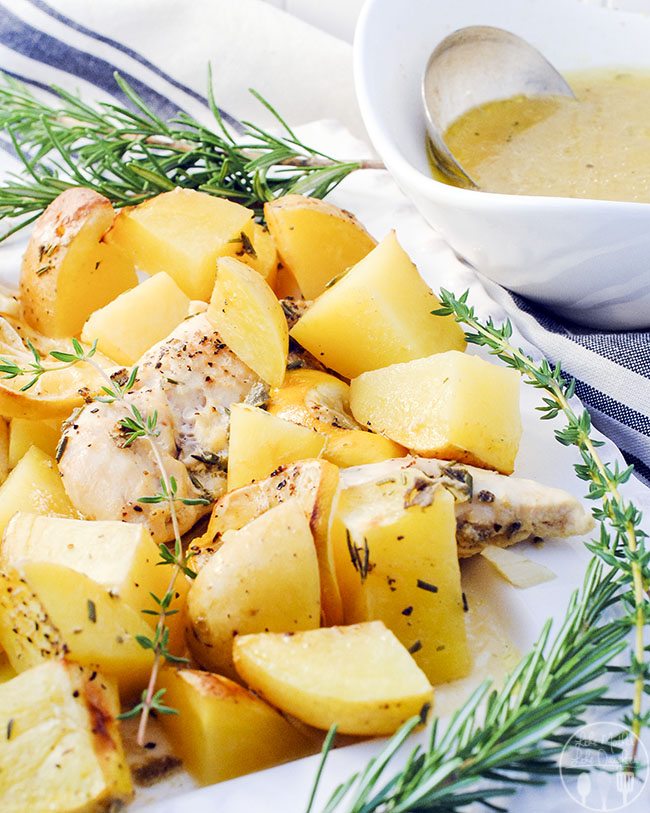 There is minimum preparation required, minimum ingredients, and minimum clean up.  But an elegant presentation and elegant feel to dinner, all done simply.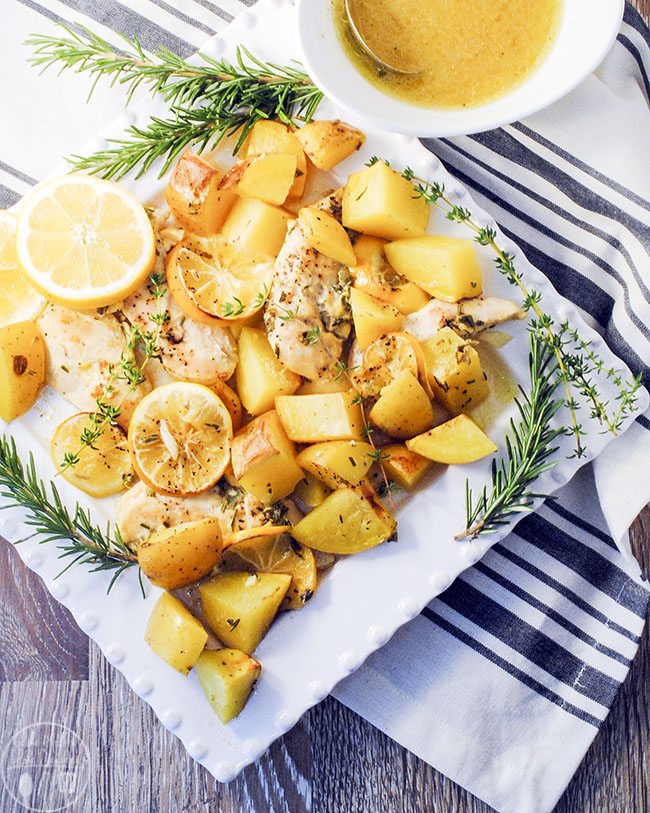 Often dinner at the Garrett household is rush, rush, rush.   Tonight I chose to slow everything down and prepare a main dish that would be simply delicious and beautiful.  Simply easy to give time to breathe after work. Simply dinner and simply family time.  This simply roasted chicken took an hour to bake but once baking I could almost forget about it.  And you know what, I felt a lot of peace before dinner, during dinner, and after dinner.  Craig and I had time to share our day experiences before and during dinner.  It was simply beautiful.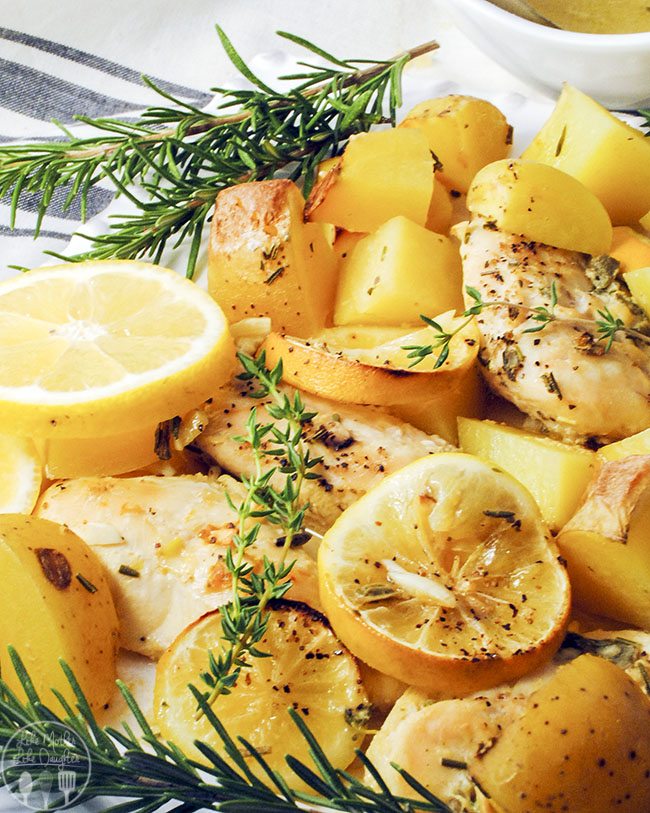 herb roasted chicken and potatoes
A simply roasted chicken with potatoes and lemon slices with a fresh herb sauce. All with easy preparation and elegant presentation.
Ingredients
6 chicken tenders
4 medium yellow potatoes - scrubbed & chopped into 8 to 10 pieces
1 lemon - sliced thin
1 cup chicken broth
1 TBS minced dried sage or 2 fresh sage leaves - minced
3 sprigs rosemary - minced
3 sprigs thyme - minced
3 garlic cloves - minced
1 TBS yellow mustard
2 TBS olive oil
1 tsp salt or to taste
½ tsp pepper or to taste
Instructions
Preheat oven to 325 degrees
Spray a 9 x 13 roasting pan with cooking spray
Lay the 6 chicken tenders in the roasting pan
Sprinkle the potatoes throughout the pan
Lay the lemon slices spread throughout the pan
Mix the herbs, garlic, and mustard into the chicken broth
Pour the chicken broth all over the chicken, potatoes, and lemon slices
Drizzle the olive oil everything
Sprinkle the salt and pepper over everything
Bake for 30 minutes
Raise oven temperature to 425 degrees
Roast for 15 to 30 minutes until potatoes are fork tender and chicken is 165 degrees internally
Serve, feel free to drizzle more herb sauce over the chicken and potatoes on your plate
What dinner is your favorite that is simple but elegant?