These honey garlic and shrimp kebabs are only 4 ingredients with SeaPak Shrimp & Seafood Co. shrimp scampi! They're a little sweet and savory and they're perfect for an appetizer or part of a main dish!
I'll be honest, growing up I was never the biggest seafood fan, we didn't eat it very often at home either. With the ease and deliciousness of SeaPak Shrimp and Seafood, it is quickly become one of my favorite go to meals. These honey garlic and orange shrimp kebabs are made using SeaPak Shrimp Scampi.
Pin these Honey Garlic and Orange Shrimp Kebabs for Later!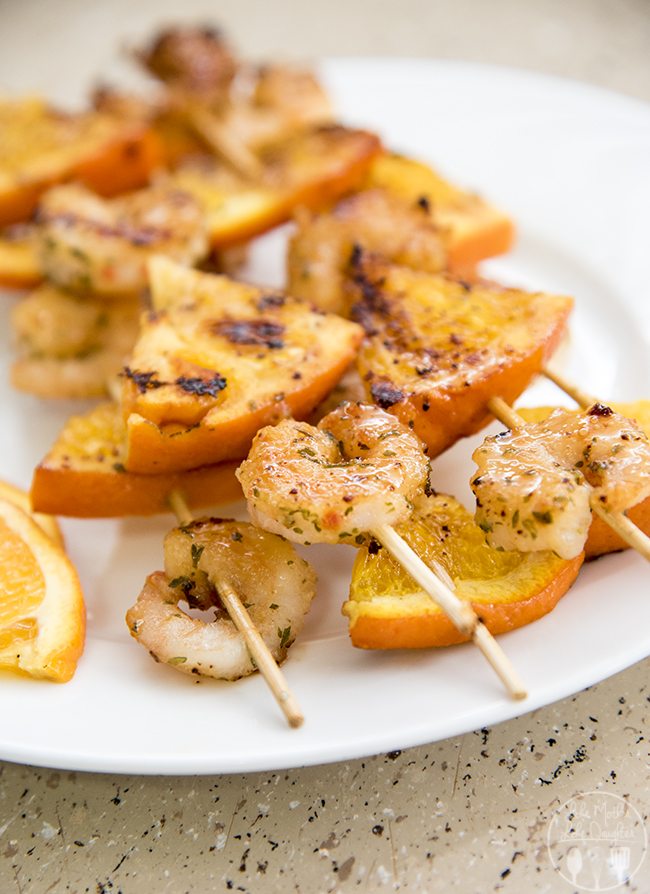 The buttery garlic seasoning on the shrimp goes completely with the simple and sweet honey and orange sauce you'll add. These are perfect for an appetizer or serve them with rice for a yummy main dish!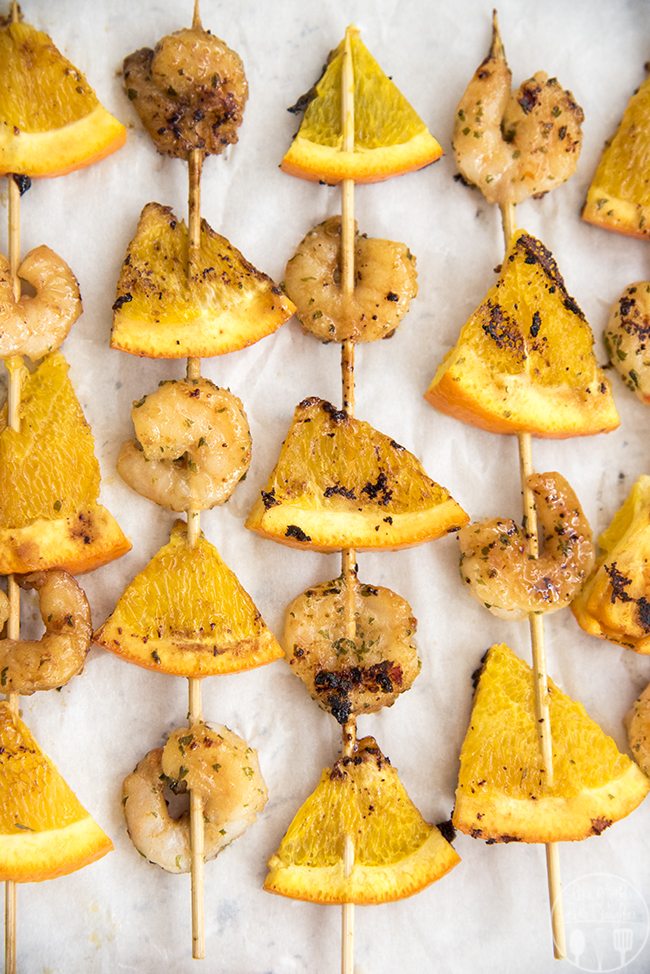 You'll thread the SeaPak Shrimp Scampi and orange slices through your skewers and cook on your preheated grill. One box of the Shrimp Scampi will only serve 2 to 3 people, so if you have more people then you'll want a couple boxes. You'll need 1 or 2 or 3 oranges as well, depending how good you are at slicing them evenly 😉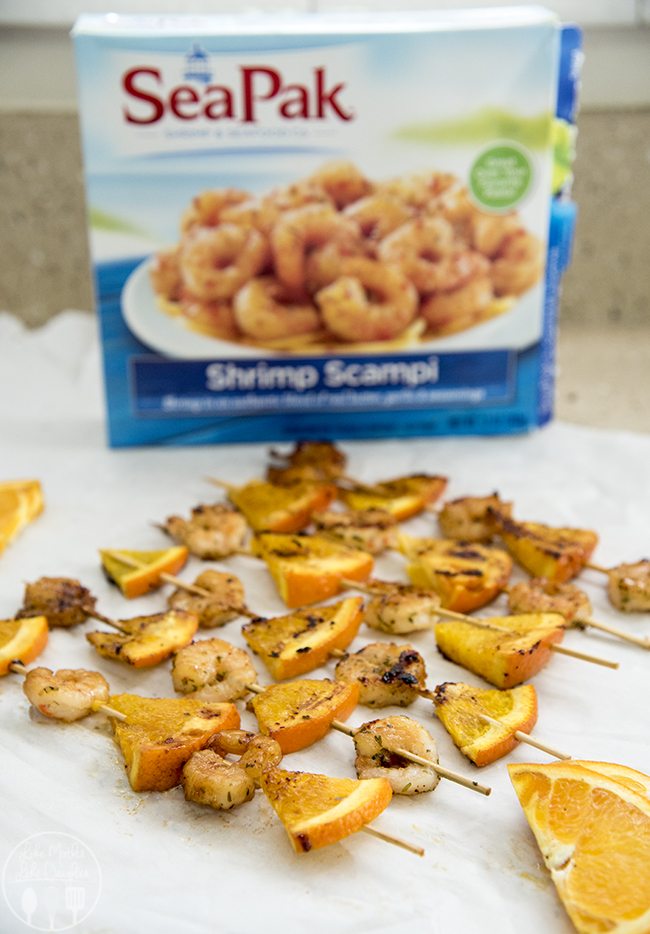 Cook your skewers on your grill for about 3 minutes then flip to cook on the other side. Combine the juice of one orange and about 2 tablespoons of honey in a small bowl and coat your shrimp with this glaze when its almost finished cooking, use it to coat both sides. Cook shrimp for about 7 or 8 minutes total until the shrimp is orange in color on the outside and completely opaque throughout.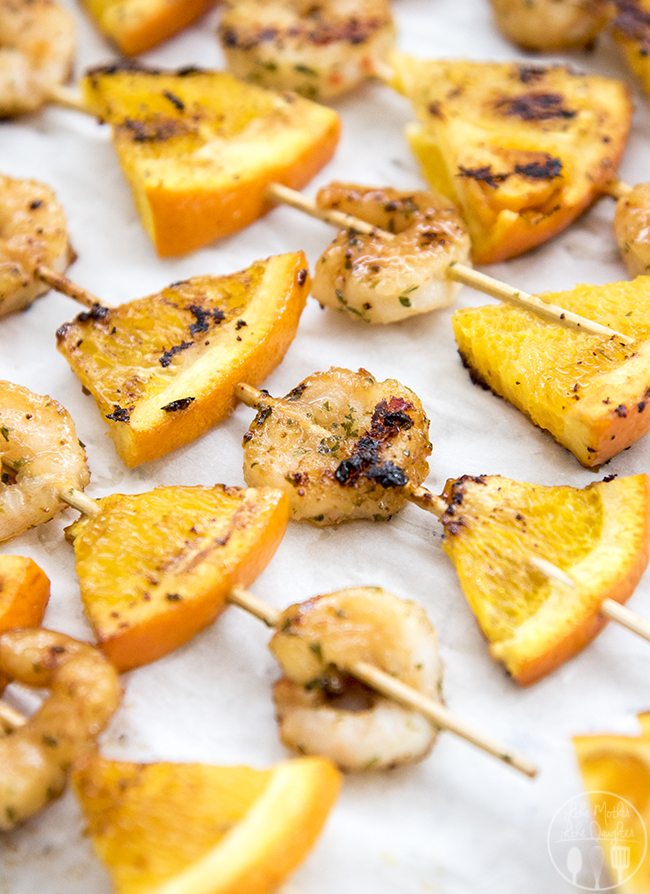 Honey Garlic and Orange Shrimp Kebabs
Ingredients
1 box SeaPak Shrimp Scampi
2 navel oranges
2 TBS honey
wooden skewers
Instructions
Preheat a grill to medium high heat.
Slice 1 of your oranges into thin slices, then cut each slice into small triangles.
Thread each skewer with a piece of shrimp, then orange, then shrimp, then orange till skewer is full.
Place kebabs on your preheated grill.
Cook for 3 minutes then flip kebabs over, cook for an additional 3 minutes.
Squeeze the juice of 1 orange into a small bowl, and stir together with 2-3 TBS of honey.
Spread honey orange glaze over the shrimp and allow shrimp to cook for an additional minute or two.
Shrimp are done cooking when they are orange on the outside and opaque throughout.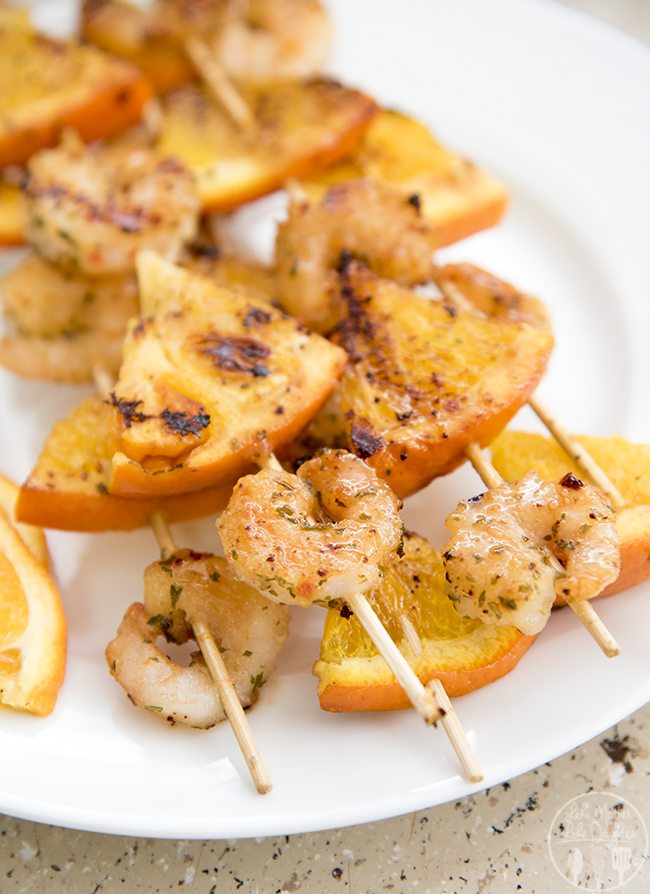 October is National Seafood month. SeaPak helps families celebrate in a shrimptacular way from after school snacks to easy family dinners, SeaPak products are perfect for any occasion. I'm trying to eat as much delicious seafood as possible this month.  Be sure to check out this SeaPak Shrimpatacular Pinterest Board for more shrimptastic recipes and on instagram for lots of great ideas using SeaPak products.
Here are some more delicious seafood recipes you might want to try too!
Shrimp Sandwich with Cilantro Lime Slaw