**This honey wheat bread is made in partnership with Buzz + Bloom Honey, as part of the Mom It Forward Blogger Network. All opinions are my own. #BuzznBloom 
This honey wheat bread is perfectly thick, chewy, soft, and lightly sweetened. It tastes great on its own, or with extra butter and honey on top!
Pin this Honey Wheat Bread for Later!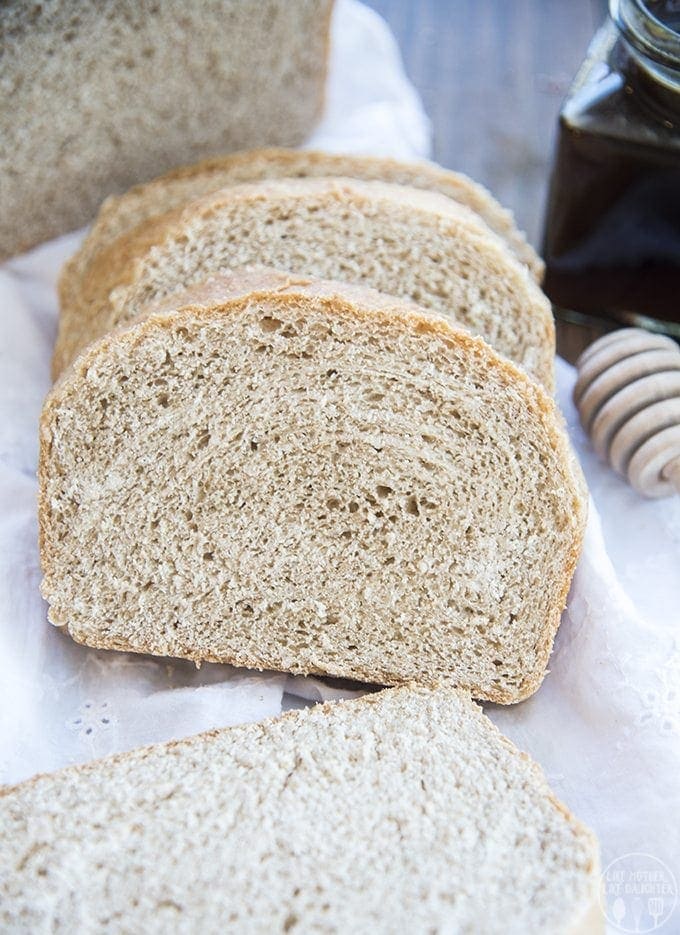 There isn't much better than fresh warm bread, straight from the oven – especially when it's slathered with butter and drizzled with fresh honey! This honey wheat bread is the perfect homemade loaf of bread.
This honey wheat bread is perfection. Its light, soft and a little bit chewy. My husband even said "That honey wheat bread is the best bread I've ever had, toasted and with some honey on top". The bread has a mixture of white and wheat flour, and is just lightly sweet – with honey instead of sugar to sweeten it.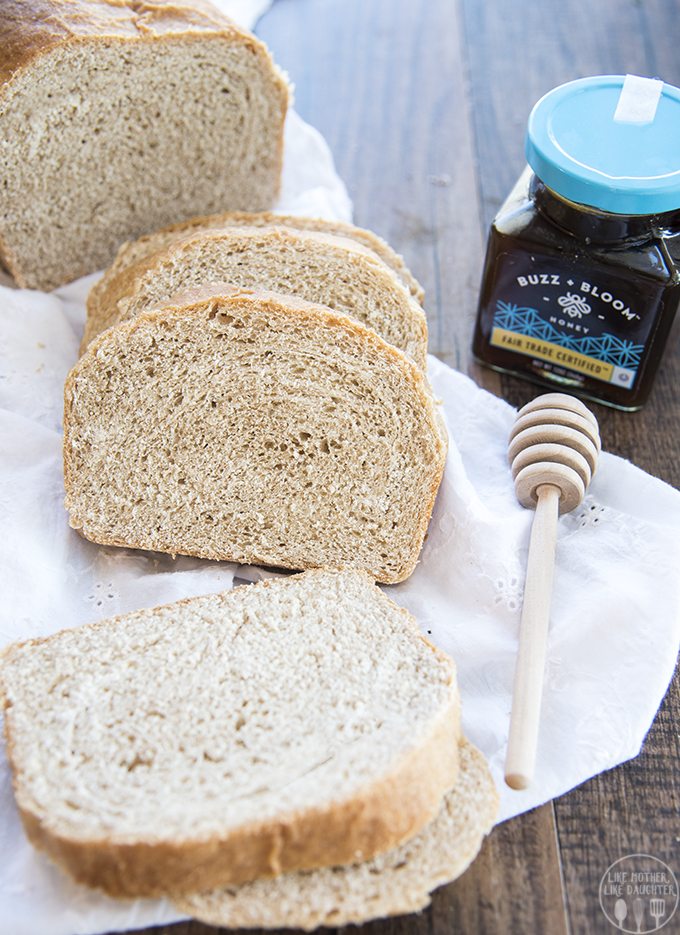 I used Buzz + Bloom Honey to make this bread because it's heated at a lower temperature, gently strained, and kept more natural and more delicious than other honeys. This helps the honey retain it's naturally occurring pollen, maintaining more of its helpful enzymes, antioxidants, and nutritious benefits.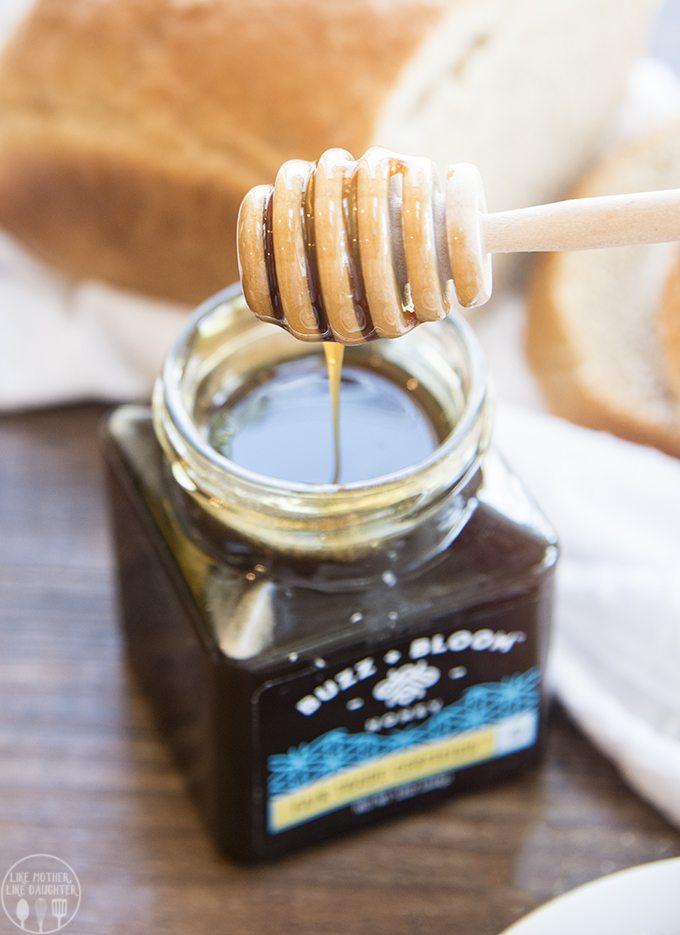 This bread is easy to make, the only hard part is waiting for the dough to rise before baking.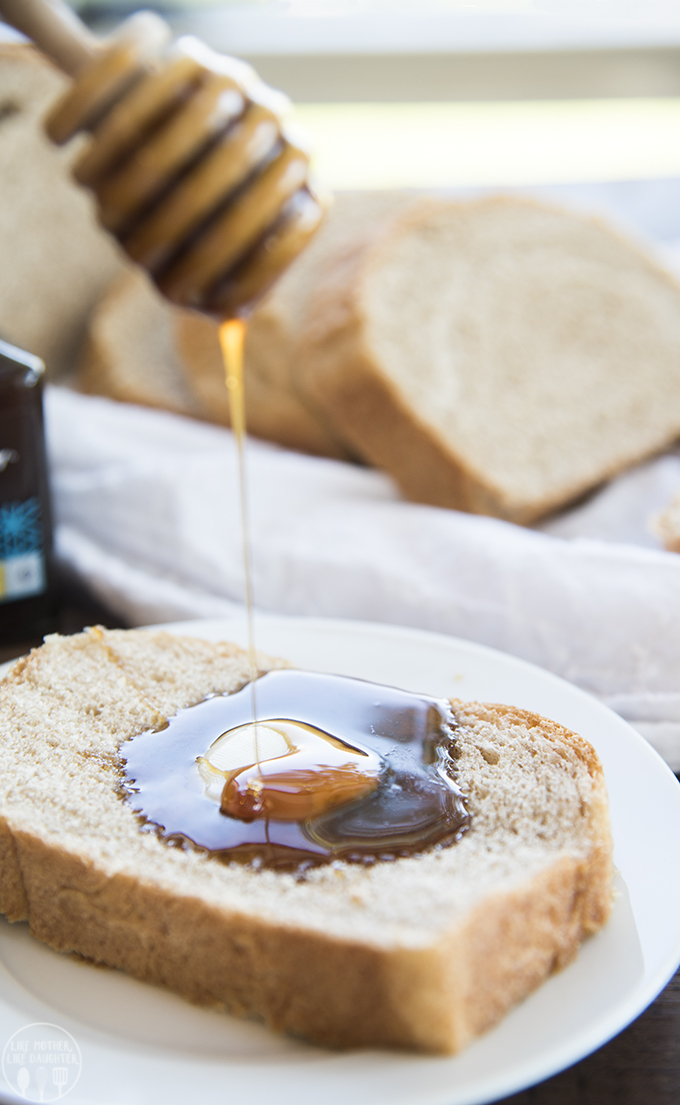 September is National Honey Month, so you better believe I'll be eating my toast with Buzz + Bloom Honey on top all month long. How will you be celebrating?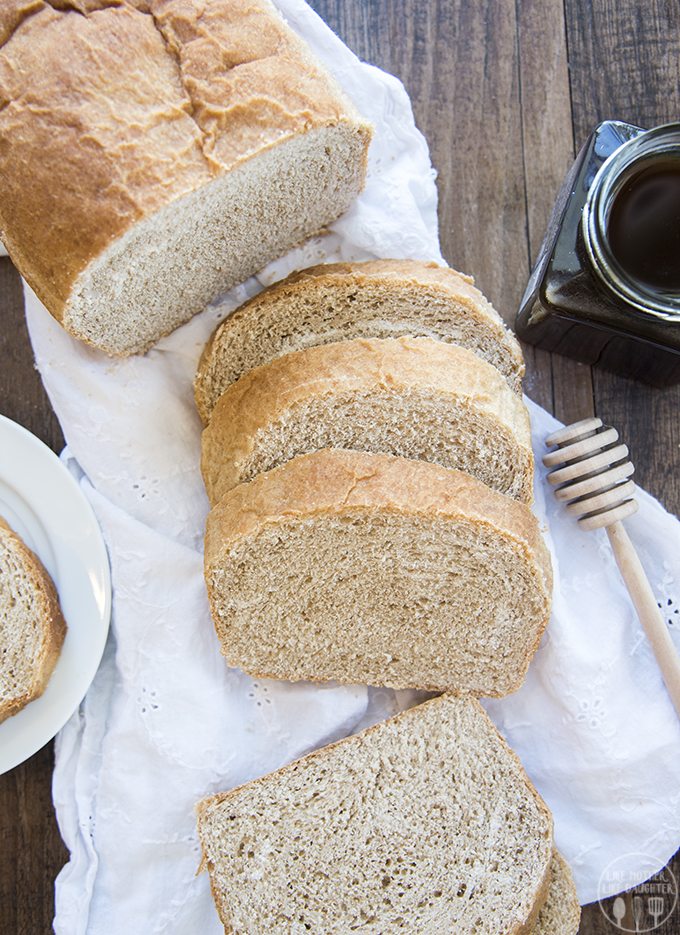 Honey Wheat Bread
Ingredients
2½ cups warm water
¼ cup Buzz + Bloom Honey
1½ TBS yeast
3 cups whole wheat flour
3½ cups white flour
3 TBS melted butter + more for top of bread
1 TBS salt
Instructions
In a stand mixer, or large mixing bowl, dissolve yeast, and honey in the warm water.
Let sit for 5 minutes.
Add in the whole wheat flour, white flour, butter and salt and mix until the dough pulls away from the sides (Add in more flour 1 TBS at a time if needed)
Knead, or allow to mix with dough hook for 8 minutes.
Remove the dough from the bowl and oil the bowl.
Place dough back in the bowl and cover. Allow to rise for about 1 hour until doubled in size.
Punch the dough down and roll it on a lightly floured surface.
Divide the dough into 2 equal halves, and roll into loaves.
Place each load in a greased bread pan.
Cover and allow to rise for another 45 minutes, or so, until doubled.
Preheat the oven to 375 degrees and bake for 25-30 minutes.
Coat the tops with butter, and return to the oven for another 5 minutes.
Allow to cool, if you can wait, and slice and serve.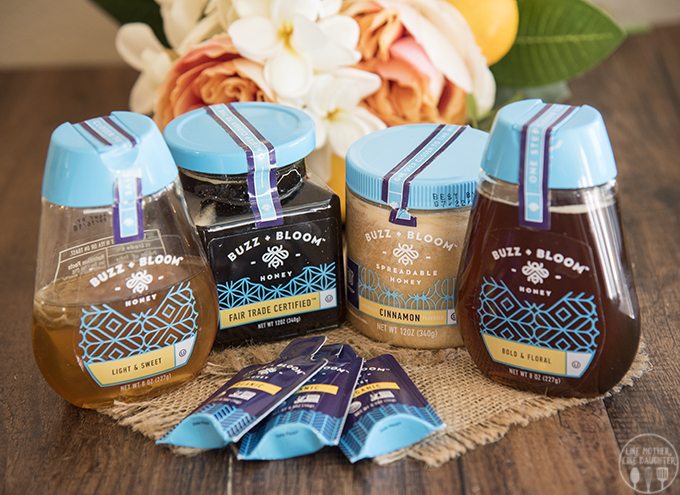 Buzz + Bloom Honey is sourced from different countries around the world to deliver an unparalleled taste in each variety. Buzz + Bloom Honey is available nationwide at their website, and at select retailers. They have 14 all natural varieties, including their Spreadable Honeys (in 100% Pure Honey, Almond, Blueberry and Cinnamon), they also have a Fair Trade Certified Honey, Raw & Unfiltered Honey, Bold & Floral, Light & Sweet, Orange Blossom and more. I am going to be trying the Blueberry Spreadable Honey and the Orange Blossom Honey next – yum!
Be sure to check them out on facebook, twitter, and instagram.