Craig's Aunt Lenon was the sweetest woman you would ever meet.  She was always so happy to see you.  You really felt warm, welcomed, and loved in her present.  On Oct. 1, 2015 she turned 90 years old.  That weekend there was a huge celebration of her life, she was so happy to see so many members of her family and so many friends.  It was a great party.  Four days later she left this mortal existence and returned to heaven.  We miss her but we are okay.  We know that she is reunited with her husband, mom and dad, and other family members.  We also know she was ready to go; she had this great party and really felt pretty good. She was happy and decided it was time.
Pin these Apple Dumplings for later.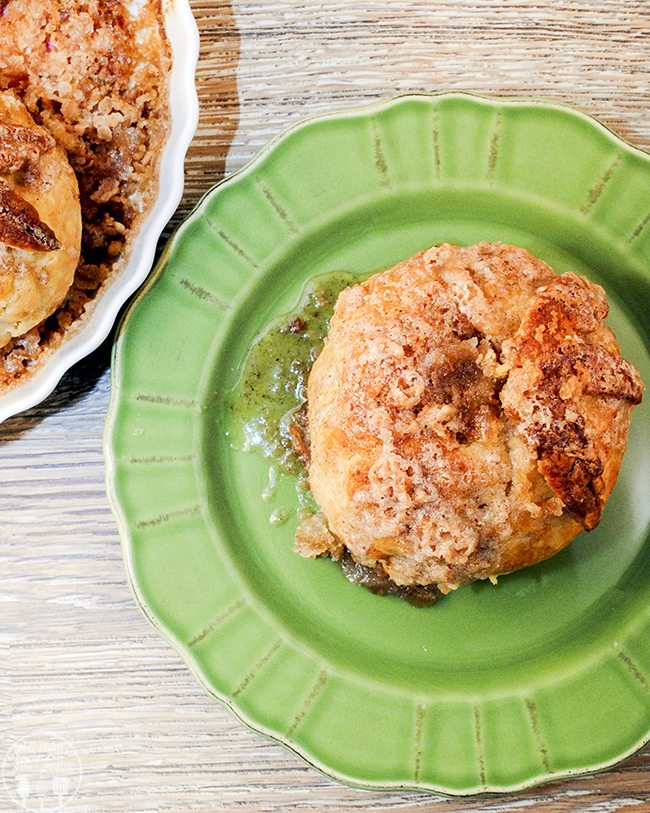 One of the projects I have been working on is archiving her recipes.  I think it will be a treasure to her daughters and granddaughters.  They are all great cooks and having this additional repertoire of recipes will just add to their talents.  Lenon's apple dumplings were the first recipe I was introduced to among her many.  This is the one that started it all.  And it is a great one to start with, Craig even said he felt like he was eating at a fancy restaurant because of the presentation of pastry wrapped apples with sauce and ice cream.  Now that is one bonus compliment I am always willing to hear.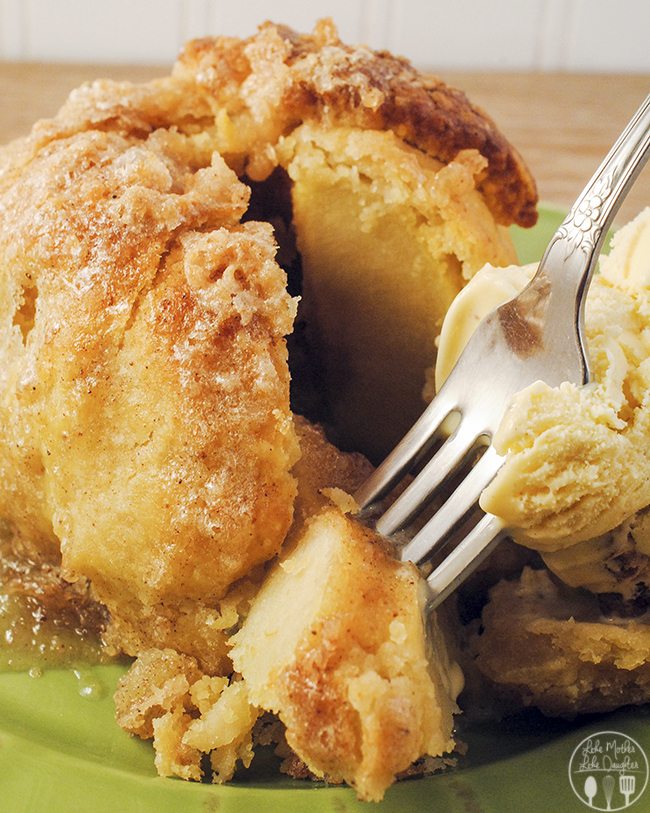 So here you have Lenon's Apple Dumplings – I used very large granny smith apples so there was only enough pastry to wrap two apples along with my leaf decorations but I believe that if you are using medium sized apples the pastry should cover 4 apples.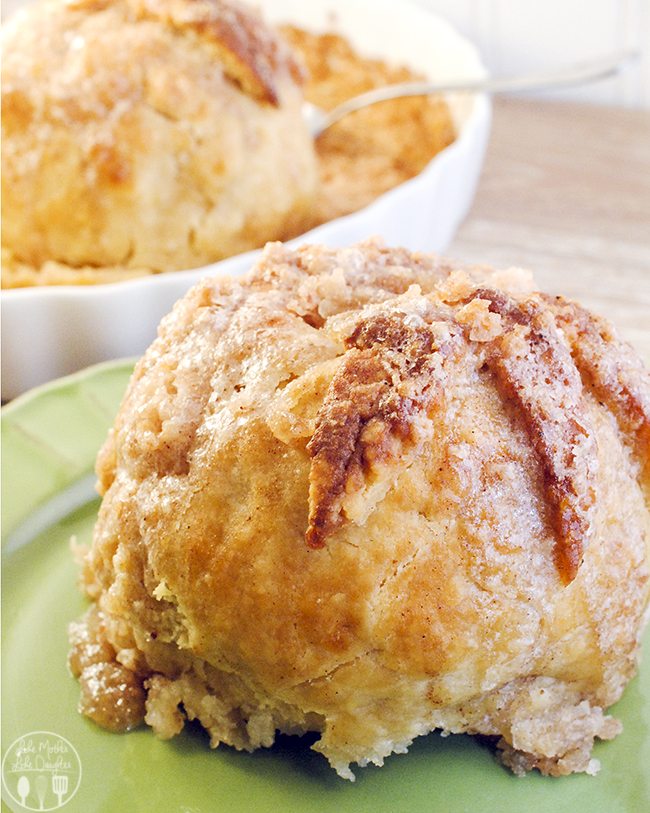 Lenon's Apple Dumplings
A tried and true family recipe of pastry wrapped apples with a cinnamon syrup sauce baked, serve with whipped cream or ice cream for a home cooked treat that feels and tastes like a fancy restaurant dessert
Ingredients
4 medium tart apples - such as Granny Smith
2 cups flour
1 tsp salt
2 tsp baking powder
¾ cup shortening
½ cup milk
2 cups water
2 cups sugar
¼ tsp cinnamon
¼ tsp nutmeg
¼ cup butter
Instructions
In a medium bowl, sift together the flour, salt, and baking powder
Cube the shortening and add to the flour mixture
Cut the shortening into the flour mixture with a fork until it resembles pea size crumbs
Adding 1 TBS at a time, gently mix the milk into the flour/shortening
Continue to add the milk a little bit at a time until it will form a ball
Wrap the dough in plastic wrap and place in the fridge for a minimum of 1 hour
Meanwhile, to a medium saucepan add the water, sugar, cinnamon, nutmeg, and butter
Over medium heat bring syrup to a boil and let cook for a couple of minutes
Remove from heat
Preheat oven to 425
Remove the dough from the fridge and on a flour dusted surface roll the dough until it is a quite flat rectangle and about ¼ inch thick.
Divide into 4 quarters
Core and peel each apple
Take ¼ of the dough and wrap the apple until it is completely covered, smooth out the rough bumpys
Place in a pie dish
Continue on all 3 remaining apples
If you have any dough left over cut out leaf shapes and attach to the top of each apple
Brush each pastry wrapped apple with a little milk and sprinkle with sugar
Pour syrup over each apple
Place in oven and bake for 30 to 40 minutes, while every 10 minutes baste apples with the syrup
Serve with whipped cream or ice cream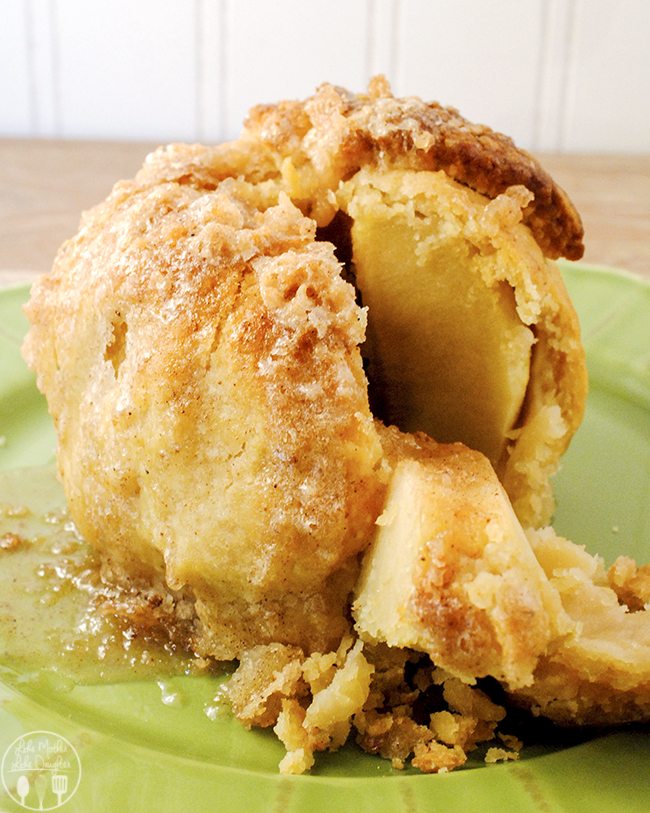 We love Lenon's Apple Dumplings and I hope you will too.  What special recipe do you have from a dear family member?