These tangy lime cheesecake bars are lightened up with egg whites, greek yogurt and SPLENDA® No Calorie Sweetener. They have a sweet coconut graham cracker crust giving them a perfect tropical flavor!
 **These delicious lime cheesecake bars are made using SPLENDA®Sweeteners as part of a sponsored post for Socialstars #SplendaSweeties #SweetSwaps. All opinions are my own.
Pin these Lightened Lime Cheesecake Bars for later.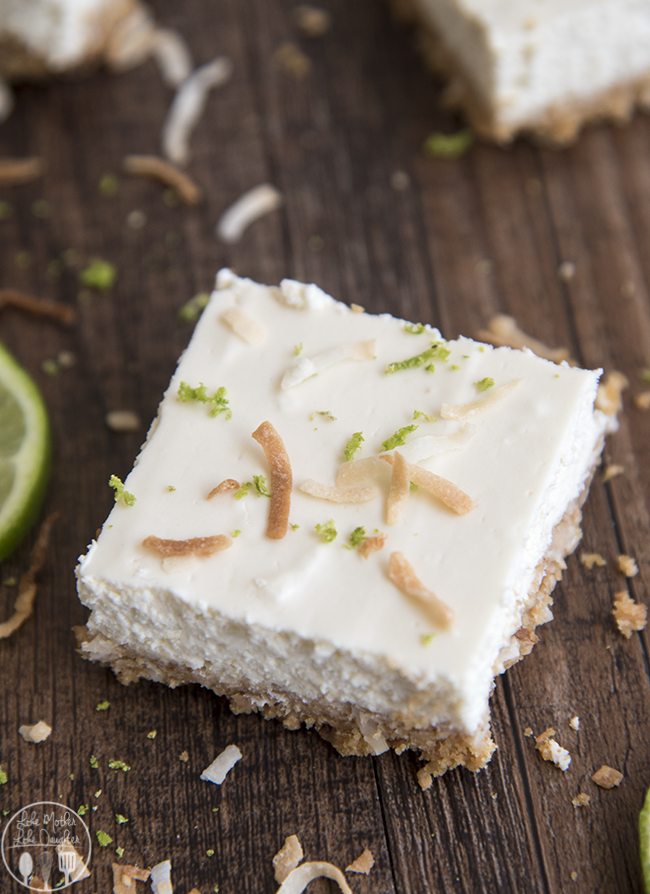 I have been on a serious citrus kick lately. With spring and warmer weather coming on strong, I think its appropriate though. I can't wait to have warm weather and I could eat lemon and lime and orange baked goods every day! These lime cheesecake bars were perfect thing to satisfy my desire for citrussy goodness. And stay tuned because later this week we have amazing lemon blueberry sweet rolls, and a tangerine curd coming your way as well.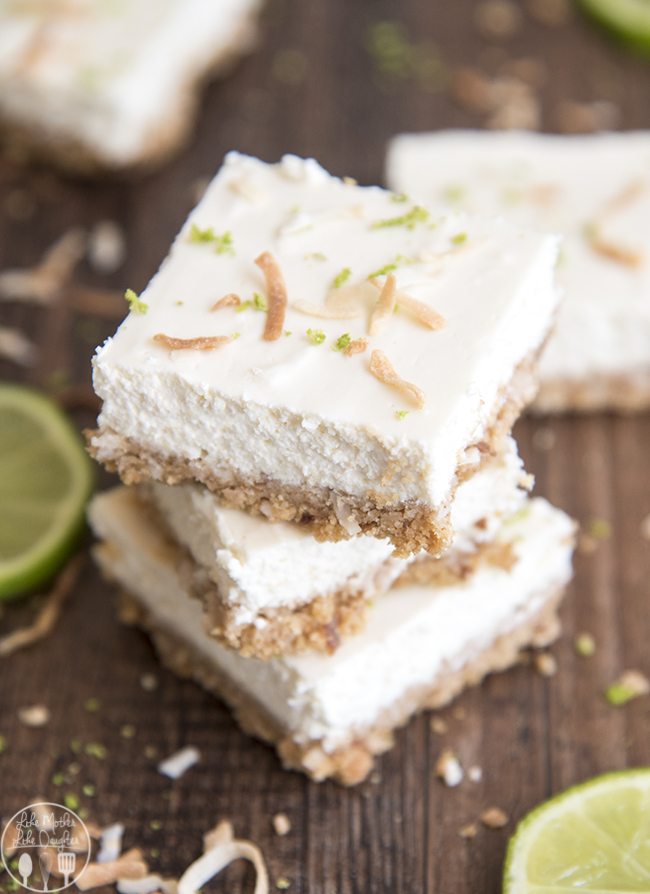 These lime cheesecake bars are made lighter in a couple different ways, so you don't feel as bad about eating 1 or 2 pieces. The toasted coconut graham cracker crust is made with less butter and no sugar (and you can use sugar free, or sweetened coconut flakes depending what you can find).
The cheesecake topping itself is made with Neufchatel cream cheese, which is 1/3 less fat than traditional cream cheese, instead of a second block of cream cheese it has fat free greek yogurt, egg whites instead of a whole egg, and instead of sugar I used SPLENDA® No Calorie Sweetener. This way the cheesecake bars can have no actual added refined sugar, but taste just as good and they come in at about 168 calories if you cut the pan into 9 bars, or 126 each for 12 bars.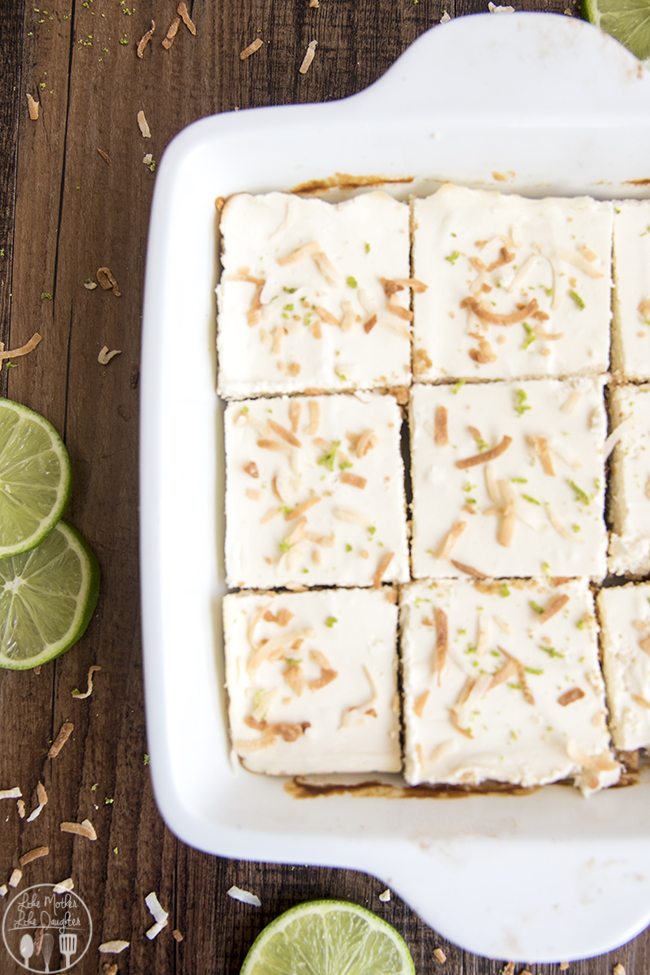 These tasty cheesecake bars have so much goodness about them. The cheesecake filling is perfectly light, tangy, and creamy. And the graham cracker crust? You'll add 1/4 cup toasted coconut to the graham cracker crust which turns these bars into tropical perfection.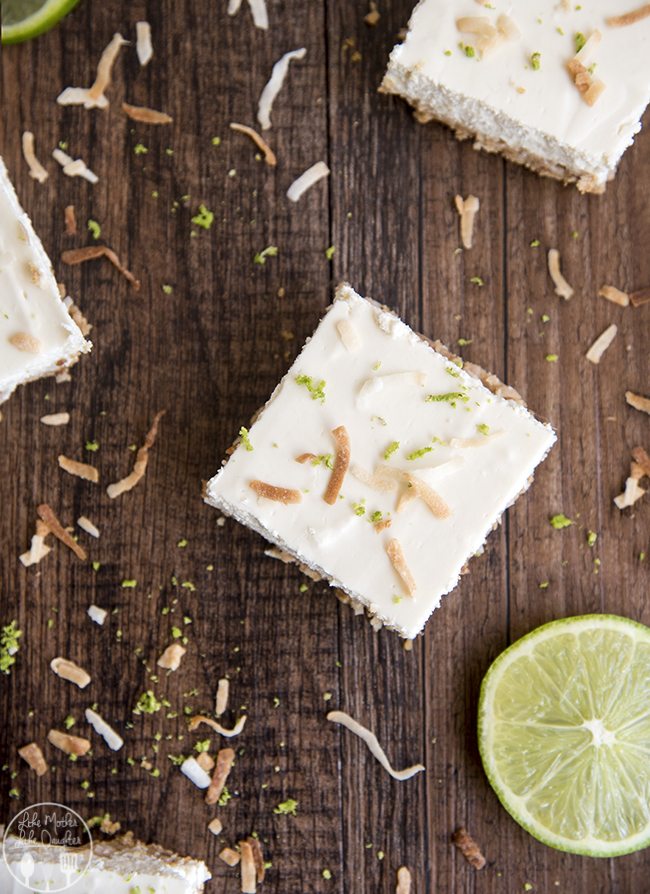 Lime Cheesecake Bars with a Coconut Graham Cracker Crust
Lime Cheesecake Bars with a Coconut Graham Cracker Crust Cook time: 25 mins Total time: 25 mins Serves: 9
Ingredients
For the Coconut Graham Cracker Crust:
6 whole graham cracker sheets
3 TBS melted butter (or coconut oil)
¼ cup toasted coconut (toast in oven for about 5 or 6 minutes at 350, stirring once or twice)
For the Lime Cheesecake:
8oz Neufchatel cream cheese
½ cup fat free vanilla Greek yogurt
2 egg whites
⅓ cup SPLENDA® No Calorie Sweetener**
1 TBS flour
¼ cup fresh lime juice (from 2-3 limes)
½ tsp vanilla extract
Instructions
Preheat the oven to 350 degrees. Line a 9in baking pan with foil and spray lightly with nonstick spray.
Using a food processor or blender, process your graham crackers into a fine crumb.
In a medium bowl mix them together with your butter and toasted coconut.
Press into baking pan evenly.
Place in oven and bake for 5 minutes. Allow to cool while you are making the filling.
Beat your cream cheese using a stand or hand mixer for about 1 minute, until smooth.
Add in the greek yogurt, egg whites, SPLENDA®, flour, lime juice, and vanilla.
Mix for 3 minutes on high speed until the mixture is nice and creamy.
Pour mixture over the crust and spread evenly.
Bake for about 25 minutes until the bars aren't jiggly in the middle.
Allow to cool for 1 hour at room temperature.
Cover and refridgerate for 3 hours, or longer.
Lift the foil out of the pan and cut into squares.
Top with lime zest and toasted coconut.
Notes
**Instead of ⅓ cup Splenda you can use ⅓ cup sugar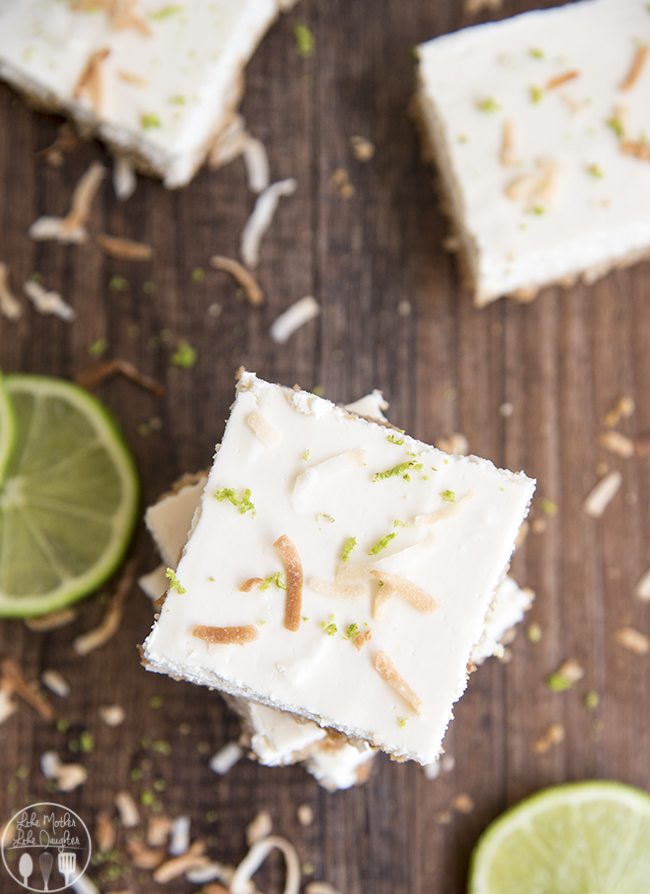 For more tasty recipes using SPLENDA® Sweetener Products instead of sugar, visit them on facebook, pinterest, instagram, or twitter. Or try one of the recipes I've made with SPLENDA® Sweetener Products.
Healthier Pumpkin Chocolate Chip Bread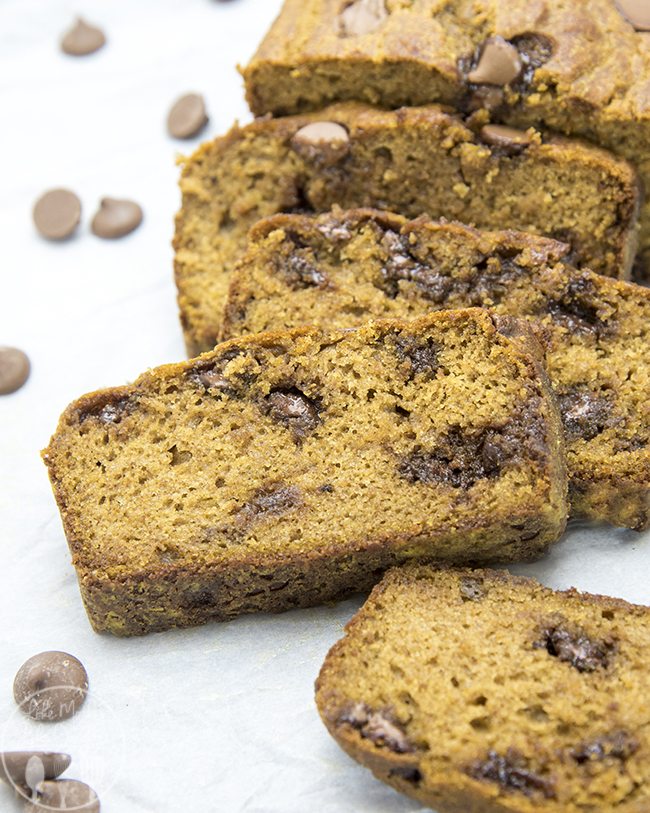 Berry Salsa and Cinnamon Chips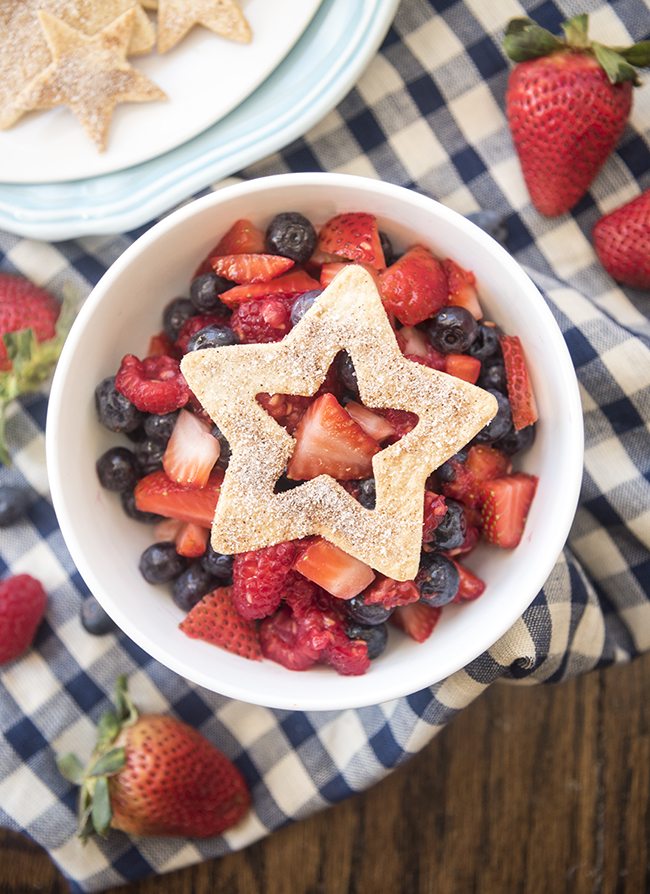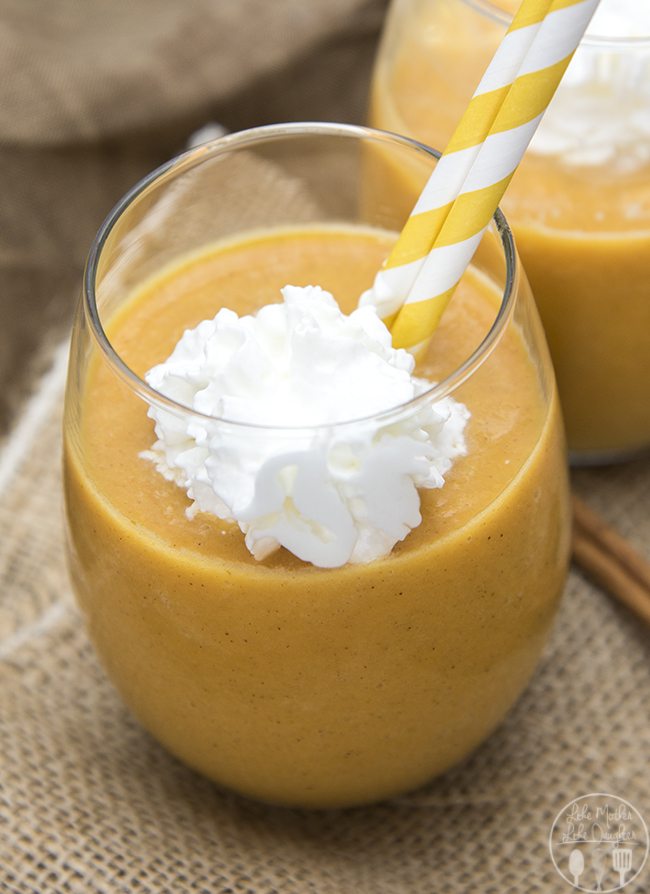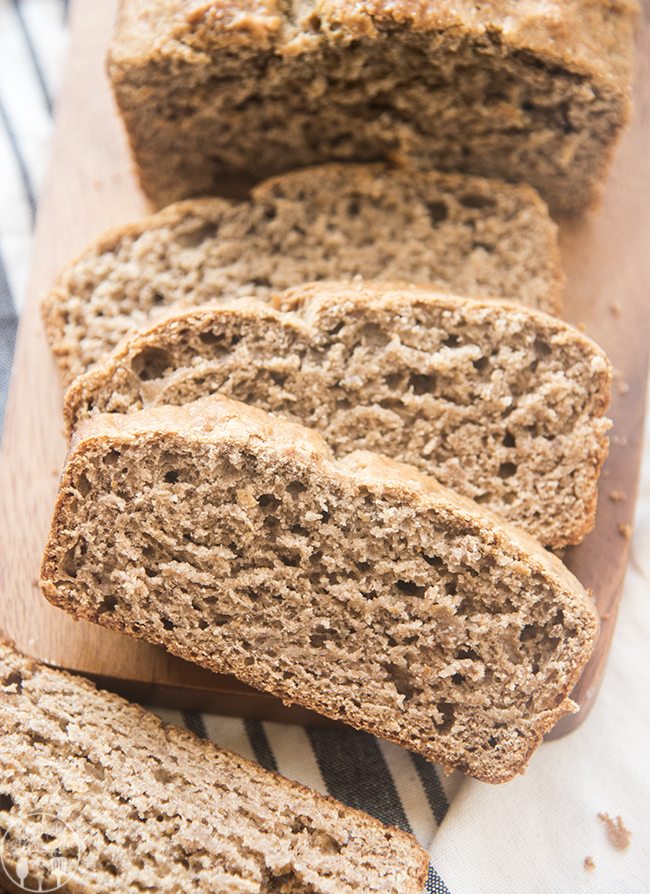 Greek Yogurt Blueberry Pancakes