Wow, "LOADED" is the optimal word here.  These loaded sugar cookies bars are just that, loaded with all the chips and nuts and sweets that you might imagine.  I loaded mine with chocolate chips, butterscotch chips, pistachio nuts, and cherry M&Ms.  A unique combination but truly a great combination together.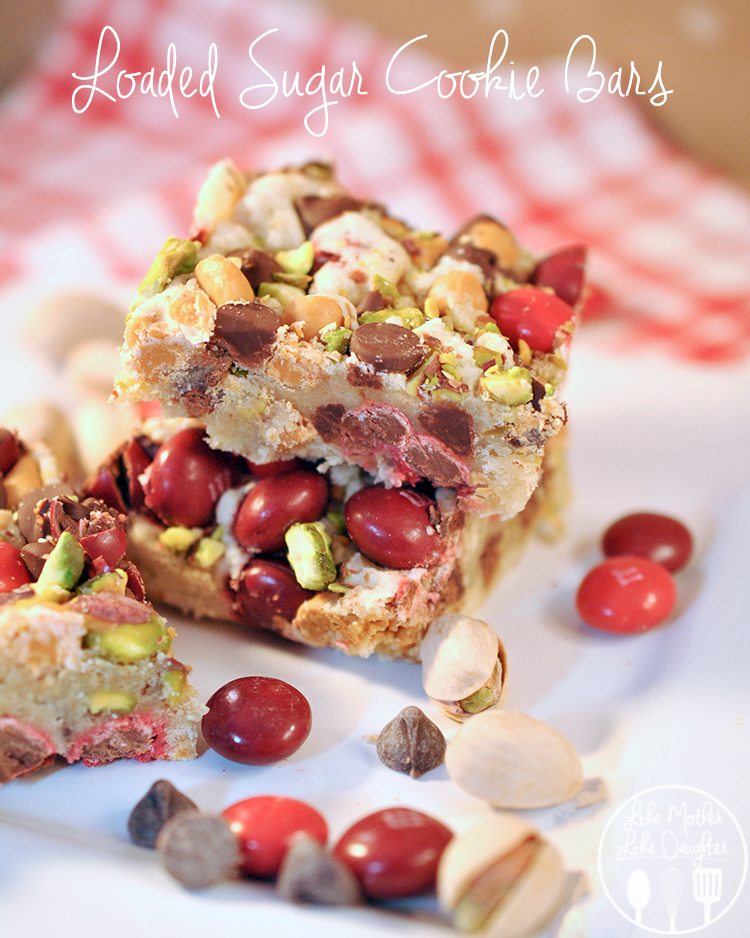 The amazing thing is, I had the cherry M&Ms leftover from my Christmas candy.  That is amazing right?  I think for Christmas this year I received all of my favorite candies; chocolate orange, cordial cherries, orange sticks, and cherry M&Ms.  There was so much (thanks Aimee) that I spread the devouring eating out over the past couple of months.  And I had been saving the cherry M&Ms for just the right time and perhaps the right recipe.  I chose these loaded sugar cookie bars, it was a good choice.
Now you might not have the same candy, chips, nuts combination.  I can see this with chopped candy bars, peanut butter chips, and pecans. Or just all your favorites, just make sure it is a lot – load these cookie bars right up!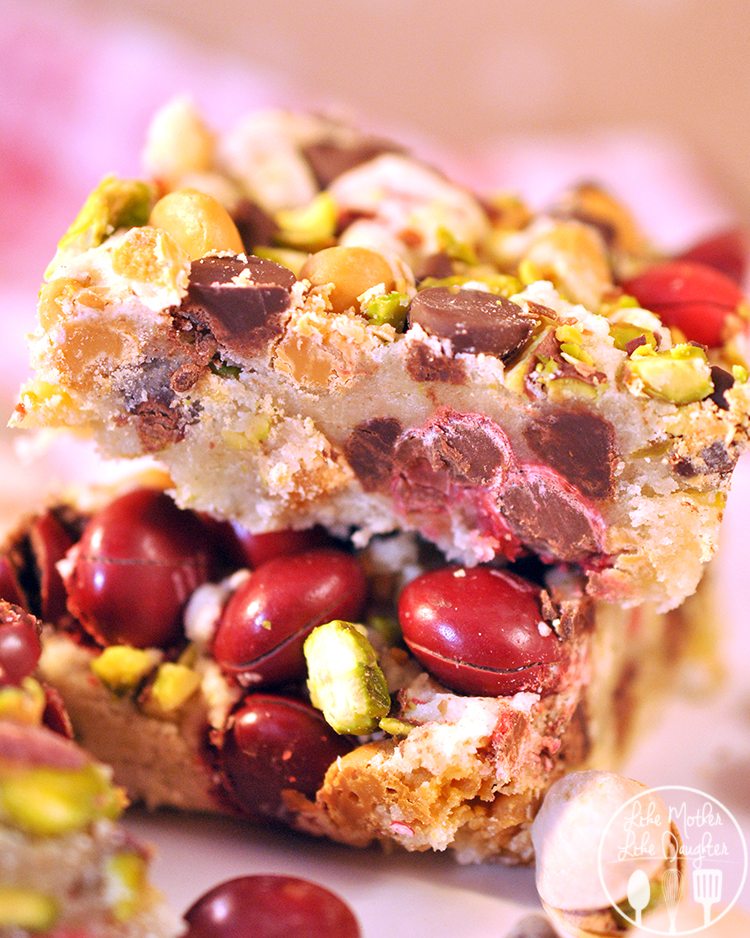 Loaded Sugar Cookie Bars
Sugar cookie bar crammed full with M&Ms, chocolate and butterscotch chips, along with pistachios. So sweet and so good.
Ingredients
¾ cup white sugar
⅓ cup butter - softened
1 egg
1 TBS milk
1 tsp vanilla
1⅝ cup white flour
1¼ tsp baking powder
¼ tsp salt
½ cup semi-sweet chocolate chips
½ cup butterscotch chips
½ cup pistachio nuts - shelled and chopped crudely
1 cup cherry M&Ms
Instructions
Cream together the sugar and butter in a medium bowl
Add the egg, milk, and vanilla and mix in
In another bowl, sift together the flour, baking powder, and salt
Add the flour mixture to the sugar/butter mixture and stir in
With your hands form a ball with the dough, wrap in plastic wrap, and place in the fridge for a minimum of 2 hours
After 2 hours remove from fridge and bring to room temperature
Preheat oven to 350 degrees
Spray with cooking spray an 8x8 square pan
In a large bowl put the sugar cookie dough and pour over the top the chocolate chips, butterscotch chips, chopped pistachio nuts, and cherry M&Ms
With your hands mix the chips, nuts, and candy into the dough (sometimes you might break apart the dough to mix more in)
Put the candy loaded dough into the 8x8 pan and pat flat
Any candy that is left in the bowl spread over the dough of the dough and pat in
Bake at 350 degrees for 20 minutes in the oven
Remove from the oven and let cool completely
Cut into 1.5 x 1.5 inch bars and serve
Enjoy with a cold glass of milk
Enjoy these delicious loaded sugar cookie bars, loaded with your favorite treats. What are you going to load yours with?