This raspberry pretzel jello salad is great as a side dish or dessert! With a crunchy and salty pretzel crust, a smooth cream cheese middle and a sweet raspberry jello topping!
Pin this Raspberry Pretzel Jello Salad for later.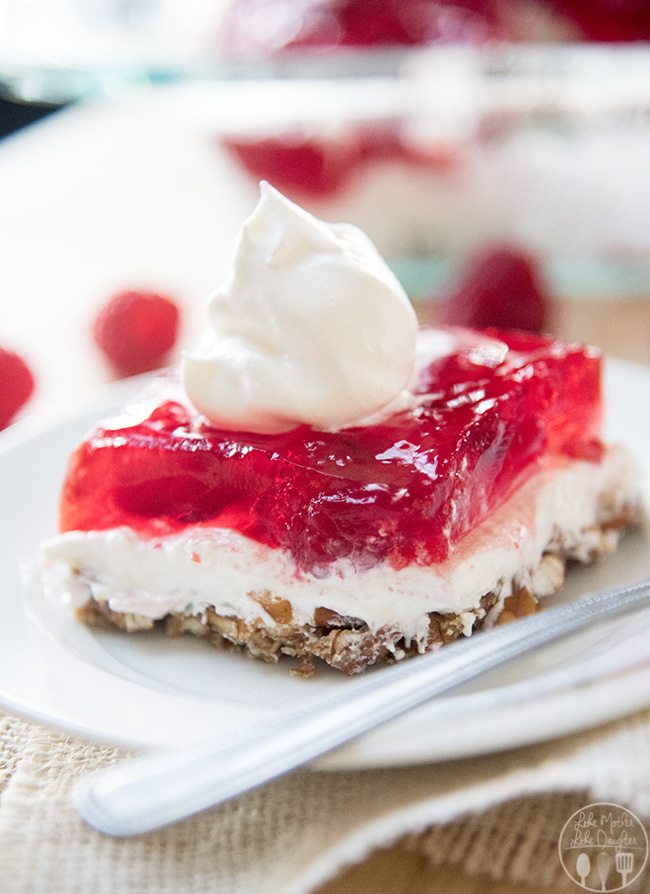 This raspberry pretzel jello salad is the perfect side dish! It has a crunchy, sweet and salty pretzel layer, with a smooth and sweet cream cheese and whipped cream layer, topped with a simple and sweet raspberry and jello layer.
This pretzel jello salad is simple to make, though it does take a couple hours of planning (because you need the jello to fully set before serving). Its great for a summer bbq, or a holiday party, or a potluck style dinner, or really for any occasion. Its great served as a sweet side dish, or its sweet enough to serve as a dessert too.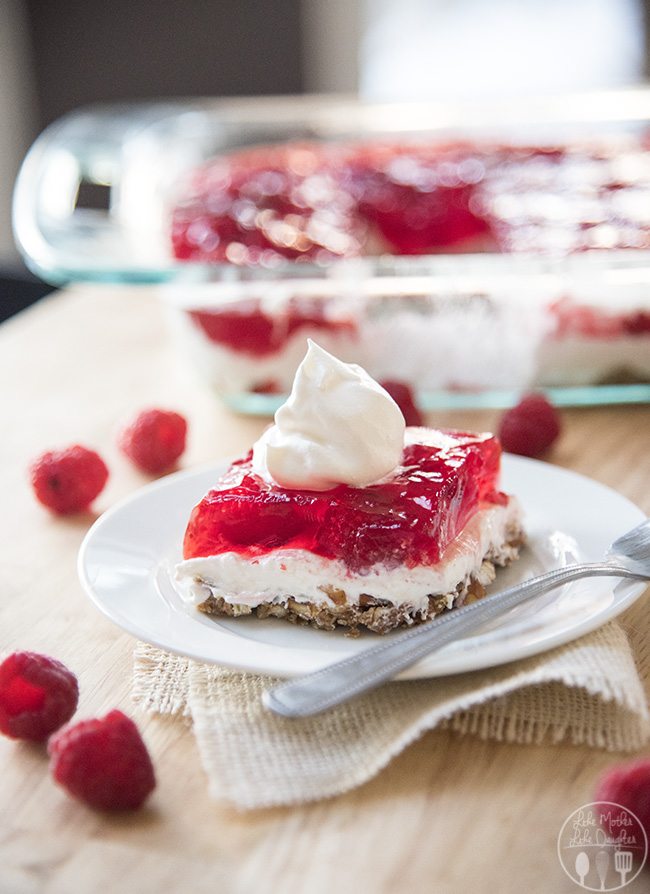 I was so excited to have the opportunity to make this for a family party when I was asked to bring a jello salad with fruit. Everyone who got some was happy to have a slice of this delicious dish. And the whole pan was quickly gobbled up. I adapted my recipe from Natasha's Kitchen.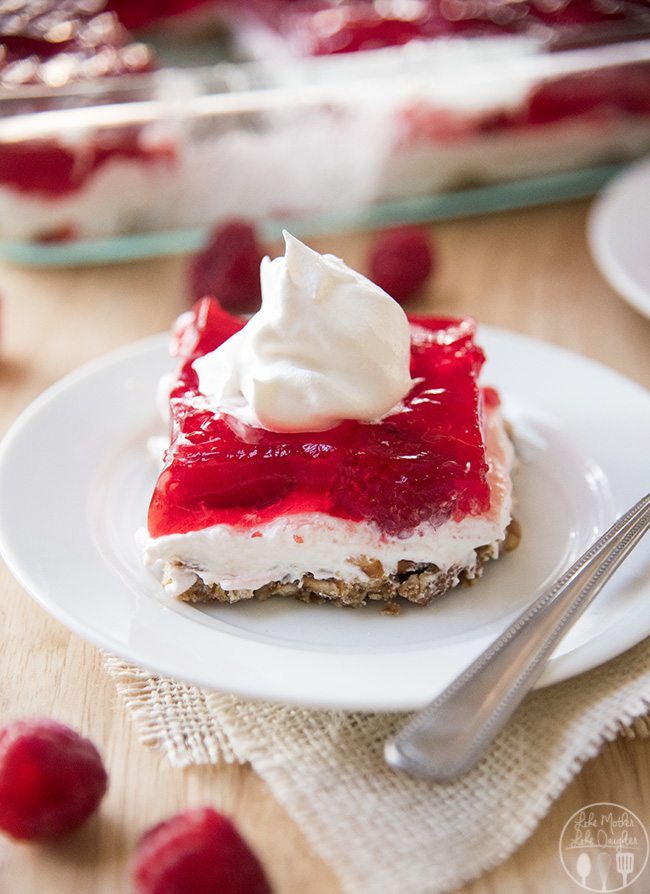 Every layer of this dish is perfection from the sweet and salty crust, the cream cheese middle (it almost tastes like cheesecake) to the raspberry jello on top.

Raspberry Pretzel Jello Salad
Ingredients
1 6oz package of instant raspberry jello.
water as called for on jello box.
2 cups crushed pretzels
½ cup melted butter
2 TBS sugar
2 TBS brown sugar
8 oz cream cheese
1 cup sugar
8 oz cool whip
2 cups raspberries
Instructions
Prepare your jello according to package directions.
Allow jello to cool on the counter top till needed.
Preheat oven to 350 degrees.
In a medium sized mixing bowl, combine your pretzels, melted butter, white sugar and brown sugar.
Press the mixture into a greased 9x13 pan and spread evenly across the bottom.
Bake for 10 minutes in your preheated oven.
Allow to cool completely.
Beat your cream cheese and sugar together until smooth.
Carefully fold in the cool whip.
Spread the cream cheese mixture over the pretzel crust. Make sure to spread all the way to the edges so that the jello won't leak through.
Place your raspberries over the top of the cream cheese mixture.
Pour the jello over the raspberries and place pan in the fridge to chill for about 3 hours before serving, until completely set..
Notes
Prep time does not include chill time.