Reindeer Oreo Balls are such a cute and fun Christmas treat – they are oreo truffles made to look like reindeer!
Oreo balls are the perfect Christmas treat because they only require 3 ingredient, along with being very simple no bake treats that anyone can make! They're perfect for you to make for a Christmas party you're holding or attending, or to package up and take to your neighbors as a holiday gift.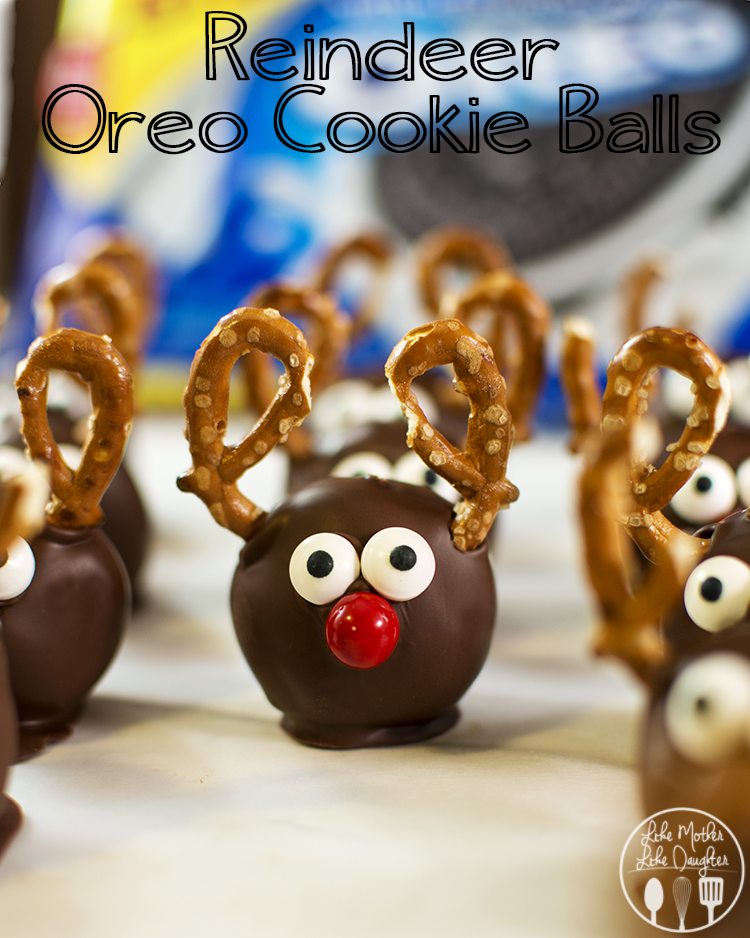 **These reindeer oreo cookie balls were made in partnership with Collective Bias, Inc. and its advertiser. All opinions are mine alone. #OREOCookieBalls #CollectiveBias
Another great thing about them is they are so simple to dress up. I decided to make some of my oreo truffles into reindeer by adding just a couple ingredients for decoration. The possibilities are endless, from making them into ornaments, or snowmen, or santa claus.
How to make Oreo balls?
All you need to make Oreo balls is Oreo cookies, cream cheese, and chocolate. You'll blend up the Oreo cookies into a fine crumb and mix it with cream cheese. Roll the mixture into little balls and dip into chocolate.
For the reindeer variety, you'll also need pretzels, candy eyes, and sixlets, m&ms, or some other chocolate candy.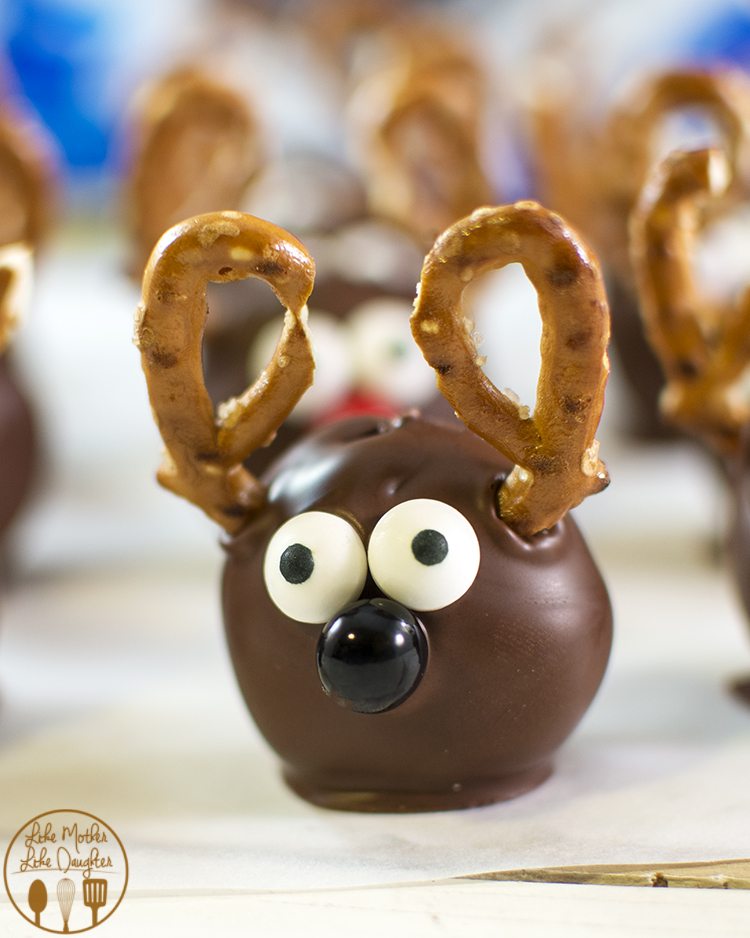 Reindeer Oreo Cookie Balls
Ingredients
1 8oz package cream cheese softened
36 Oreo cookies, finely crushed
4 4oz packages semi-sweet baking chocolate, melted
Optional:
48 mini pretzels
48 red, brown or black sixlets
96 candy eyes
Instructions
Mix together your cream cheese and cookie crumbs until blended.
Shape your mixture into 48 1in balls.
Freeze for 10 minutes.
Dip balls in melted chocolate and place in a single layer on a waxed paper-lined pan.
Optional:
Break your pretzels in half down the middle and press each half onto one side of the Oreo ball.
Place 2 candy eyes and 1 candy nose on each OREO ball.
Refridgerate 1 hour or until firm.