This skillet pull apart with spinach dip is perfect for an easy appetizer to share. Crispy and soft bread dipped into gooey cheesy spinach dip, perfection!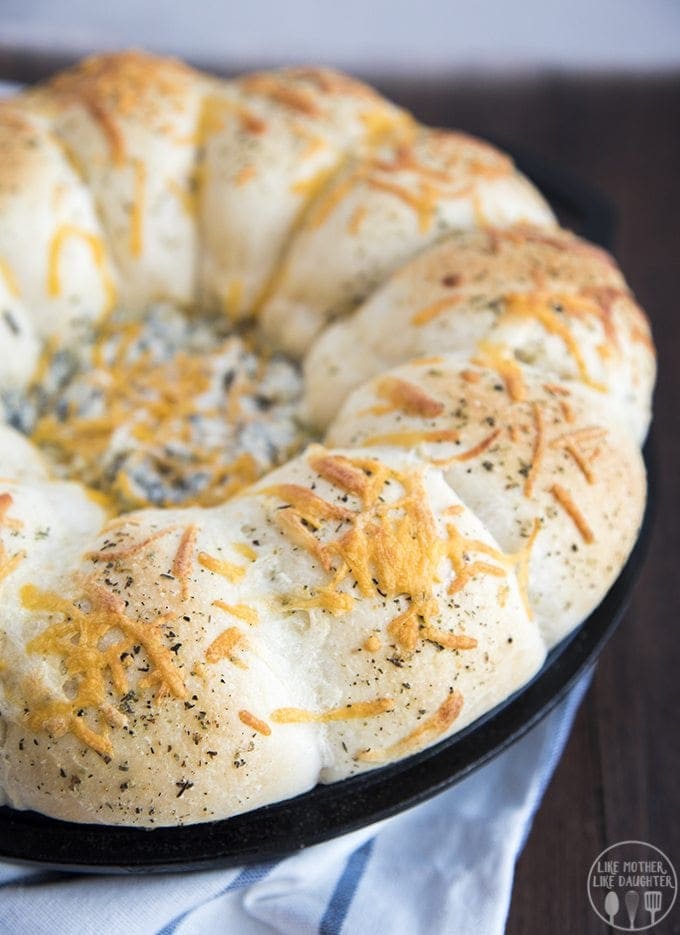 A little while back I got this idea to make a skillet full of dip on the inside and rolls on the outside that you could pull apart and dip right into the hot dip. Apparently this isn't a new idea, but I wanted to try it out and share it with you anyway – and it turned out so good!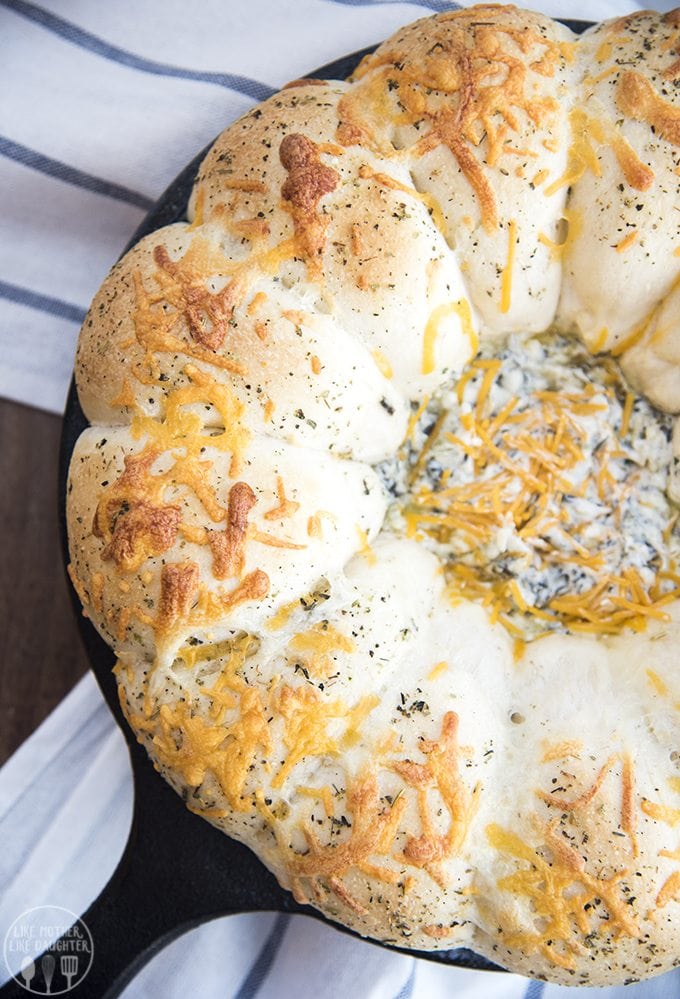 You'll let the rolls rise up in the skillet with a bowl in the middle to leave room for the dip. Then scoop in your favorite cheesy spinach dip (or spinach and artichoke dip) and bake it all up together. I used a cast iron skillet so it took a lot longer than I expected for the rolls to bake all the way through, because it takes longer for the pan to heat up, but the end result was a perfectly crispy on the bottom soft in the middle roll, which was SO GOOD for ripping apart and dipping into the cheesy dip.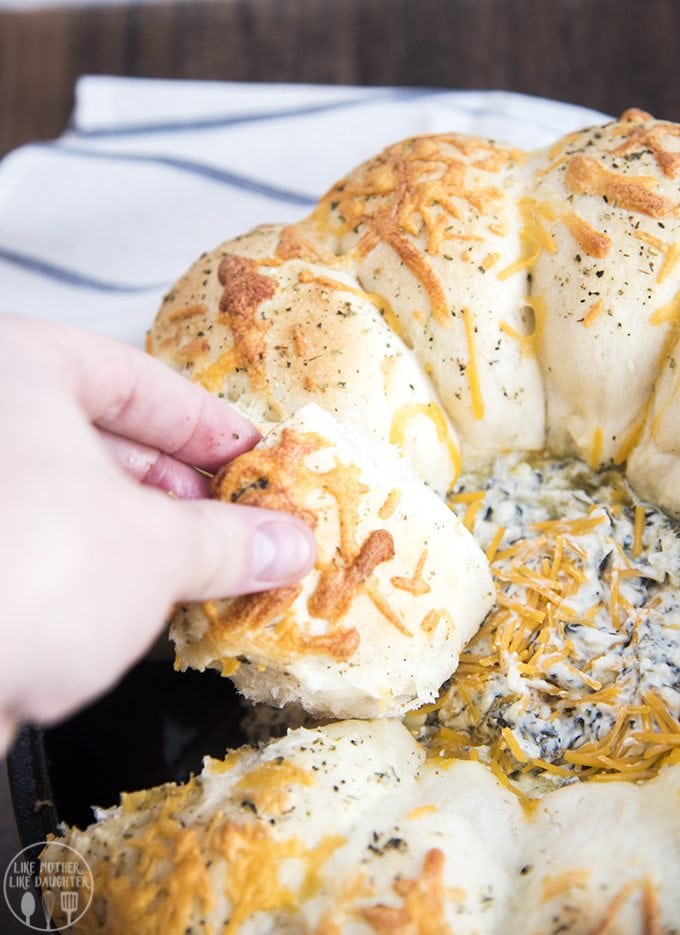 If you have another skillet that is oven safe and not cast iron your baking time might be a little shorter, just check the rolls occasionally – pull one out if you need and check the middle to make sure where its touching the dip is cooked and not doughy. This was about 45 minutes for me (even though the rolls suggest cooking for only about 20 minutes).
I made this recipe super easy by using my favorite frozen rolls, and a refrigerated dip from the store too. You're welcome to make it your own with a homemade spinach dip or homemade dough too.
Here we go.

Spinach Dip Skillet Pull Apart
Ingredients
12 frozen rolls (I used Rhodes)
2 cups spinach dip (or spinach and artichoke dip)
For the Topping:
2 TBS melted butter
1 tsp Italian herbs
½ tsp garlic salt
2 TBS shredded mozzarella cheese
2 TBS shredded cheddar cheese
Instructions
Grease an 8 inch skillet and set 10-12 frozen rolls around the outside border.
Grease the edges of a bowl to fit in the middle of the rolls.
Allow rolls to thaw and rise for 3 to 5 hours until they are doubled in size.
Preheat oven to 350 degrees.
Remove the bowl and scoop spinach dip into the middle of the rolls.
Mix together melted butter, italian herbs and garlic salt in a small bowl.
Brush melted butter over the top of the rolls.
Sprinkle cheese evenly over the top.
Bake for 40-50 minutes until rolls are cooked throughout and spinach dip is hot throughout.
Allow to cool for a few minutes and enjoy.