I created my first ever smoothie bowl. I devoured my first ever smoothie bowl.  I will guarantee it will not be my last, oh such goodness in one simple bowl.  Refreshing, exhilarating, fresh, energizing, revitalizing, delectable, delightful, luscious, yummy, enticing, fresh, hearty  – I am not sure I can come up with enough adjectives to describe how wonderful it was.  But I sure tried.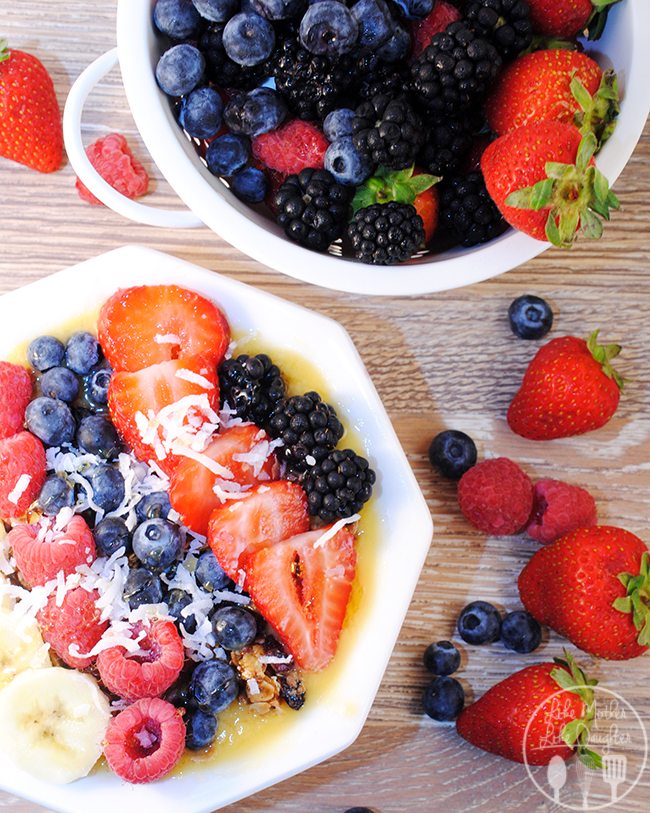 I am almost sadden that it took me so long to make a smoothie bowl.  I think there was some hesitation on why would I need a smoothie bowl, I drink smoothies so often. Now I know why they are loved.  That frozen fruit blended eaten with your favorite granola – I used this Nut and Seed Granola – but feel free to use whatever granola you like, so good together.  Then the addition of fresh berries, so simple to just sprinkle those on top.  And the finale of shredded coconut with a drizzle of honey such a lovely combination.  Your mouth will thank you.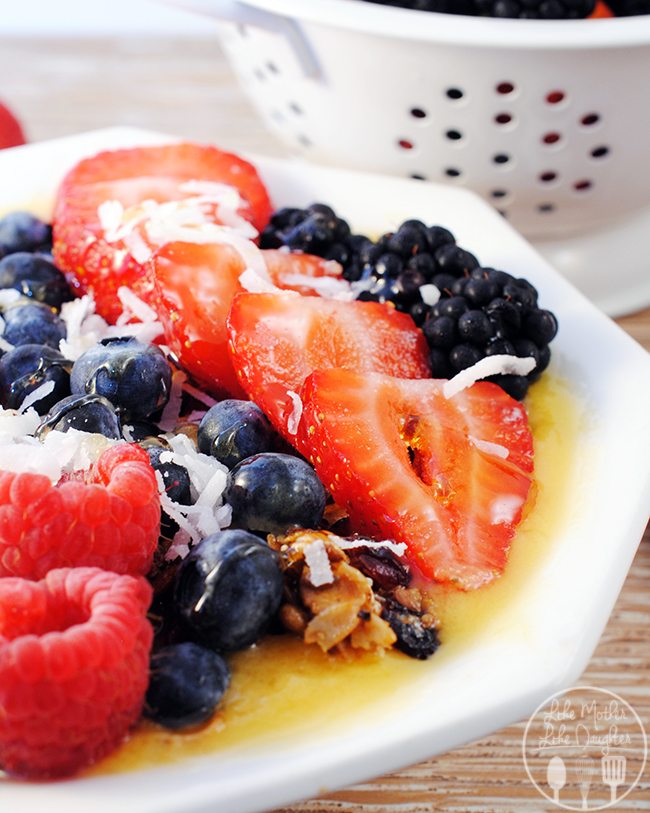 So simple, so easy, so delectable. Yeah!

Smoothie Bowl
A refreshing smoothie in a bowl with more fresh fruit and granola, coconut sprinkled on top and a drizzle of honey for the most delicious healthy breakfast you can imagine.
Ingredients
For the Smoothie:
1½ cup frozen fruit (I used mango, papaya, and pineapple)
¾ cup orange juice
For the Smoothie Bowl:
½ cup granola
2 strawberries (sliced)
5 to 6 raspberries
5 to 6 blackberries
10 to 12 blueberries
¼ banana sliced
1 TBS shredded coconut
1 tsp honey
Instructions
In your blender place the frozen fruit and orange juice, blend until liquidized
Pour into a bowl
Spread granola over the top
Place the berries and banana in rows
Sprinkle the coconut on top
Drizzle the honey over everything
Eat
Have you made yours today? what are you waiting for!
Smoothie Bowl – A refreshing smoothie bowl with more fresh fruit, granola, coconut, honey on top for the most delicious healthy breakfast you can imagine.