These s'mores peanut butter cookie bars have the perfect combination of flavors. I just love the flavors of s'mores with chocolate, graham cracker and marshmallow and these cookie bars just take it to the next level with peanut butter!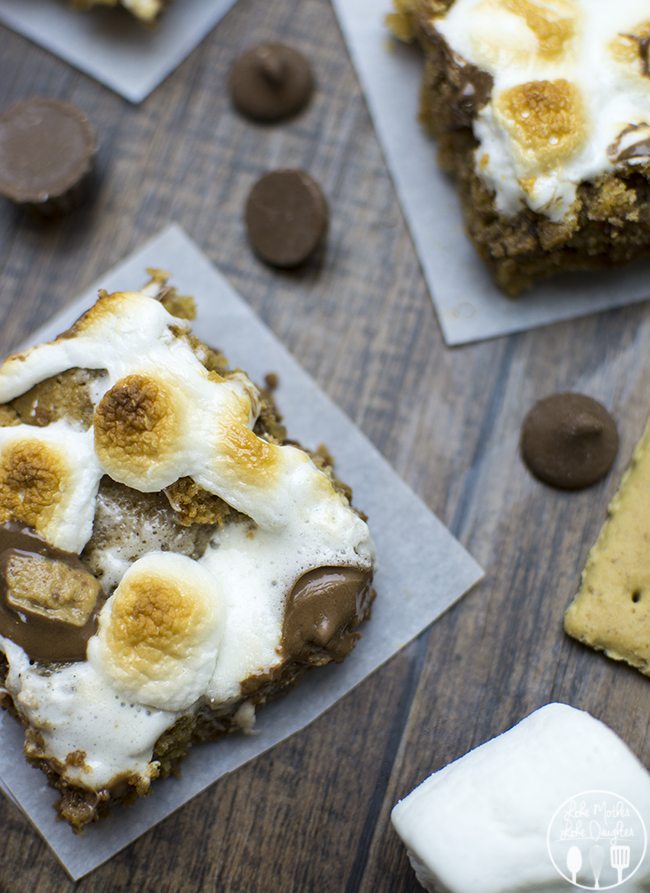 I shared these amazing cookie bars over at Lolly Jane last month and its almost summer time, so I'm thinking all things s'mores and wanted to share them with you too!
The cookie bars start with a peanut butter cookie base, which I just barely altered from my peanut butter blondies recipes, you'll then mix in some chocolate chips and some Reeses's peanut butter cups and bake. Top it with marshmallows and return to the oven for just a minute to allow the marshmallows to get that perfectly golden toasty edge that we love in s'mores. Slice them up carefully and you're ready to serve!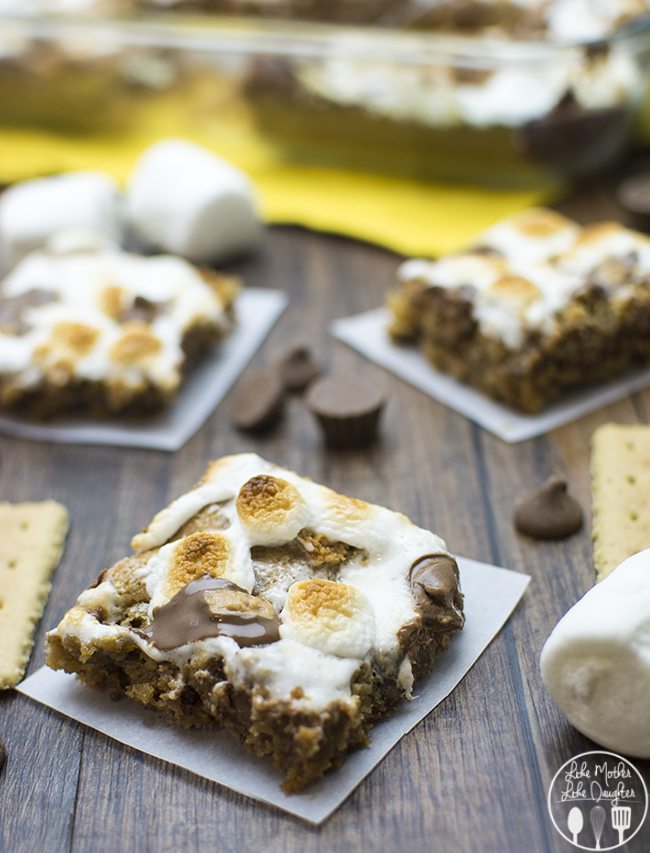 So you start with a peanut butter cookie bar base, I altered the recipe for my peanut butter blondies. Then mix in some chocolate chips, and some reeses' peanut butter cups. Bake it all up and then top it with marshmallows and broil for about a minute to get them nice and toasty. Carefully cut them up and serve!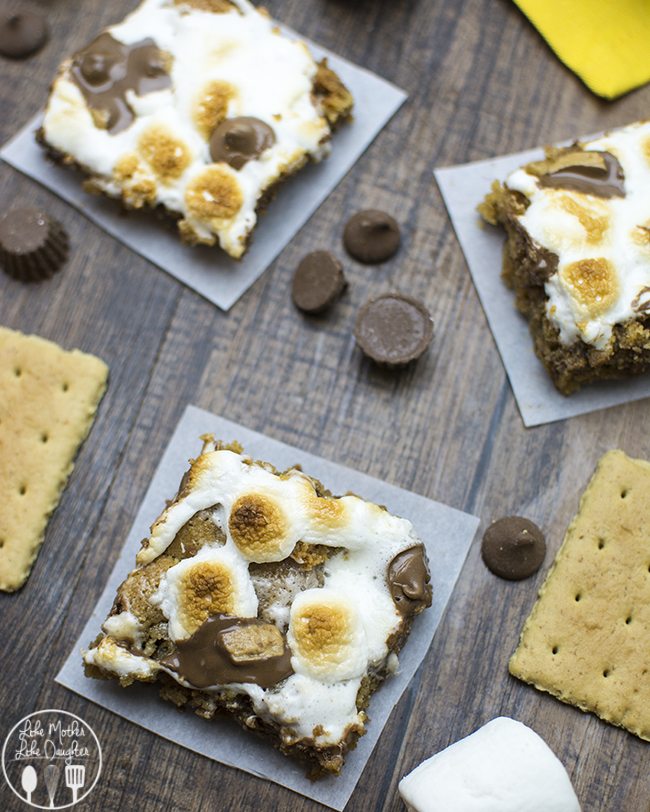 You'll love this amazingly fabulous peanut butter, chocolate and marshmallow treat!
S'mores Peanut Butter Cookie Bars
Ingredients
½ cup butter
1½ cups brown sugar
½ cup sugar
½ cup creamy peanut butter
2 large eggs
2 tsp vanilla
1½ cups flour
1 tsp baking powder
½ tsp salt
3 graham crackers
½ cup chopped Reeses's peanut butter cups
½ cup chocolate chips
2 cups marshmallows
Instructions
Preheat your oven to 350 degrees.
Cream together your butter, brown sugar and sugar until smooth.
Add in your peanut butter and mix till smooth.
Add in your eggs and vanilla and stir well.
In a separate bowl, crush your graham crackers into small pieces.
Add your flour, baking powder, and salt into the bowl with your graham crackers.
Dump your dry ingredients in with your wet ingredients and stir till just combined.
Fold your peanut butter cup pieces and your chocolate chips into your batter.
Scoop your batter from the bowl into a sprayed 9x13 baking pan and spread with a rubber spatula to even it out.
Bake your cookie bars for about 30 minutes, until edges turn golden and an inserted toothpick comes out clean.
Sprinkle marshmallows over the top of your cookie bars.
Place back into your oven and turn to broil. Cook for about 1 minute, but watch super closely till the marshmallows are just toasted.
Sprinkle with a couple extra pieces of peanut butter cups and chocolate chips for decoration (optional).
Allow to cool, and slice into pieces and serve. (Spray your knife with pam in between each slice to keep marshmallows off as much as possible).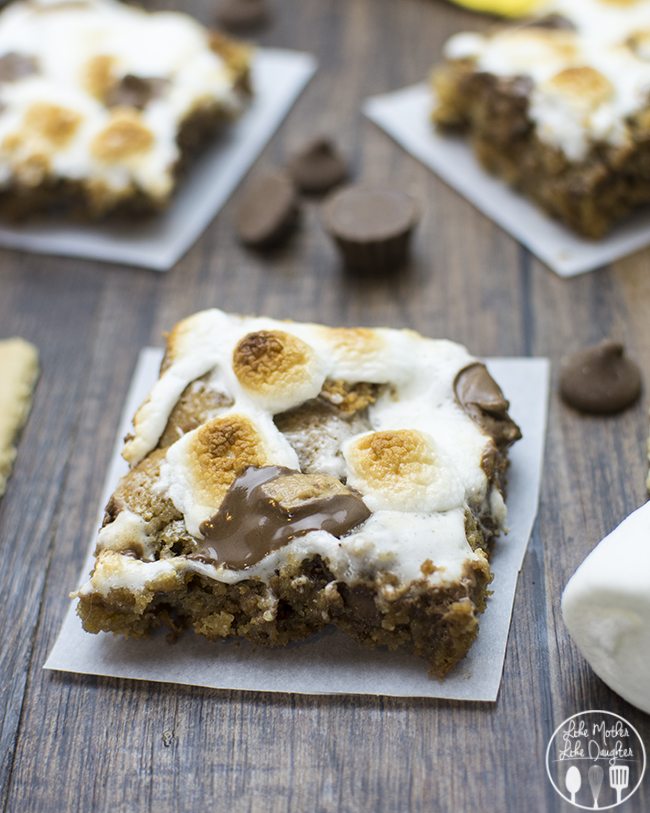 Hope you like s'mores as much as I do! You'll love these s'mores peanut butter cookie bars!
If you like these cookie bars, then I think you'll like these other treats too!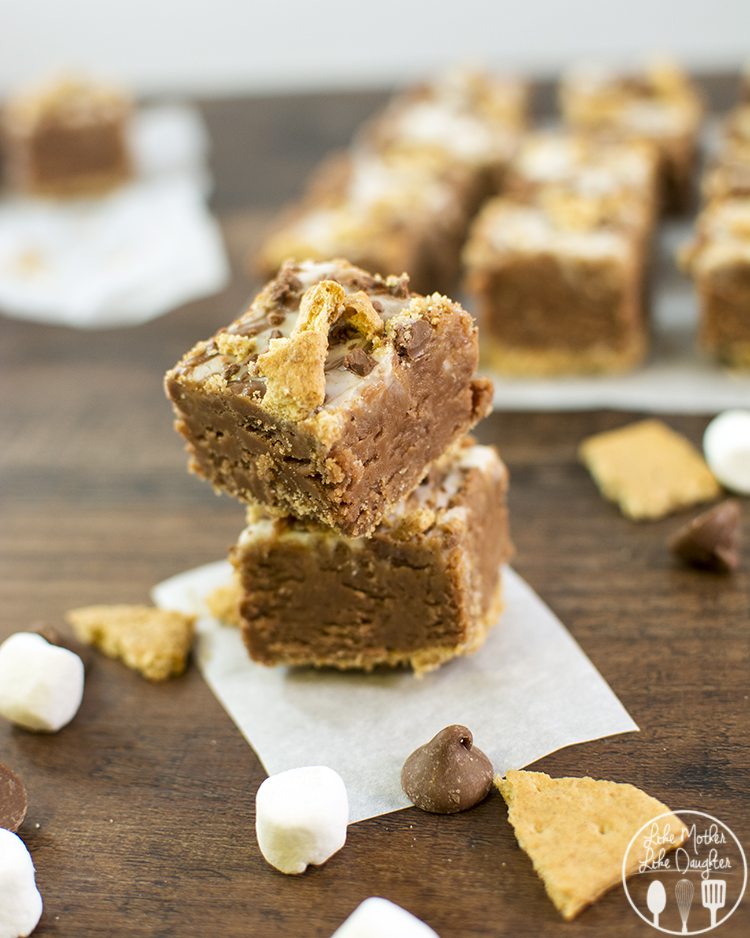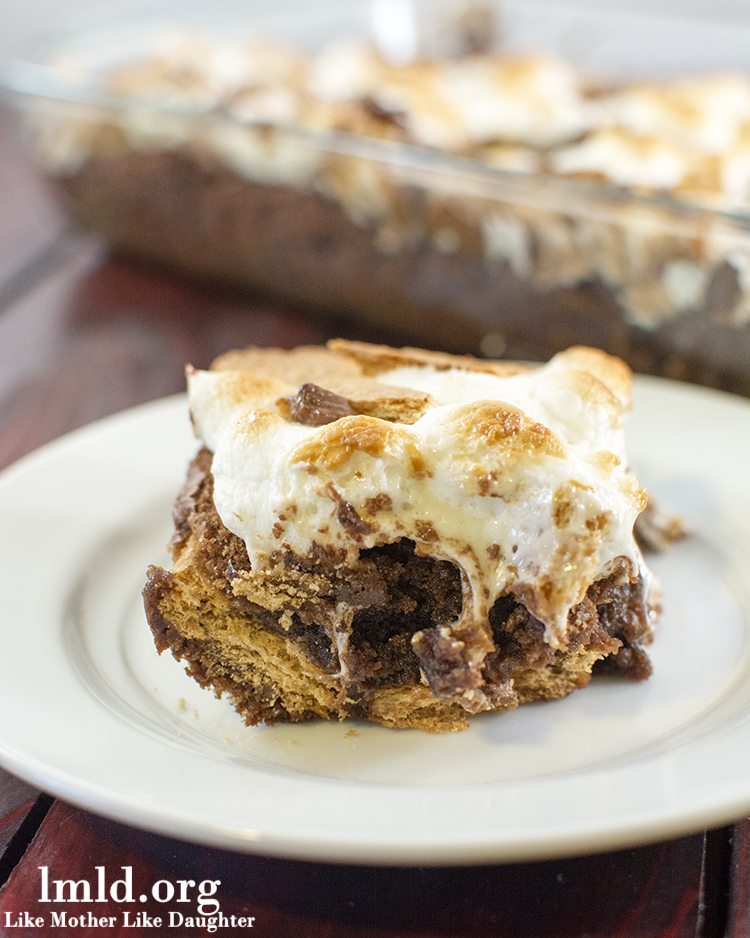 Fluffernutter S'mores