These southwest stuffed sweet potatoes are topped with black beans, corn, diced tomatoes, shredded chicken and cheddar cheese for a delicious healthier dinner,  side dish or game day food!
**This shop has been compensated by Collective Bias, Inc. and its advertiser. All opinions are mine alone. #YesYouCAN#CollectiveBias
Pin these southwest stuffed sweet potatoes for later.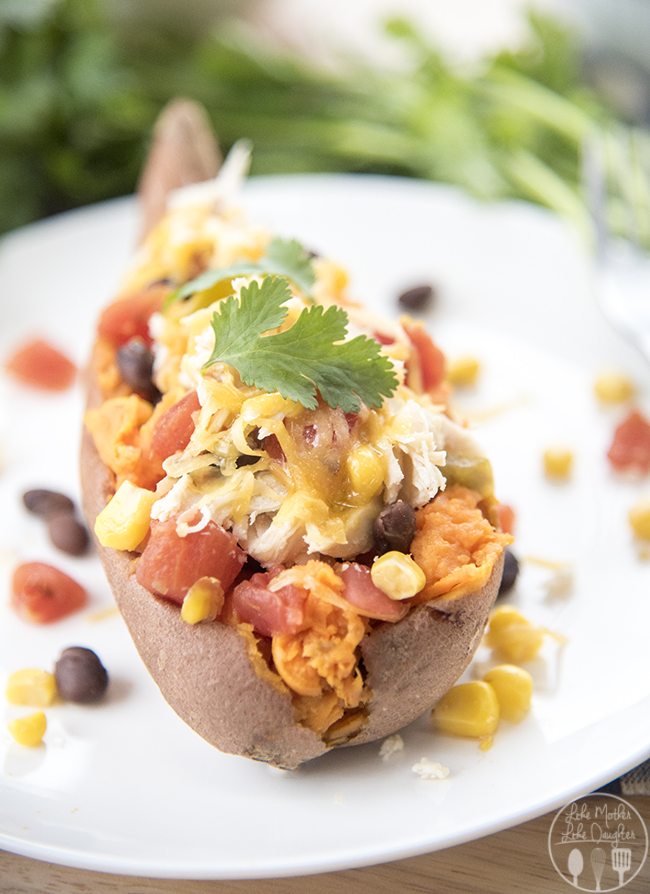 I told you before that I started a health challenge with some family members, part of that challenge is tracking my calories every day, and staying under my calorie goal so to do that I'm trying to find lots of healthier, low calorie meals that are also delicious and filling. These southwest stuffed sweet potatoes perfectly fit that bill.
With the big game coming up, I need something delicious that I can eat when I'm watching, but also lighter and better for me. These southwest stuffed sweet potatoes are just the thing I need. If you use smaller sweet potatoes they are perfect served as an appetizer or side dish and I promise even those not watching their calories will be fans of this delicious dish!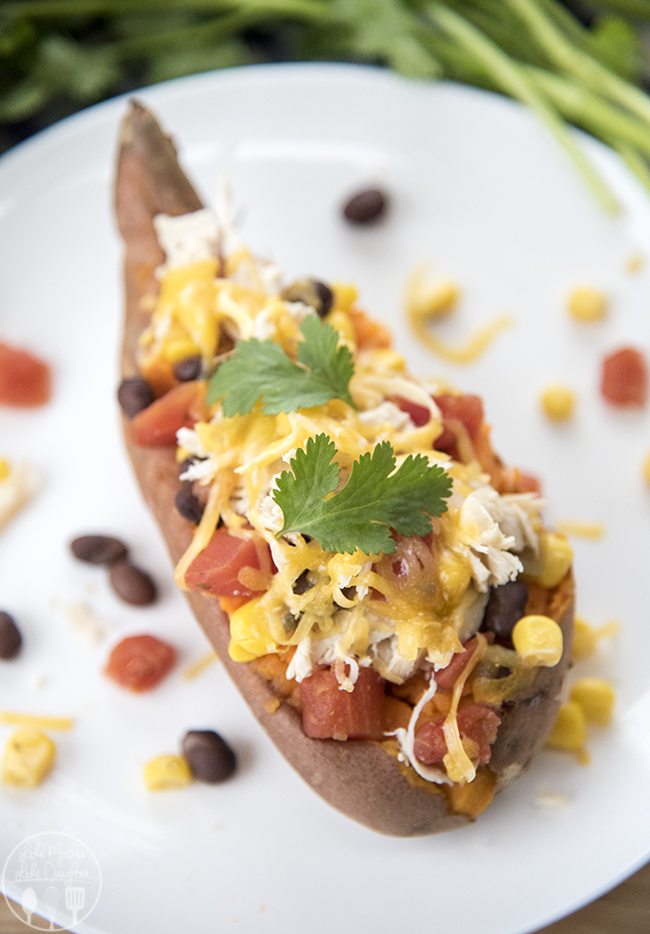 These sweet potatoes are baked in your oven to make the skin nice and crispy, the insides are then removed and mashed slightly to make them nice and soft (You can add in some taco seasoning here to add to the flavor of the potatoes a bit) and then returned to the potato skin. Top them with a mixture of black beans, corn, and diced tomatoes.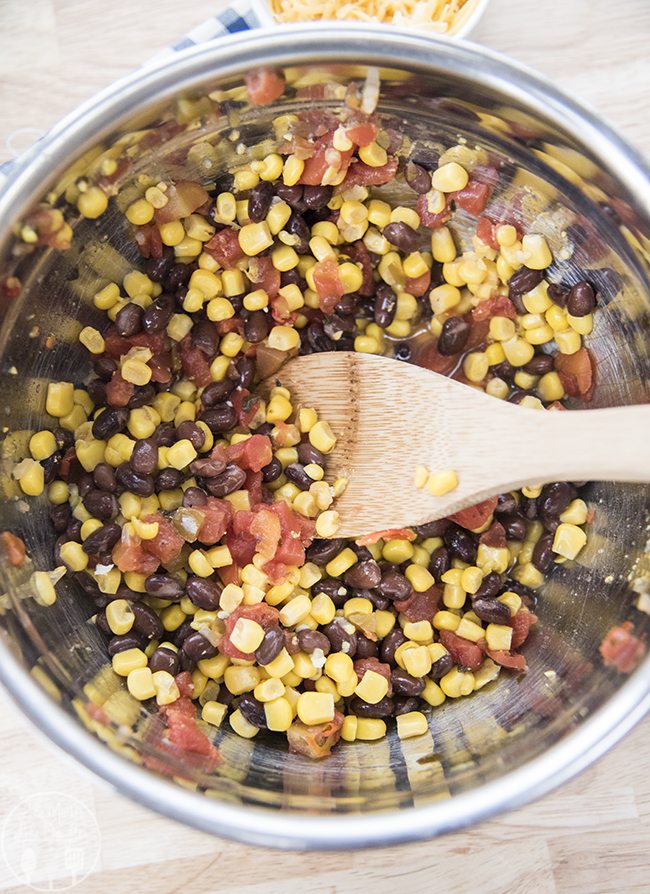 (I like RO*TEL diced tomatoes because of the flavor that the tomatoes add! And for this recipe I used diced tomatoes with lime juice and cilantro because they had the perfect flavor for these southwest sweet potatoes)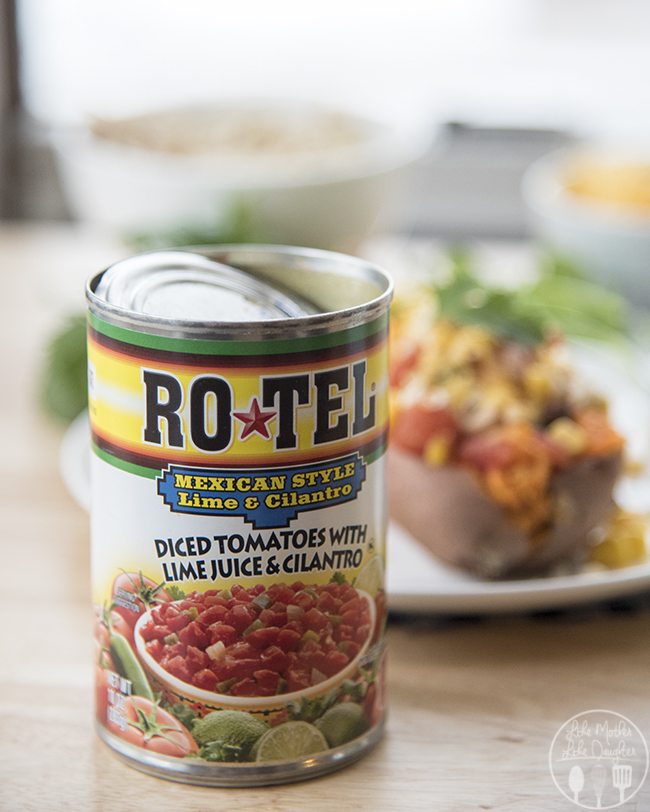 Top them with some shredded chicken and a little cheese as well (unless you want to make these vegetarian or vegan) and place them in the microwave or bake in the oven for a few minutes to melt the cheese. And then enjoy!
These delicious sweet potatoes are perfect for a healthier dinner dish, just serve them with a little side salad. Or if you use smaller sweet potatoes, these would be great for a side dish or appetizer too! I can't wait to make them in a couple weeks again for the game!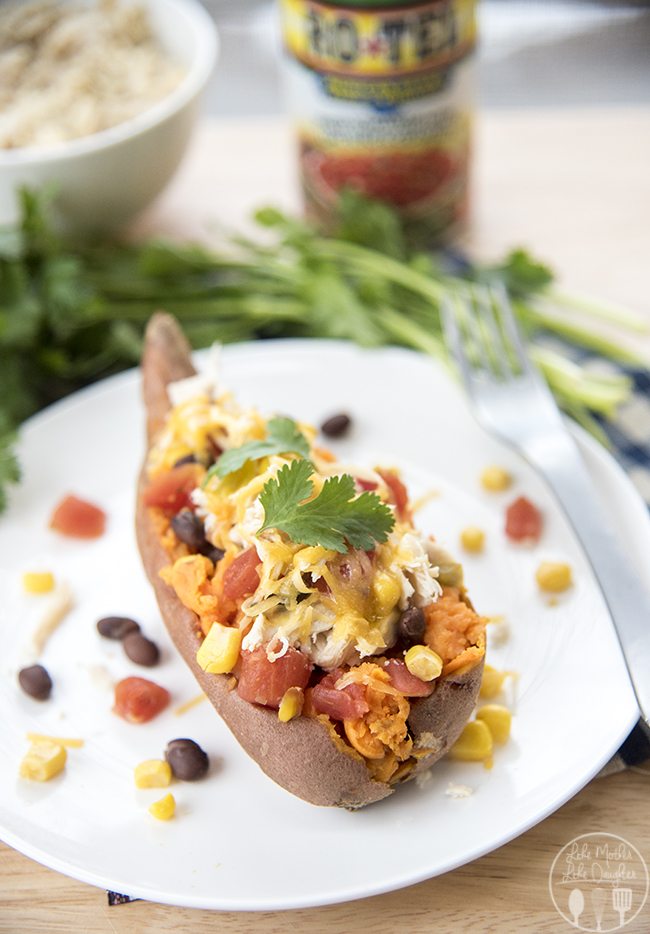 So head to Walmart now and grab some sweet potatoes, black beans, corn, RO*TEL Mexican Style Lime Cilantro Diced Tomatoes, chicken and cheddar cheese!
Ps. One of my favorite kitchen hacks!! Shredding chicken in my KitchenAid Mixer. Have you tried it before? Cook up your chicken in the slow cooker, pressure cooker, or just by boiling it on the stove top and then toss the chicken breasts in your KitchenAid Mixer bowl, fit with the paddle attachment. Spin on low, or medium speed until the chicken is shredded as you like it and enjoy it in any of your favorite recipes!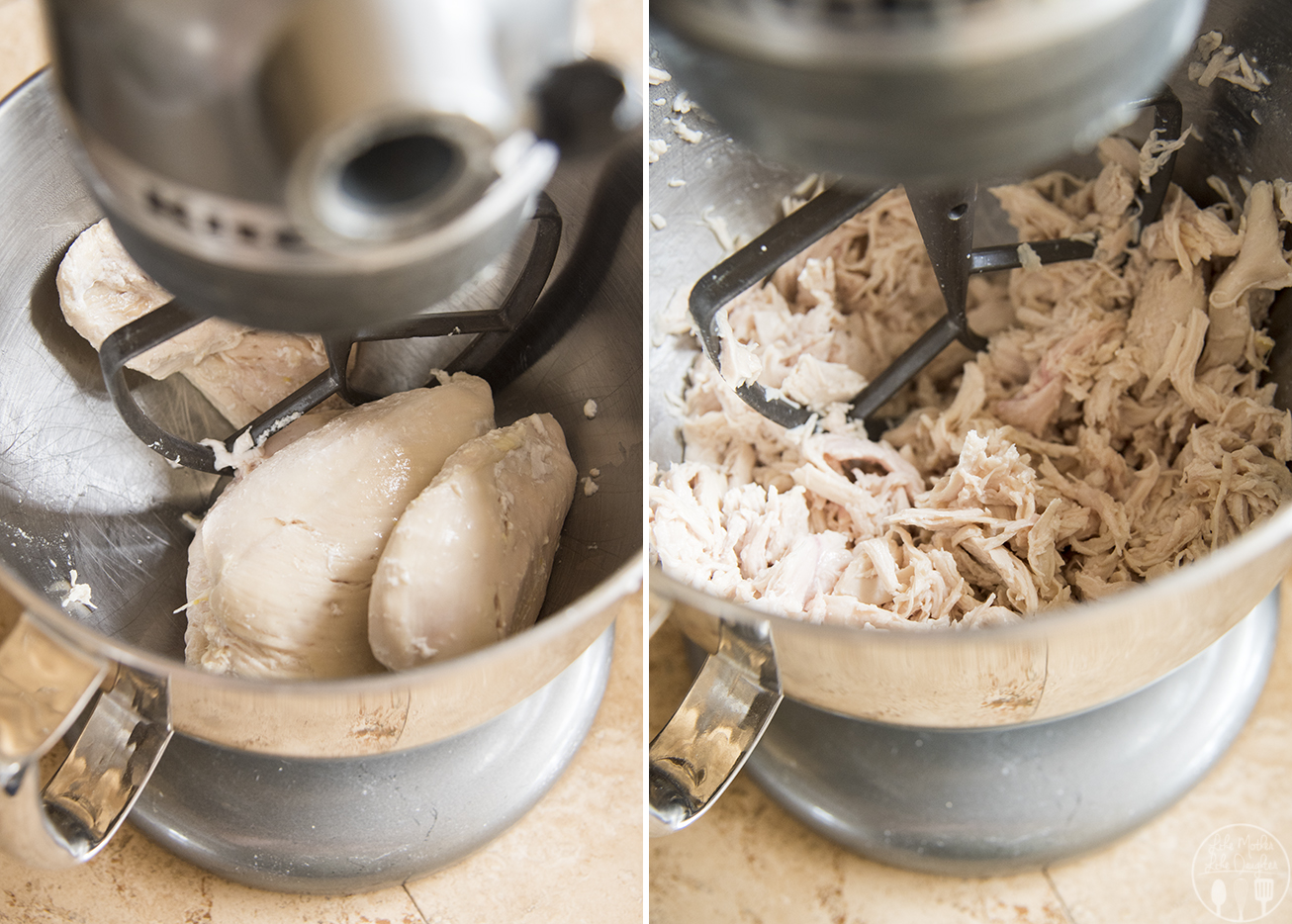 Now onto the actual recipe!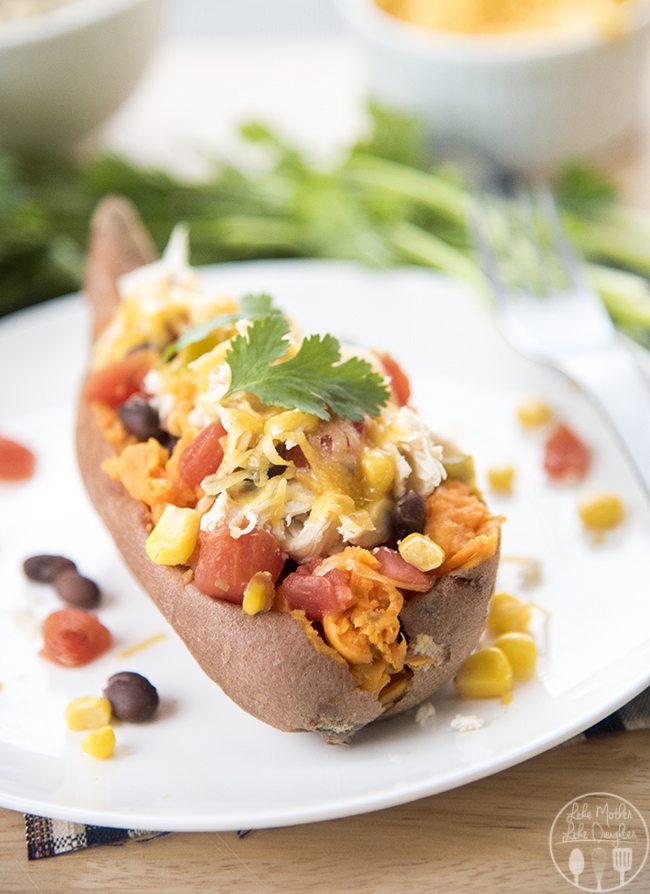 Southwest Stuffed Sweet Potatoes
Ingredients
8 small-medium sized sweet potoatoes
1 cup cooked corn (drained and rinsed if you use canned)
1 cup cooked black beans (drained and rinsed if you use canned)
1 10oz can RO*TEL Diced Tomatoes (drained)
1 - 2 cups shredded cooked chicken (seasoned with a little salt and pepper and taco seasoning)
2 TBS taco seasoning
½ cup shredded cheddar cheese
Instructions
Preheat your oven to 400 degrees.
Clean your sweet potatoes and poke them each 4 or 5 times with a fork.
Place them directly on your oven rack and back for about 45 minutes or until potatoes are fork tender. Allow them to cool for about 10-15 minutes.
Gently cut a thin later off the top of each potato. Use a spoon to remove the inside of each potato and mash the potato.
Mix in 1 TBS taco seasoning.
Return the mashed potato to each of the potatoes.
Combine your black beans, corn, and diced tomatoes in a small bowl.
Top each potato with your vegetable mixture, and some shredded chicken.
Top each potato with shredded cheese and return potatoes to oven (or microwave for a few seconds) for a couple minutes until cheese is melted.
By using delicious canned foods, combined with fresh ingredients game day (and dinner!) can be made simple and delicious!