These spinach lasagna roll ups are stuffed full of a parmesan ricotta cheese and spinach mixture, rolled up with lasagna noodles, and topped with marinara sauce and mozzarella cheese for a delicious 30 minute dinner!
 Pin these spinach lasagna roll ups for later.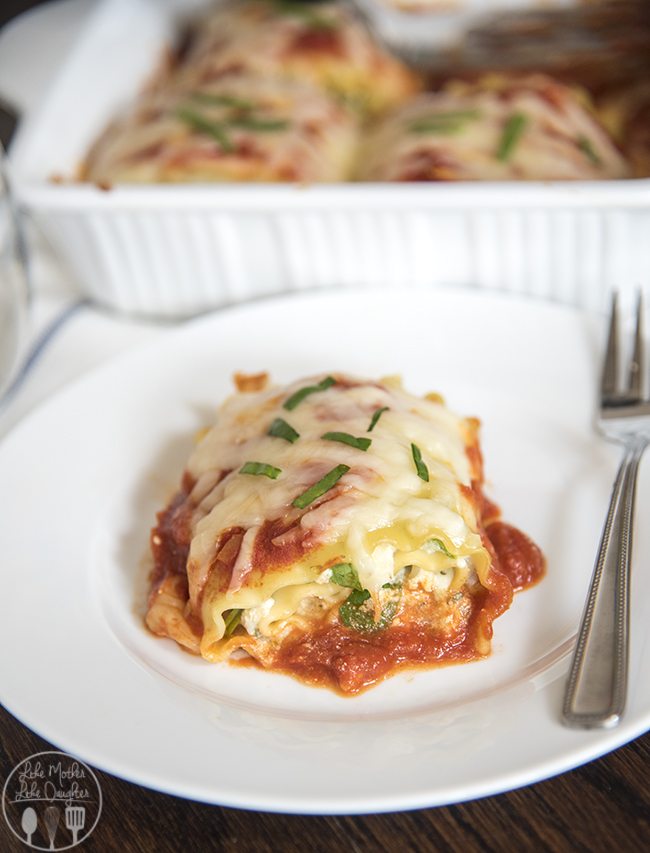 Have I told you that my dad went on a religious mission for our church to southern Italy for two years when he was younger? I think this is why I love Italian inspired food so much! I mean, pizza, pasta, alfredo sauce, marinara sauce, carbonara – I love it all! Including these amazing spinach lasagna roll ups!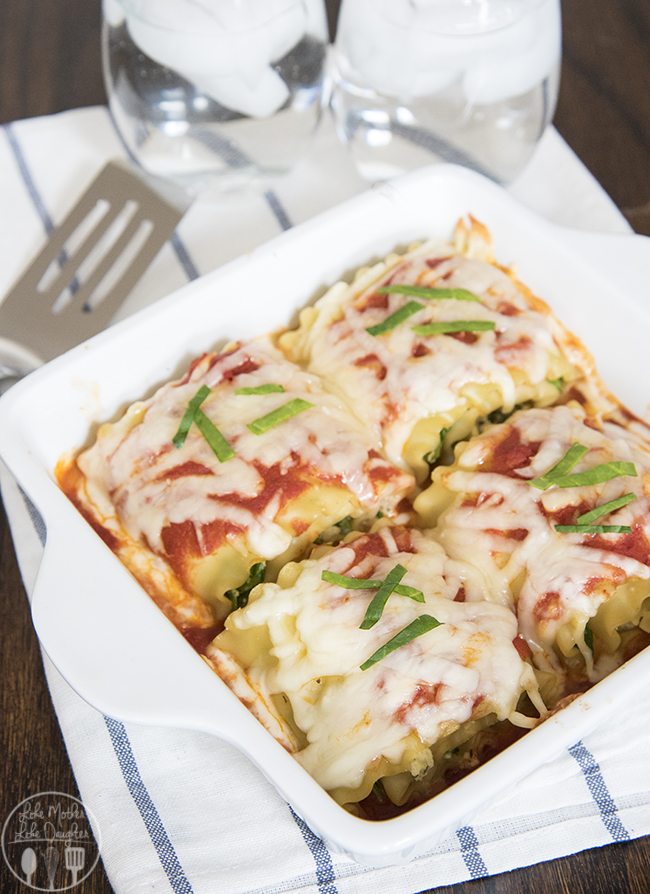 These lasagna roll ups are similar to my chicken alfredo roll ups with a similar filling, but instead of chicken I used chopped spinach. And of course instead of alfredo sauce I used marinara sauce. I used Ragu Marinara Sauce because it is so delicious and makes this recipe super easy! These roll ups are a great vegetarian dinner that everyone will love (they do contain 1 egg).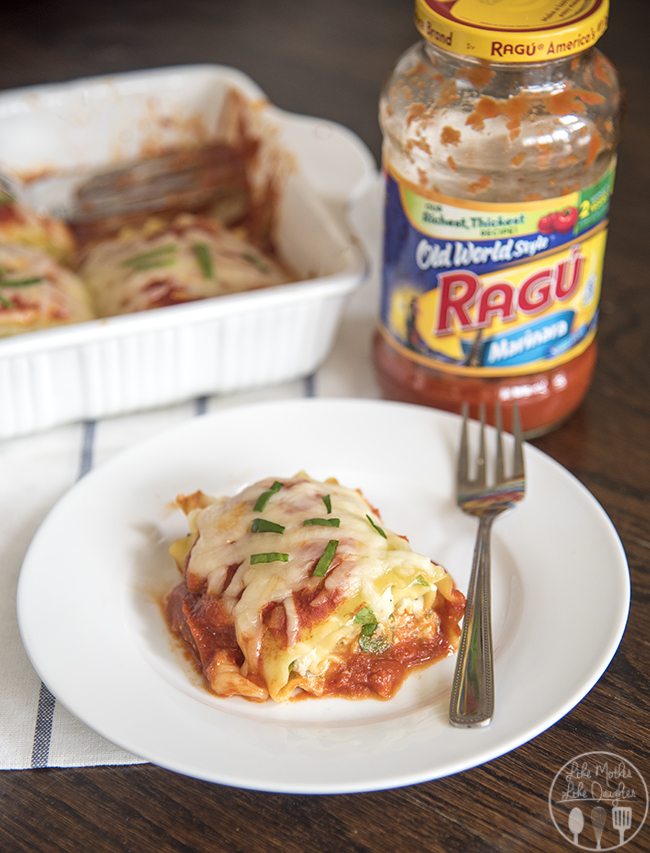 Even though I grew up eating traditional lasagna, I've fallen in love with lasagna roll ups! Instead of spending time layering the cheese mixture, noodles and sauce I can just roll the mixture up in lasagna noodles and the baking takes much less time too. Another great thing about roll ups is they are already perfectly portioned – even if you decide to eat two, instead of one.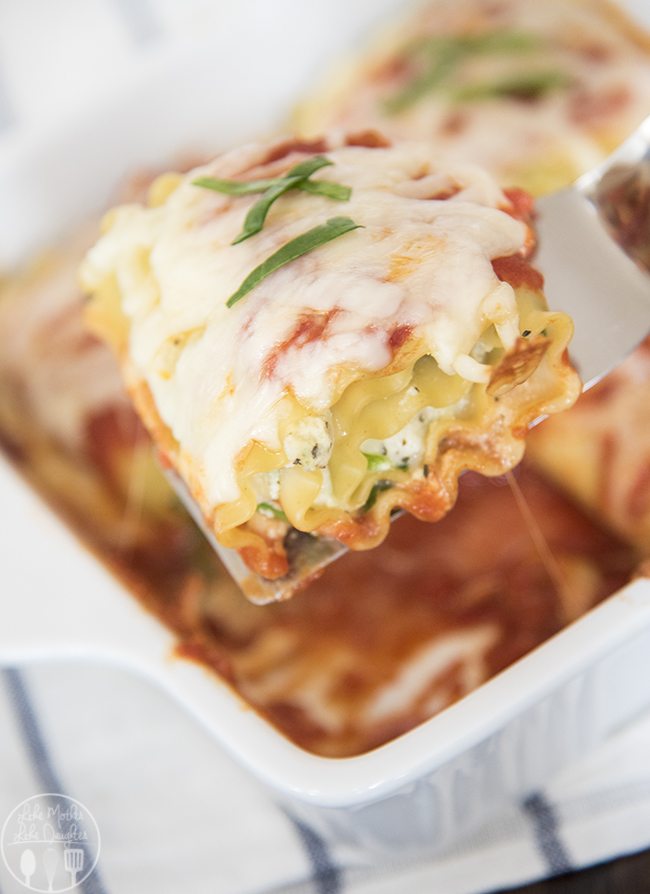 Spinach Lasagna Roll Ups
Ingredients
10-12 lasagna noodles
2 cups Ragu Marinara Sauce, divided
15 oz ricotta cheese
½ cup parmesan cheese
1 egg
1 TBS italian seasoning
2 cups mozzarella cheese, divided
2 cups chopped baby spinach
Instructions
Preheat your oven to 350 degrees.
Cook your lasagna noodles according to package directions.
Mix together your ricotta, parmesan, egg, Italian seasoing, and 1 cup of mozzarella cheese. Mix in your spinach.
Spread 1 cup of your marinara sauce in the bottom of a 9x13 pan.
Put ¼ cup of your ricotta cheese mixture on each lasagna noodle and roll up the noodle.
Put rolled noodle into your prepared pan. Repeat with additional mixture and noodles.
Spread remaining marinara sauce over the top of your roll ups.
Top with remaining mozzarella cheese.
Bake pan in the oven for 15 minutes.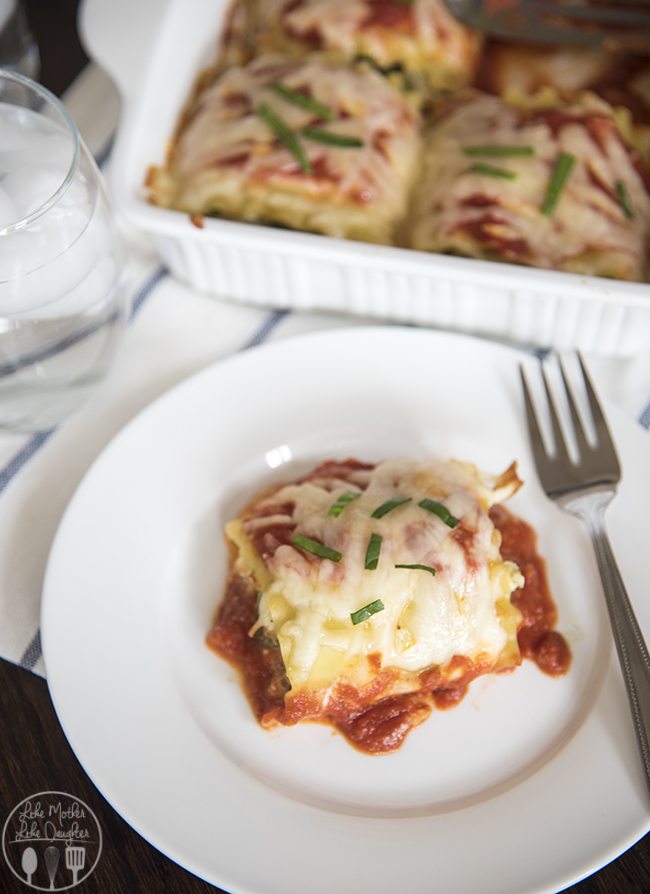 Check out Ragu for more delicious recipes and ideas using Ragu sauces.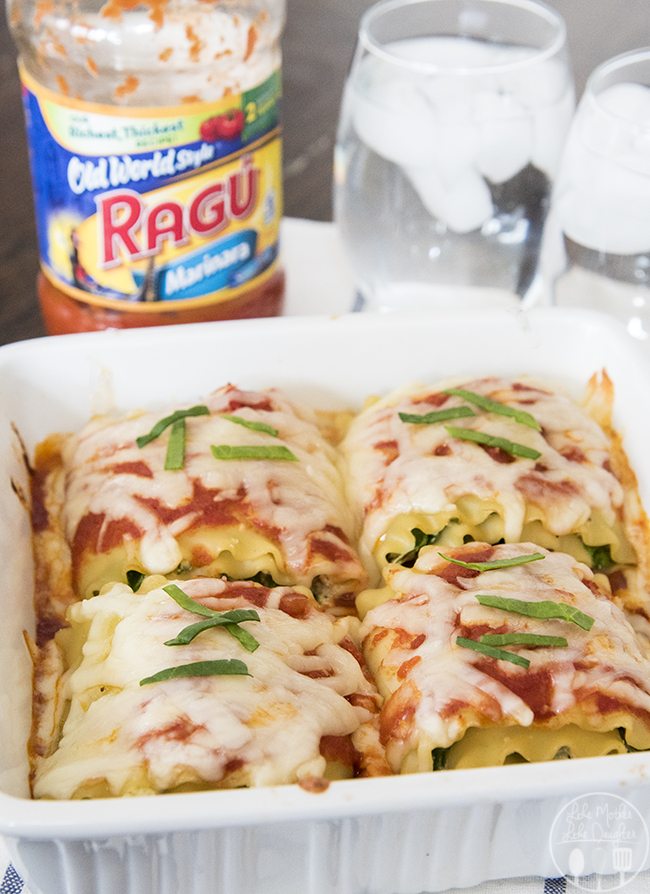 If you like these lasagna roll ups, I think you'll like these too:
Chicken Alfredo Lasagna Roll Ups