I made this delicious Steak and Veggie Stir Fry Rice Bowl with homemade Teriyaki Sauce thanks to SPLENDA® Sweeteners as part of a sponsored post for Socialstars. All opinions are my own.#SplendaSweeties #SweetSwaps
With the holiday season I find myself eating waayy too many sweets and that means lots of calories. Now don't get me wrong, I love my fudge, toffee and cookies this time of year, but to help balance it out a little bit I try to eat healthier in other ways, like my savory dinner dishes. Along comes this homemade teriyaki sauce with SPLENDA® Sweeteners, which was the perfect addition to my steak and veggie stir fry rice bowl.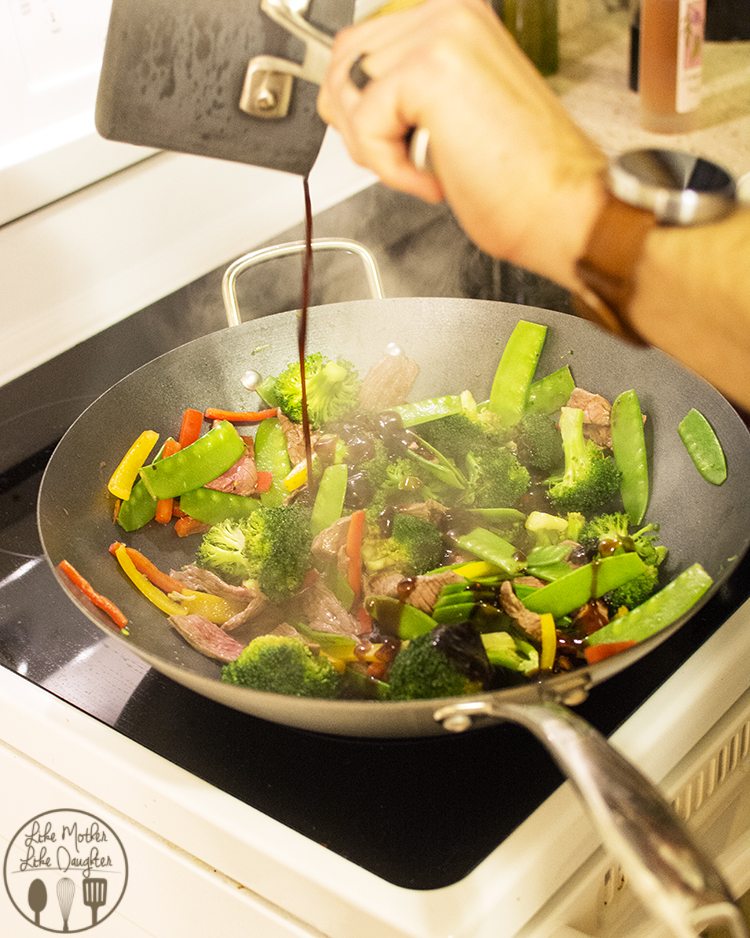 SPLENDA® Sweeteners is a great alternative with the sweetness of sugar without all the calories of sugar. It can be used in baking, making beverages, or in cooking delicious savory dishes like this stir fry bowl!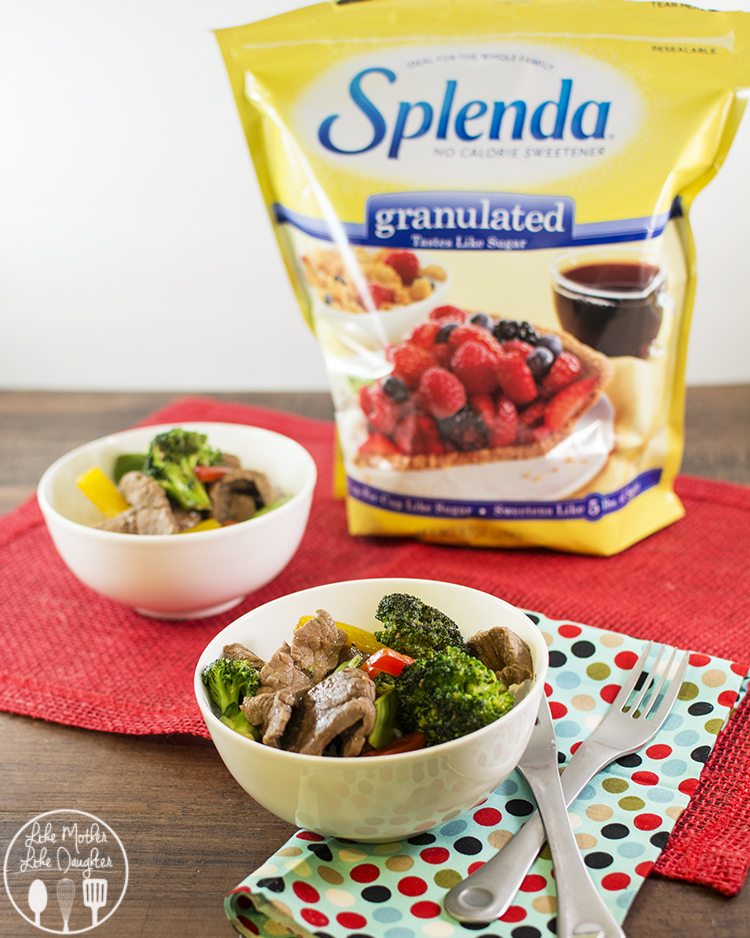 Teriyaki Sauce with Splenda®
Ingredients
¼ cup and 2 TBS SPLENDA® Sweeteners
¼ cup champagne vinegar
1½ tsp minced garlic
12 tsp ground ginger
⅛ tsp ground black pepper
3 TBS water, divided
1 TBS cornstarch
Instructions
Combine your Splenda®Sweeteners, soy sauce, vinegar, garlic, ginger, black pepper and 2 TBS water in a small sauce pan over medium heat. Stir occasionally until sugar dissolves.
Mix together your 1 TBS cornstarch and 1 TBS of water and add to your sauce.
Bring your sauce to a simmer, stirring often to thicken to desired consistency.
Steak and Veggie Stir Fry Rice Bowl
Ingredients
2 TBS vegetable oil
4 cups broccoli heads, chopped
2 cups snow peas
2 large bell peppers, sliced
¼ cup water
1 lb flank steak, cut into strips
teriyaki sauce
cooked rice
Instructions
Heat your wok (or a large skillet) on your stove top over medium high heat. Add in your oil and allow to heat up for a minute or two.
Add your broccoli pieces and cook for about 5 minutes, stirring occasionally.
Add in your snow peas and pepper pieces. Cook for an additional 3 minutes.
Add in your steak pieces and cook for about 2 minutes or until the meat just turns brown.
Add in your teriyaki sauce and stir everything together. Remove from heat.
Serve over cooked rice.
Enjoy this delicious stir fry with homemade teriyaki sauce!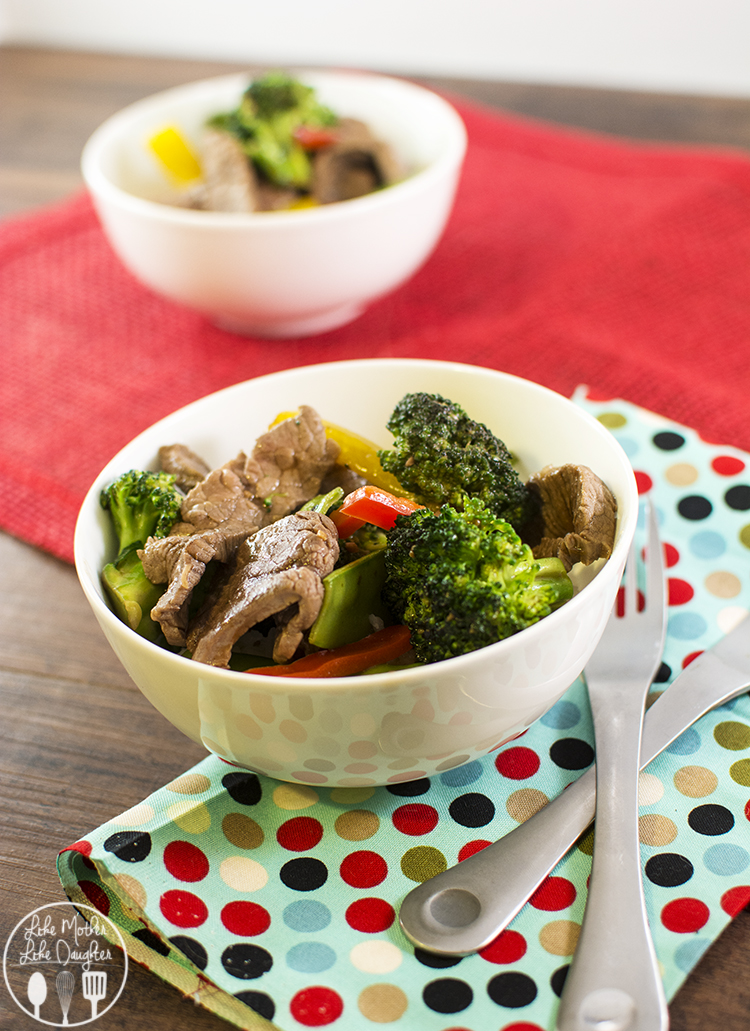 For more delicious ideas to swap sugar with SPLENDA® Sweetener, check out their Sweet Swaps program. 
I think you'll like these too: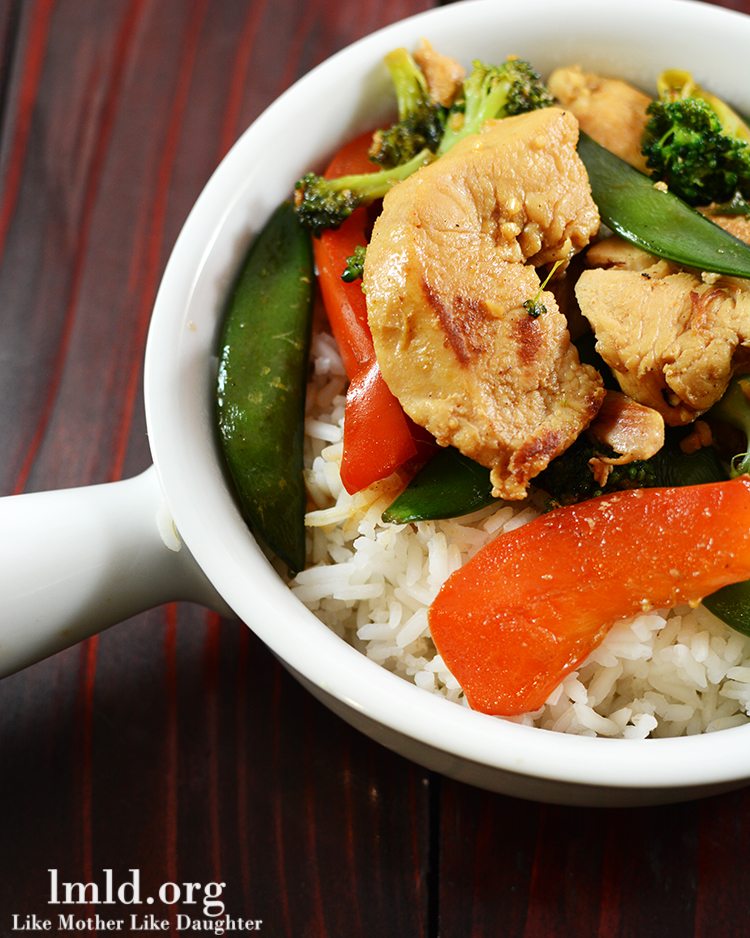 Asian Beef with Snow Peas and Mushrooms