Sweet and salty is all the rage and yes I am jumping on the bandwagon.  I don't know exactly what it is about the combination but it is wonderful.  These sweet and salty magic bars will satisfy both your sweet tooth and your craving for salt.  Reality is they are just plain good.  So good that if you don't have peanut butter chips and chocolate chips and potato chips on hand I recommend you drive to the store right now to get some OR at least put these items on your grocery list for the next time you head to the store.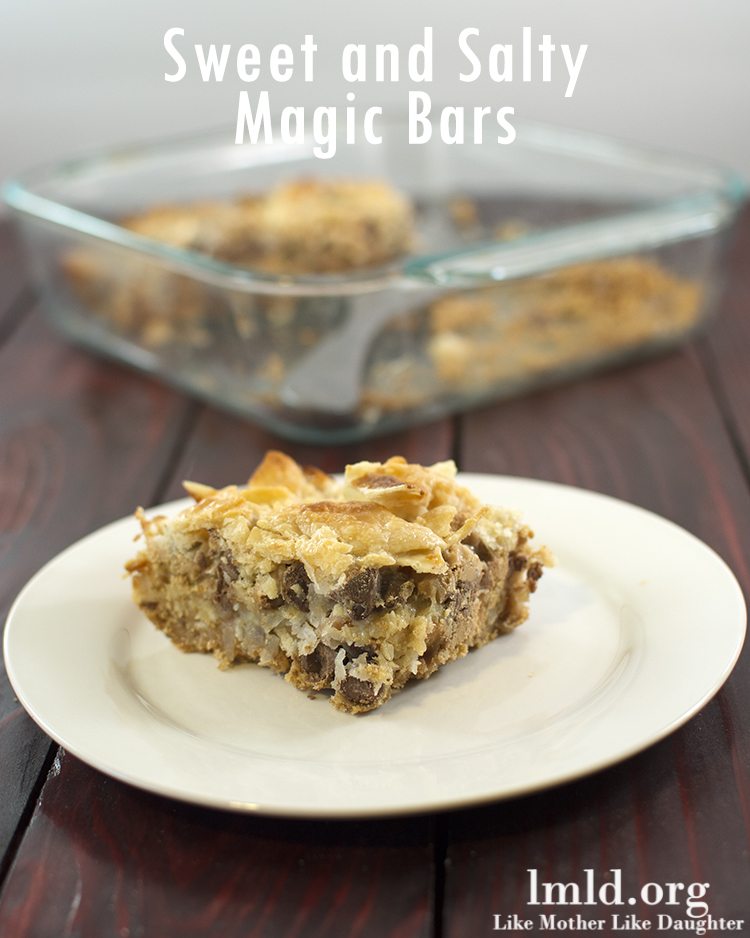 So when I saw this recipe for sweet and salty magic bars on my daily email from Betty Crocker, I just knew I needed to try them.  They are super rich and super addicting (that was the disclaimer if you eat too many in a sitting), they ARE super addicting.  Do you remember the old commercials for potato chips that would say "Bet you can't eat just one?"  Well, maybe that was the precursor to these sweet and salty magic bars because they do have potato chips in them, and I bet you can't eat just one.
Sweet and Salty Layer Bars
Ingredients
1 sleeve graham crackers (crushed - I put them in a ziploc baggie and smash them with a rolling pin)
⅓ cup butter (melted)
3 TBS creamy peanut butter (but I can imagine the nutty kind would be good too)
1 can (14 oz) sweetened condensed milk
1¼ to 1½ cup crushed salty potato chips (measure this after crushing not before)
1 cup coconut flakes
1 cup peanut butter chips
¾ cup milk chocolate chips
Instructions
Preheat your oven to 350 degrees
Line an 8x8 pan with parchment paper and spray with cooking oil (this was a little tricky lining it but I really pressed into the corners and pressed over the edges to make a square form)
In a medium bowl add your graham crackers and butter and stir until mixed in
Press into the bottom of your 8x8 pan
Layer with ½ of your milk chocolate chips, peanut butter chips, crushed potato chips, and coconut flakes
Add a 2nd layer of the same 4 ingredients
In a medium bowl microwave your peanut butter to soften and slightly melt (about 20 to 30 seconds)
Add your sweetened condensed milk to the peanut butter and stir to combine
Pour this milk/peanut butter mixture all over the layered toppings
Place in your oven to bake for 20 to 25 minutes
Remove and cool completely before serving about 30 minutes
Cut into bars about 4 rows by 4 rows
Enjoy these sweet and salty bars as a special treat!
Like I said these are addicting, I was just glad I had 4 of us to share this with (and no we didn't eat them all in one sitting – but almost!)
(I have to give photo credits to Aimee, she is so good)