A smooth and yummy tangerine custard made with fresh tangerine juice and zest, with a chocolate graham cracker crust for a refreshing and easy to make dessert.
Pin these tangerine custard tarts for later.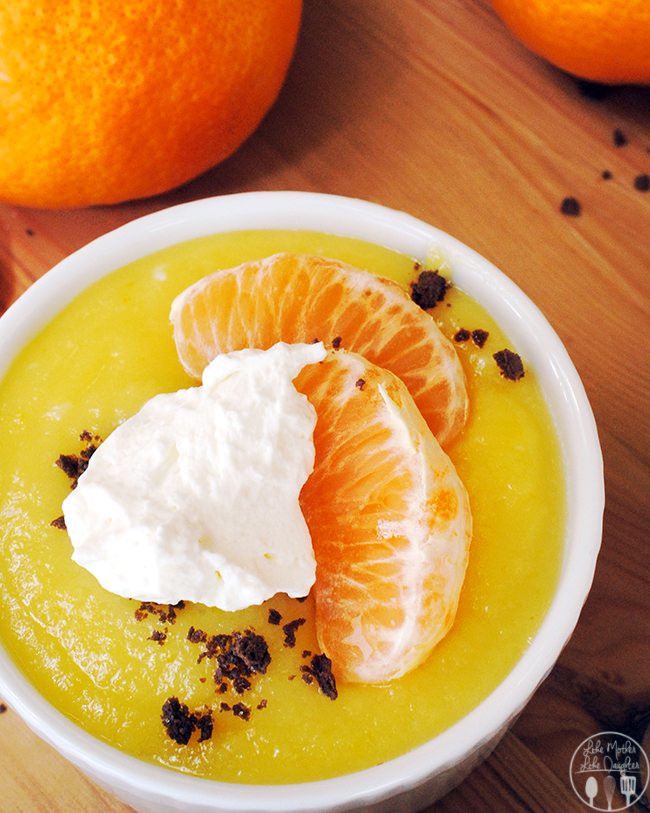 I am in love! At least with this tangerine custard tart. Everything about it is so good and so delicious.  First is is fairly easy to make – we are talking microwave cooking here – and second, well, it is just plain delicious to eat.
I received a box of the most delicious, juicy Ojai Pixie Tangerines from Melissa's Produce.  The tangerines were fat, plump, and juicy with so much flavor.  It was hard not to just peel and eat, peel and eat each and every one of the Ojai Pixie tangerines but I held back slightly to make this amazing tangerine custard tart for you and me.  And I think you will be glad I did.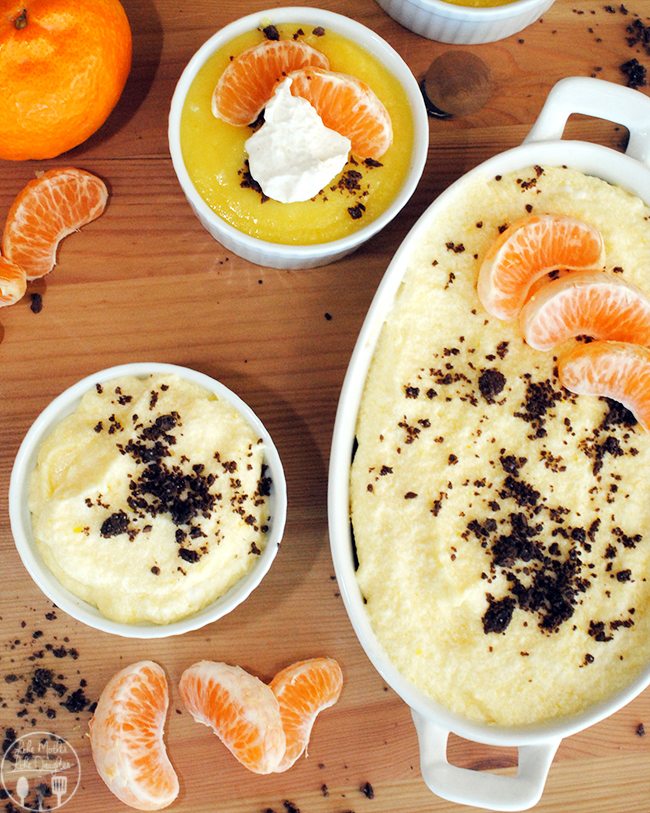 Now I could have called it a tangerine curd tart or a tangerine custard tart but not a tangerine pudding tart.  Do you know the difference between all three? A curd is made from eggs, juice, zest, sugar, and butter and cooked to thicken.  A pudding is a filling from juice, sugar, water, egg yolks, and cornstarch which causes the thickening. A custard is basically the same as the curd, it is made the same way.  A curd usually has a strong flavor and is used as a spread or filling where a custard can stand on its own as a dessert.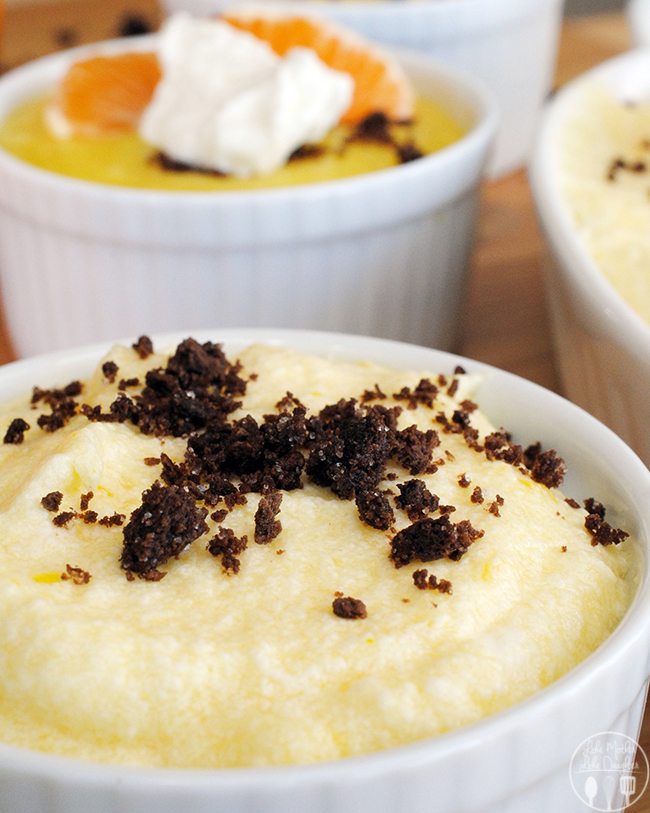 I made the tangerine curd first and used it as a filling to the chocolate graham cracker crust.  I also took some of the tangerine curd; added whipped cream to it, layered it on top of my chocolate graham cracker crust and felt like it looked and seemed more custardy this way.  So you can call this a tangerine curd tart or a tangerine custard tart but either way you will call it yummy.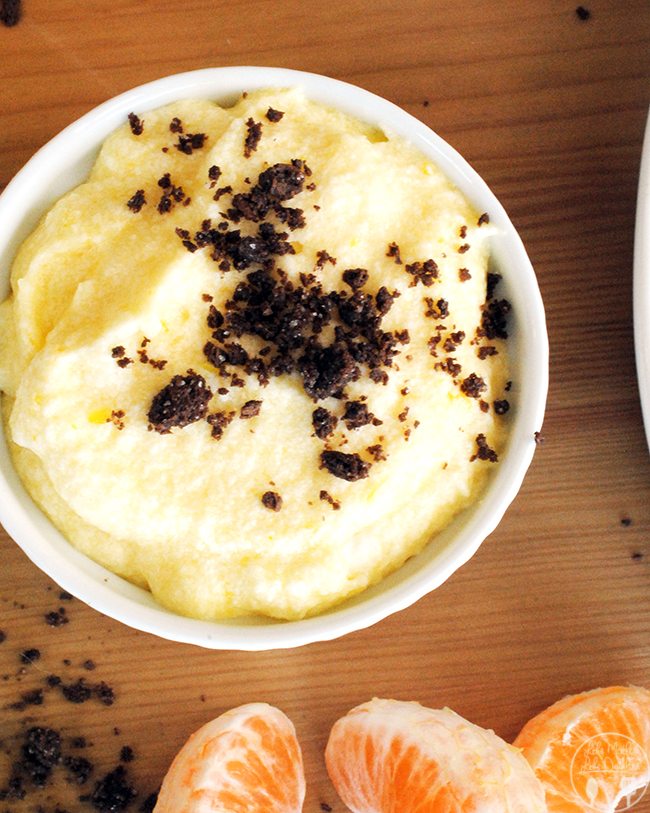 It was a favorite of the whole family except the 18 month old and he preferred his brussel sprouts, go figure.
Let's start cooking.

Tangerine Custard Tart
Ingredients
½ cup fresh tangerine juice
zest from 1 tangerine
4 eggs
1¼ cup sugar - divided
¾ cup butter - divided
1 sleeve (8 ) chocolate graham crackers
1 cup heavy whipping cream
1 tsp vanilla
¼ cup powdered sugar
tangerine segments for garnish
Instructions
Place the chocolate graham crackers in a ziploc bag, seal, and smash to fine crumbs
Pour cracker crumbs into a medium bowl, add ¼ cup sugar
Melt ¼ cup butter in microwave
Mix butter into the sugar/cracker crumbs until fully incorporated
Spread among 6 - 4 oz ramekins or 2 small tart dishes. Press firmly with a spoon or your fingers to form a crust
In a medium microwave bowl, whisk together the tangerine juice, zest, eggs, and 1 cup sugar
Cube ½ cup of butter into small pieces, add to the tangerine juice, sugar and eggs
Microwave on 50% power for 2 to 3 minutes, stirring every 30 seconds, until butter is melted
Continue to microwave at 50% power between 5 to 8 minutes, stirring every 30 seconds, until thicken
Let cool for 5 minutes, seal tight with plastic wrap, refrigerate for 1 hour (or until completely cooled)
Using a kitchen aid or hand mixer, whip heavy whipping cream until soft peaks form (about 2 to 4 minutes)
Add vanilla and powdered sugar and whip for 30 more seconds
Gently fold ½ the whipping cream into tangerine curd to make a custard
Spoon evenly among the ramekins or tart dishes
Top with fresh segments of tangerine, more whipping cream, and any leftover chocolate crumbs
Serve
Refrigerate any left overs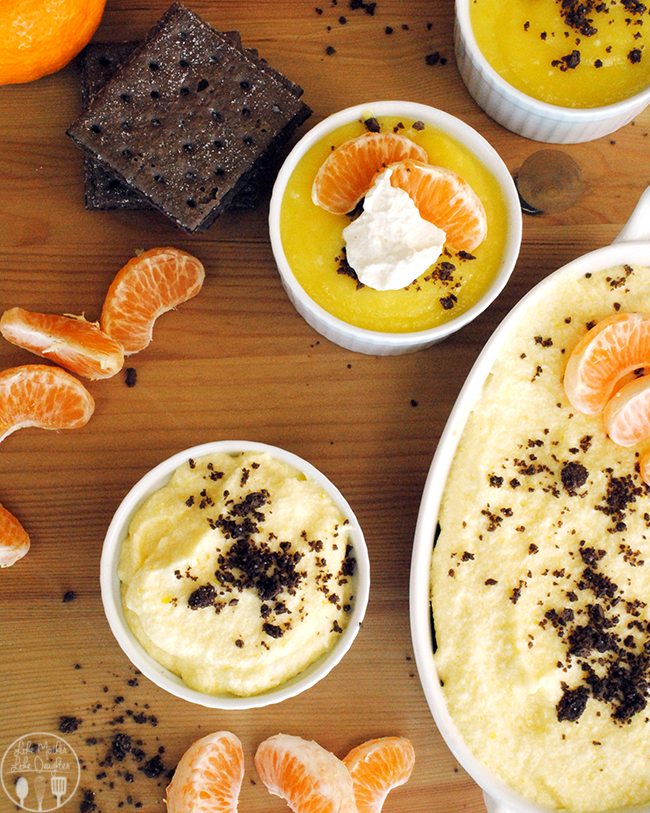 Your cooking time may vary according to the power of your microwave.  I have made it twice in two different microwaves and the more powerful one took about three minutes less.  Thus, why you stir every 30 seconds to not overcook.  Overcooking will cause the eggs to curdle and then it would be tangerine curdle tart. 🙂
I received a free box of Ojai Pixie Tangerines from Melissa's Produce but all opinions are my own.