This three cheese panini with apples and fig jam is a delicious twist on the traditional grilled cheese sandwich. With harvati, brie and parmesan cheese, fig jam and green apple slices.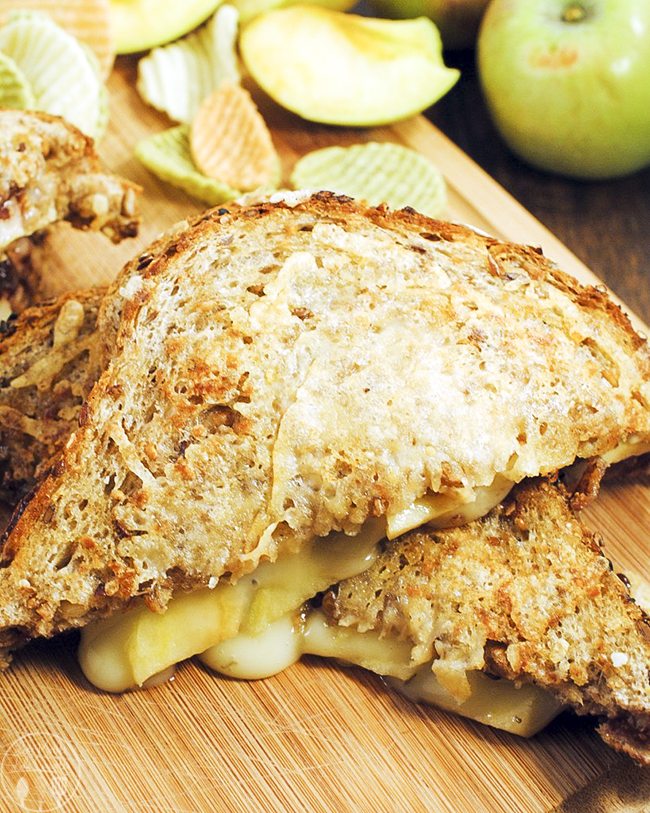 Craig and I were wood floor shopping on Saturday.  We have decided to take the plunge and upgrade our 13+ year old carpet and lay wood laminate throughout most of the house.  It's been a back and forth project.  We know we want to make the change but there are so many choices.  We had centered in on laminate because of care, ease, cost, and looks. But agreeing on style and color is a another story.  Every visit to any home improvement store we have stopped to look at the flooring.  Visits to friends' has brought out inquiring about the type and color.  And I have devoted a pinterest board to my home with pictures I like.  So this has not been something we have taken lightly.
Saturday, finally we said we are quite sure what we want so let's go for it.  Ack…. we walked into the store and my opinion changed.  Actually Craig's did too.  I previously thought a medium grayish look and I jumped to a beautiful dark hickory, Craig was leaning to a medium walnut tone and he jumped to a light gray.  Luckily our sales clerk was patient and just let us discuss for about half an hour till we finally came to a conclusion that we both walked away happy with.  But I will tell you we were about ready to flip a coin and I sure was hoping not to lose.  And guess what we went with driftwood which is a medium to light grayish tone.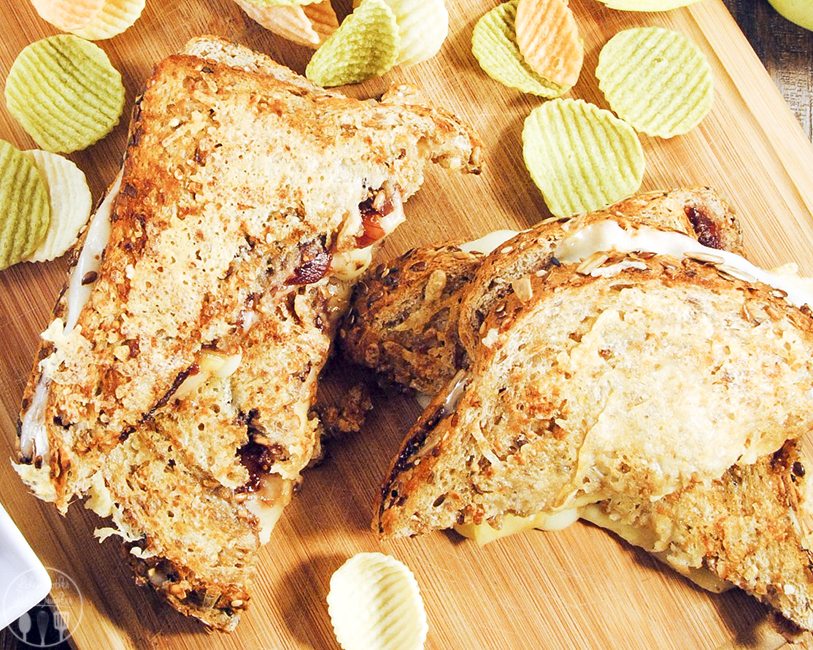 I am pretty excited about it now and can't wait for it to go in. Which might not be finished for about a month.  Another ack! The flooring won't be ready for pickup for 2 weeks and then who knows how long it will take to lay.  Because we are do-it-yourselfers! I have a very talented husband who is handy, willing to learn, and capable of doing just about any improvements in our home.  I am just going to have to adjust to cement floors, dust, and an overloaded bedroom where all the furniture will probably end up during the project.
Here's to hoping the kitchen floor doesn't take too long.  Or that means a lot of dinner outs! Which leads us to the whole point of this thought process.  After picking out flooring we went out to dinner and I spotted a sandwich on the menu I just had to recreate here at home.  This is it, Three Cheese Panini with Apples and Fig Jam.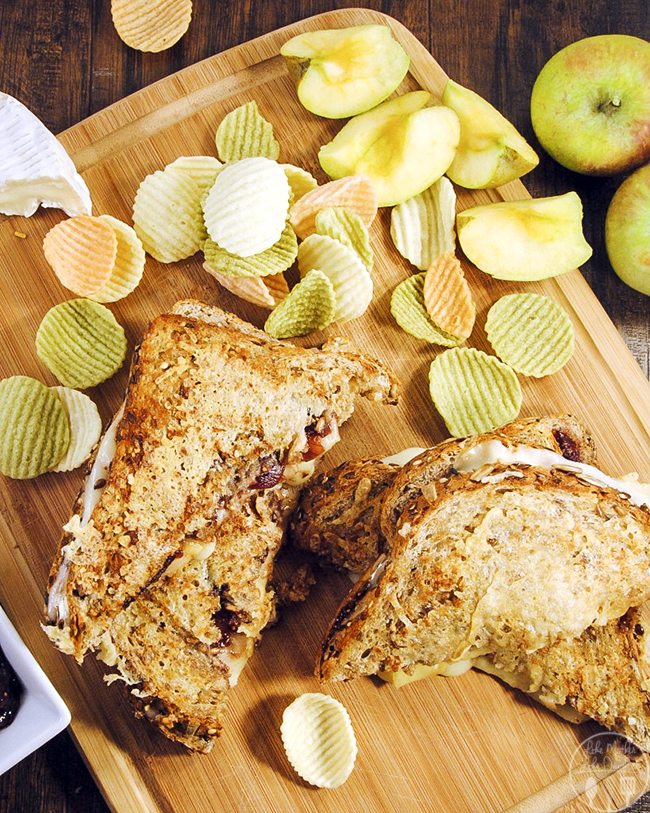 After I tell you all about the good things in this panini I don't think I will have to work hard to convince you to make it.  First off, we have 3 cheeses, three! each with there own distinct taste- brie, havarti, and Parmesan.  Then there are fresh green apple slices for a great burst of flavor. A nice hearty bread – I used Dave's Killer Good Seed, but you can use your favorite hearty bread. And the topper of fig jam.  All those together makes the best three cheese panini with apples and fig jam you will ever have.  As a matter of fact perhaps the best grilled cheese you might have ever had. And hopefully all that has convinced you that this is what you really want today; no coin flipping needed.
Three Cheese Panini with Apples and Fig Jam
Three cheese panini with apples and fig jam - 3 cheeses of Havarti, Brie, and Parmesan melted together with tart green apples and sweet fig jam.
Ingredients
4 slices of a hearty bread
2 slices of Havarti cheese
2 oz of Brie - brought to room temperature
¼ cup shredded Parmesan cheese
1 medium green apple
2 TBS fig jam
2 TBS butter
Instructions
Over medium heat warm a flat skillet
Spread 1 TBS of fig jam over 1 slice of bread, repeat
Spread as best you can 1 oz of room temperature Brie over 1 slice of bread, repeat
Lay 1 slice of Havarti cheese over the fig jam, repeat
Quarter, core, and peel the green apple; slice thinly and lay as many slices as possible over the Havarti cheese
Close the sandwichs by topping the Havarti cheese side with the Brie side
Spread ½ TBS butter all over 1 slice of bread, repeat
Lay the butter side down on your flat skillet, butter the top of the sandwiches with the remaining butter
Once toasted lightly flip the sandwiches over and sprinkle ¼ of the Parmesan cheese over the toasted top side of the sandwich
Sprinkle the remaining Parmesan cheese over the toasted top side of the sandwich
Flip again once the Parmesan cheese has toasted, toast the remaining sided
Remove from skillet, cut in half, and enjoy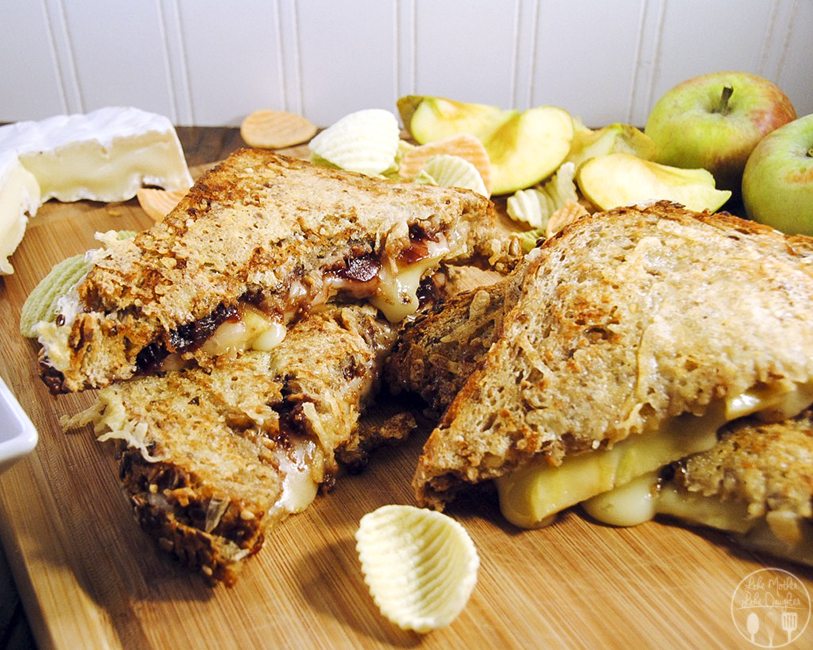 What home improvement projects have you flipping a coin for the final choice?