These toasted ravioli are a fun twist. The raviloi are crispy and perfect served up with your favorite marinara sauce! They are great for an appetizer or dinner!
Pin these delicious toasted ravioli for later!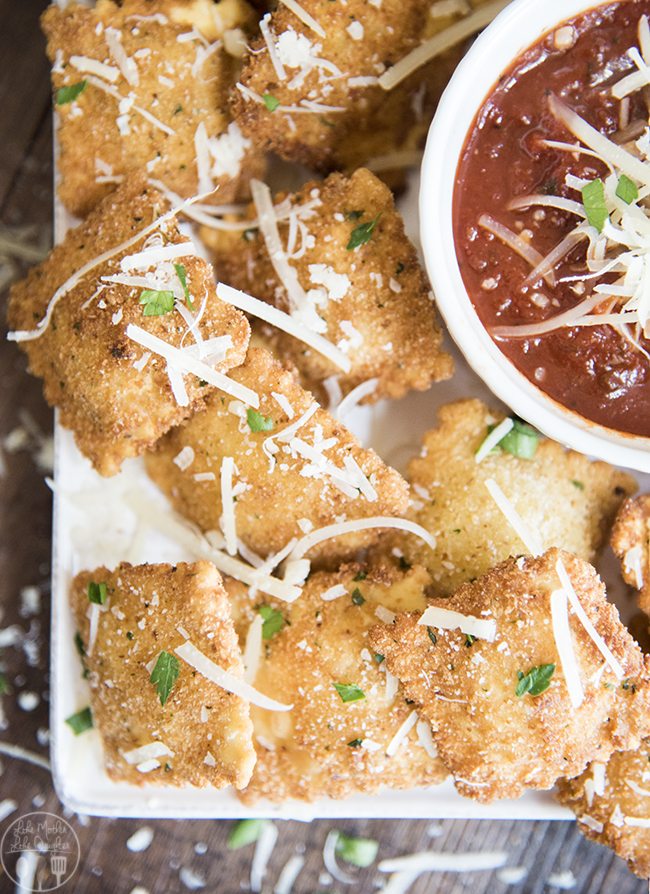 Growing up we had our regular meals that we would have for dinner often because the whole family loved them. Spaghetti, or some other sort of pasta with my mom's marinara sauce was a regular one that I'm pretty sure we had at least once a week. Pasta is the ultimate comfort food for me because it reminds me of those delicious meals growing up, but now its one of the things my family has regularly too. And thankfully it's one of the few meals I know my son will always eat up!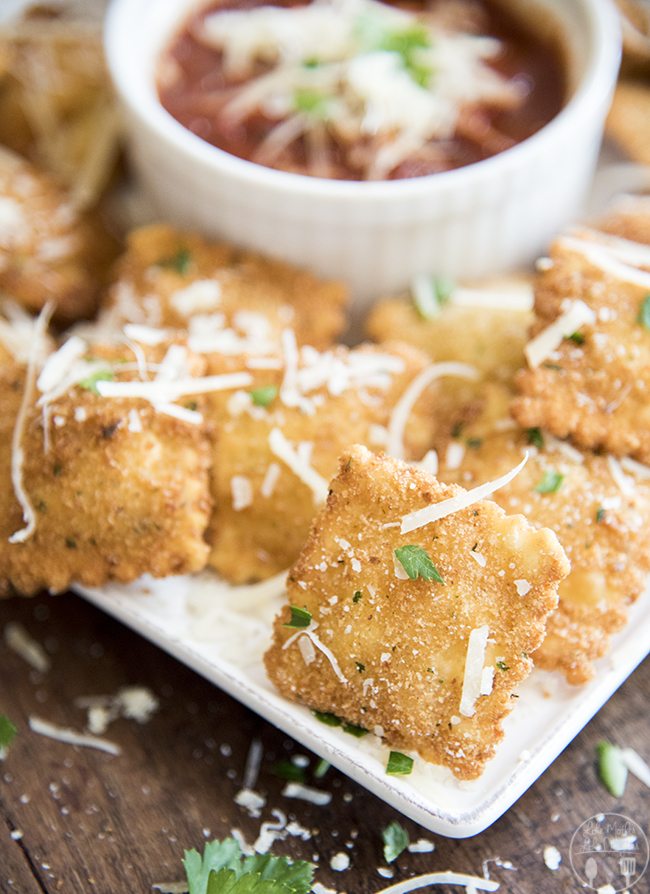 That's why I love this Homestyle Ragu sauce, its a thicker sauce, bursting full of tons of flavor, and its such a great solution when I'm in need of a quick and easy meal (which happens often with a 2 year old running around the house). However I serve it up, I know it will be a meal my whole family will love.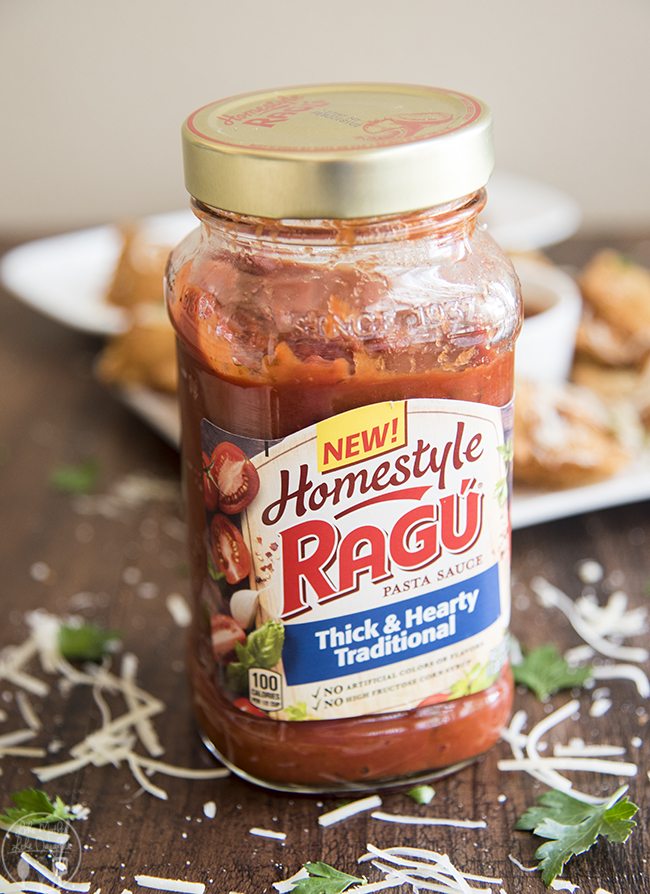 I've wanted to try out making toasted ravioli for a while at home now, and I finally made it this last week, and just like I knew they would, and we all gobbled it up. It was perfect served up with Ragu Homestyle Thick and Hearty Traditional Pasta Sauce because the pasta just hugged the sides of the noodles as they were dunked into the sauce. I can't wait to try it out on more of my favorite pasta dishes.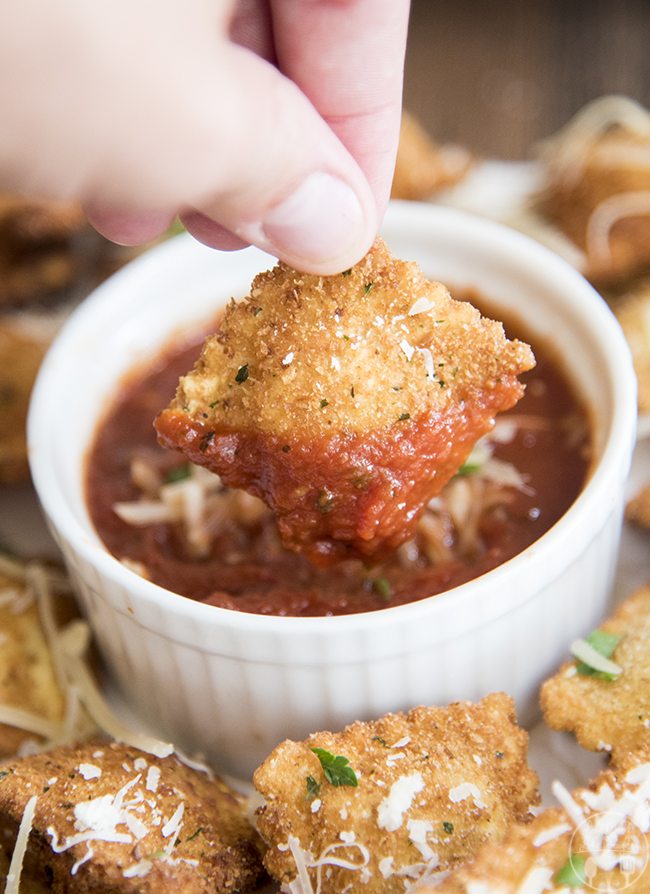 These toasted ravioli are so good because they are such a fun twist on traditional ravioli. The ravioli noodles are covered in Italian bread crumbs and fried up for a couple minutes to make them totally crispy on the outside and soft and warm in the middle.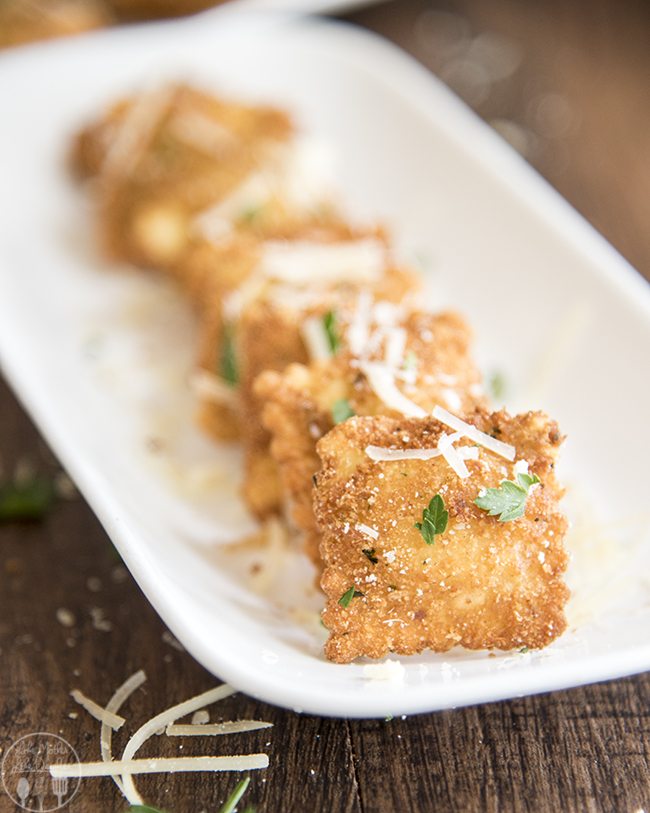 The ravioli can be served up for dinner, or as a fun appetizer too!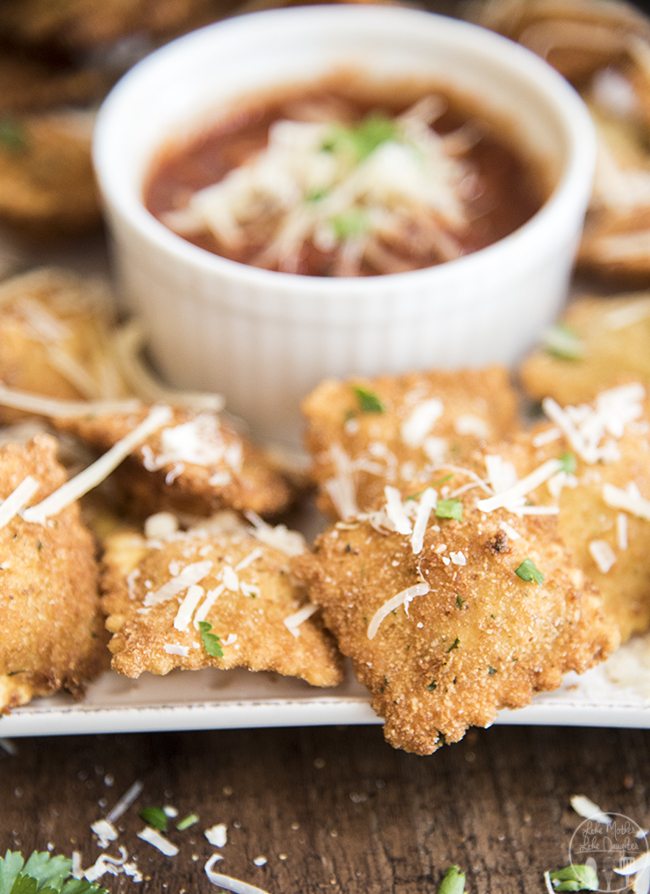 Toasted Ravioli
Ingredients
2 large eggs
¼ cup milk
1 cup Italian Bread Crumbs
9oz refrigerated ravioli (not cooked)
vegetable oil
Ragu Homestyle Thick and Hearty Traditional Sauce
Instructions
Whisk together your eggs and milk until the mixture is completely smooth in a small bowl.
Put your bread crumbs in another small bowl.
Dip each ravioli noodle into the egg mixture and then into the bread crumbs to coat completely. Set on a plate and set aside.
Repeat with additional ravioli noodles.
Fill a large pan with about 2 inches of oil. Heat over medium.
Fry each ravioli for about 2-3 minutes, flipping half way through until they are golden on both sides.
Place them on paper towels to soak up the excess grease.
Microwave your marinara sauce for about 30 seconds until its warm.
Serve toasted ravioli and warm pasta sauce together and enjoy!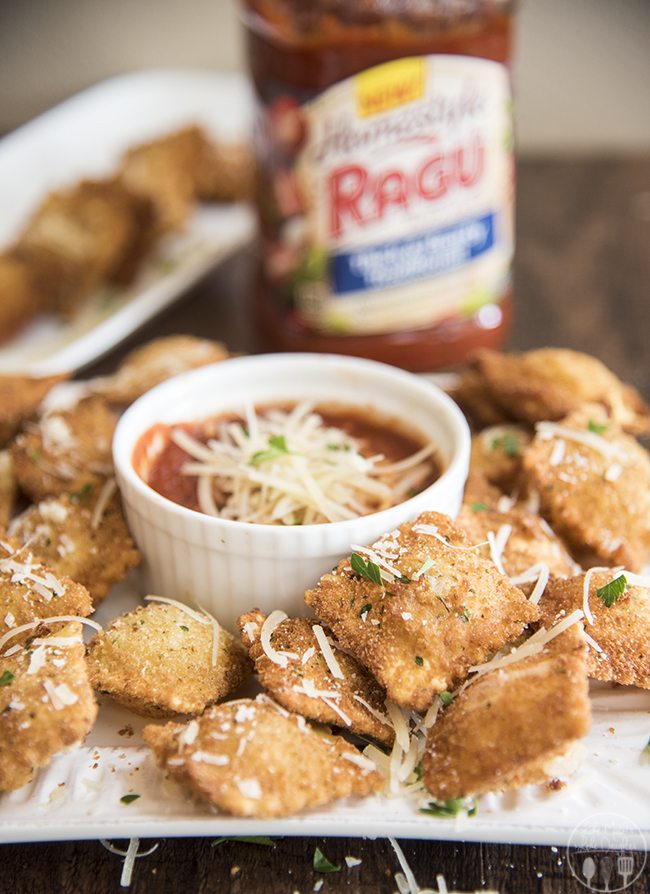 For more tasty recipes using Ragu Homestyle Sauces click here.
Giveaway: Win a $25 Amazon Gift Card
There are two entry options for the giveaway. Winner must be 18 years old and live within the US. Winner will be notified by email. You can choose 1, or both options for 2 entries in the giveaway. Chances of winning depends on the number of people who enter the giveaway. Giveaway is sponsored by Like Mother Like Daughter. Giveaway runs from June 21 – June 30, 2016.
Click here and then come back and leave a comment letting me know which Ragu Homestyle sauce you are most excited to try!
Click here and then come back and leave a comment letting me know which recipe you want to try most!