I was provided with vegetables and produce from Melissa's Produce but all opinions are my own.
Recently I joined the San Diego Food Bloggers group and I am delighted to be a part of this great group of food bloggers.  One of the really fun things about joining was learning about all the events and sponsors known to my new friends.  The first one I was introduced to was Melissa's Produce.  I feel like I have really been missing out by not knowing about Melissa's Produce before.  There is such an amazing array of vegetables and fruits available from them.  Vegetables we have all heard of like broccoli and red potatoes but how about baby Dutch yellow potatoes or cardoni or choy sum.  And their fruits! They have plumcots, blueberries, figs plus calamondin and black raspberries.  Melissa's Produce not only deliver to you amazing fresh and delicious produce but they provide recipes and cooking tips too.  Believe I am really grateful for those, especially when I am trying a new fruit or vegetable.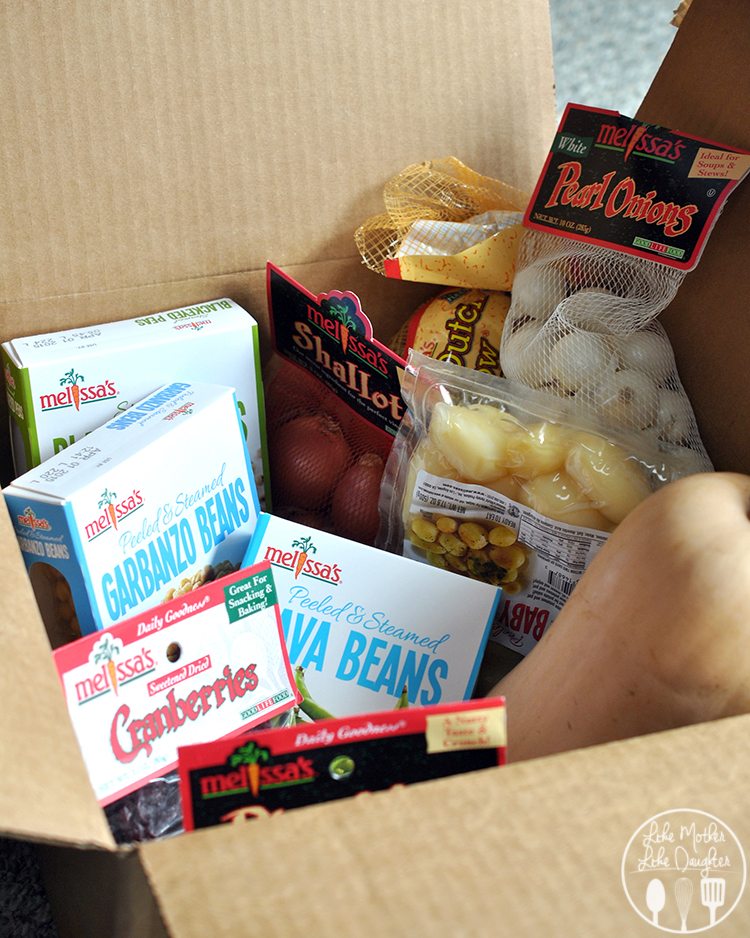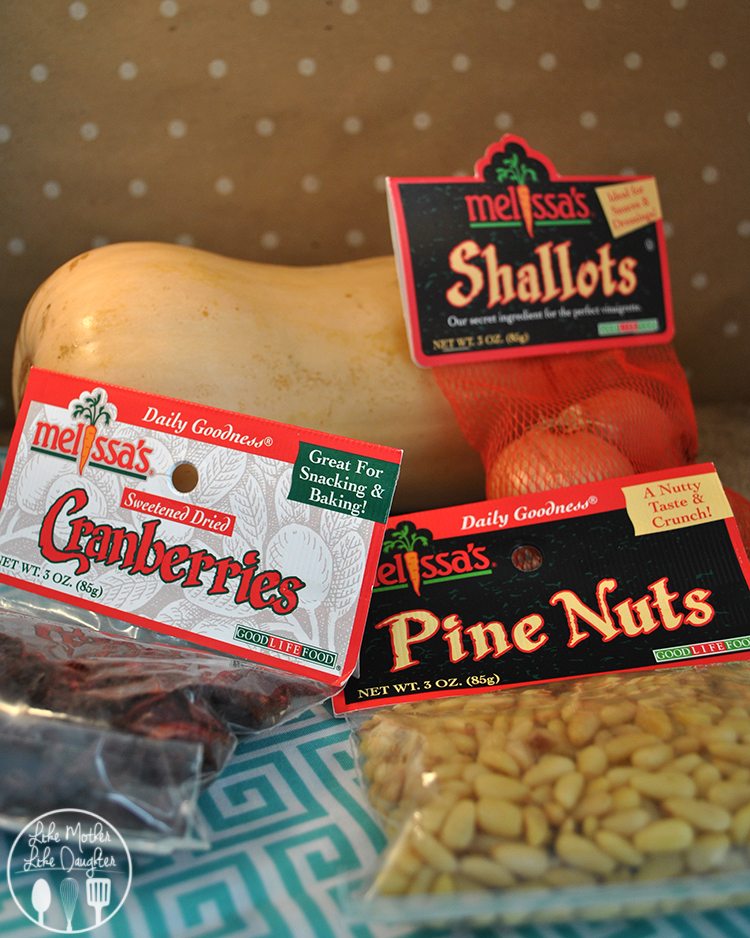 I was sent a wonderful box of their produce.  I received baby Dutch yellow potatoes (I have a great potato taco recipe coming using those), shallots, black-eyed peas, fava beans, garbanzo beans, pearl onions, a butternut squash, pine nuts, and dried cranberries.  Everything was fresh or prepared ready to use – such as the black-eyed peas, fava beans, and garbanzo beans were all cleaned, peeled, and steamed.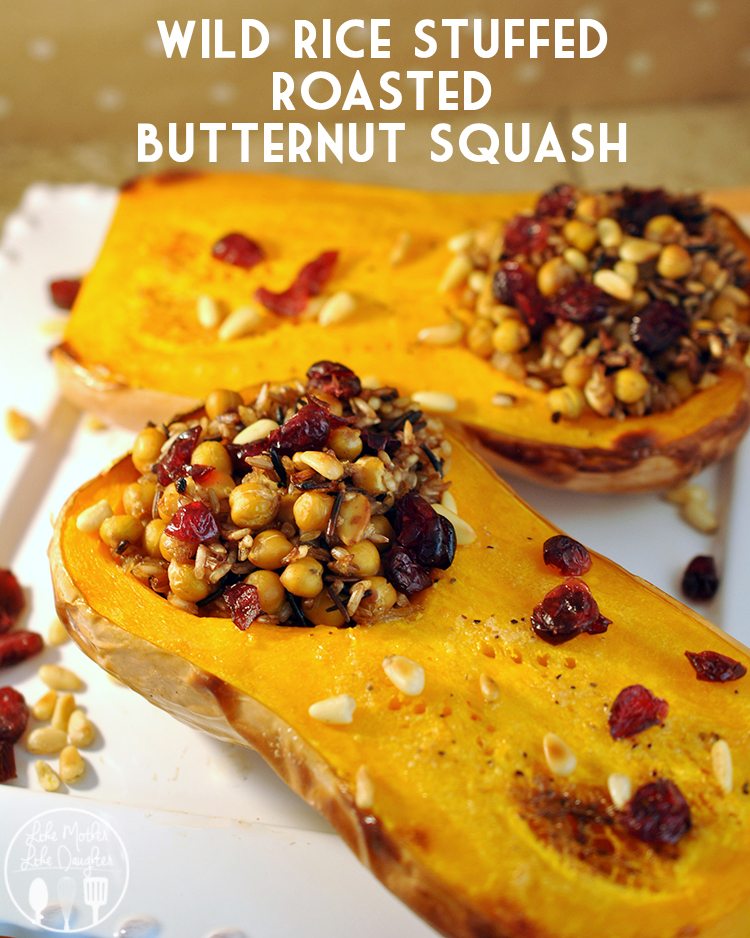 Now it was up to my imagination to create a dish or two using these amazing produce.  I did a little research on the internet for tasty combinations and realized wild rice stuffed roasted butternut squash would be perfect.  I sauteed the shallots, toasted the pine nuts, roasted the butternut squash, and put them all together with the steamed garbanzo beans and dried cranberries for a wonderful dinner dish.  There was enough goodness in the wild rice stuffed roasted butternut squash to be the main dish and what a beautiful presentation to my table too.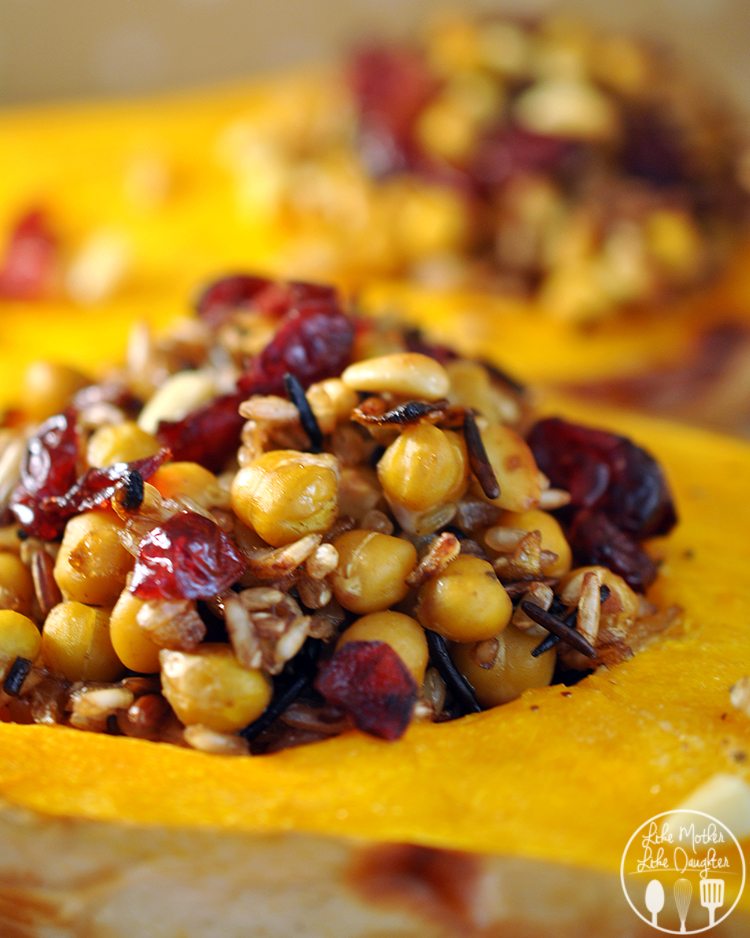 Wild Rice Stuffed Roasted Butternut
Ingredients
1 butternut squash (outside lightly scrubbed with warm water)
Instructions
Preheat your oven to 425 degrees
Cook your wild rice according to package directions using the chicken broth and add the ginger to the broth
Cut the top off your butternut squash, making it easier to slice your butternut squash in half lengthwise
Scoop out the seeds from the butternut squash
Place 1 TBSP butter inside the scoop out half of each squash and salt and pepper your squash
Place in oven to roast for 1 hour or until fork tender
In a sauce pan, add 1 TBSP butter - melt - add your chopped shallot and saute your shallot until tender and translucent
Add your shallot to your cooked wild rice and stir in
Add your garbanzo beans to your wild rice and stir in
Add most of your pine nuts to your wild rice and stir in, reserve about ⅛ of a cup for topping
When you butternut squash has about 15 minutes left for roasting, remove from oven
Spoon the butter from the scooped out area all over your squash
Stuff the scooped out area with as much of your wild rice mixture as you can - you will have approximately ½ to ¾ cup wild rice left over (remember your rice will double while cooking)
Place your stuffed butternut squash back in the oven to finish roasting, roast to fork tender
Once fork tender remove from oven and sprinkle the remaining pine nuts and dried cranberries over the wild rice mixture and your squash, place back in oven for 2 to 3 minutes
After cooking, you can serve as is or remove your squash completely from the peel, cut into cubes and spread wild rice mixture all over squash for eating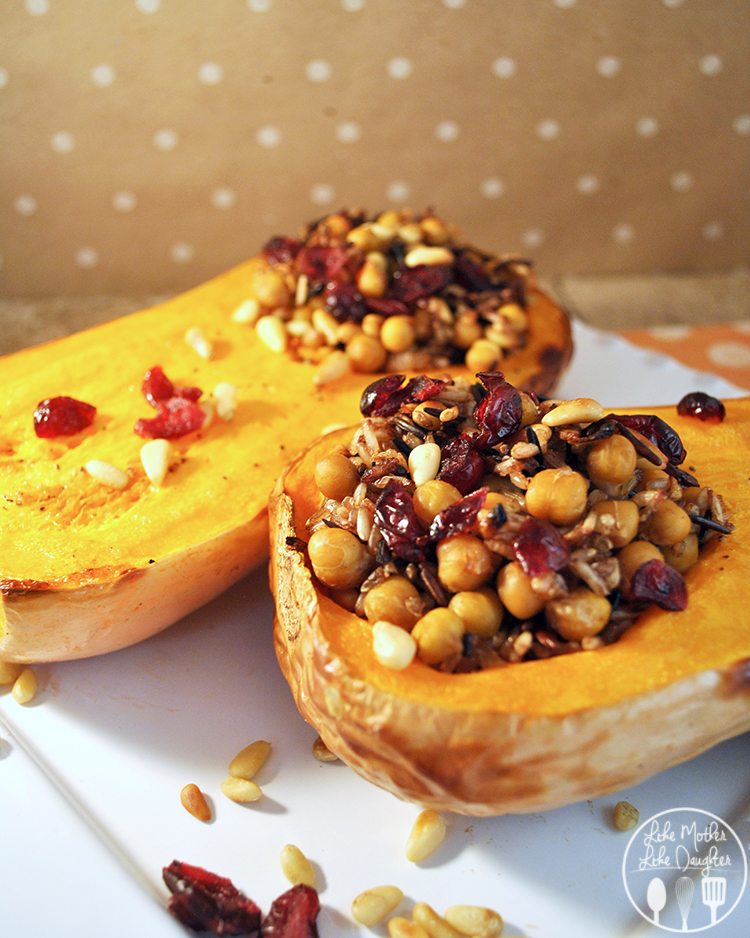 To toast pine nuts – in a dry sauce pan over medium to low heat add your pine nuts, stirring regularly for 2 to 3 minutes. Remove and let cool.   Toasting pine nuts brings out more of their great flavor.     I enjoyed my wild rice stuffed roasted butternut scooping and eating it straight out of the peel.  Craig choose to remove his squash, cut into cubes, and spread the wild rice stuffing all over the squash to enjoy each fork full with squash and rice together.
You can follow Melissa's Produce on facebook,  twitter, pinterest, and instagram.