This giant sugar cookie cake is a perfect red white and blue, patriotic dessert for Memorial Day or the 4th of July! Its loaded with red, white, and blue m&ms and white chocolate chips and topped with a simple buttercream and fun sprinkles for the perfect summer dessert!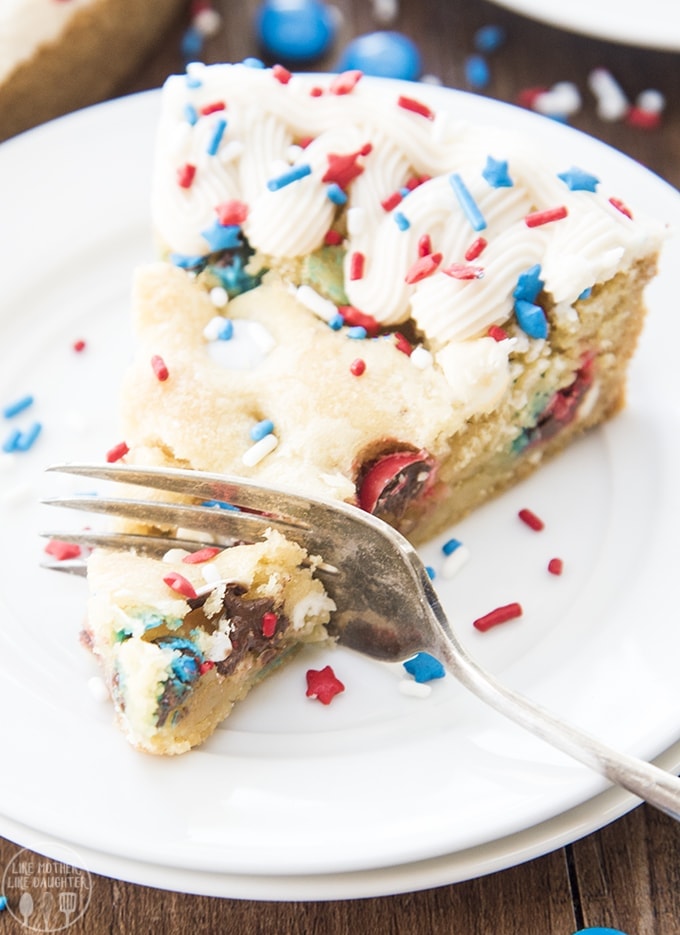 With the Fourth of July just a couple of weeks away, I'm ready to share red, white, and blue, and summery recipes all month long. First starting with this red white and blue giant sugar cookie cake.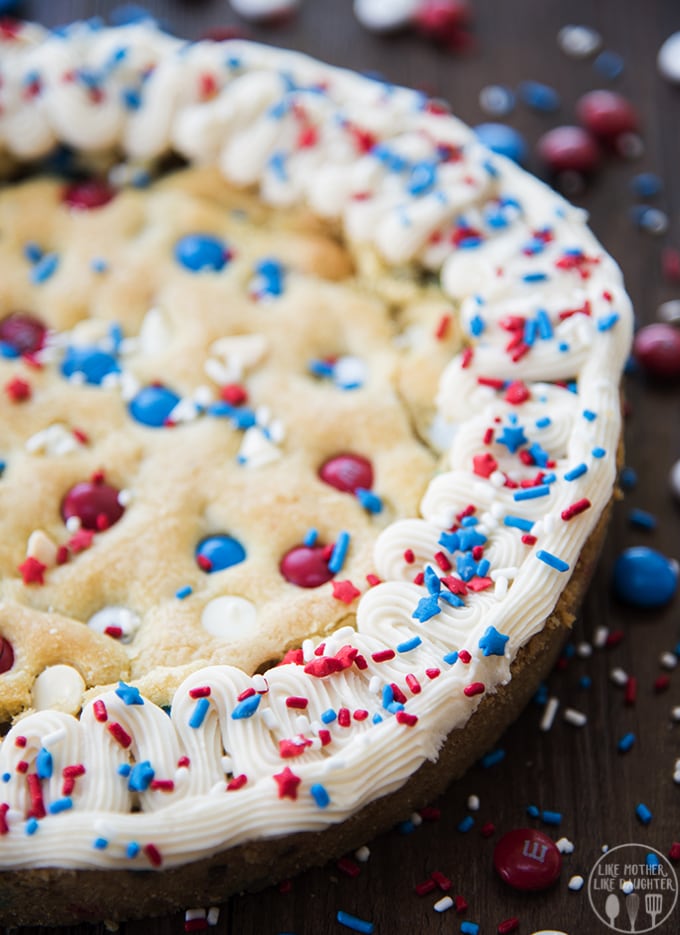 This giant sugar cookie/cake is very similar to my chocolate chip cookie cake, but instead of brown and white sugar, its all white sugar, it has a little cream of tartar mixed in to make the cookie extra soft, and of course it has red, white, and blue m&ms, with a few white chocolate chips for good measure too. Because I really love milk chocolate and white chocolate together.
This giant cookie is so thick, and soft, and so fun to eat. You can slice it up  for a fun dessert any time, but especially for the Fourth of July since its so festive and fun! You could even top it with some sparklers or candles to make our country's birthday extra special.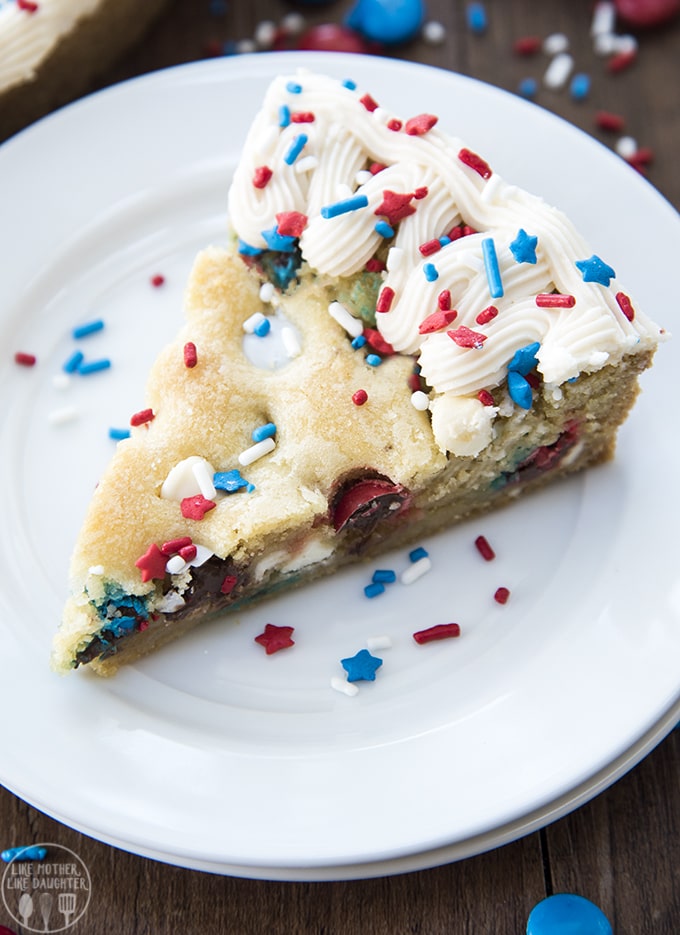 Its topped with a simple homemade buttercream (but a store bought frosting would work great too) made with just butter, powdered sugar, vanilla, a dash of salt and a little milk. Please don't judge my terrible decorating skills, the frosting is delicious. But the cookie is actually great with or without the frosting if you want to leave it off.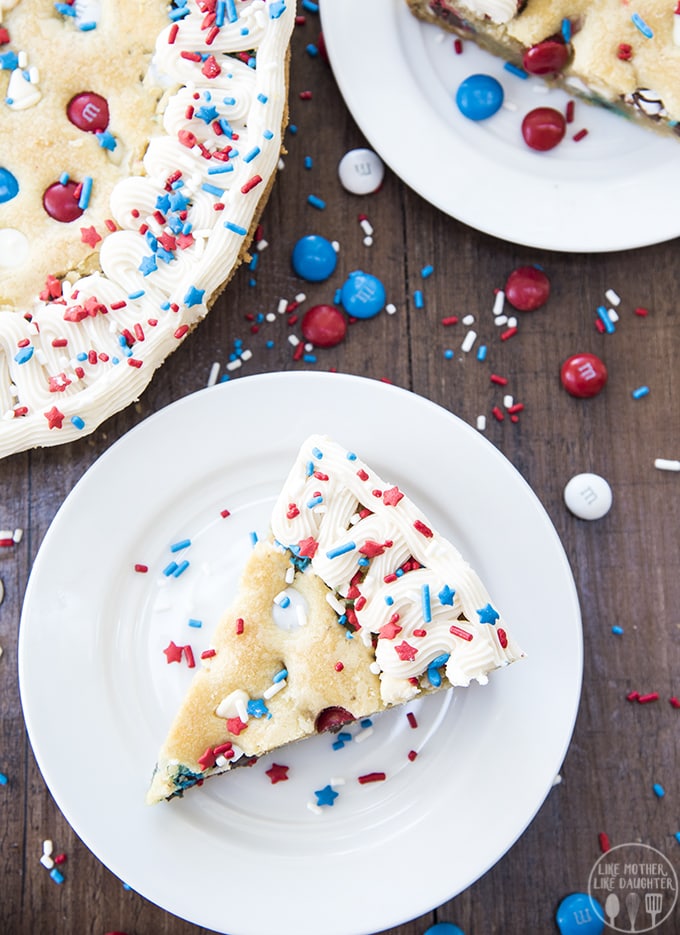 Top it all with red white and blue jimmies and sprinkle stars and you've got the cutest 4th of July or Memorial Day dessert!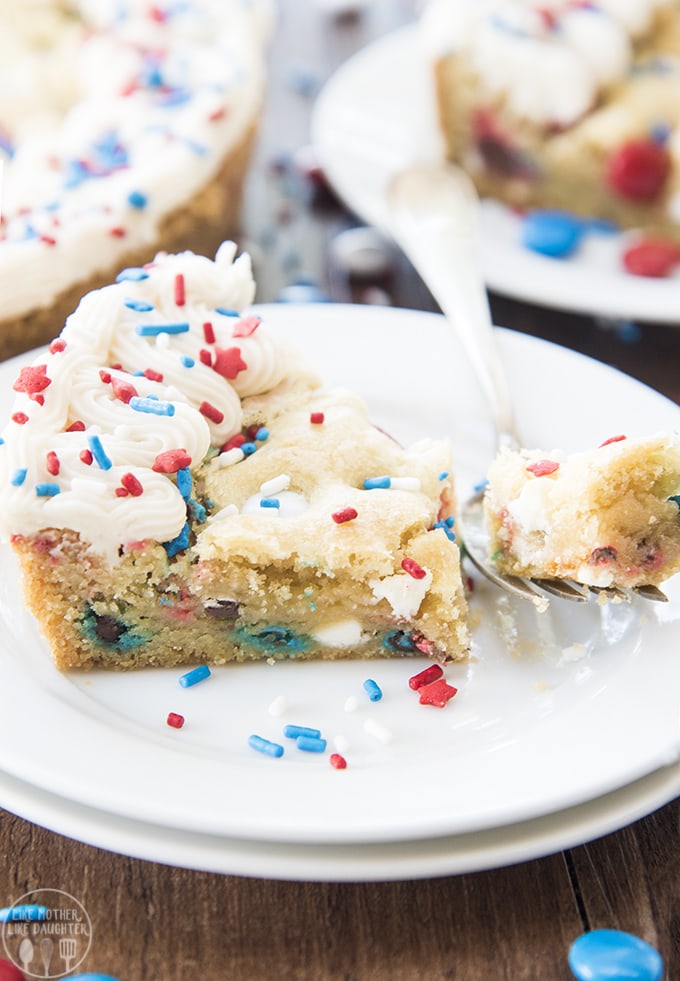 Just see how thick and delicious that looks!

Red White and Blue Giant Sugar Cookie Cake
Ingredients
¾ cup butter, softened
1 cup white sugar
1 egg + 1 egg yolk
2 tsp vanilla extract
2 - 2 and ¼ cup flour
1 tsp baking soda
½ tsp cream of tartar
½ tsp salt
1 cup red white and blue m&ms
½ cup white chocolate chips
For the Buttercream Frosting:
6 TBS butter, softened
1½ cups powdered sugar
½ tsp vanilla extract
½ tsp salt
1 TBS milk
Instructions
Preheat the oven to 350 degrees.
Spray a 9in cake pan with non stick spray. Set aside.
Cream together your butter and your white sugar in a large bowl.
Add in the egg, egg yolk, and the vanilla and stir in.
In another bowl mix together your flour, baking soda, cream of tartar, and salt.
Add your dry ingredients to your wet ingredients and stir everything together till just combined.
Add in your m&ms and white chocolate chips and fold into the batter. **
Press the cookie dough into the prepared cake pan.
Bake in preheated oven for about 25 minutes until the cookie is golden brown. (You can stick a toothpick in to make sure its not gooey in the middle)
Allow to cool for in the pan. Loosen the sides with a knife and put cake onto a platter or serving dish.
For the Buttercream Frosting:
Cream butter for about 1 minute until light.
Add in the powdered sugar and mix together.
Add in the salt and milk and mix until smooth. (Add more powdered sugar or more milk till needed for the right consistency).
Put frosting into a piping bag (or a ziplock bag)
Decorate cookie edges with frosting.
Top with sprinkles, if desired.
Slice and serve.
Notes
**I usually save a few to press on the top after mixing, before baking so the top looks pretty 🙂