My husband, Craig, completes surveys regularly online.  They are for all sorts of interest and take a little bit of time.  For his opinion and time, he earns points that he can trade in for different things.  Recently, he redeemed his points for gift cards, restaurant certificates, and a Marta Stewart Living subscription for me.  With that Marta Stewart Living Magazine comes a little recipe booklet entitled Everyday Food. I have found this little booklet quite delightful and found this peach salsa recipe in it.  This is a tasty, fairly simple salsa that uses the last of your peaches and those delightful fresh tomatoes.  I served my salsa with a simple quesadilla consisting of a little leftover steak and cheddar cheese.  Use your salsa on whatever you like salsa with chips, tacos, or quesadillas.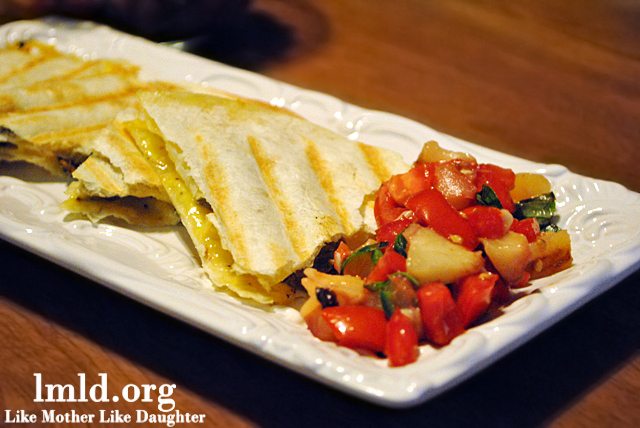 Ingredients:
1 Tbs. olive oil
2 peaches (halved and pitted)
2 garlic cloves (minced)
1 jalapeno pepper (seeded and minced)
2 medium tomatoes (cut into bite size pieces)
1 good squeeze of fresh lemon juice
1/4 cup fresh basil (finely torn)
kosher salt (to taste)
Directions:
1. Heat grill (I used my indoor grill)
2. Spray peaches with olive oil
3. Set on grill and grill for about 6 minutes until softened
4. In the meantime, combined tomatoes, garlic, pepper, lemon juice, and salt in a bowl
5. Once peaches are done, let cool, and then dice into bite size pieces
6. Gently stir in peaches in with the tomato mixture
7. Just before serving add basil
Enjoy this fresh and sweet salsa with chips, or on your favorite mexican dish!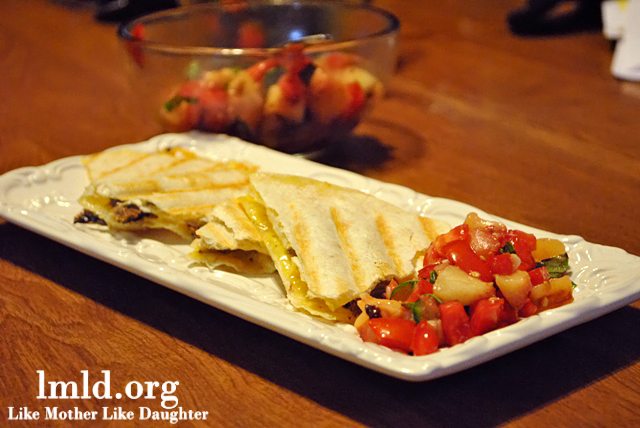 This is a very juicy salsa; I actually drained off some of the juices but it is your choice.