These mixed berry sweet rollsare soft fluffy rolls full of frozen raspberries, blueberries and strawberries and topped with the best vanilla icing. These are great for breakfast, brunch or dessert!
Photos Updated 7/6/16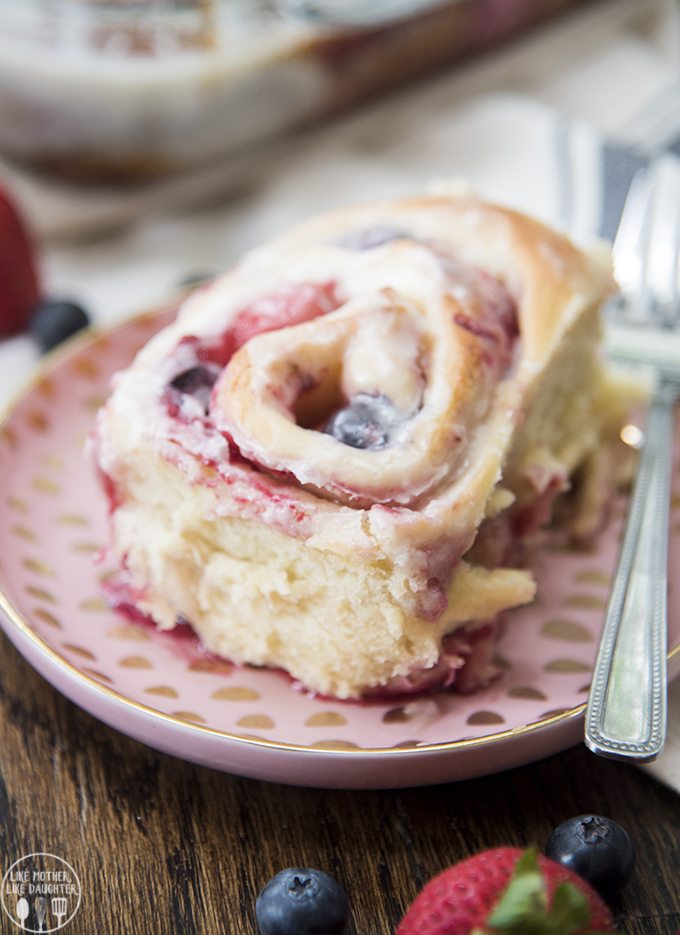 Cinnamon Rolls are one of my favorite breakfast options. But another favorite is raspberry sweet rolls. So I knew I had to try a mixed berry sweet roll option.  These rolls are delicious. Trust me.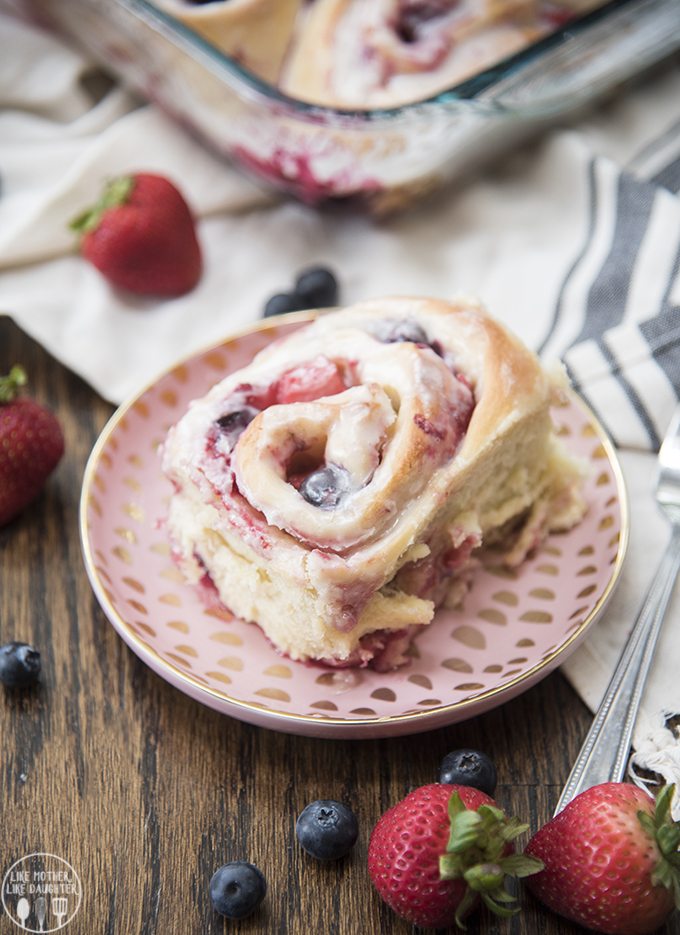 I have taken them to a family dinner as dessert, and a family potluck and both times they've been devoured so quickly.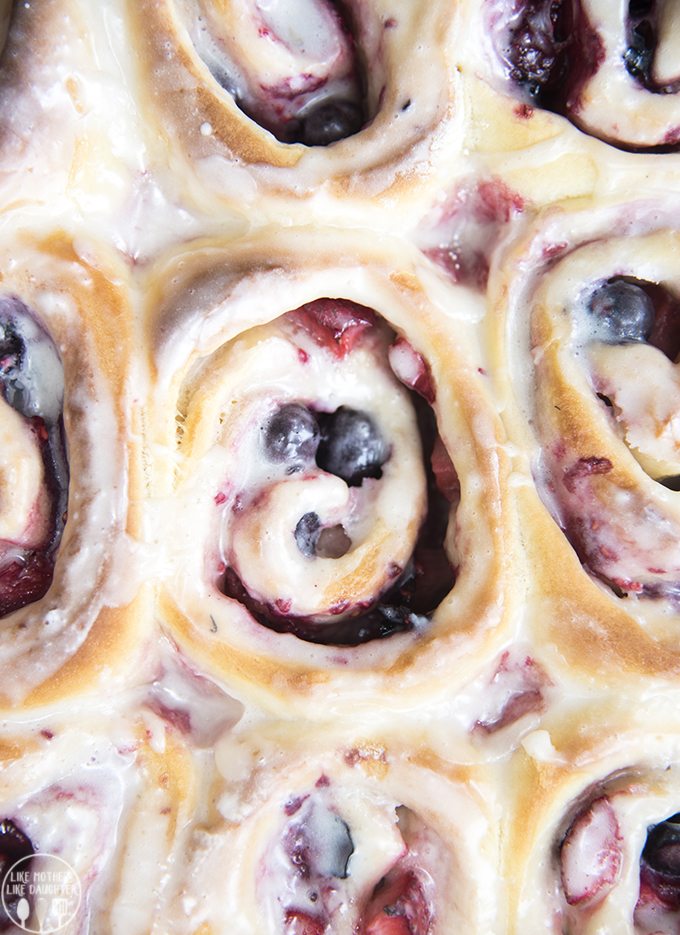 These rolls have the same soft dough as my favorite cinnamon roll recipe. I've used this dough so many times now, without any issues so its my go to for every type of sweet roll recipe that I've made, lemon blueberry, caramel apple, orange and more! Even if you are afraid of working with yeast, you have to try these rolls out – get rapid rise yeast and these rolls are ready to eat in only about an hour and a half!
They are topped with an amazing vanilla and powdered sugar icing, that I love as well and I just know you'll love it too – these mixed berry rolls are THE BEST!
I wish I could dive into one right now!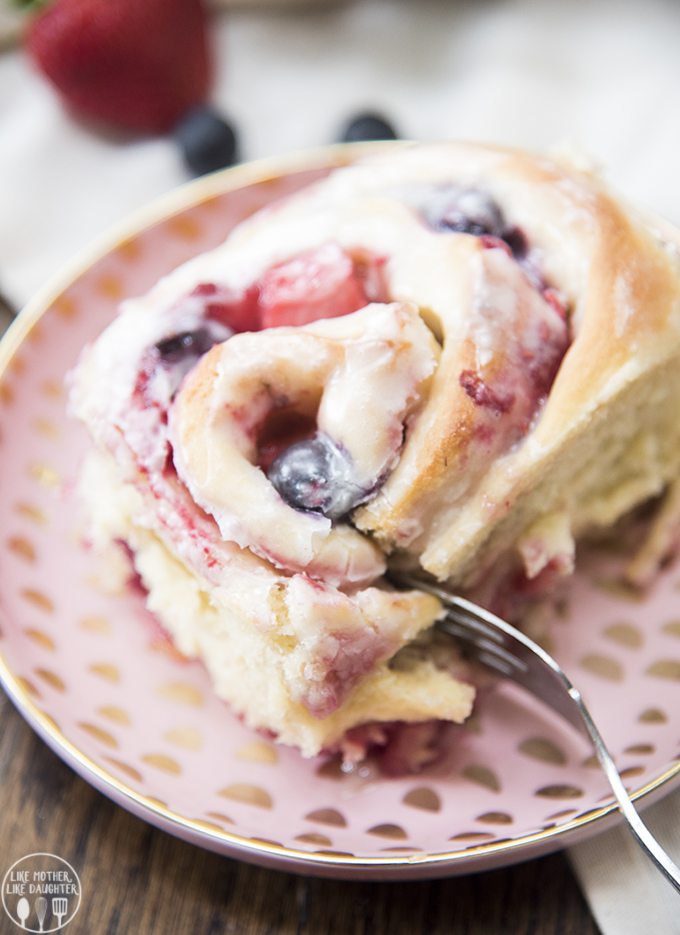 Mixed Berry Sweet Rolls
Ingredients
For the Dough:
1 TBS yeast
1 cup milk, warmed
⅓ cup sugar
½ cup butter (1 stick), softened
1 tsp salt
2 eggs
4 cups flour
For the Filling:
¼ cup butter, melted
⅔ cup sugar
1 TBS cornstarch
12 oz frozen mixed berries
For the Frosting:
1½ cups powdered sugar
1 tsp vanilla extract
6 TBS heavy cream
¼ tsp salt
Instructions
Dissolve your yeast in the warm milk in a large mixing bowl. Allow to proof for about 5 minutes.
Add your sugar, butter, salt, eggs and flour and mix everything together.
Once the dough pulls from the edges of the bowl, knead for about 5 minutes.
Remove the dough from the bowl and spray the bowl with nonstick spray. Put the dough back in the bowl and cover with a towel.
Allow to rise for about 1 hour until the dough doubles in size.
Lightly flour your counter top and roll the dough out to a large rectangle, about ¼ inch thick. About 14x22 inches.
Preheat your oven to 400 degrees.
Mix your berries, cornstarch and about 1 TBS of your sugar in a small bowl. Squish your berries with a fork.
Spread your melted butter over the top of your dough.
Sprinkle the rest of your sugar over the top of your dough and butter.
Sprinkle your berry mixture over your dough and spread it around evenly.
Carefully roll your dough from the top edge to to the bottom edge to form a 22 inch long roll.
Cut into 1 inch slices.
Lightly grease a baking pan.
Place your rolls in the baking pan and bake for about 25 minutes until they turn a light gold color.
Remove your rolls from the oven and allow them to cool for about 5 minutes before frosting.
While rolls are cooling, combine your powdered sugar, vanilla, cream and salt in a small bowl. Add a little more powdered sugar if you need it thicker, or a little more cream to thin it out.
Apply frosting generously to your rolls.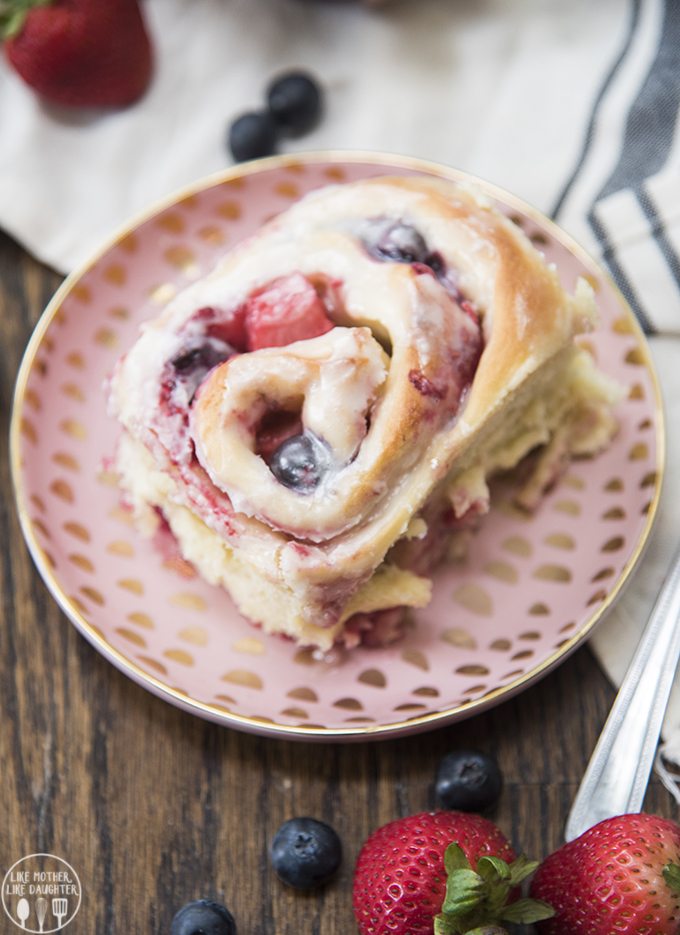 Now you've been waiting for our mixed berry sweet roll recipes.
Enjoy these delicious berry sweet rolls for breakfast, brunch or dessert!
For more great Memorial Day and summer ideas, check out the rest of these #KickOffToSummer2014 ideas! Lemon Honey & Rosemary Grilled Chicken Skewers by From Gate to Plate
Sausage & Veggies Tinfoil Dinner by Summer Scraps
Baked Rosemary Garlic Fries by Keep it Simple, Sweetie
Homemade Natural Bug Spray by The Haas Machine
Memorial Day Festivities by Lil Huckleberries
Corn Cob Jelly by Hezzi-D's Books and Cooks
Marshmallow Fruit Dip by Forty Eighteen
Trail Mix Oatmeal Cookies by Lady Behind the Curtain
BBQ Invitation Printable by My Daylights
Rhubarb Crisp by Love in the Kitchen
Liberty Embroidery Pattern by Bits of Ivory
Red White and Blue Trifle by We Like to Learn as We Go
Chickpea Tabouli by Food Lust People Love
Dark Chocolate Pistachio Cookies by Life on Food
And we have another great giveaway for you today too.