Happy New Year!   Hope this will be your best year ever and to start you out right here is a delicious Potato Black-eyed Peas Taco recipe. Black-eyed peas are said to bring you good luck in the new year.  We all could use a little good luck.
Now you might have missed eating them on New Year's Eve or even on New Year's Day but I bet if you take the time to prepare and eat these amazing potato black-eyed peas tacos now or any other time you will be brought good luck.  I mean how could you not be lucky,  you are tasting a most delicious meal that is healthy for you too.  Eating healthy, delicious food is good luck for your taste buds, your stomach, and your body.
So eat all the potato black-eyed peas tacos you want for that good luck and maybe some of your good fortune will rub off on the rest of us too.  But hopefully only good luck and we won't be jinxed like Gortimer Gibbons  in Gortimer Gibbon's Life on Normal Street – an original Amazon Prime series.  Have you seen it?  I discovered this fun TV series while I was down sick this winter.  It is a juvenile series; nice and clean with mystery and friendship as the theme. I watched all of the first season in 1 day.  In this episode Gortimer becomes jinxed with Stanley's bad luck and the only way to save him is to find the "mobile of bad luck" and get the world right again. I am looking forward to the 2015 season. If you have already discovered the fun – what do you think?  if not you still can – that's the great thing about amazon prime you can watch pretty much anytime and anywhere you want.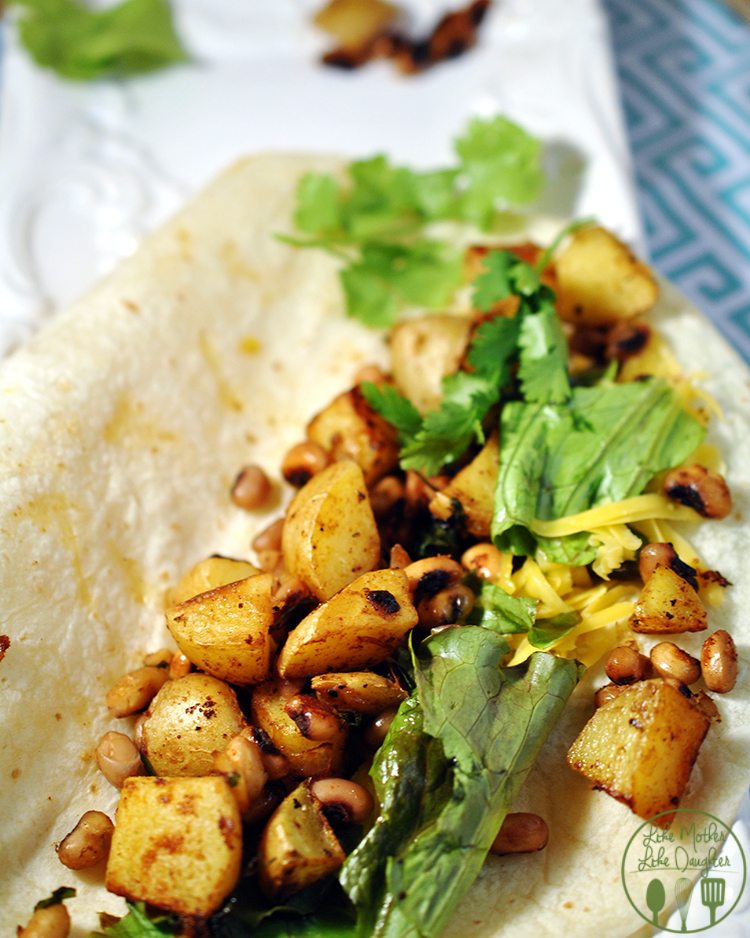 But in the meantime you have good luck coming your way from the potato black-eyed peas tacos.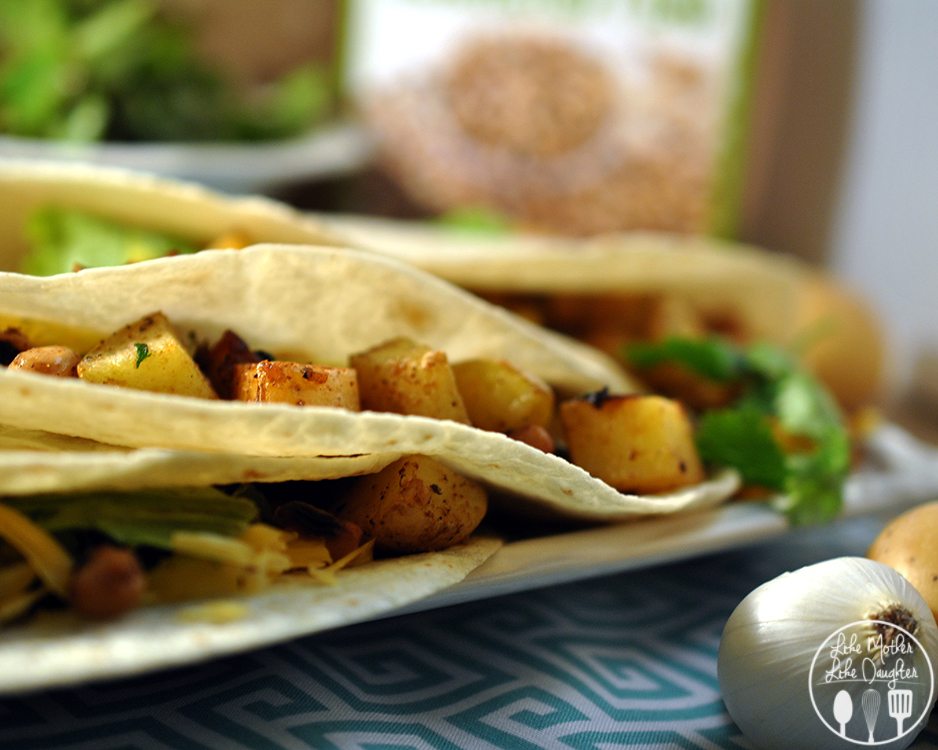 Potato Black-eyed Peas Tacos
Ingredients
6 Baby Dutch Yellow Potatoes - scrubbed and diced
3 pearl onions - peeled and chopped
6 oz black-eyed peas - steamed (I used Melissa Produce brand - already steamed and ready)
1 TBS minced jalapeno without seeds
1 clove garlic - minced
1 to 2 TBS cilantro - chopped
¼ tsp cumin
1 tsp chili powder
⅛ cup lime juice - fresh squeezed
salt and pepper to taste
4 tortillas
grated cheese
torn lettuce
¼ cup creme
salsa
For the creme
¼ cup Greek yogurt
⅛ cup lime juice - fresh squeezed
½ tsp chili powder
2 tsp cilantro - chopped
salt and pepper to taste
Instructions
In a large saucepan add 2 TBS olive oil, turn to medium high
Add your diced potatoes, chopped pearl onions, minced jalapeno, and minced garlic
Brown and cook until potatoes are fork tender, stir regularly
Season with your cumin, chili powder, salt, and pepper
Add your steamed black-eyed peas and mix in
Add your cilantro and pour the ⅛ cup lime juice over all
Mix it all together and warm your black-eyed peas
Serve in tortillas with creme, cheese, lettuce, and salsa
For the creme
Put your Greek yogurt into a small bowl
Add your lime juice, cilantro, and spices
Stir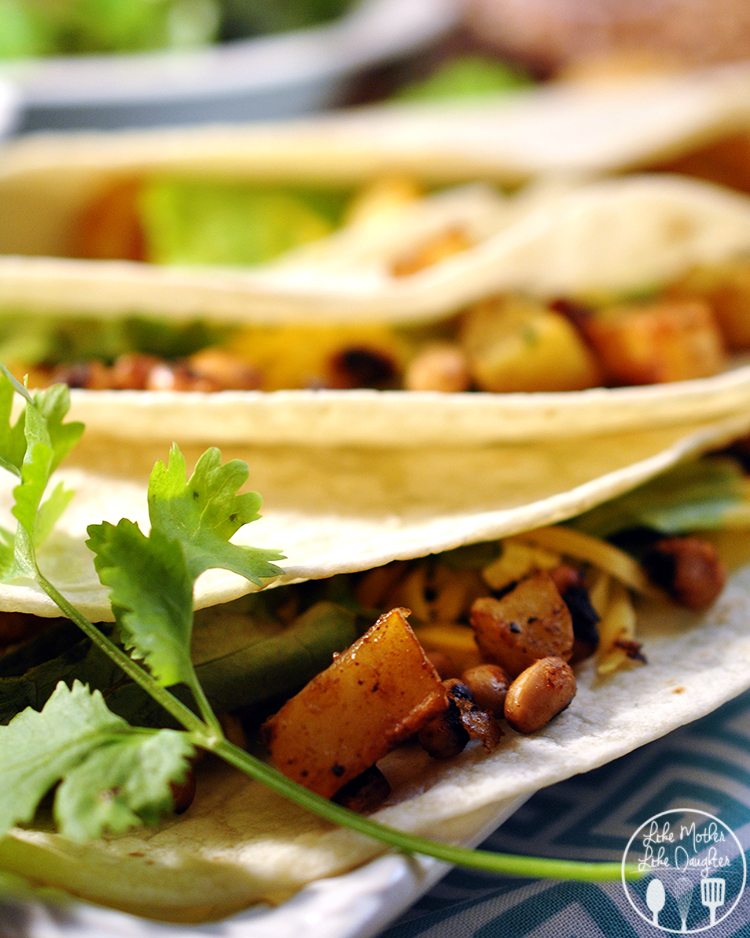 My produce was provided by Melissa Produce during a previous Melissa Produce Challenge, you might have remembered – Wild Rice Stuffed Roasted Butternut Squash.
You might like these dishes too: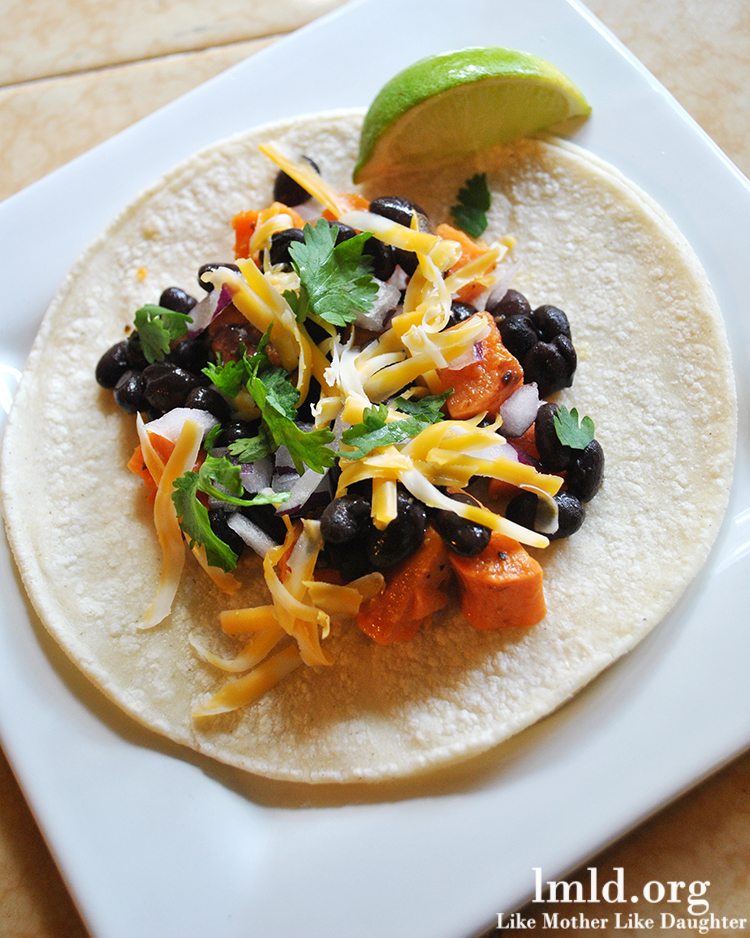 Skillet Beets, Potatoes and Chestnuts