This strawberry icebox cake isn't a cake in the traditional sense of the word cake.  You don't use flour, you are not baking it, but it is a sweet layered dessert.  My lovely Stephanie brought a strawberry icebox cake to a potluck pool party and it was excellent.  I had no idea what it was made from initially – do you want to take a guess?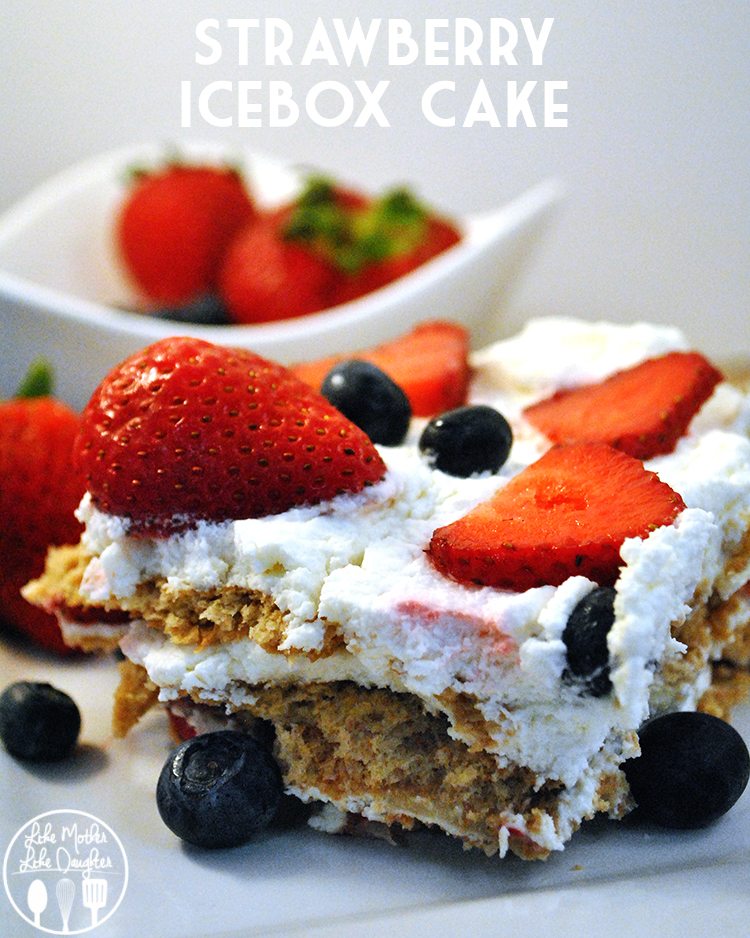 GRAHAM CRACKERS!!!!!!  Yes, you read that right, this strawberry icebox cake has graham crackers for its base along with strawberries, I added bananas and blueberries too, and whipped cream.  That is it, simple, 6  ingredients, three delicious ingredients all layered together making  a yummy strawberry icebox cake that only gets better with time.
Simple ingredients but time is necessary.  You need time to whip the whipping cream but watch this closely so your cream doesn't turn to butter.  You want stiff peaks, this visual guide should help you get the perfect stiff peaks.  You need to take a little time to wash, hull, and slice your strawberries.  If you have straws, you are supposed to be able to hull the berries with that.  I have never tried it so I can't speak from experience but this guide will help you hull strawberries the old fashion way with a knife.  Next is fitting your graham crackers to your pan.  I used 3 1/2 sleeves and apparently my 9×13 pan was really more like a 9 1/2 by 14 pan.  I needed to break some graham crackers to add to the end of the layers to fit the whole pan.  It won't look pretty at first but once you get all those layers and layers of goodness, you won't notice the looks.  So now you have done the prep work, it is time to layer – whipped cream, graham crackers, whipped cream, berries and bananas, graham crackers, whipped cream,  berries and bananas, and so on until you have completed 4 layers of graham crackers – do a final covering of whipped cream, use your prettiest strawberries for the top.  And now the finally step, cover with plastic wrap and let sit in your refrigerator overnight before serving.  The time spent together is what makes this strawberry icebox cake so divine, the more time the better it is – so don't worry if you have leftovers for a 2nd day it is still good – but you probably won't have leftovers.
Have you ever made an icebox cake before, this was a first for me.  I am definitely doing it again, wondering how it would taste with peaches and blueberries?
Strawberry Icebox Cake
Ingredients
2 lbs fresh ripe strawberries - washed and patted dry
1 firm but ripe banana - peeled and sliced
3¾ cup heavy cream
⅓ cup powdered sugar
1 tsp vanilla
3½ sleeves of whole graham crackers
Instructions
After washing your strawberries, set aside 12 or so of the prettiest ones to use on top
Hull all the strawberries
Slice thinly all the strawberries but the ones set aside
Whip your cream until it holds stiff peaks using electric beaters
Add your powdered sugar and vanilla and whip in but be sure not to over beat
Unwrap your graham crackers, leave whole
Take a large spoonful of your whipped cream and spread it all over the bottom of a 9x13 pan
Place your first layer of graham crackers side by side in the bottom of the 9x13 pan
Spread another layer of whipped cream over the graham crackers
Place a layer of strawberries and bananas all over the whipped cream
Repeat 3 more times with the graham crackers, whipped cream, and berries and bananas
The last layer of whipped cream spread all over the top and down sides if your sides are showing
Cut your saved berries in half
Spread these berries in a pretty design all over the top
Cover with plastic wrap and set in fridge for overnight
Serve after being in the fridge/icebox for a day