This creamy chocolate fudge is full of a caramel and pecan center! Its a delicious treat that everyone will love!
For me the holiday season means lots of baked goods and homemade candies. Including homemade fudge! This turtle fudge is a delicious new version I wanted to try because I love the combination of chocolate, caramel and pecans and knew it would taste delicious in a fudge!
Pin this scrumptious Turtle Fudge for later!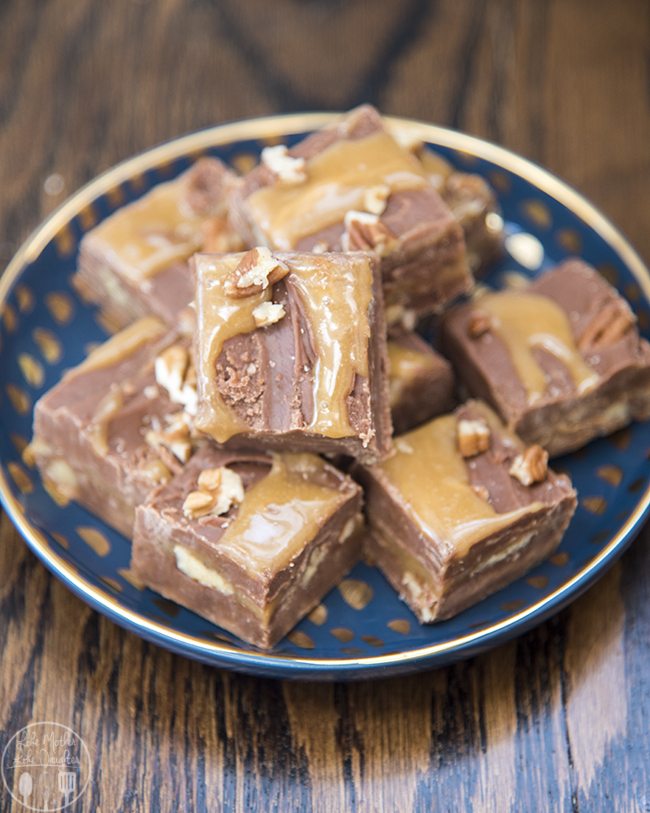 I started with my swirled fudge, but instead of milk and white chocolate chips I used all milk chocolate chips. I whipped the chocolate fudge up on the stove top, while I melted my caramels on the stove top too. You've got to multi task just a little, by stirring both the fudge mixture and the caramels occasionally to make sure the bottoms don't burn.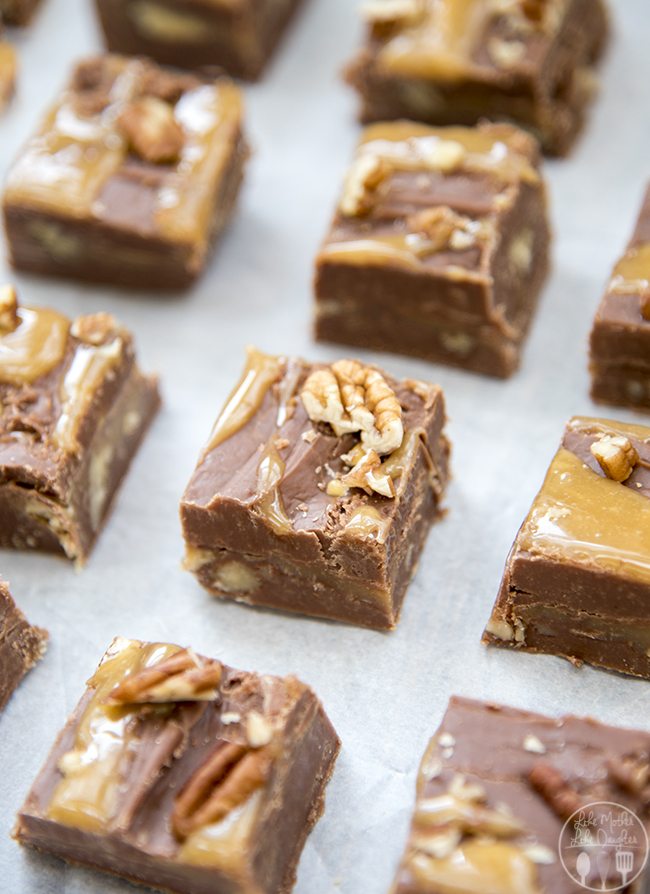 When you're ready you'll spread half of your fudge in your pan, then sprinkle it with your chopped pecans and spread your caramel over the top. Spread the rest of your chocolate fudge over the top and sprinkle with remaining pecans and a little caramel over the top. And voila. Allow to set for a several hours, or place in your fridge to set in about 2 hours. Slice up and serve!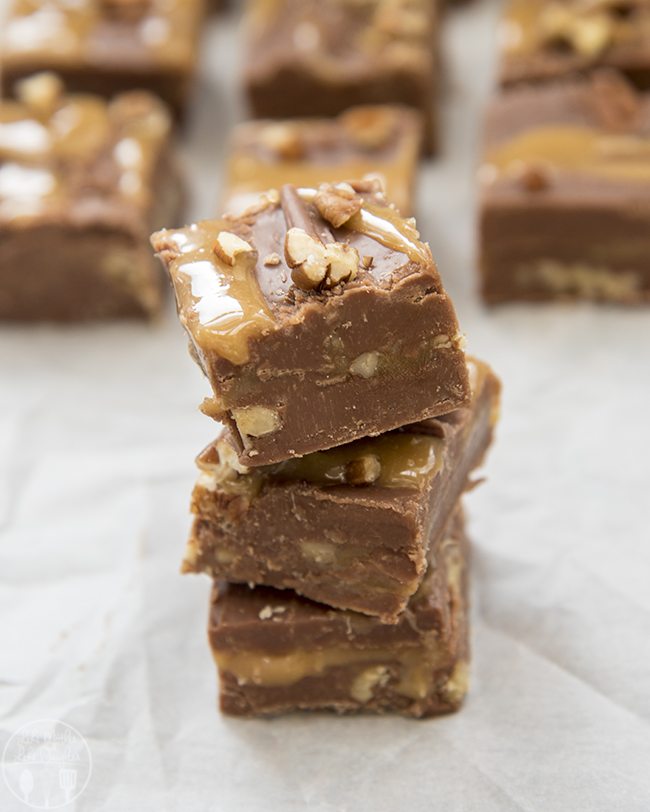 This may just be my new favorite fudge recipe. (Though I'll be honest – I may say that about every fudge I've made with this base. Seriously. Its perfection!!) But chocolate caramel and pecan is even more perfection!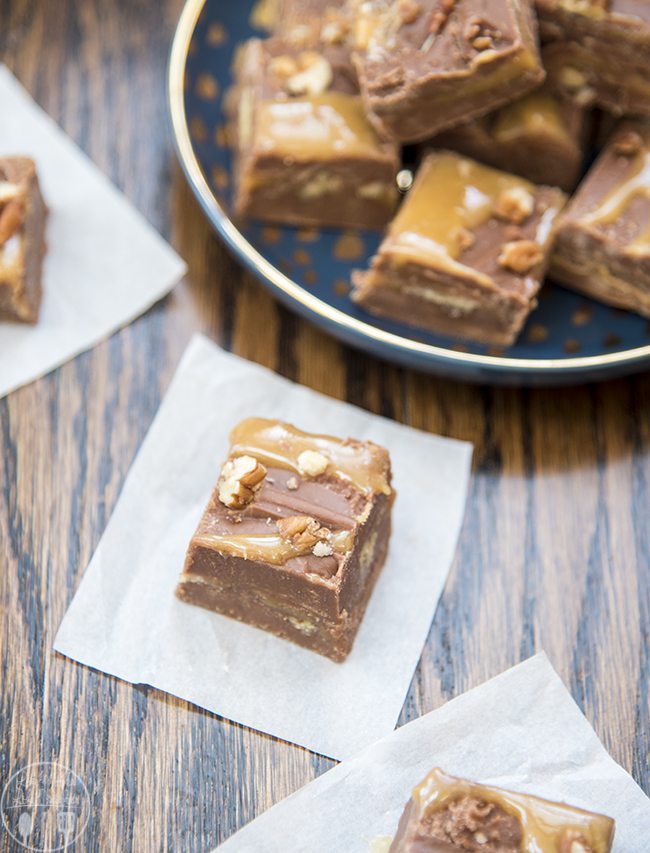 You don't even need a candy thermometer to make this fudge, just a timer set to 5 minutes once its boiling and you'll end up with the perfect creamy chocolate fudge every time. I'm not even kidding! No sugar grit, no syrupy goop. Perfection every time!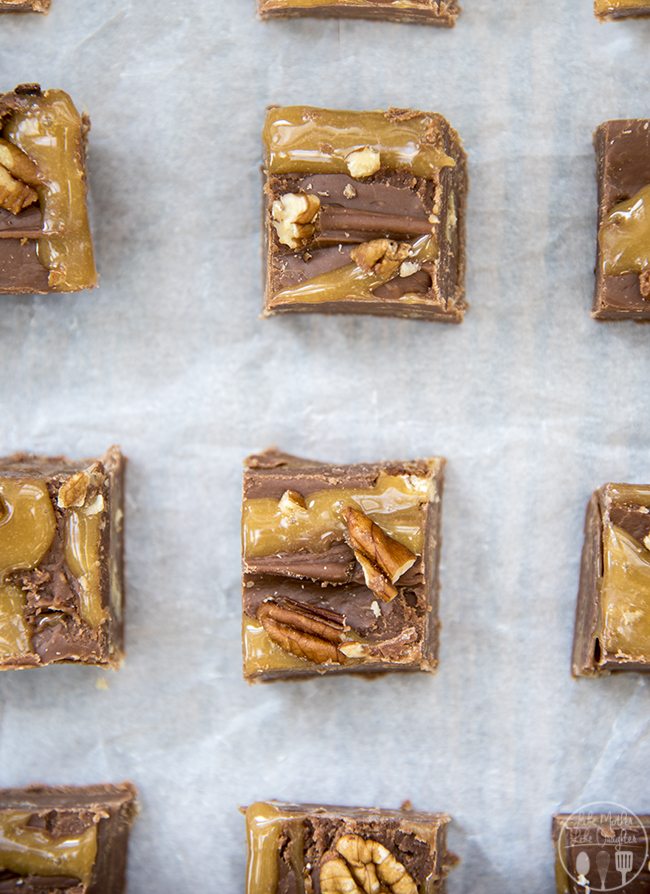 Don't you just want to take a bite?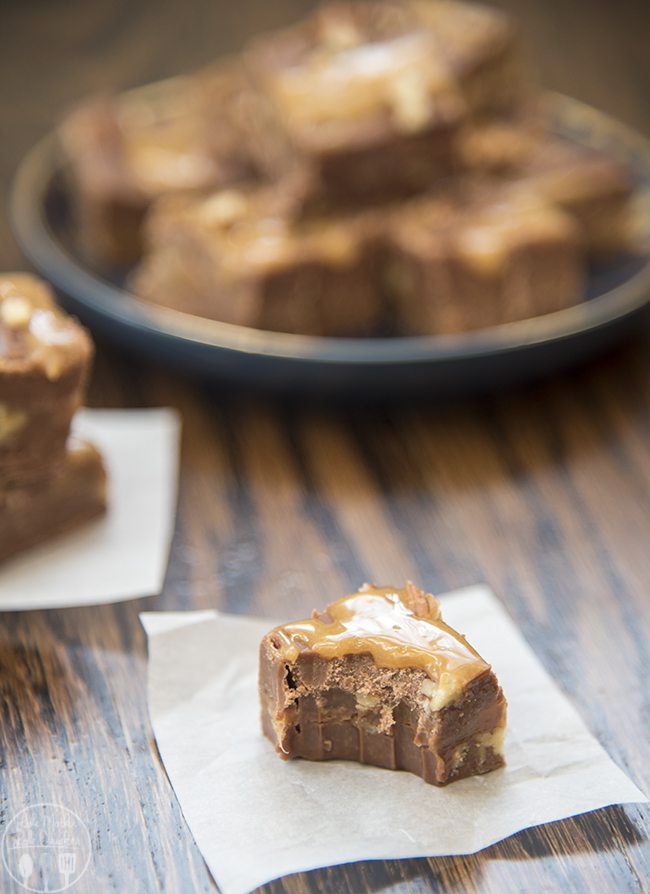 Turtle Fudge
Ingredients
7 oz jar marshmallow creme
1½ cups white sugar
5oz can evaporated milk
¼ cup butter (1/2 stick)
¼ tsp salt
1 tsp vanilla
3 cups milk chocolate chips
1 cup chopped pecans
For the Caramel:
40 square caramel, unwrapped
¼ cup evaporated milk
Instructions
Combine your marshmallow creme, sugar, evaporated milk, butter and sat in a large sauce pan over medium heat.
Bring to a boil stirring regularly. Once boiling, set a timer for 5 minutes and stir almost constantly.
Add your caramels and evaporated milk to a small sauce pan and heat over medium high.
Heat your caramels till completely melted, stirring occasionally till smooth. Remove from heat and set aside.
When your 5 minutes is up, remove your marshmallow creme mixture from stove top.
In a large bowl, add your vanilla and chocolate chips.
Pour your marshmallow creme mixture over your chocolate chips.
Stir until completely smooth.
Pour half of your chocolate fudge mixture into a 9x13 pan.
Spread evenly.
Spread ¾ cup of your chopped pecans over the top of the fudge.
Pour ¾ of your caramel over the top of the pecans and spread evenly.
Spread remaining fudge over the top of your caramel.
Sprinkle top with remaining pecans.
Drizzle remaining caramel over the top of your fudge.
Allow to set on the counter for several hours or in the fridge for two hours.
Slice and serve