When I think of Thanksgiving pie, I first always think of pumpkin pie and then second apple pie. But its strange, cause neither of them are my favorite. But I still wanted to try this delicious caramel apple pie recipe out. And let me tell you, I loved it. Caramel apple pie is WAY better than just a normal apple pie (imo).
For another delicious apple dessert, try our caramel apple bars.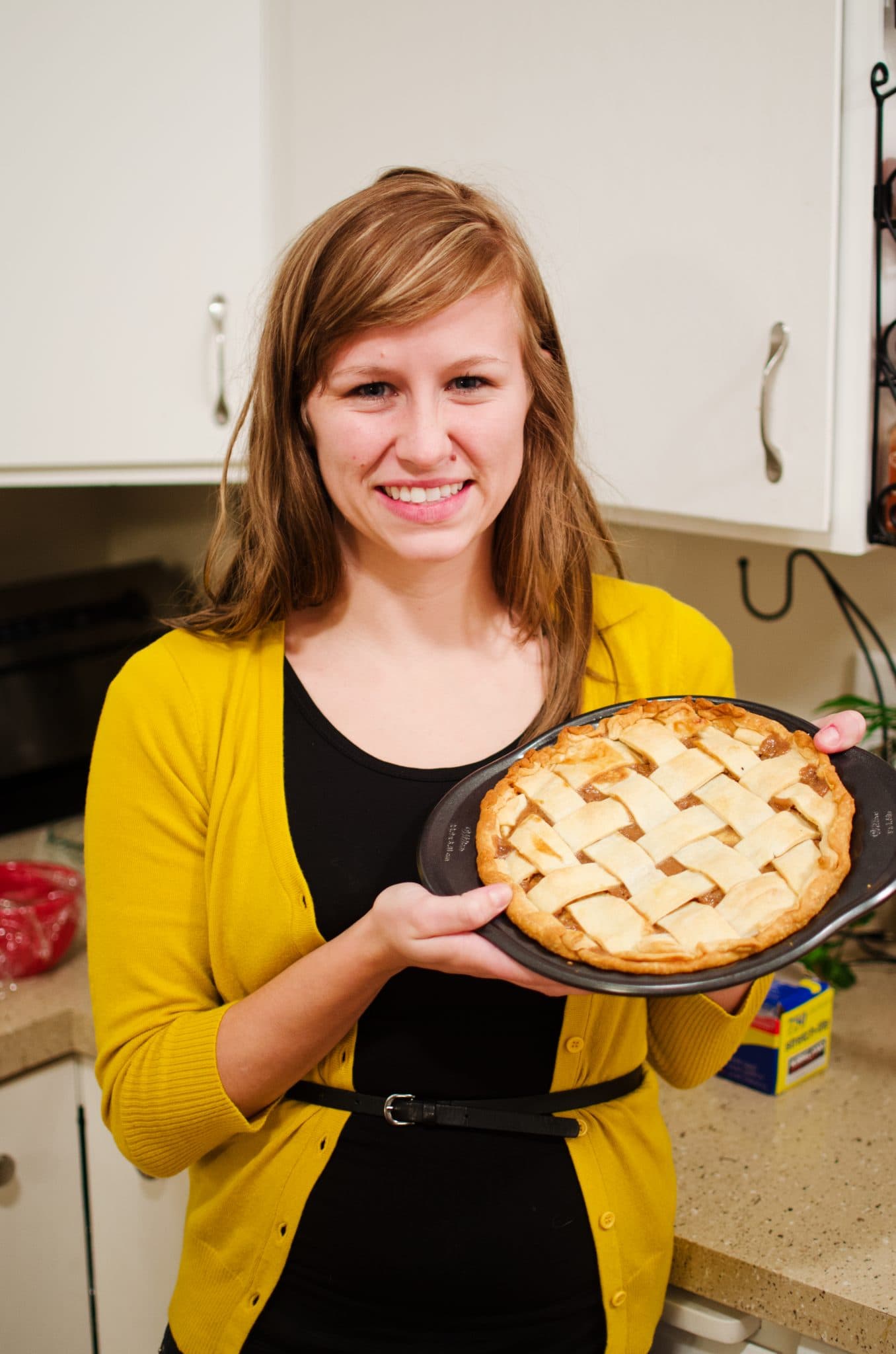 Caramel Apple Pie
6 large apples, peeled, cored and sliced
1/2 cup brown sugar
1/4 cup sugar
1/2 tsp cinnamon
1/2 tsp apple pie filling
1 TBS lemon juice
1/4 cup cornstarch
3/4 cup salted caramel sauce (recipe below)
2 pie crusts,
1. In a medium sized pot combine the apples, brown sugar, white sugar, cinnamon, apple pie filling and lemon juice. Heat on the stove top over medium high heat. Cover with a lid and allow to cook for 20 minutes, or until apples are soft. Stir occasionally.
2. Remove from heat, remove lid and allow to cool completely.
3. Once cooled, stir in the cornstarch.
4. Meanwhile, preheat your oven to 400 degrees.
5. Lay one of your pie crusts in a pie pan sprayed with nonstick spray.
6. Stir the apple mixture and the caramel sauce together.
7. Pour the caramel apple pie mixture into the pie crust.
8. Top with your second crust. (I decided to make a lattice top for the pie, here's a good video on how)
9. Place in oven and bake your pie. Bake for about 45 minutes, or until the crust is a golden brown color.
10. Allow pie to cool before serving.
11. Enjoy with the extra caramel sauce drizzled on top.
Salted Caramel Sauce
1/2 cup sugar
1/2 cup brown sugar
6 TBS unsalted butter
1/2 TBS salt
1/2 cup half and half
1. Add the sugar to a medium sized pot and melt over medium high heat. As the sugar melts stir the entire time so that it doesn't burn.
2. Once the sugar is melted and a darker color add all of the butter and stir while it melts in.
3. Pour in the half and half and salt, stirring to mix it in.
4. Remove pot from heat and whisk until sauce is smooth.
If you have leftover sauce you can store it covered in the fridge for up to 2 weeks. Pop it in the microwave for 30 seconds to 1 minute, then stir to get its original creaminess back.