**This shop has been compensated by Collective Bias, Inc. and Conagra Brands. All opinions are mine alone. #SimpleSecret #CollectiveBias
These teriyaki chicken tacos are perfection; with a crispy won-ton shell stuffed full of flavorful teriyaki chicken and topped with a tangy Asian slaw. You will want to make these again and again.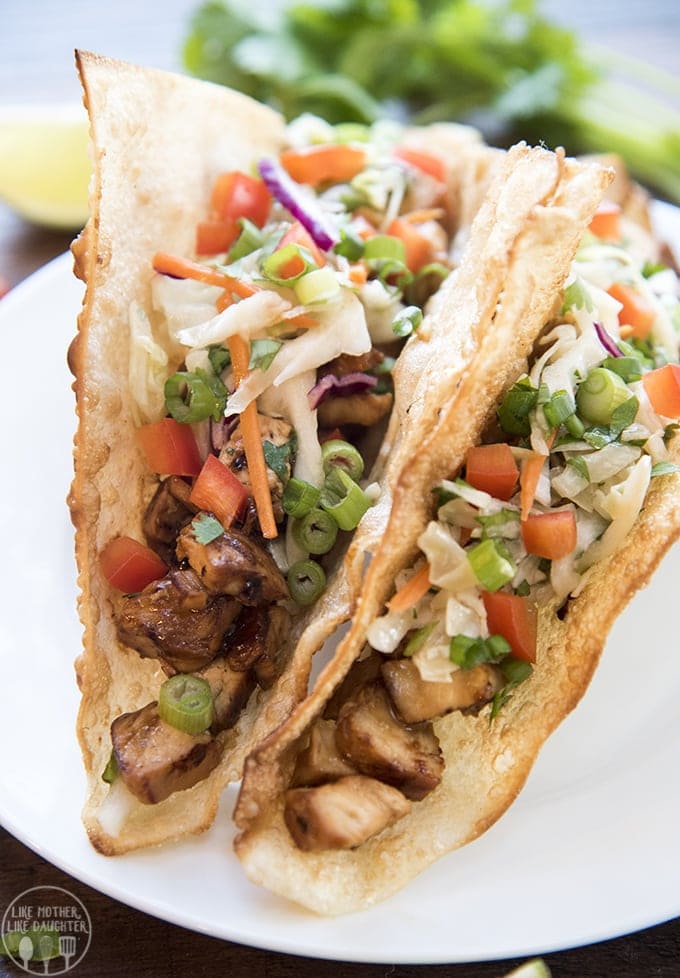 I love taking 2 different cultures of foods and combining them into something so tasty and delicious. Mexican food meets Italian food with a Mexican inspired pasta dish, or how about philly cheesesteak pizza, and then these tacos combine a more traditional Asian flavor of teriyaki sauce with tacos for a fun, but irresistible twist.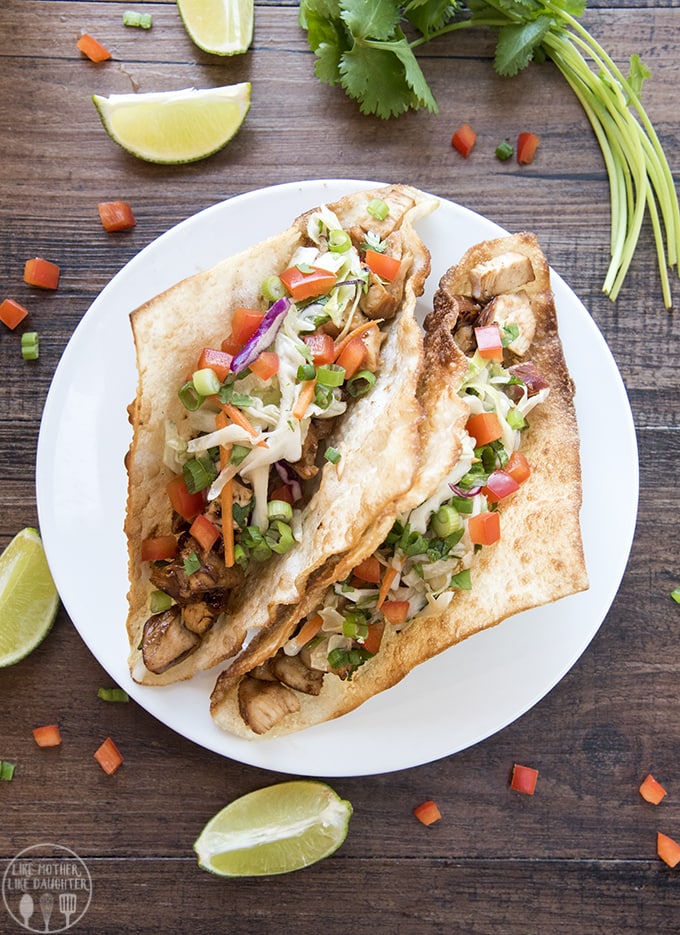 These tacos are savory, sweet, tangy and so delicious. They're easy to make thanks to New P.F. Chang's® Home Menu Teriyaki Sauce. It gives the chicken in these tacos the perfect extraordinary flavor for a simple and fun dish.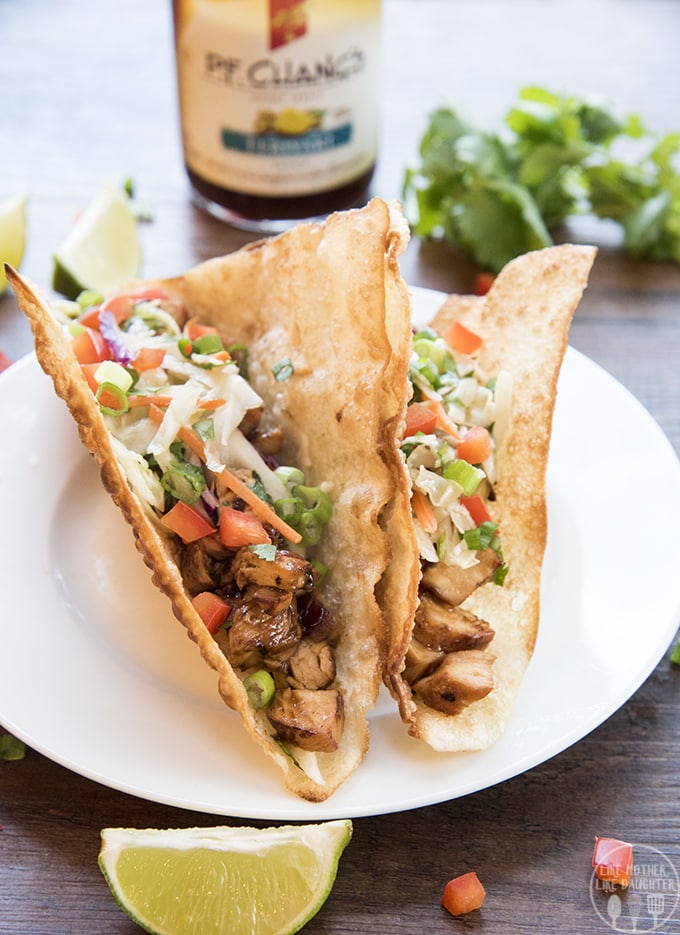 The hardest part about making these tacos is frying up the eggroll wrapper taco shells. You're welcome to skip that part and use traditional tortillas for ease, but hopefully some of my tips for cooking them up will help you along as well. You're going to want to pan fry them, instead of deep frying them. So that you can maneuver them a little better. If you have a tortilla tray you can bake them in your oven as well (Spread a little olive oil on each side before baking. Bake at 375 for about 4 minutes until golden brown.)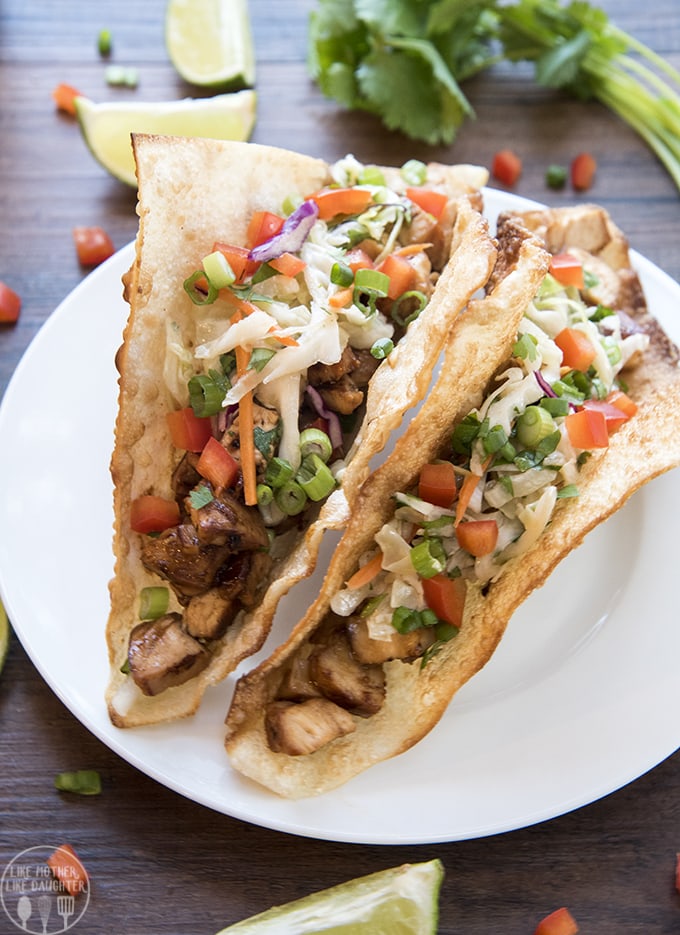 Teriyaki Chicken Tacos
Ingredients
For the Asian Slaw:
2 cups coleslaw mix
¼ cup cilantro, chopped
2 TBS rice vinegar
2 TBS sesame oil
1 TBS brown sugar
For the Teriyaki Chicken Tacos
⅓ cup + ¼ cup PF Chang's Teriyaki Sauce, divided
4 thawed chicken breasts
6-8 eggroll wrappers
½ red pepper, diced
4 green onions, sliced
limes
Instructions
In a medium sized bowl combine coleslaw mix and cilantro.
In a small bowl mix together vinegar, sesame oil and brown sugar.
Pour sauce mixture over coleslaw mixture and stir together.
Cover and place mixture in the fridge for 30 minutes to 1 hour.
Marinate chicken breasts in ⅓ cup Teriyaki Sauce in a bowl or bag for 30 minutes to 1 hour.
Heat 2-3 TBS of vegetable oil in a large saute pan over medium high heat.
Add 1 eggroll wrapper to heated oil.
Fry on one side for about 8 seconds till it starts to get bubble and just starts to turn golden.
Flip over and fry additional side for about 5 seconds.
Carefully using tongs, fold one corner of the eggroll wrapper over to the opposite corner and continue to fry that side till golden brown.Flip over and repeat with other side (still folded over).
Remove from heat and place on paper towels to soak excess grease and allow "taco shells" to cool. (Make sure to leave a little space between the 2 corners of the shell that have been folded together because it will harden in whatever position it cools. So that you can stuff toppings into the shells.) Set aside.
Repeat with remaining wrappers. Add in more oil (2 tablespoons at a time as needed to keep a little on the bottom of the pan for each wrapper)
Cook chicken breasts in another large saute pan over medium heat. Flipping half way and cooking through (165 degrees or no pink in the middle).
Dice chicken breasts into small pieces and coat in additional ¼ cup teriyaki sauce.
Fill taco shells with about chicken, top with coleslaw, and sprinkle with red pepper and green onion.
Serve with a sliced lime to drizzle the juice over the top and enjoy.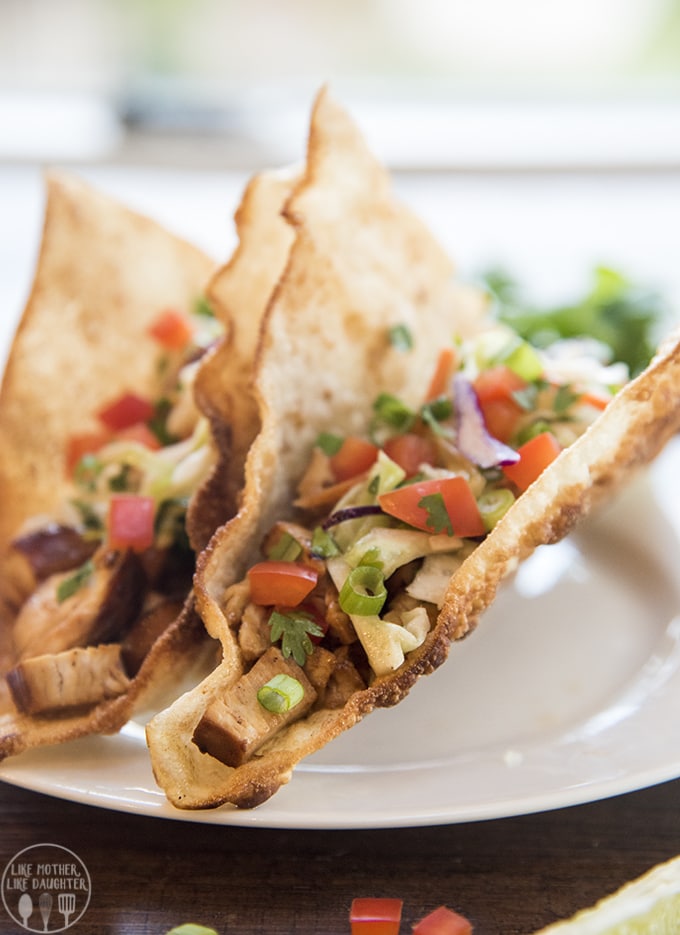 You can find P.F. Chang's® Home Menu Sauces exclusively at Walmart. They have a Teriyaki (like you'll use in this recipe), Kung Pao and Sesame sauce. I'd love to see your unique twists on Asian recipes using P.F. Chang's® Home Menu Sauces too! Don't forget to enter the sweepstakes and find more Asian recipe inspiration on their website.