Here are 25 amazing and delicious different ways to make s'mores. Not just your traditional chocolate, marshmallow and graham cracker you'll love these tasty treats. From lemon meringue pie, to banana split, to s'moreos and more!

I think I might be one of the biggest s'mores lovers out there. I love the traditional graham cracker chocolate and marshmallow, I love foods based around those 3 ingredients, and I love twists on traditional s'mores with fun new ingredients.
The different types of s'mores you can make are endless. From using different types of graham crackers, to other cookies, to different chocolates, candy bars, and fillings in the middle, and even a variety of marshmallows can be used as well.
Some of these s'mores might be easier to make in your back yard instead of when you're out camping, but I promise the results are worth it. I mean, salted caramel chocolate s'mores, s'moreos, lemon meringue pie? I've tried every one of these and I love them all!
Which one are you going to try first?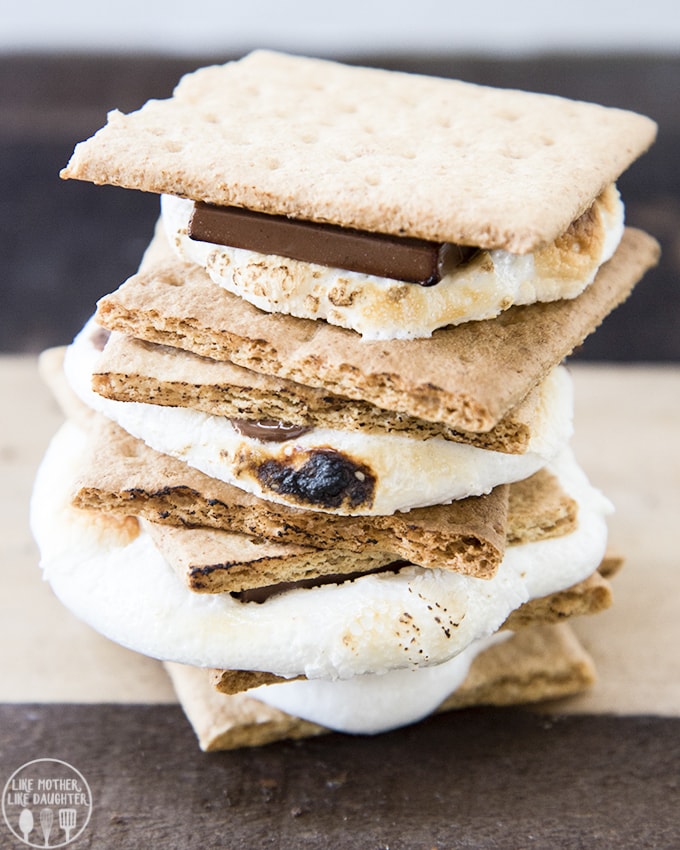 Traditional S'more – Graham Cracker + Chocolate + Marshmallow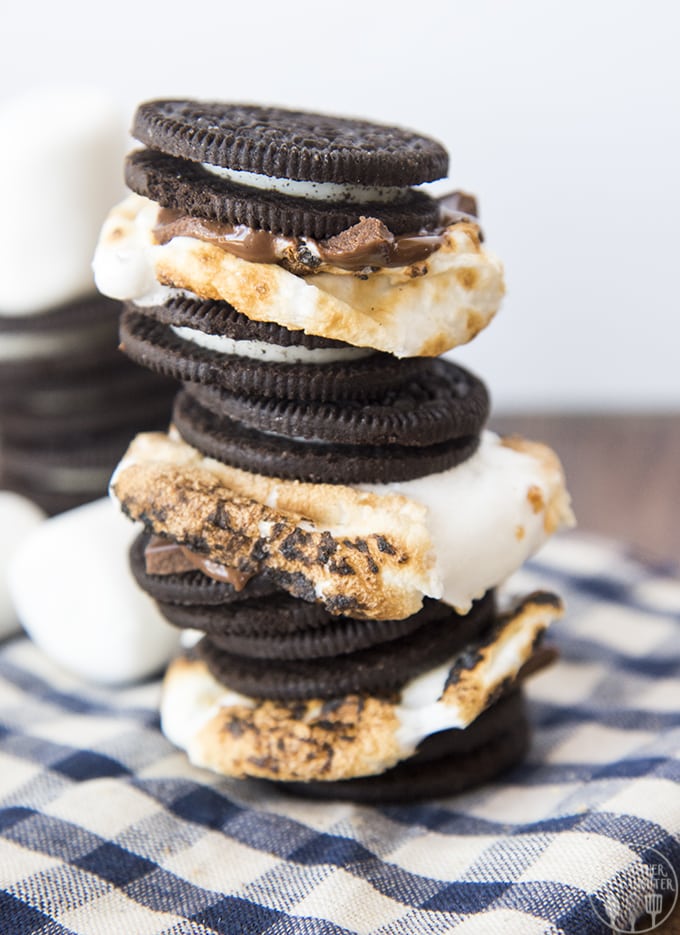 S'moreo  Oreo + Chocolate (optional) + Marshmallow
Salted Caramel and Chocolate S'mores – Graham Cracker + Chocolate + Dulce de Leche/Caramel Topping + Sprinkle of Coarse Sea Salt + Marshmallow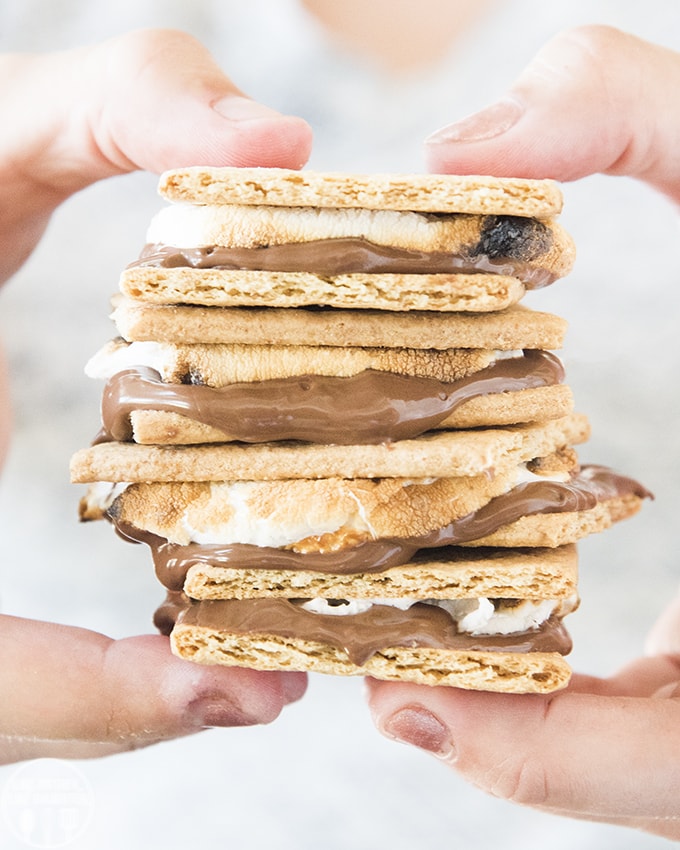 Nutella S'more – Graham Cracker + Nutella + Marshmallow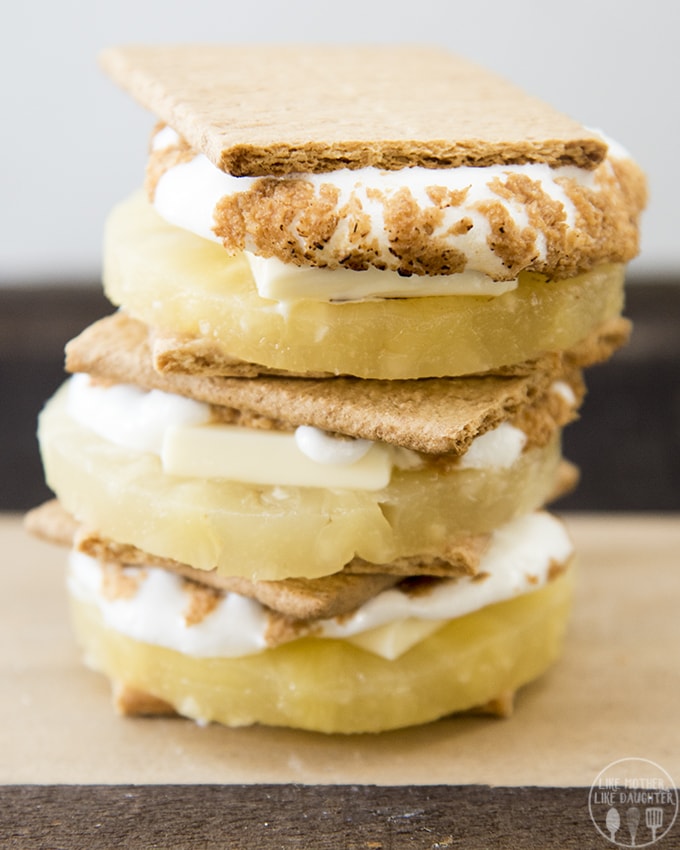 Tropical S'more – Graham Cracker + Pineapple Slice + White Chocolate + Toasted Coconut Marshmallow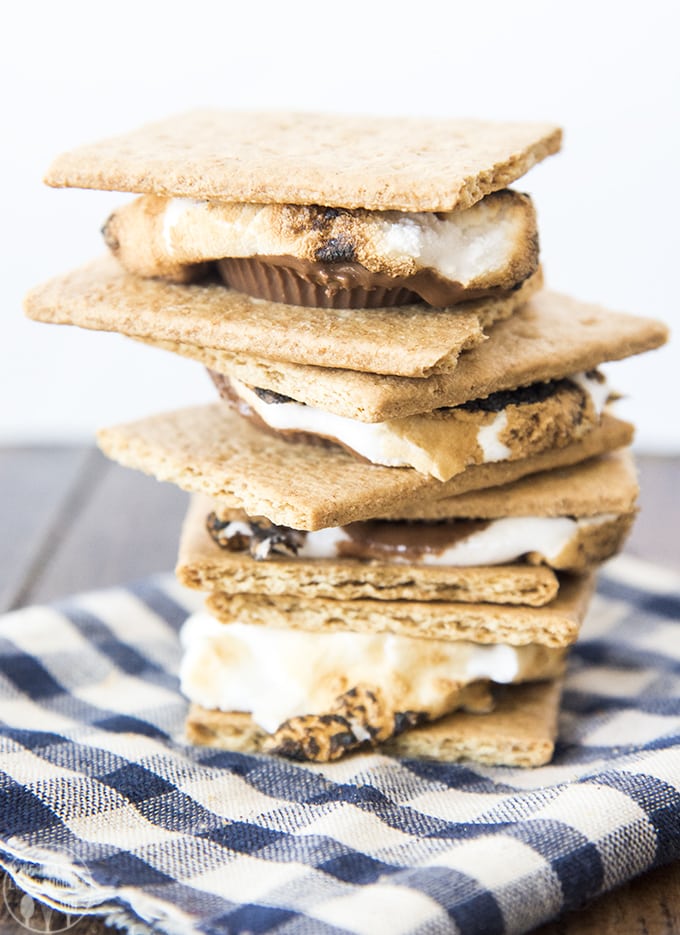 Reese's S'more – Graham Cracker + Peanut Butter Cup + Marshmallow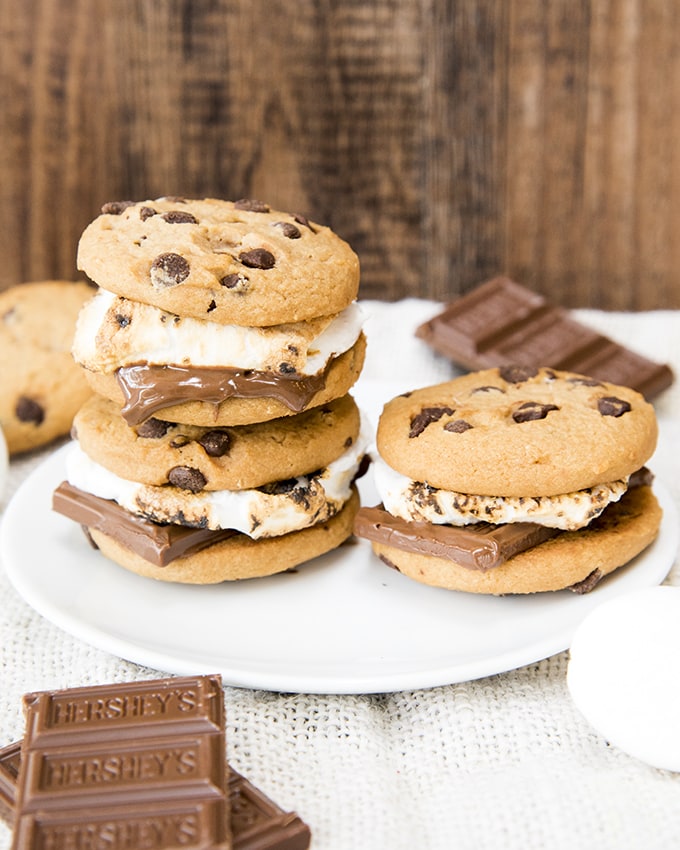 Chocolate Chip Cookie S'more – Chocolate chip cookie (homemade or store bought) + Chocolate (optional) + Marshmallow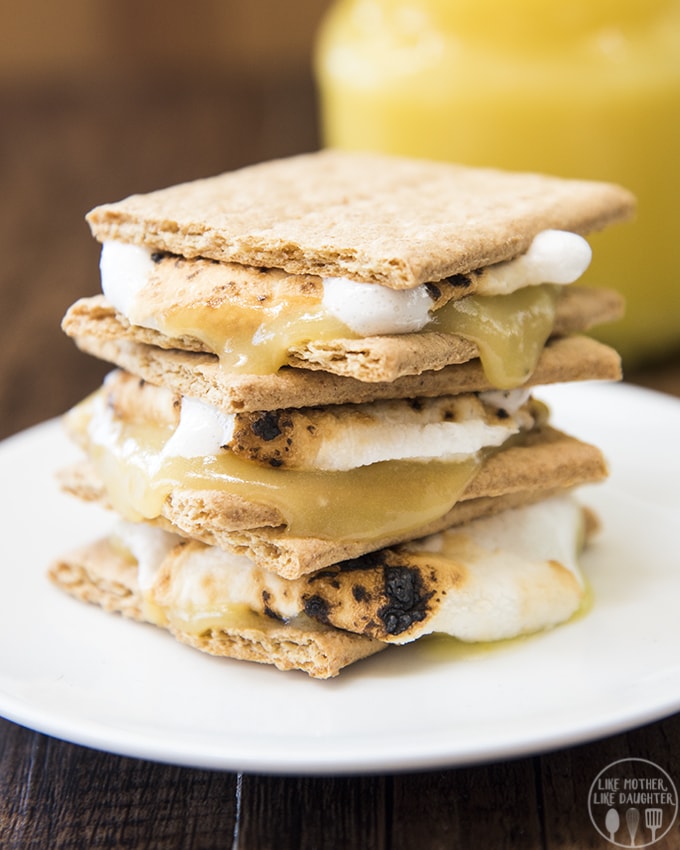 Lemon Meringue Pie S'more – Graham Cracker + Lemon Curd + Marshmallow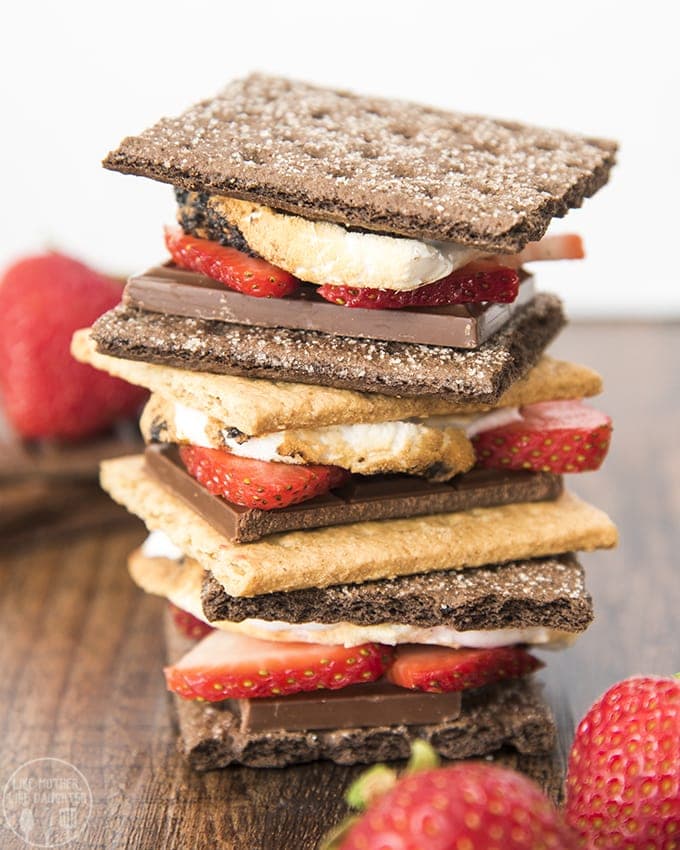 Chocolate Covered Strawberry S'mores – Chocolate or Regular Graham Cracker + Chocolate + Sliced Strawberries + Marshmallow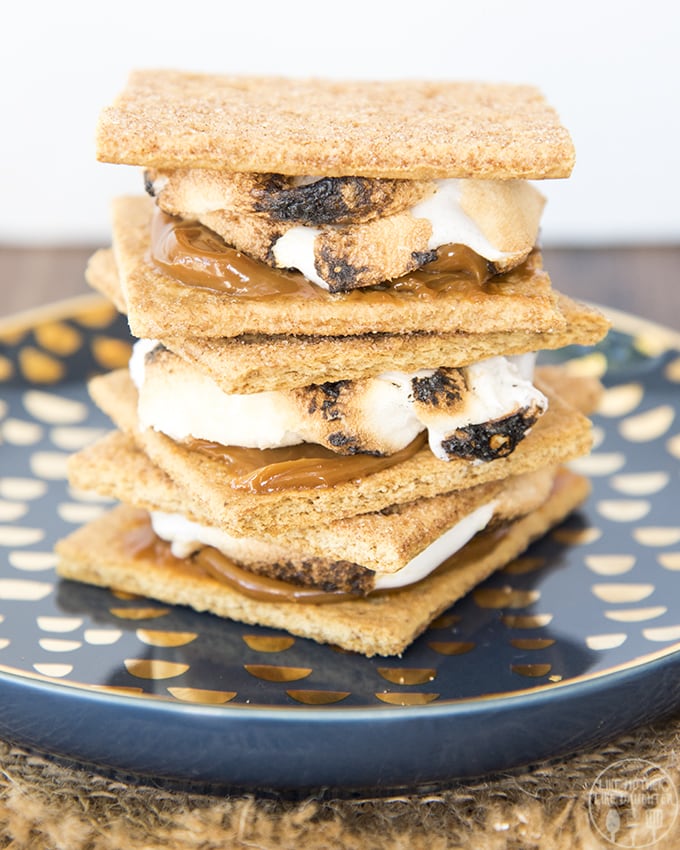 Caramel Churro S'mores – Cinnamon Graham Cracker + Dulce de Leche + Marshmallow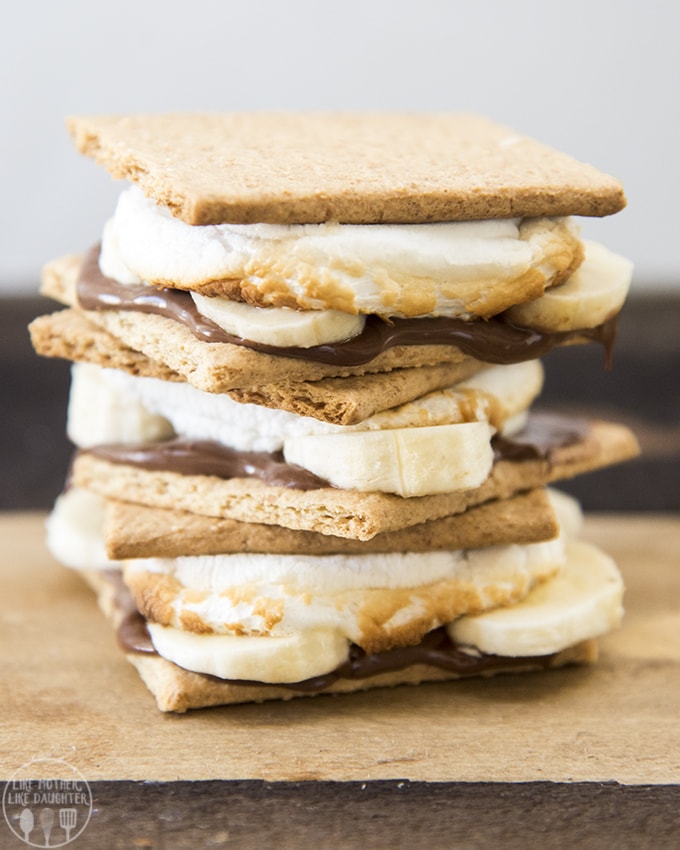 Nutella Banana S'more – Graham Cracker + Nutella + Banana Slices + Marshmallow
Cheesecake S'mores – Graham Cracker + Whipped Cream Cheese + Strawberry, Raspberry or Blueberry Jam (or fresh sauce) + Marshmallow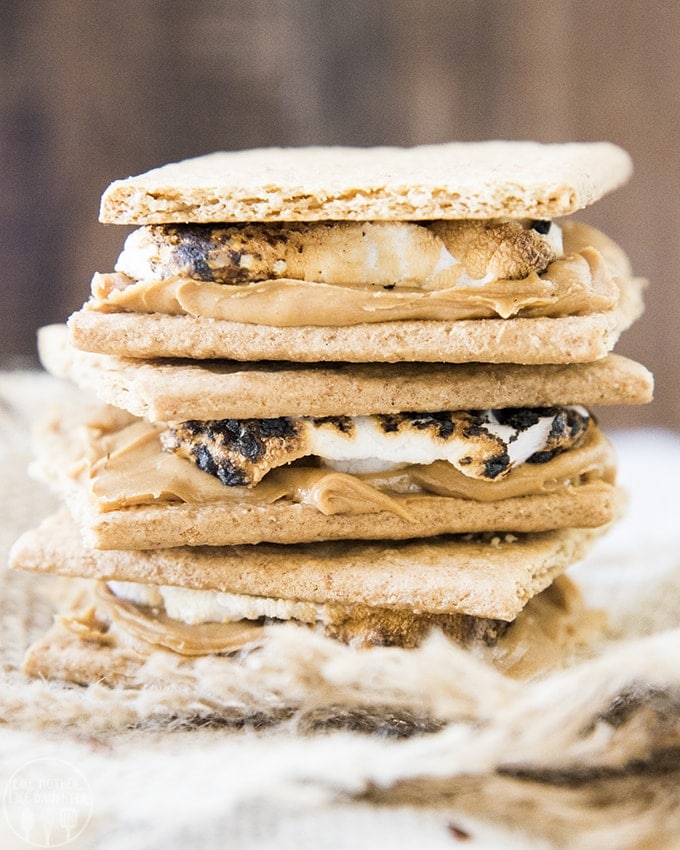 Fluffernutter S'mores – Graham Cracker + Peanut Butter + Marshmallow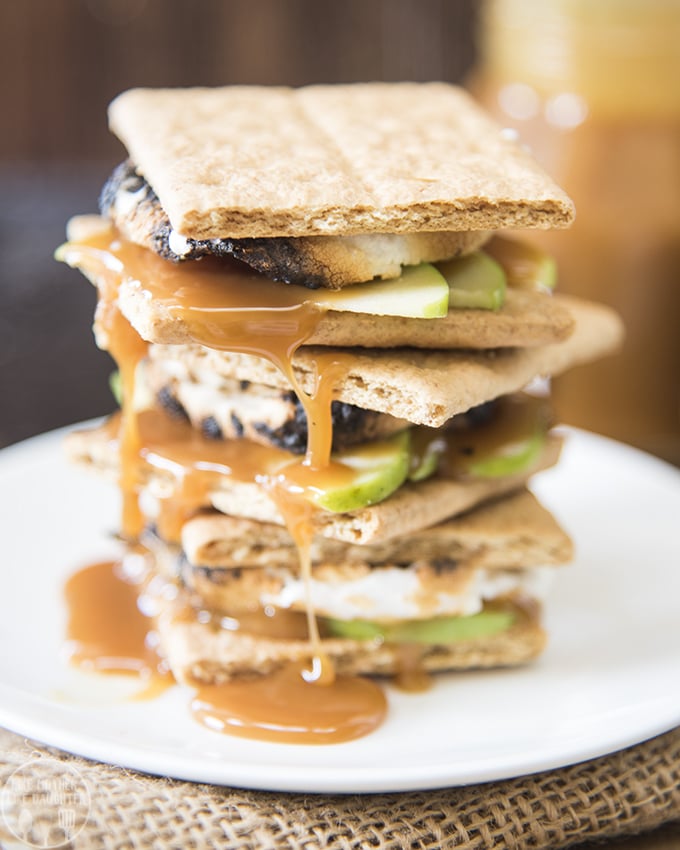 Caramel Apple S'mores – Graham Cracker + Dulce de Leche + Apple Slices + Marshmallow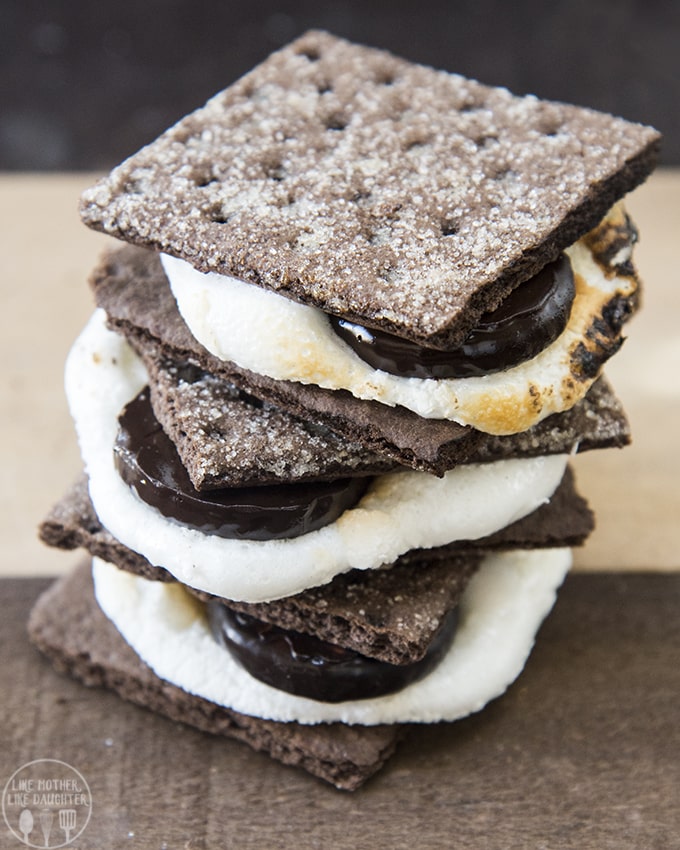 Grasshopper (Mint) S'mores – Chocolate Graham Cracker + Peppermint Patty (or Andes Mints) + Marshmallow
Samoa S'mores – Graham Cracker + Chocolate + Dulce de Leche or Caramel + Toasted Coconut Marshmallow (or Marshmallow and Toasted Coconut)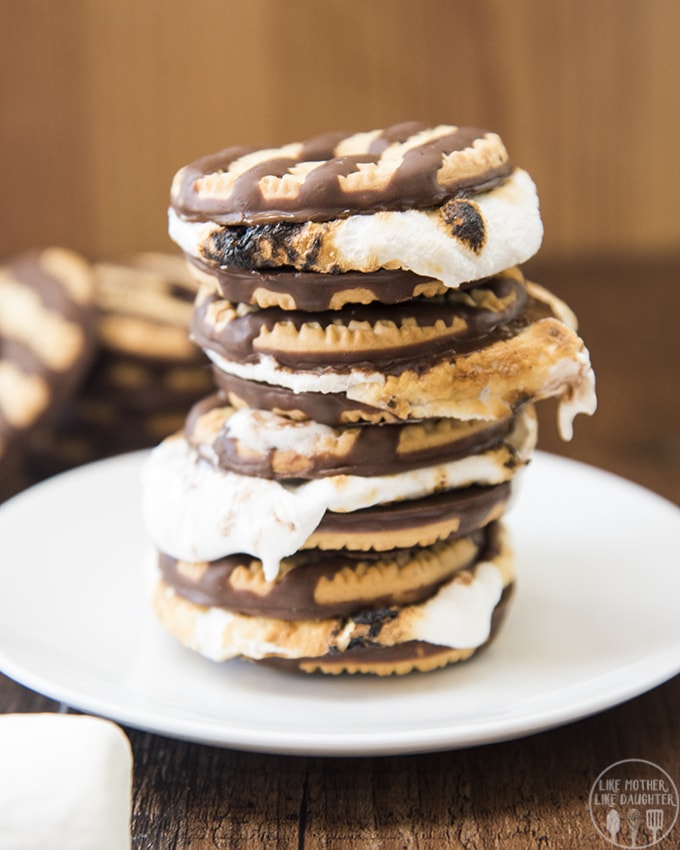 Fudge Stripe S'mores – Fudge Stripe Cookie + Marshmallow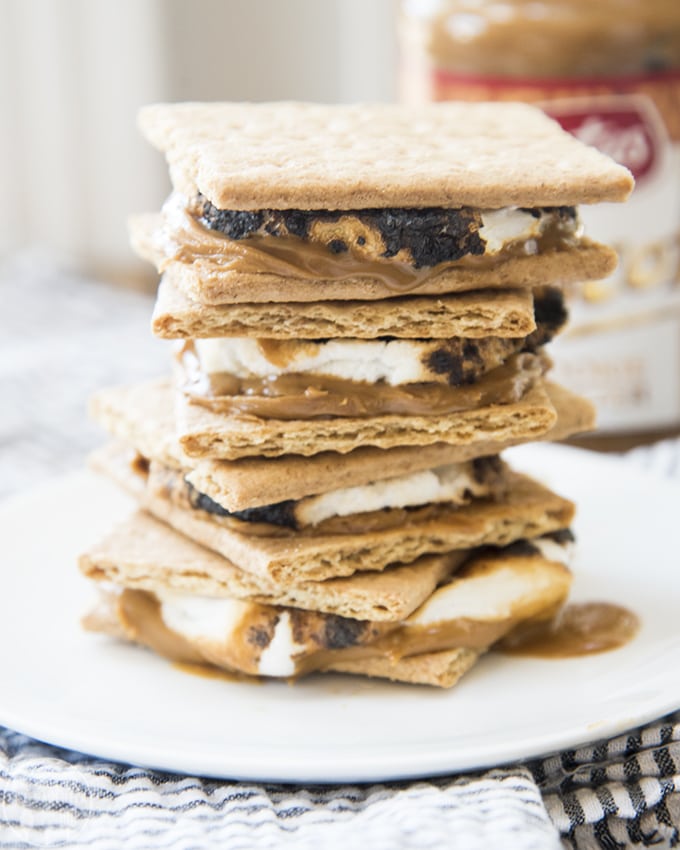 Cookie Butter S'mores – Graham Cracker + Cookie Butter + Marshmallow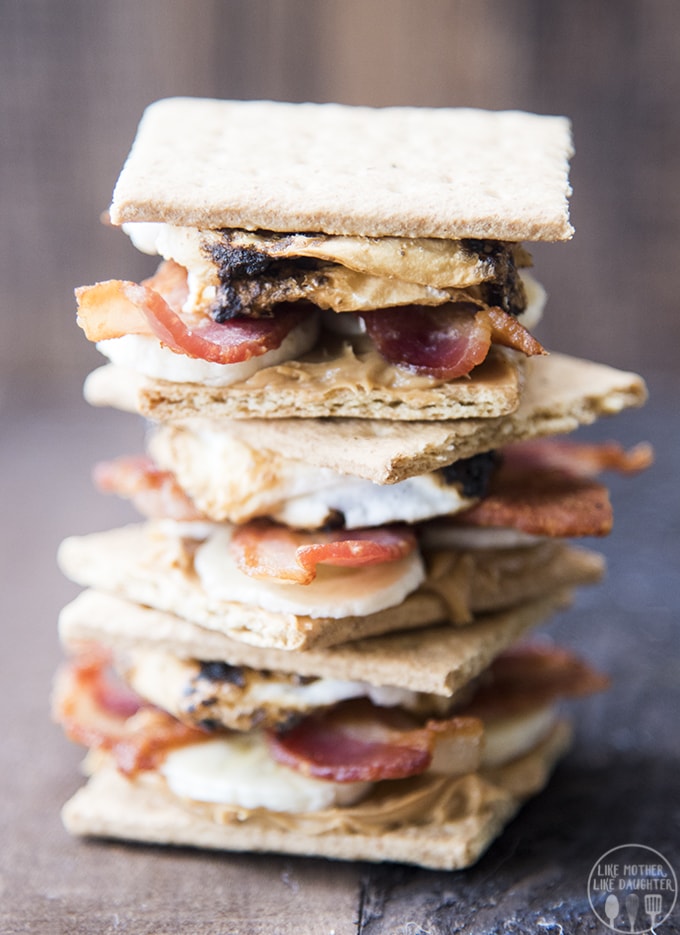 Elvis S'mores – Graham Cracker + Peanut Butter + Banana + Bacon + Marshmallow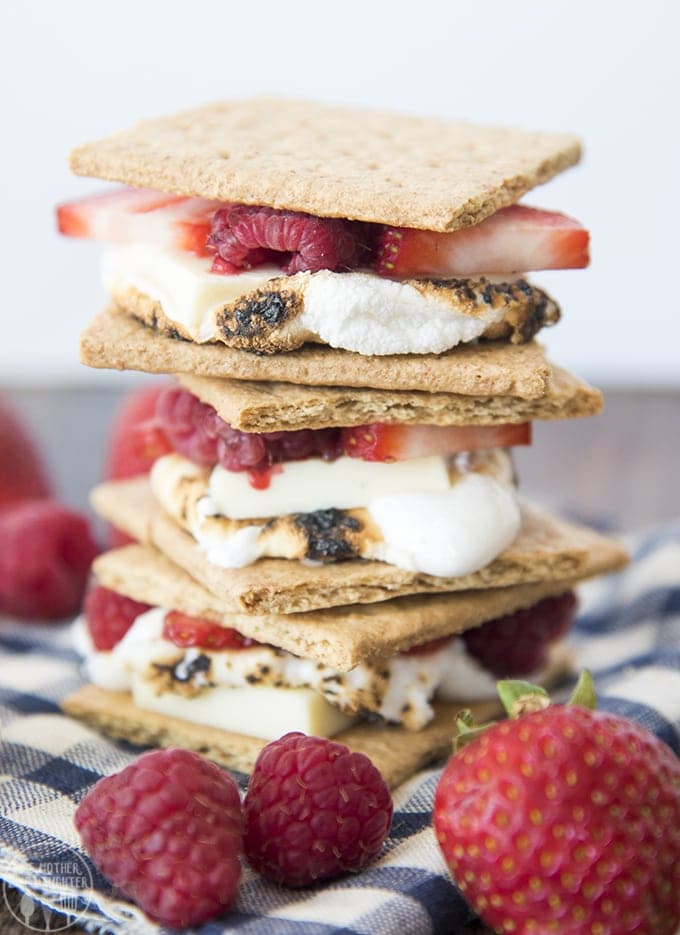 Berries and Cream S'mores – Graham Cracker + White Chocolate + Berries (Strawberries, Raspberries, Blueberries) + Marshmallow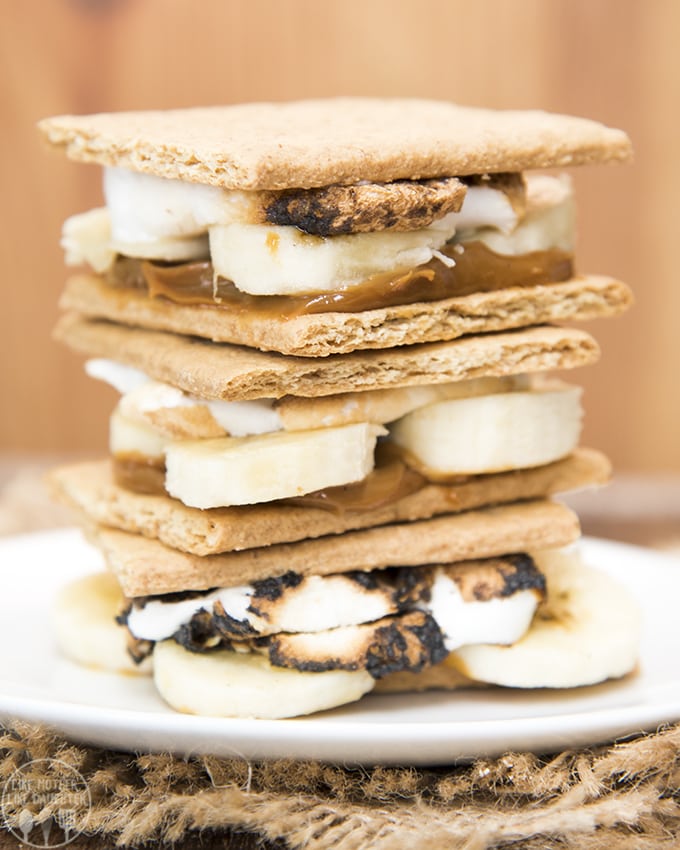 Caramel Banana S'mores – Graham Cracker + Dulce de Leche + Banana Slices + Marshmallow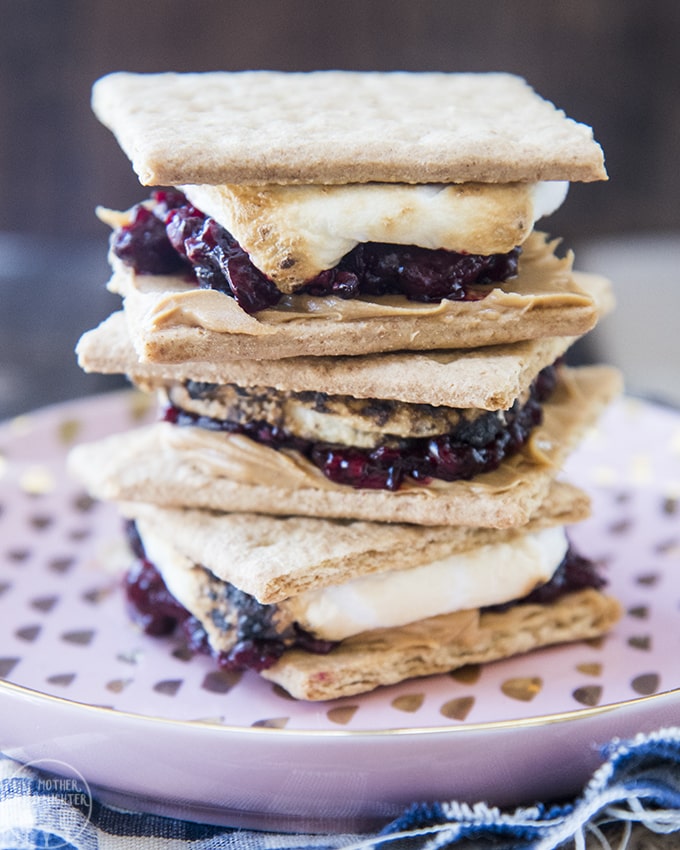 PB + J S'mores – Graham Cracker + Peanut Butter +  Strawberry Jam (or Sliced Strawberries) + Marshmallow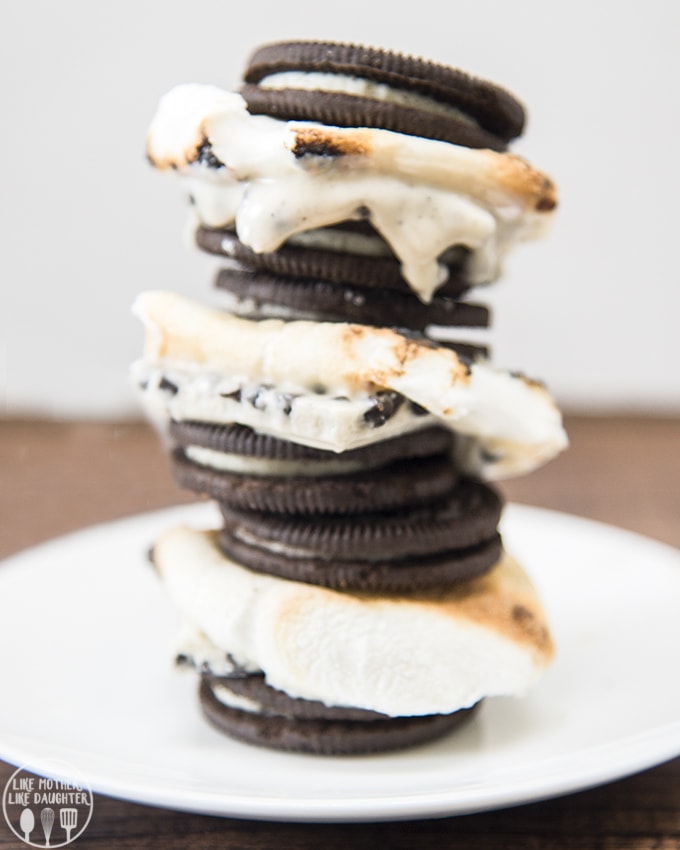 Cookies and Cream S'mores – Oreo Cookies + Cookies and Cream Chocolate or White Chocolate + Marshmallow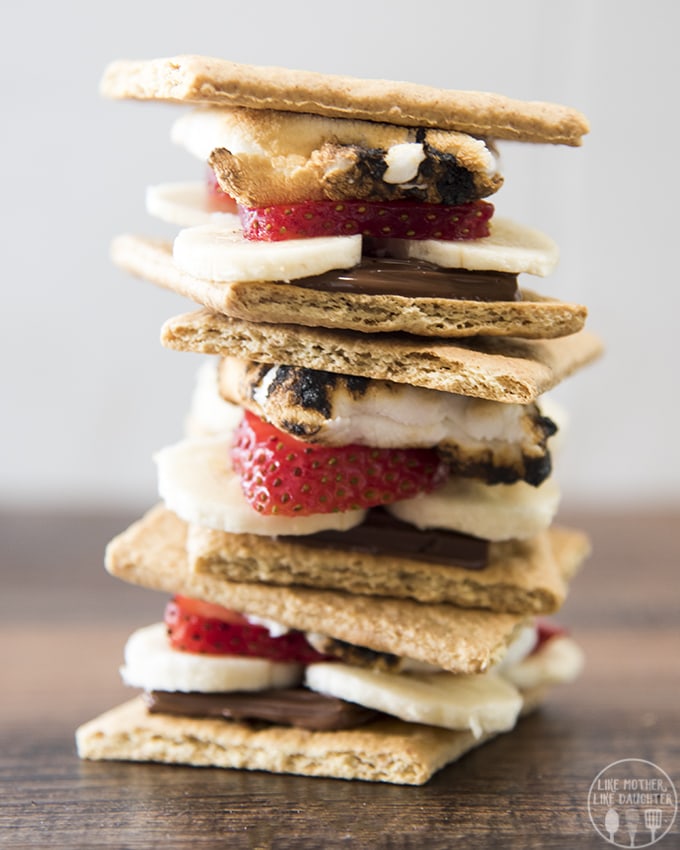 Banana Split S'mores – Graham Cracker + Chocolate + Banana Slices + Strawberry Slices + Marshmallow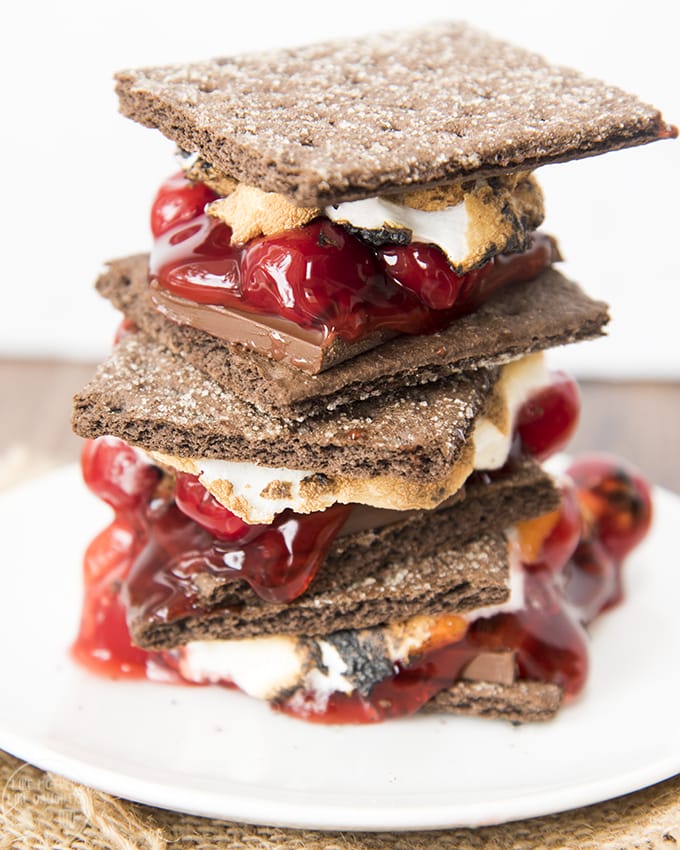 Black Forest S'mores – Chocolate Graham Cracker + Cherry Pie Filling + Chocolate + Marshmallow
What you'll need for making your own delicious s'mores (affiliate links)