These s'mores cookies start with a graham cracker filled cookie base, topped with a gooey marshmallow, and a chocolate kiss – for your favorite s'mores flavors in a delicious and cute cookie!
Pin these hershey kiss s'mores cookies for later!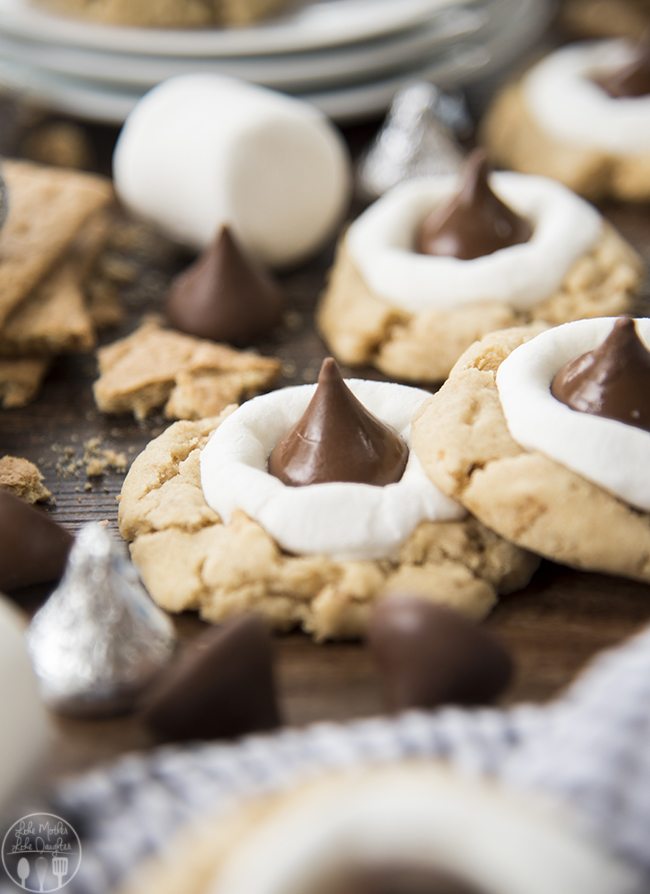 This post may contain affiliate links. This means if you click on the link and make a purchase, I will get a very small percentage in commission. There is no extra cost to you. I only link to products I use or own. Your help in supporting us and our blog is appreciated. 
I am obsessed with all things s'mores. When I saw these Hershey Kiss S'mores Cookies I knew I had to try them. We've already got s'mores cookies on our blog, so why not try other versions. Of course they'd be delicious, right? Very right.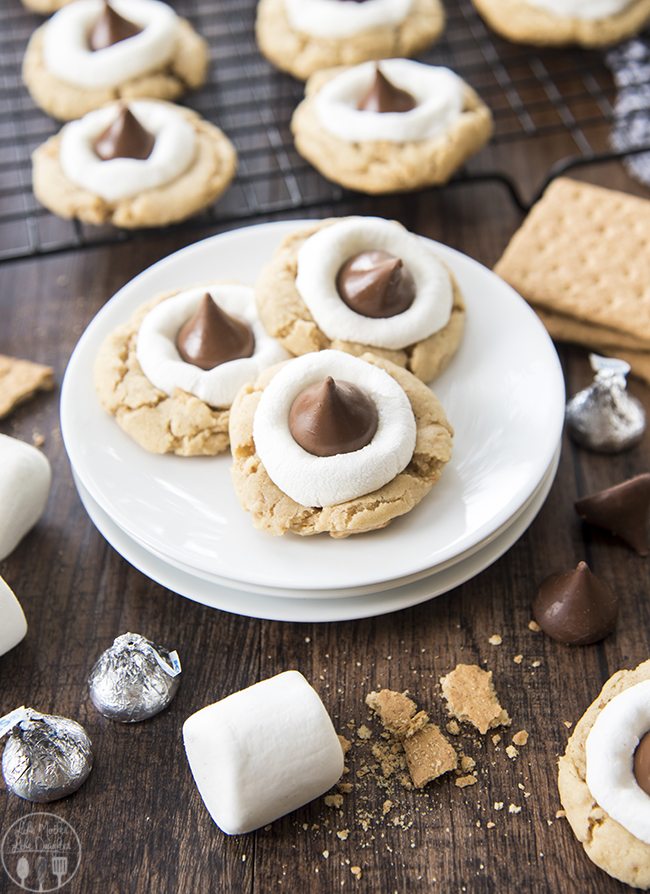 These cookies start with a graham cracker crumb filled cookie base (but unlike our regular s'mores chocolate chip cookies, there are no chocolate chips through), baked up to perfection, then they are topped with a half a large marshmallow, and then a Hershey Kiss. I can't wait to try so many more varieties of these soon, I'm thinking peanut butter cookie base, and another one with a Hershey Hug on top, so stay tuned.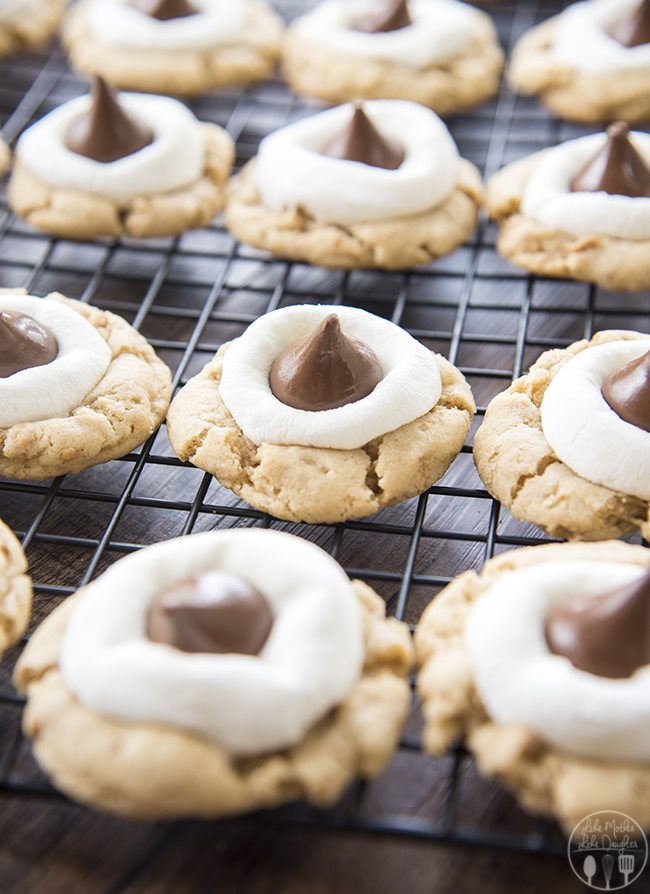 S'mores are the perfect summer time treat. We've been able to go camping a few times as well as cook them up over our fire pit at home, but I want to enjoy them all year long and sometimes with out a fire. These cookies are a perfect solution.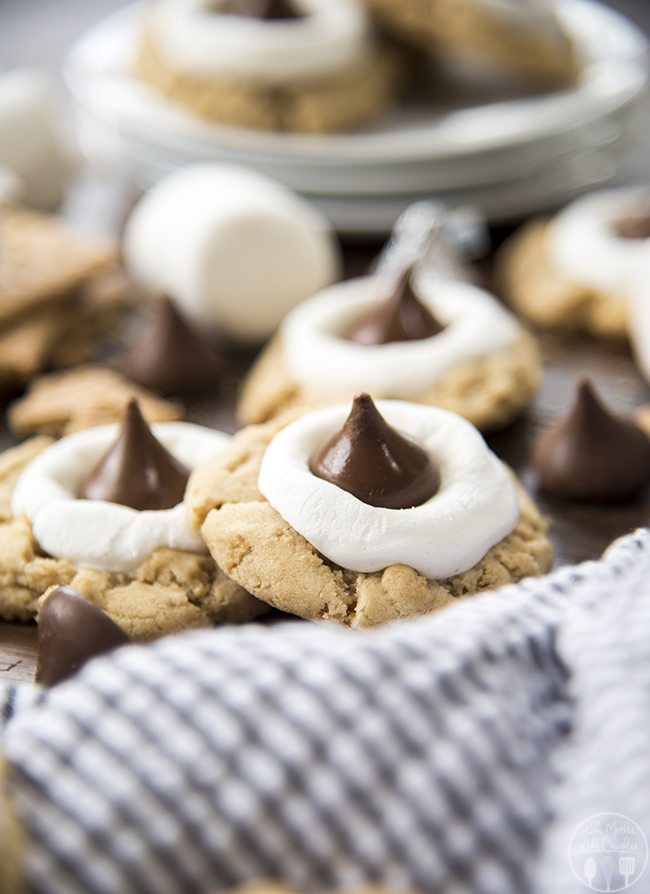 Seriously, my friends, these are some of my new favorite cookies. The combination of graham, mallow and chocolate is just so irresistible and if you love them as much as I do, I just know you'll love these cookies.
Plus, they're just adorable too, aren't they?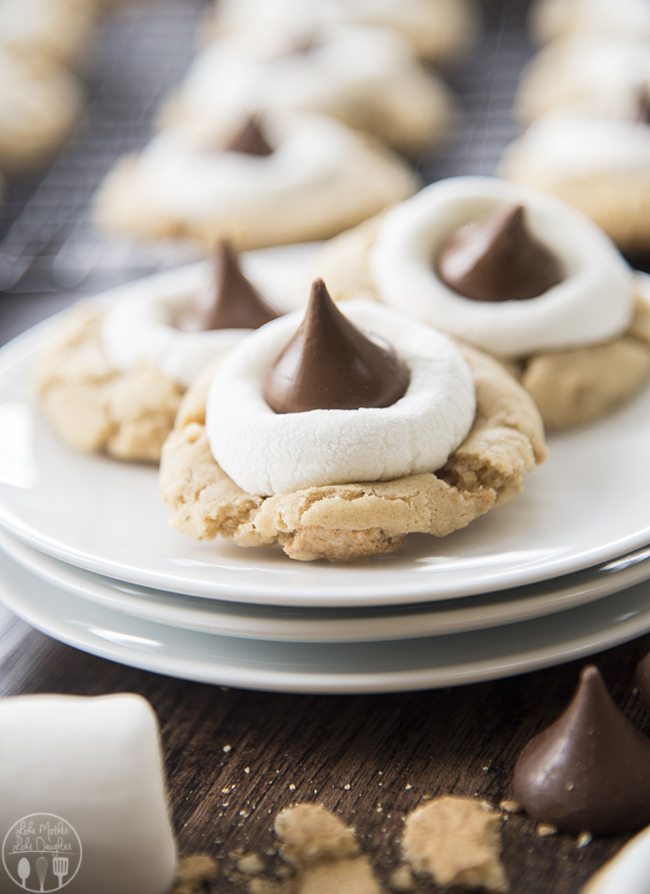 Hershey Kiss S'mores Cookies
Ingredients
1 cup graham cracker crumbs/pieces (decide how fine you want them)
½ cup softened butter (1 stick)
¾ cups brown sugar
¼ cup sugar
1 large eggs
1 tsp vanilla
½ tsp baking soda
1 tsp baking powder
½ tsp salt
1¾ cups flour
12-16 large marshmallows
24-32 Hershey Kisses
Instructions
Preheat the oven to 350 degrees.
Mix together the butter, sugar and brown sugar in a large bowl till creamy.
Add in the egg and vanilla and mix till incorporated.
In another bowl add the baking soda, baking powder, salt, flour and graham cracker crumbs.
Add the flour mixture to the wet mixture and stir together till a soft dough is formed.
Scoop 1 inch sized balls onto a cookie sheet lined with parchment or a silicone liner.
Bake cookies for about 7 minutes, until top is golden.
Cut marshmallows in half (scissors work great) and unwrap kisses.
Top each cookie with a marshmallow half with the sticky side down.
Return to the oven and bake for 1 to 1½ minutes until marshmallow puffs up.
Remove from oven and top each marshmallow with a Hershey Kiss.
Allow cookies to rest on cookie sheet for 2-3 minutes, then move to a cooling rack to cool completely.
MAKE THESE DELICIOUS HERSHEY KISS SMORES COOKIES WITH THE HELP OF THESE  KITCHEN TOOLS AND INGREDIENTS: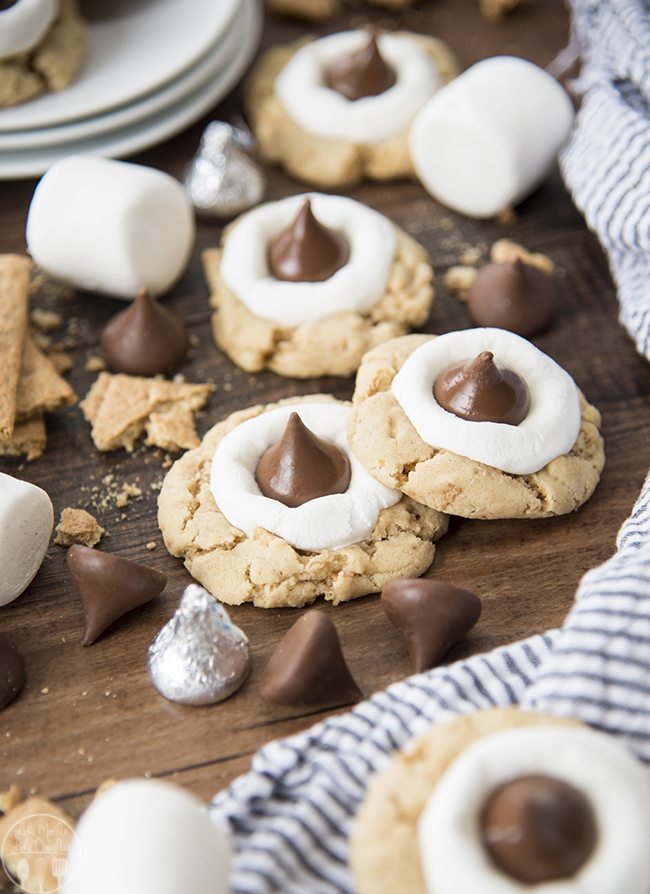 And here are 10 more amazing smore's recipes from my blogger friends to help you celebrate today!
No Bake S'mores Cheesecake // The Recipe Rebel
S'mores Cereal Treats // One Sweet Appetite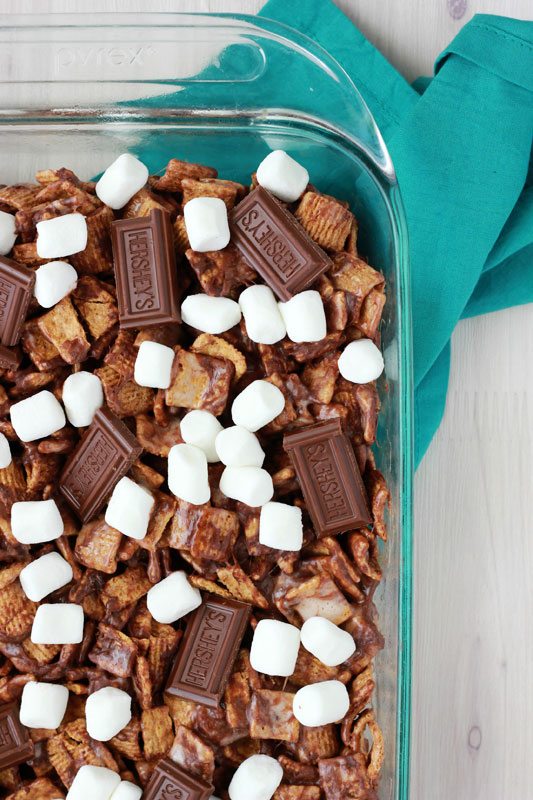 S'mores French Macarons // Tried and Tasty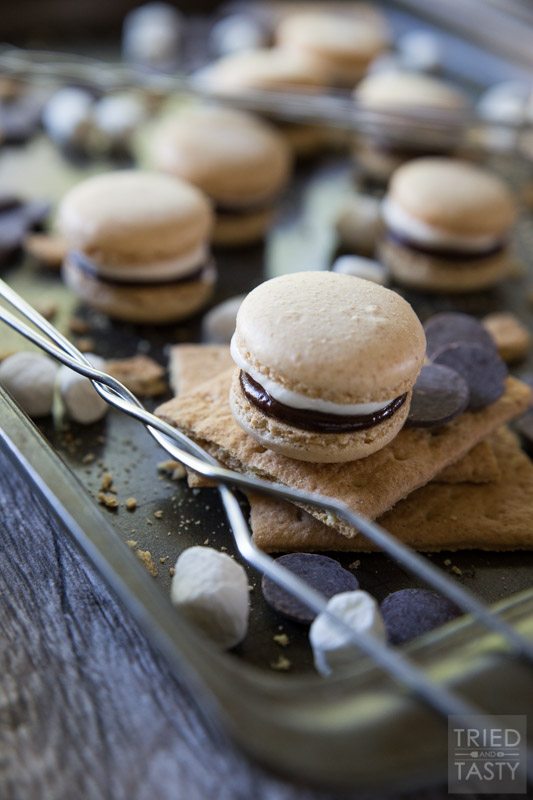 S'mores Cookies // Dessert Now, Dinner Later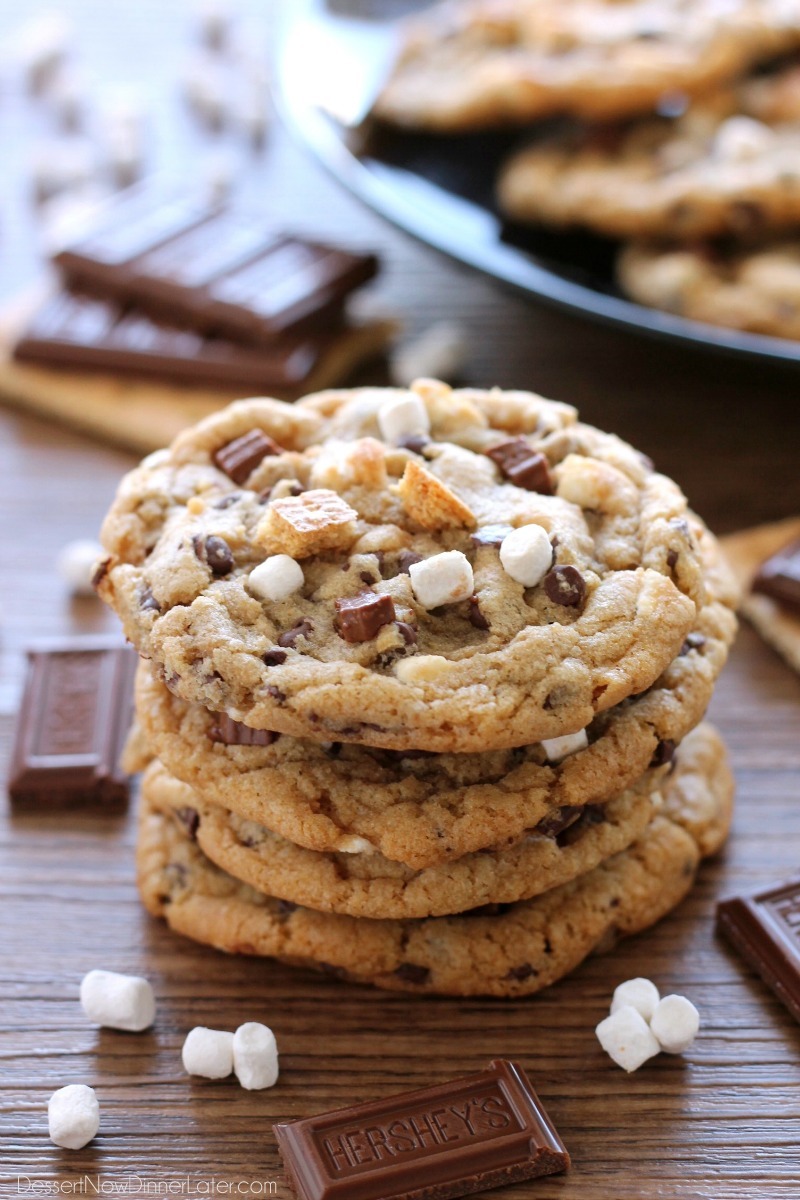 S'mores Muddy Buddies // Cupcake Diaries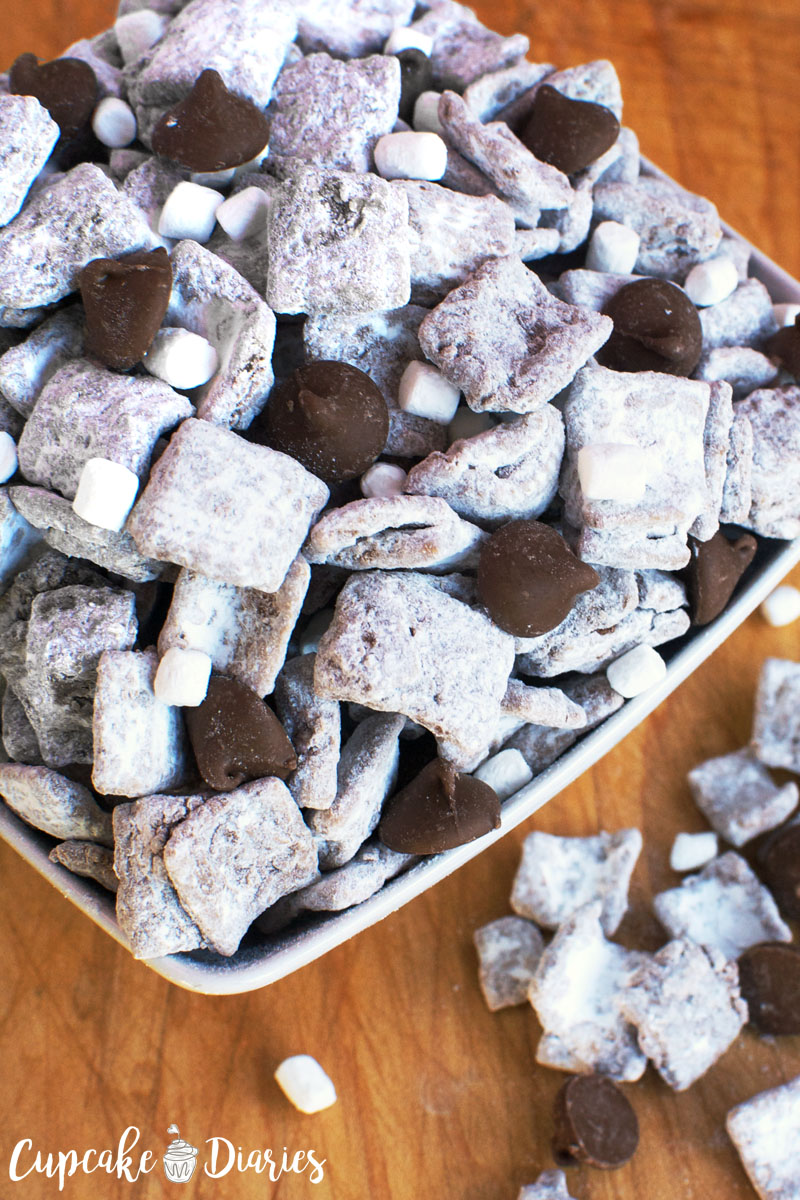 Nutella Stuffed S'mores Skillet Cookie // Life Made Sweeter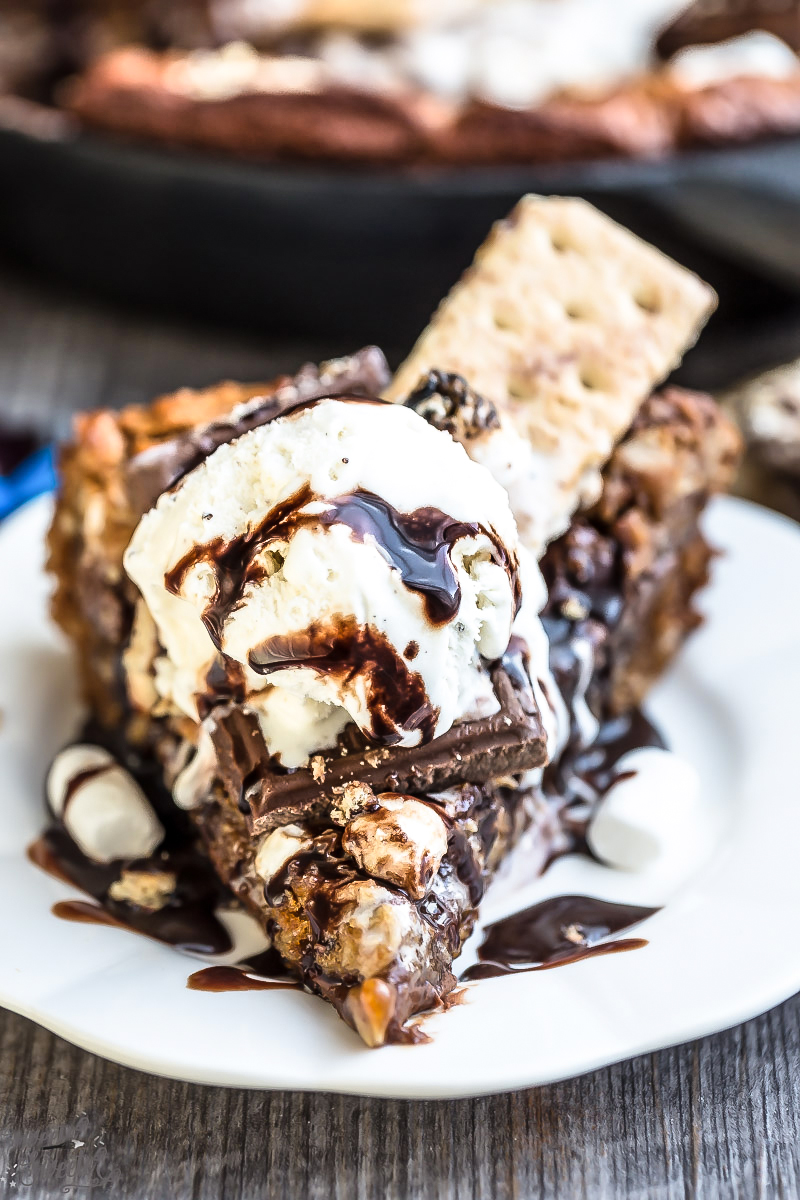 S'mores Cinnamon Twists // A Kitchen Addiction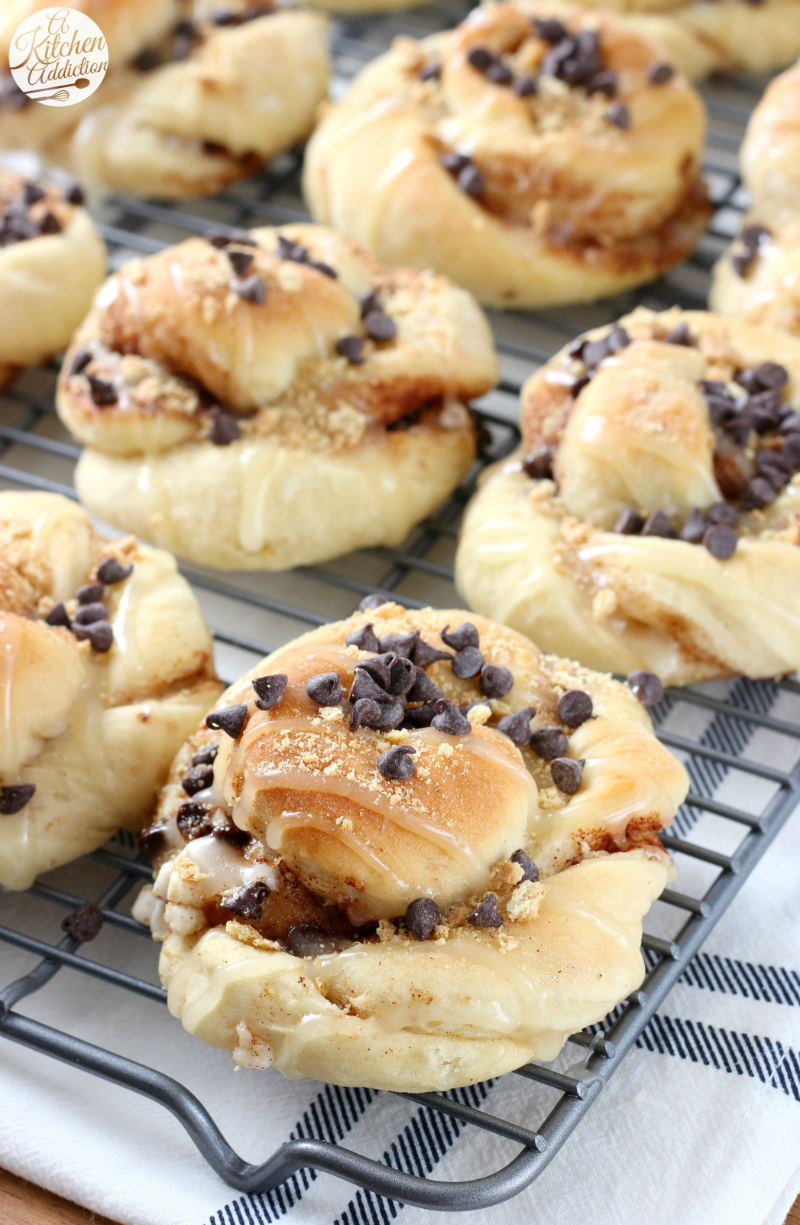 No Bake Caramel S'mores Cups // A Dash of Sanity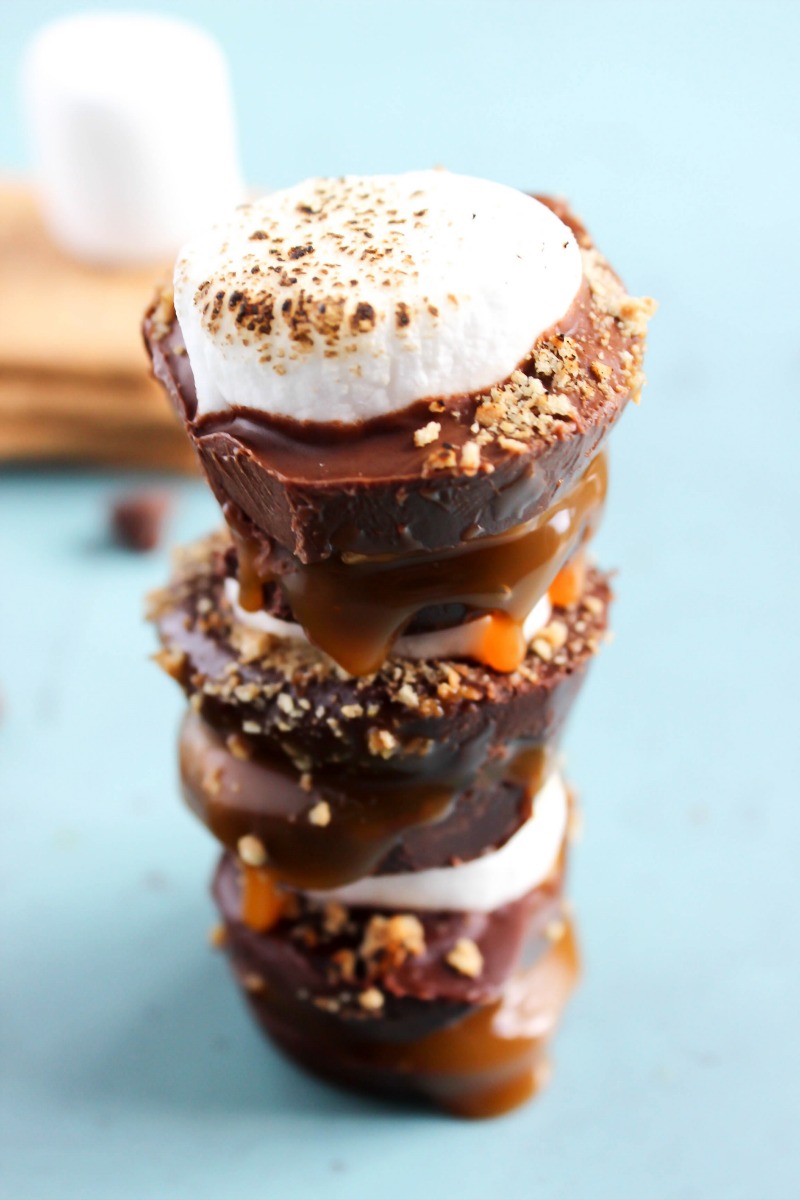 S'mores Cupcakes // Garnish and Glaze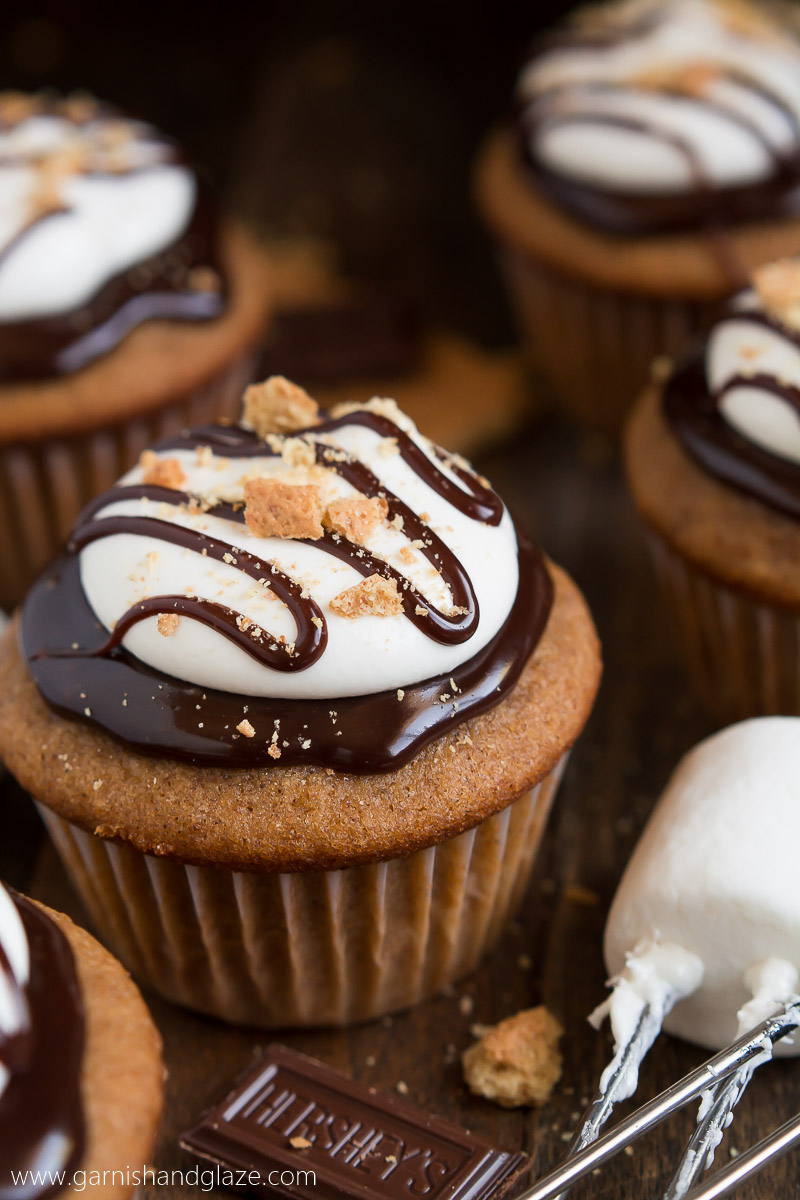 S'mores Monkey Bread // Lemon Tree Dwelling