These amaretto chocolate chip cookies are packed full of chocolate chips and almond extract for a delicious flavor!
Pin these amaretto chocolate chip cookies for later!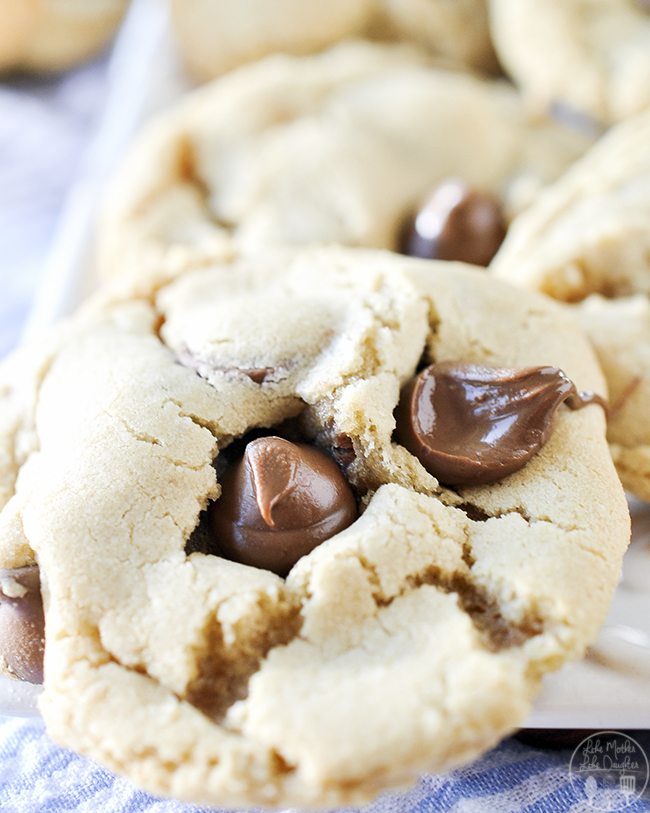 Oh my gosh!  Do you love cookies!?! Of course you do. Do you love chocolate chip cookies!?! of course you do, I am right, right?  Otherwise you probably wouldn't be reading this post at this exact moment.  But do you love amaretto? I am sure you do, there could be a few sad souls out there who don't but that's not us, WE LOVE AMARETTO!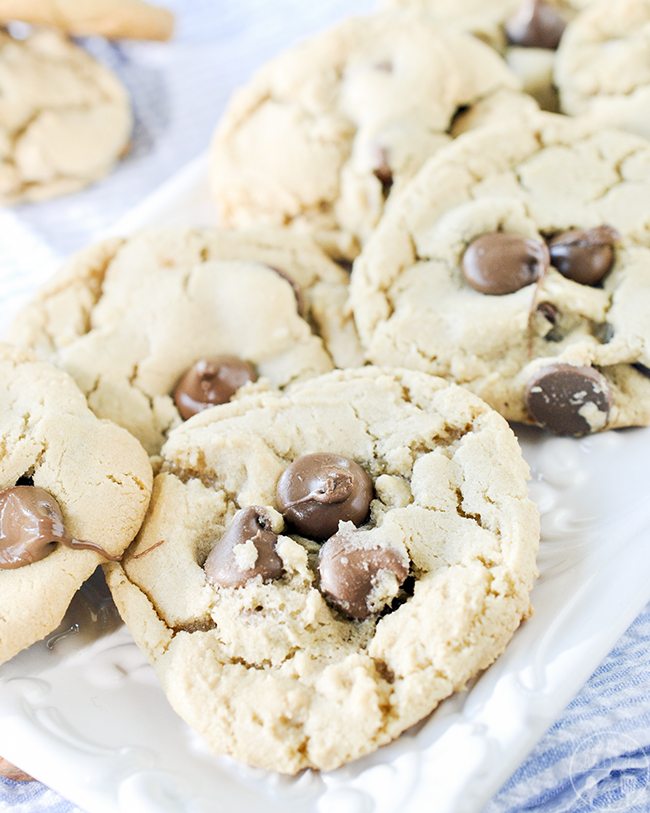 And because of that, we are putting them all together for the best amaretto chocolate chip cookies ever made.  Maybe the only one.
These amaretto chocolate chip cookies have 2 special ingredients – grated almond paste and almond/amaretto flavoring – those together make this almost the perfect chocolate chip cookie.  Maybe it is not the most perfect cookie because well, let's see, actually I can't think of a single reason why they aren't the perfect cookie.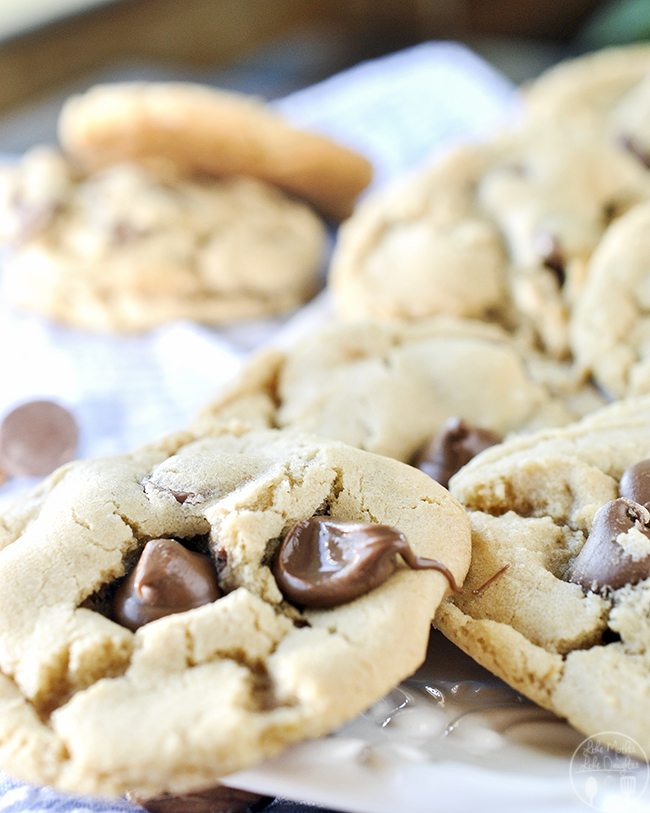 So the are two tricks which I loved about these amaretto chocolate chip cookies.  First, I grated the almond paste with just a regular old cheese grater to get 1/4 cup of grated almond paste.  Almond paste grates up really easy and simply.  I only used about 1/3 of my almond paste, so I refrigerated the leftovers. The second trick I learned from Aimee. Do you know the secret to perfectly crinkled cookies? I always slightly underbake my cookies but when I remove the cookie sheet from the oven, I drop the whole cookie sheet.  Just every so slightly, maybe about a 2 inch drop straight down.  But that drop makes the cookies crinkle.  It is such a beautiful sight.
So again my friend, my cookie lover, chocolate chip cookie lover, amaretto chocolate chip cookie lover – let's get baking!
Amaretto Chocolate Chip Cookies
Chocolate chip cookies with a twist of amaretto/almond flavoring and almond paste for the perfect amaretto chocolate chip cookies.
Ingredients
½ cup softened butter
½ cup butter flavored crisco stick
¼ cup grated almond paste
1 cup brown sugar
½ cup white sugar
1 tsp vanilla
2 tsp almond/amaretto flavoring
2 large eggs
2 tsp baking soda
1 tsp salt
3 cups flour
2 cups chocolate chips
Instructions
Preheat oven to 350 degrees
Cream together the butter, crisco, and almond paste with the sugars in a large bowl
Add in both eggs, the vanilla, and the almond/amaretto flavoring; stir in
In another bowl shift together the flour, baking soda, and salt
Mix the dry ingredients into the wet ingredients just until all is combined
Fold the chocolate chips into the batter
Drop by tablespoons or a cookie scoop the cookie dough onto a parchment paper lined cookie sheet - I usually do 3 across and 4 down
Bake cookies for 8 to 10 minutes until they are slightly golden brown on the top
Remove from oven and drop the cookie sheet onto your counter or stove top to give that perfect crinkle
Leave cookies on the cookie sheet for 2 more minutes
Remove to cooling rack to cool completely
Now you can either share these amaretto chocolate chip cookies with your family and friends or keep them a secret so you can eat them all by yourself because otherwise the cookie lovers in your family might be fighting you for them.