This delicious antipasti salad is an assortment of olives, salami, pepperoni, cheese, peppers, artichokes, tomatoes, and lettuce all dressed with a homemade Italian vinaigrette. Its great for a side dish or appetizer before an easy dinner of pizza!
This shop has been compensated by Collective Bias, Inc. and its advertiser.  All opinions are mine alone. #EasyHolidayEats #CollectiveBias
Pin this Antipasti Salad for Later.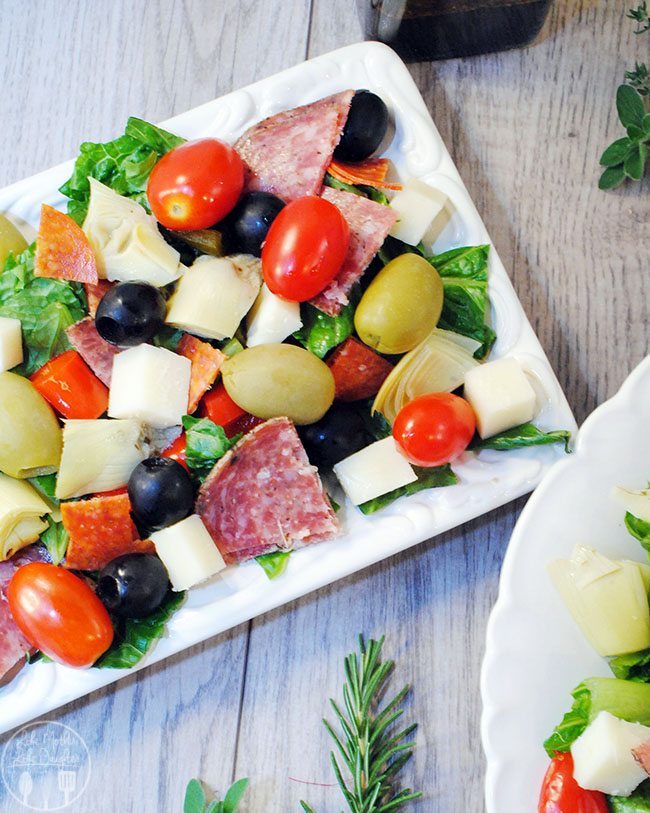 Sometimes the holidays get really, really crazy.  Like really crazy.  There are the presents to purchase and wrap. Cookies, candies, and treats to make and deliver to friends and family. Christmas cards to write and mail. And then the parties to attend, there always seems to be lots and lots of parties.  So far this December I only have 3 on my schedule but I know there will be more.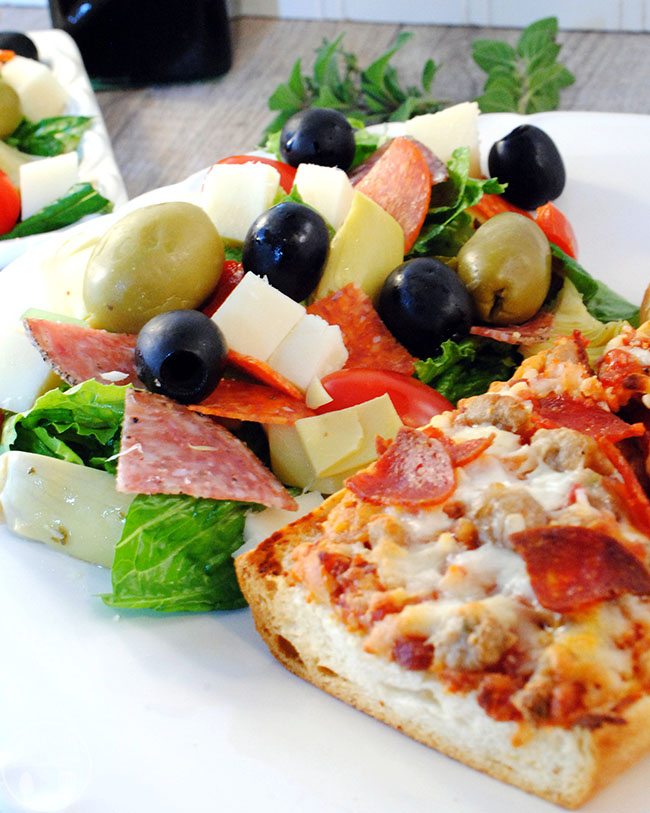 With all this craziness I know you and are still trying to have as many family together meals as possible.  And do you know what makes that easier on us, picking up a few frozen Red Baron pizzas at WalMart, ready to pull out for the family dinner on those particular crazy days.  That is what Craig and I have done.  It is such a stress reducer because I know I can heat up a pizza like these Red Baron® 3-Meat French Bread Pizza Singles and throw together a simple antipasti salad to go with and we are set.  Dinner is ready in the time it takes to bake the French bread pizza singles.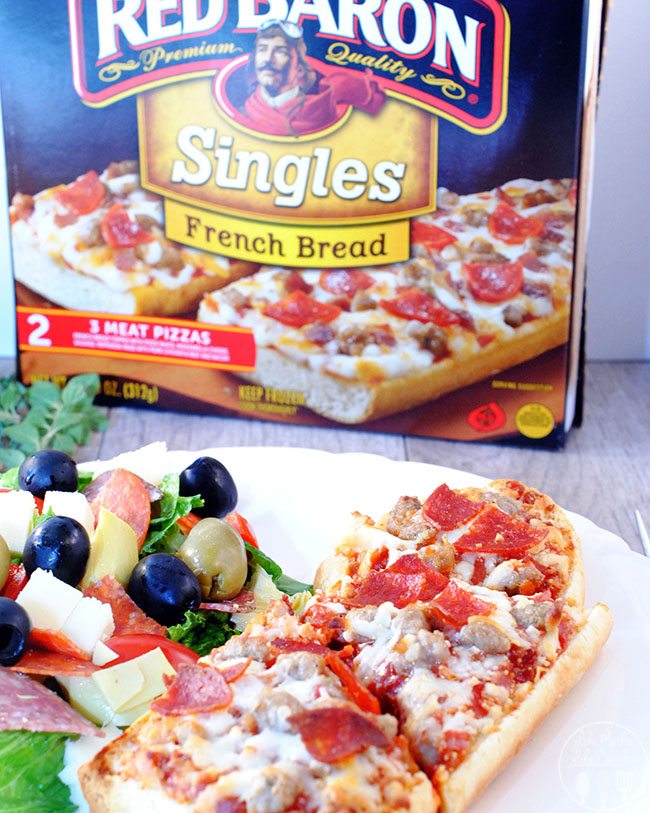 The other thing I love about Red Baron pizza is they come in single packs for our little family dinner but they also come in the larger 6 pack pizzas for a few friends over just to exchange a few gifts or sing Christmas carols. Everyone loves pizza and the French bread pizza has a perfectly crispy crust with flavorful toppings.  Check out all of the Red Baron pizza products available for your family dinners or friend gatherings.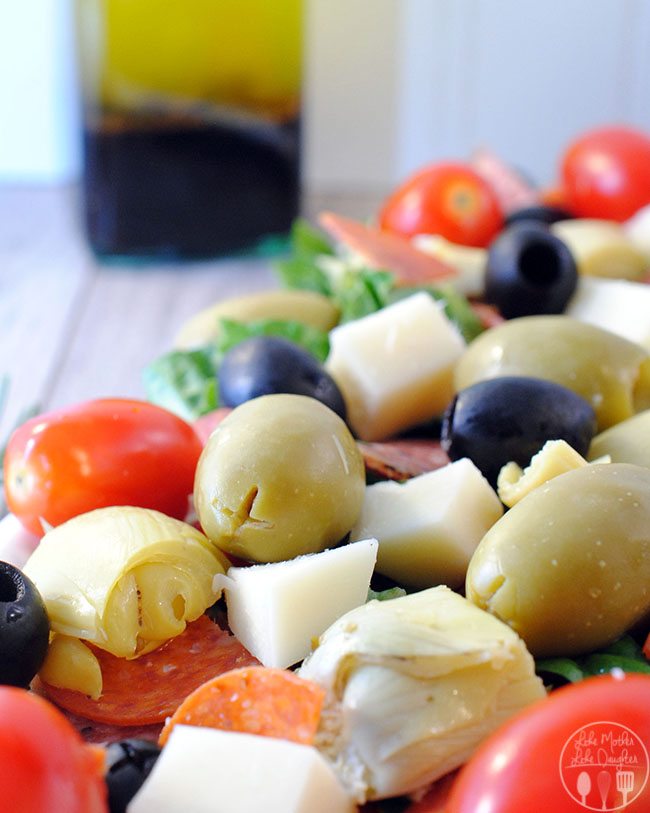 It is really fun for me to prepare and share this antipasti salad for those family and friend gatherings too because it brings back favorite family memories of when my Dad would take us out for pizza and he would always order the antipasti salad to go with.  And isn't that what the holidays are about anyway, building family memories and traditions. Along with all that craziness.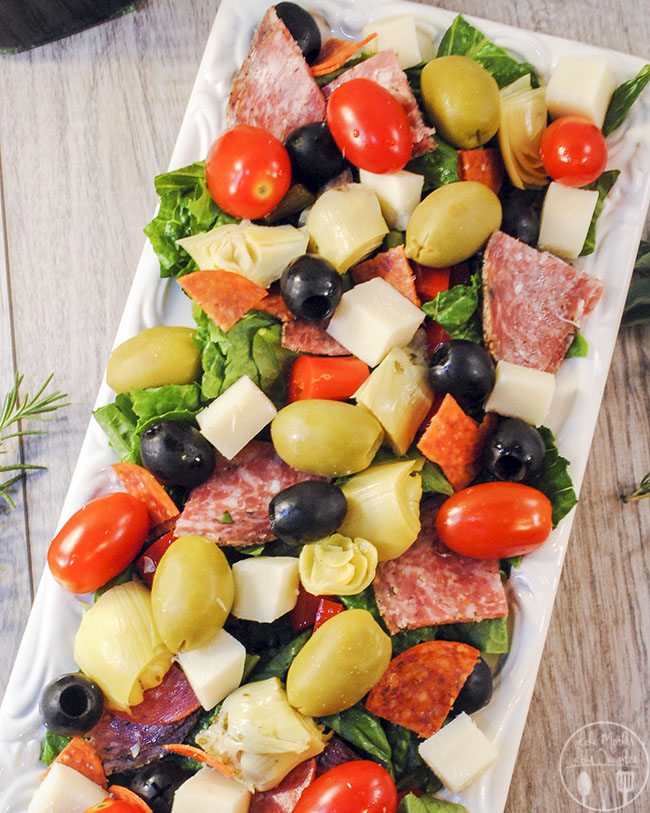 Antipasti Salad
This Antipasti Salad is an assortment of olives, salami, pepperoni, cheese, peppers, artichokes, tomatoes, and lettuce all dressed with a homemade Italian vinaigrette
Ingredients
1 head Romaine lettuce - washed
½ cup cubed mozzarella cheese
½ cup black olives
½ cup Greek olives
½ cup chopped sweet and spicy roasted peppers
½ cup chopped artichoke hearts
½ cup grape tomatoes
2 oz sliced salami - quartered
2 oz sliced pepperoni - quartered
1 cup Italian vinaigrette
Instructions
Gather all your ingredients and chop or dice in preparation
Cut the Romaine lettuce into bite size pieces
Spread lettuce on a large serving plate
Top with the olives, cheese, peppers, artichoke hearts, tomatoes, salami, and pepperoni
Serve with homemade Italian vinaigrette or your favorite Italian dressing
Italian Vinaigrette
Homemade Italian vinaigrette is made with your fresh herbs of rosemary, basil, oregano, and thyme in an olive oil and balsamic vinegar
Recipe type:
Salad Dressing
Ingredients
½ cup olive oil
½ cup balsamic vinegar
1 garlic clove - minced
1 tsp each of fresh rosemary, basil, oregano, thyme - minced
Instructions
In a shaker bottle add the olive oil and balsamic vinegar
Add the minced garlic clove and fresh herbs
Shake
Serve over a favorite salad or antipasti salad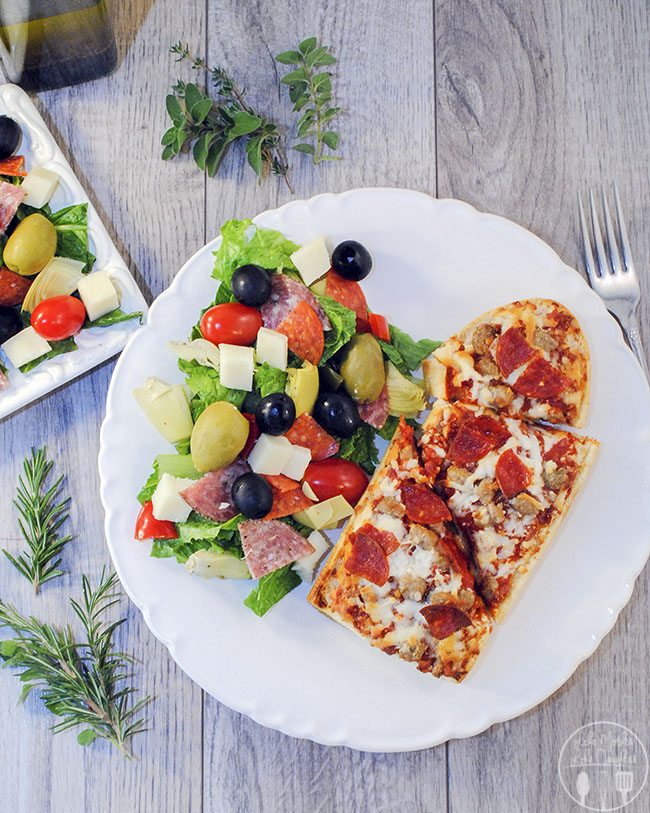 What easy meal with Red Baron Pizza will you make to reduce the craziness of the holidays and bring your family and friends together?