A delicious autumn salad with acorn squash, pomegranates, and pecans all topped with an amazing apple vinaigrette dressing
Sometimes I can't even envision the amazing combinations of flavors that at first just don't seem like they would work.  But then I jump in, try, and go WOW! That was so good.  That's exactly what happened with this roasted autumn squash salad.
Pin this Roasted Autumn Squash Salad for Later.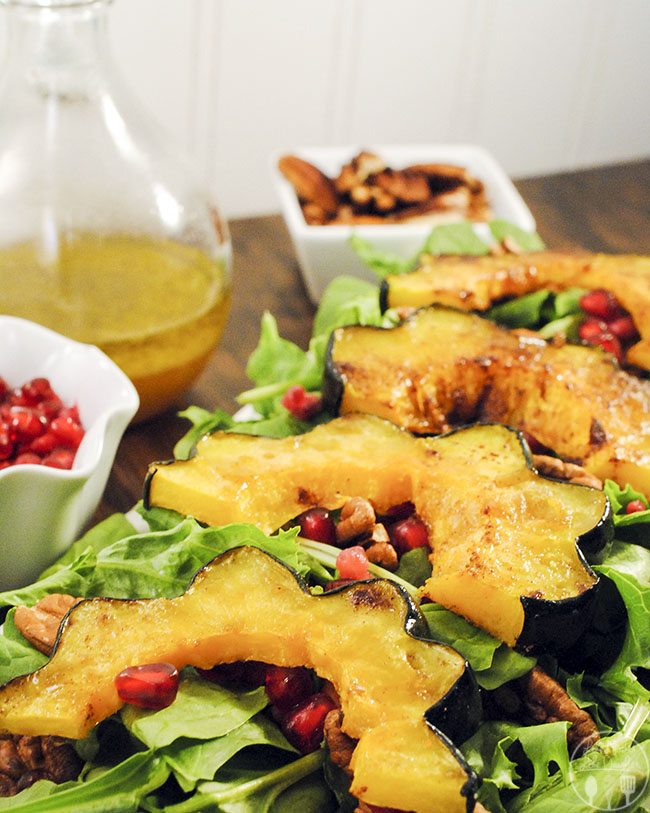 I love each of these ingredients alone but putting them together was even better.  There is your tossed greens of spinach and romaine, crunchy and juicy pomegranate arils, flavorful toasted pecans, and cinnamon roasted acorn squash. Then drizzle over all of it a warm apple vinaigrette.
This roasted autumn squash salad is warm meets cold, crunch meets tender, sweet meets savory.  It is so full of everything your senses desire – red, greens, browns, and orange of autumn for your sight; cinnamon and toasted for your smell; crunchy, juicy, tender textures for your touch; and sweet and savory with the wonderful flavors of toasted pecans, cinnamon roasted acorn squash, juicy arils, and fresh apple for your taste buds.  Wow, beautiful!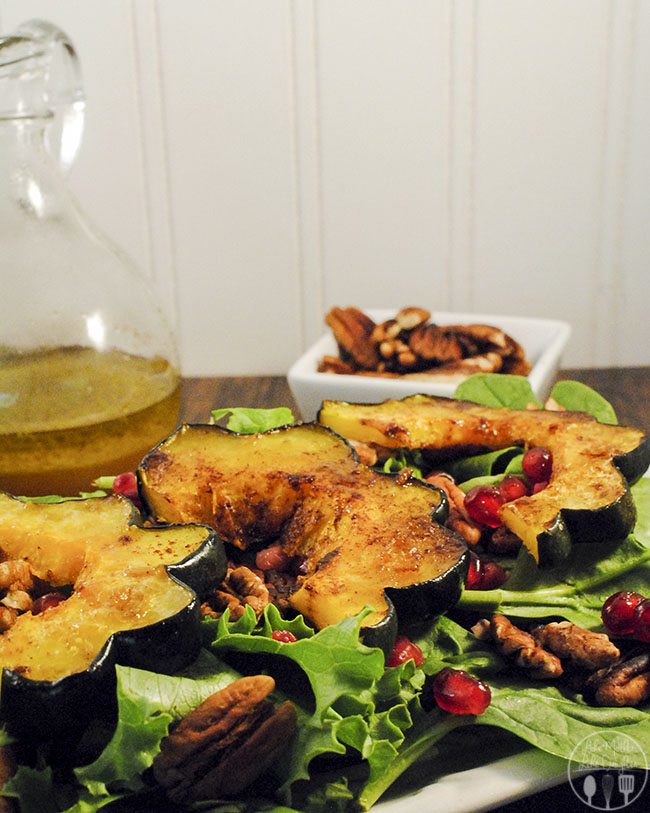 Roasted Autumn Squash Salad
Roasted Autumn Squash Salad is a warm meets cold sweet savory salad with the flavors roasted acorn squash, toasted pecan halves, fresh greens, and juicy pomegranate arils. Served with a warm apple vinaigrette.
Ingredients
1 acorn squash
4 cups greens of spinach and romaine
½ cup pomegranate arils
¾ cup pecan halves
1 tsp salt - or to taste
2 TBS brown sugar
1 TBS cinnamon
olive oil cooking spray
½ cup of apple vinaigrette
Instructions
Preheat oven to 400 and line 1 cookie sheet with foil
Rinse the acorn squash, then cut in half and scoop out the seeds and strings
Continue to cut your acorn squash every ½ inch for slices, lay them out flat on the foil.
Spray each slice with olive oil; sprinkle with salt, cinnamon, and brown sugar.
Bake for 12 minutes, remove from oven, turn over, and continue to bake for another 10 to 12 minutes until fork tender.
While squash is roasting, rinse and toss the greens, then lay out on a serving plate
While squash is roasting, toast pecan halves by spreading flat in a dry saucepan and warm over medium heat for 5 to 6 minutes until slightly darken. Shake pan every 1 to 2 minutes. Remove from heat and spread over greens.
Sprinkle the pomegranate arils over pecans and greens.
When acorn squash is fork tender, remove from oven, and lay over greens.
Serve with warm apple vinaigrette.
Prepare the warm apple vinaigrette while roasting the acorn squash.  I used fresh apple juice but you can use any apple juice – bottled, frozen, canned.
Warm Apple Vinaigrette
Warm apple vinaigrette is made from fresh apple juice, apple cider vinegar, maple syrup and whisked together with olive oil for the perfect accompaniment to roasted autumn squash salad.
Ingredients
1 cup apple juice
2 TBS apple cider vinegar
2 TBS maple syrup
½ cup olive oil
Instructions
In a small saucepan over medium heat add the apple juice, vinegar, and syrup.
Simmer for 10 minutes until the juice is reduced about half, stirring occasionally
Remove from heat and whisk in olive oil
Serve warm or cold over salad
Store in fridge up to 1 week
Roasted autumn squash salad is a beautiful burst of flavor for your senses. Serve as a main dish or side salad.  Enjoy with fresh bread.