An easy four ingredient delicious apricot hand pie. Perfect to make tonight.
We have another great guest poster for you today sharing another delicious recipe. These apricot hand pies from Marissa from Rae Gun Ramblings are not only quick and easy to make, but also delicious!
Hi I'm Marissa from Rae Gun Ramblings and I'm so excited to be here while Aimee is snuggling her new sweet boy! I have a new baby boy at home myself so I'm extra excited for Aimee. I blog about all kinds of crafty, delicious, and bookish things. I spend my days sewing for my shop where I sell handmade baby clothes and I'm a super big Harry Potter fan. Today I'm sharing an easy Apricot Hand Pie Recipe.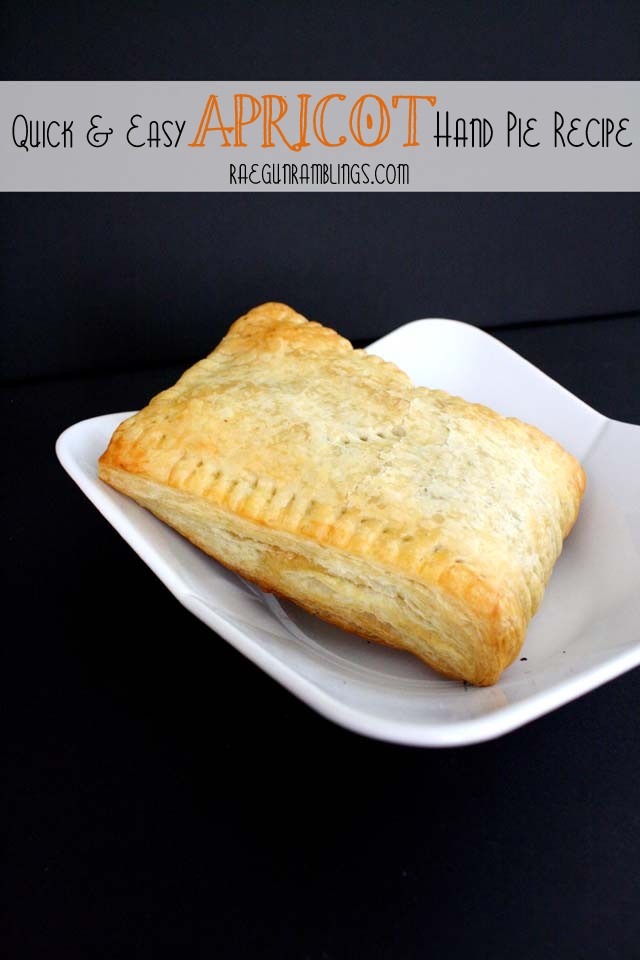 With my new baby at home I've been finding myself starving all the time. I just don't have much time to make stuff so I end up eating chips and cookies. Granted I've made a super yummy Lactation cookie recipe but contrary to what some might think a girl can't only live on cookies! So I've been trying to come up with super easy and fast recipes that I can make ahead so when the little guy gives me a chance I can eat some real food.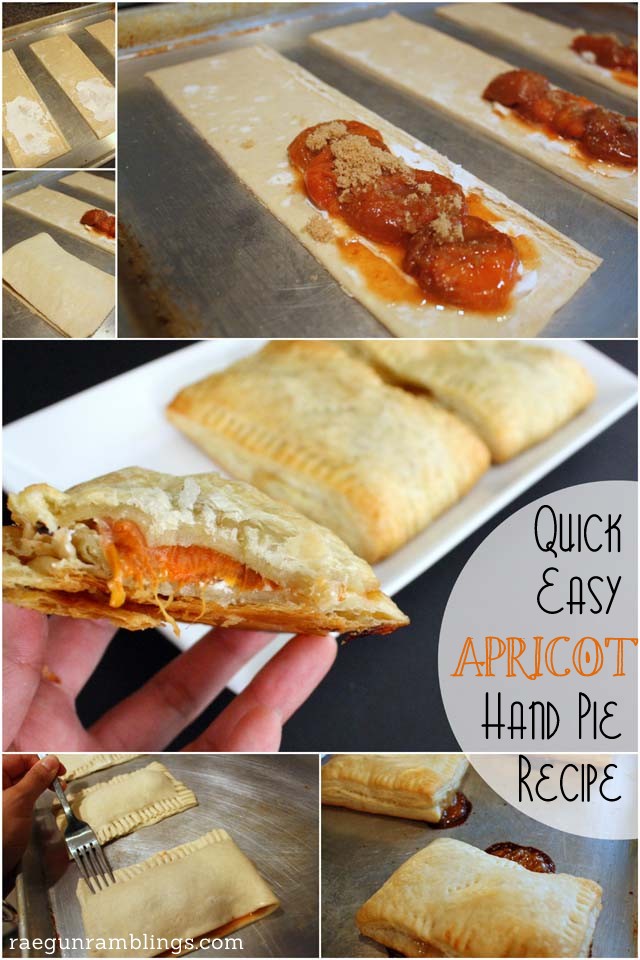 Apricot Hand Pie
An easy four ingredient delicious apricot hand pie. Perfect to make tonight.
Ingredients
1

Sheet Puff Pastry

6

apricots*

(halved)

6

TBS

cream cheese**

3

tsp

brown sugar
Instructions
Thaw the puff pastry. And cut into thirds (I just cut down the fold lines).

Smear on 2 TBS cream cheese to half of each piece of puff pastry.

Top with 2 apricots each (so 4 halves).

Sprinkle each with 1 tsp brown sugar.

Fold over and press closed with the ends of a fork.

Bake at 400 F for 12 to 15 minutes or until golden brown.

Serve warm or room temperature.
Notes
*fresh, frozen, canned any will work
**or if you want to make it vegan you can use Tofutti  instead of cream cheese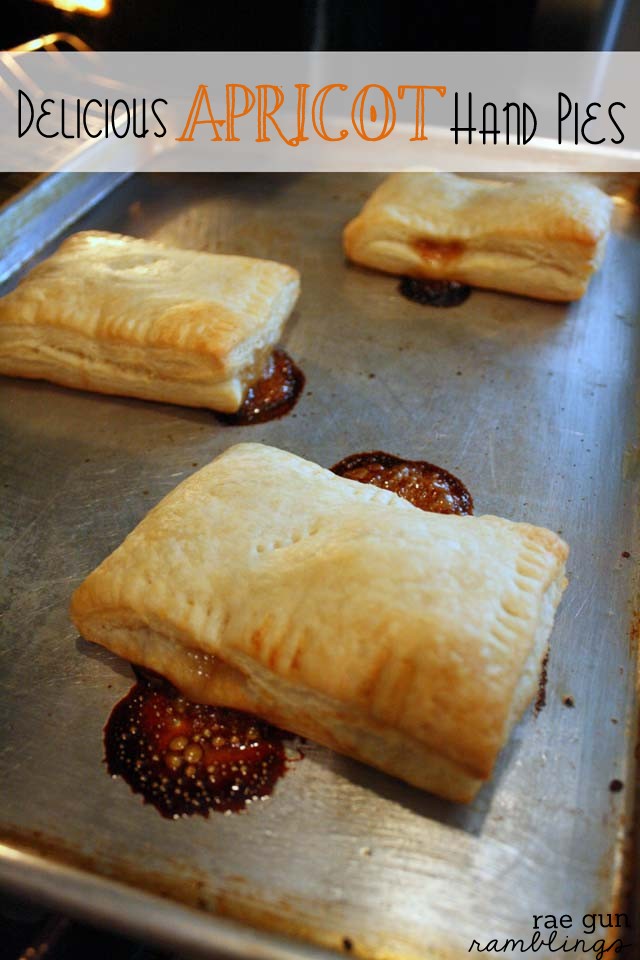 These are so quick and easy they are perfect for new mamas or anyone who is in need of something yummy and fast. Before I go here are some of my favorite recipes. I hope you swing by my blog to see what else I'm up to and say hi.

Cheesecake Factory Brown Bread Recipe | Eclair Cake | Cauliflower Mash | Cinnaburst Bread
Let's connect! You can also find me hanging out here.
Mmm don't these hand pies look absolutely delicious?! I wish I had one to eat right now. Thanks so much to Marissa for visiting. Be sure to stop by her blog and say hello!