As a food blogger, recipe developer, foodie (what should we call ourselves) sometimes we have a difficult time naming our recipe just right.  Like this Carrot Broccoli Crunch Salad should it really be "Crunchy Carrot Broccoli Salad" or "Carrot Broccoli Slaw" or "Carrot Broccoli Sunflower Seed Cranraisin Green Pea Salad".  I think you get my drift.  But whatever I call it I am comfortable to share it with you because it is also sweet, tangy, refreshing, yummy, and gratifying PLUS crunchy.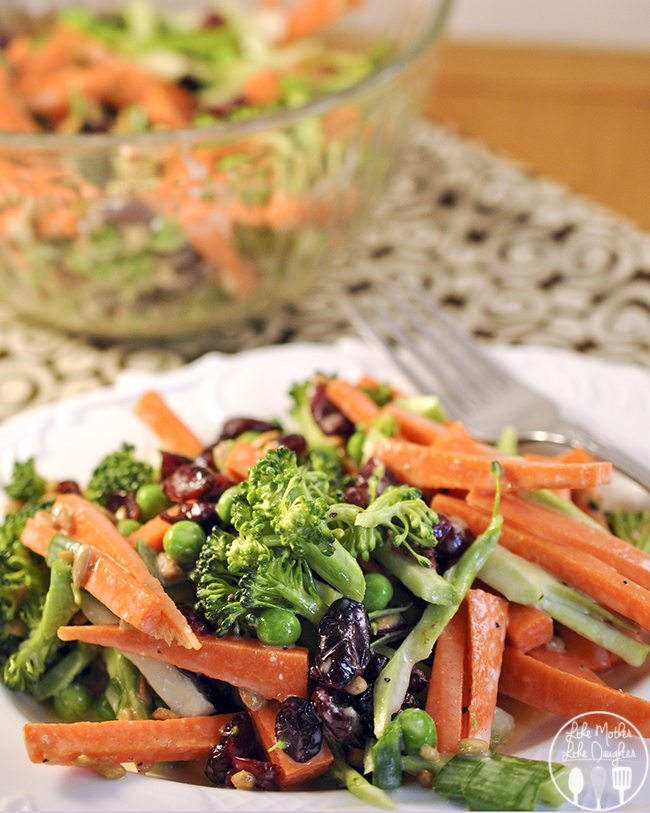 I julienne the carrots and broccoli myself.  I had carrots and broccoli coming out of my ears,  well, really overflowing in my vegetable drawers.  So I choose to use what I had on hand but you are welcome to purchase a broccoli carrot slaw if you prefer.  How I prepared this was to cut each carrot in thirds so that each piece was about 2 inches long.  Then I cut each piece in half and then in fourth and finally in eighths.  A few pieces I needed to cut again because they were quite large. If you have a mandolin with a julienne slicer that will probably be easier and quicker.  In preparing the broccoli, I removed the large stalk at the bottom and saved  it for my mulch pile.  Next I cut the florets off and tossed them in with the carrots.  Finally I cut the individual broccoli stalks until they were approximately the same size as my carrots.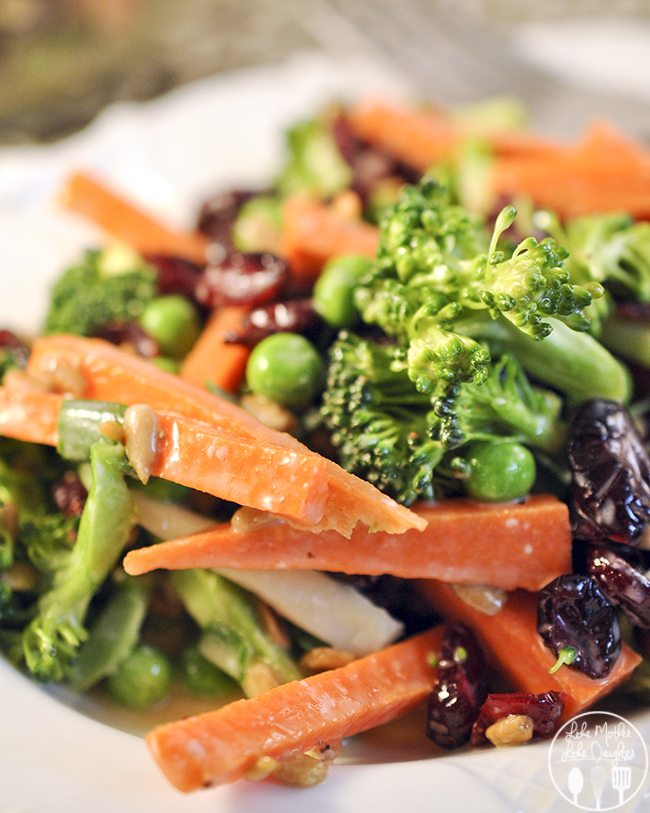 For this Carrot Broccoli Crunch Salad, I recommend letting it sit in the refrigerator for a few hours to let all the flavors marinate together.  It is not required and you can eat it right away but I liked it more when it sat.  This just allows for that tangy, sweet dressing to hide into and soak each little cranraisin, carrot, and broccoli crevice.  YUM!

Carrot Broccoli Crunch Salad
A sweet, tangy, crunchy, refreshing salad of julienne carrots and broccoli with cranraisins, sunflower seeds, and green beans sprinkled in with a tangy dressing.
Serves:
4 - 1 cup servings
Ingredients
3 carrots - washed and peeled
½ head of broccoli - washed
1 cup frozen peas - thawed
2 green onion stalks
½ cup cranraisins
¼ cup sunflower seeds - shelled
¼ cup white sugar
¼ cup apple cider vinegar
2 TBS light mayonnaise
1 TBS water
1 TBS olive oil
1 TBS Dijon mustard
½ tsp Frank's hot sauce (or hot sauce of your choice)
½ tsp salt
¼ tsp black pepper
Instructions
In a medium bowl add the sugar, apple cider vinegar, mayonnaise, water, olive oil, Dijon mustard, hot sauce, salt and pepper.
Whisk all the ingredients until sugar is dissolved. You will need to whisk together again just before pouring onto the vegetables.
Cut the carrots into thirds lengthwise and then julienne.
Toss into a large bowl.
Cut the florets off the broccoli head and toss in with the carrots.
Julienne the rest of the broccoli.
Toss in with the carrots and florets.
Chopped the green onion stalks into ¼ inch pieces, toss in with the other vegetables.
Add the green peas, cranraisins, and sunflowers seed with the other vegetables.
Toss together to mix in.
Whisk dressing again and then pour over the vegetables.
Cover and place in refrigerator for a few hours.
Enjoy your carrot broccoli crunch salad as a side salad with your next dinner or bbq.