This chocolate bundt cake is the best chocolate cake ever. Its perfectly moist, sweet, rich and chocolatey with the best chocolate ganache on top, just like a chocolate cake should be.
Pin this delicious Chocolate Bundt Cake for Later.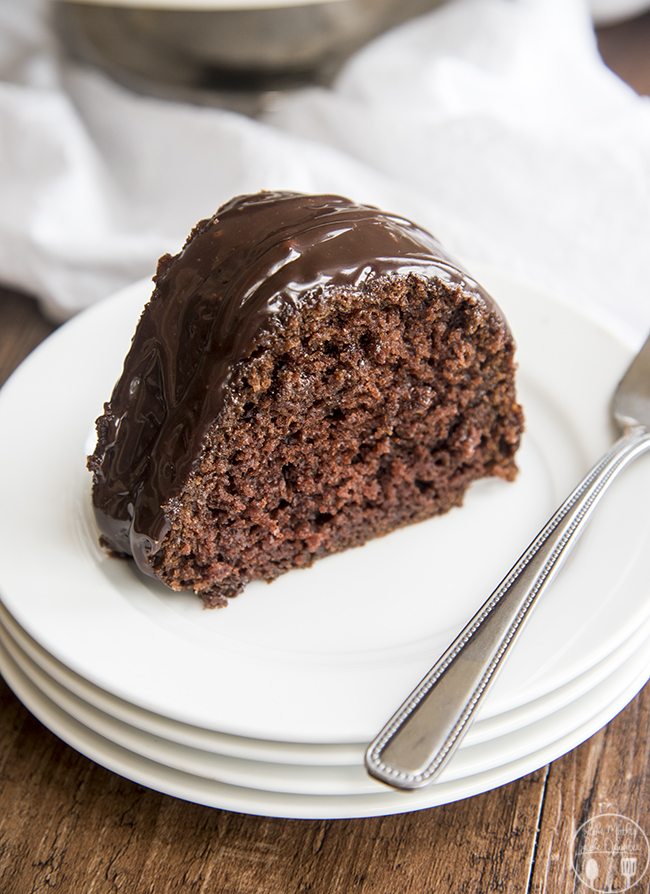 This is the best chocolate cake I think I've ever eaten, and definitely the best chocolate bundt cake I've ever eaten. This cake is perfect in every way. Its got a rich chocolatey flavor throughout, without being too dark of a chocolate (cause I definitely don't want that) and its SO moist because of the addition of sour cream to the batter.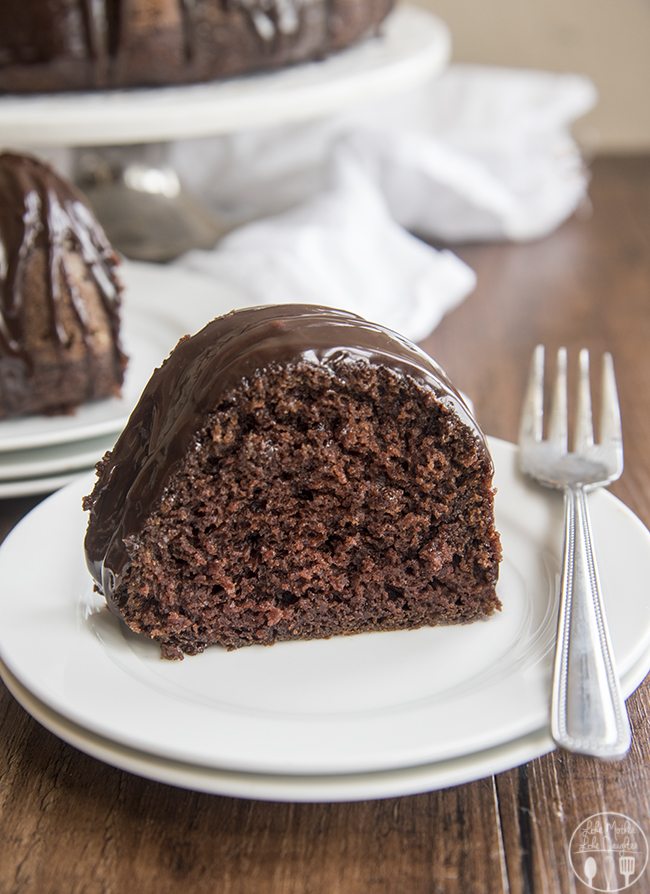 Plus its topped with a sweet, ultra rich, chocolatey ganache that is to die for – I mean, seriously so good you'll be eating the ganache by the spoonful as your trying to convince yourself you don't need it all for the cake. And you totally don't. I had like 1/4 cup or so that I didn't use, and the cake was perfect. The cake itself is sweet, and so moist, and so good though that even the bites where you don't have any of the chocolate glaze are still totally delicious.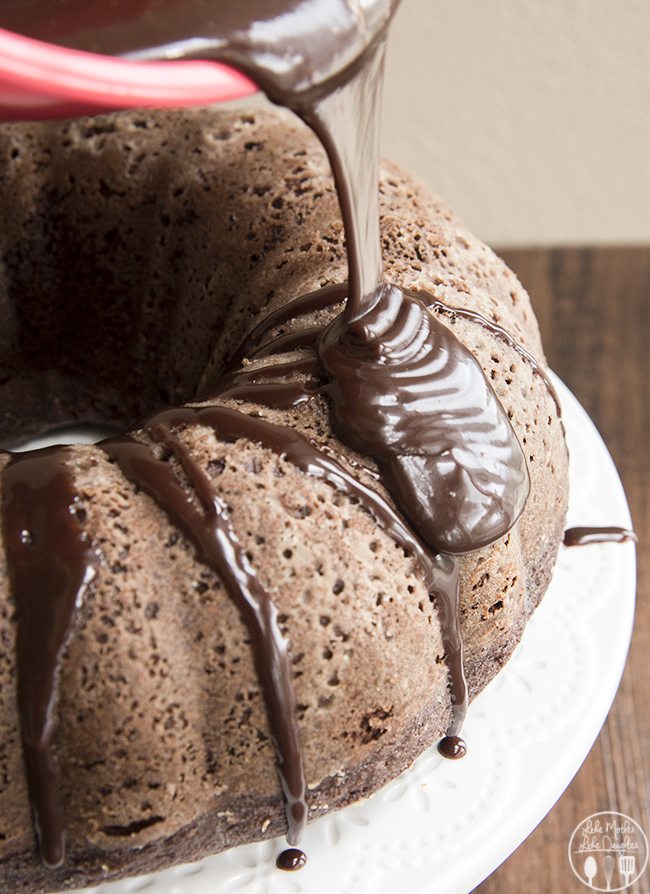 I'm already wishing I had another slice of this cake to eat right now!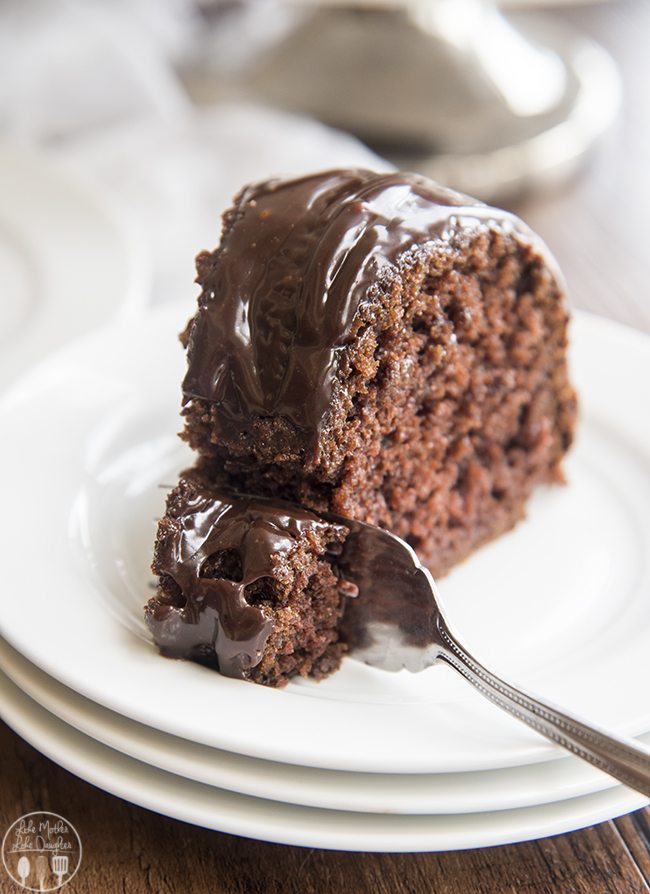 I served this cake up for dessert after we had some friends over for dinner one night and the whole cake (minus one slice that I ate for lunch the next day) was eaten, piece by piece. Seriously so good, we all went back for seconds.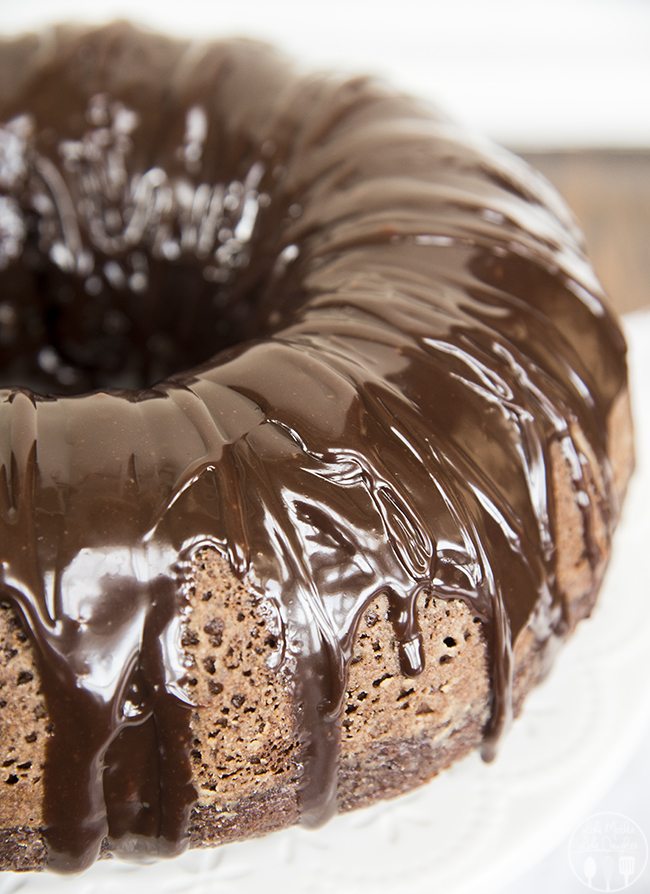 I'm trying to figure out what excuse I have to make this cake again. Do you have a birthday I can make it for? Its pretty easy, and done in only a couple hours so maybe I'll do it for Sunday dinner, because man I am ready for it again 🙂
This recipe is slightly adapted from the chocolate sour cream bundt cake on Two Peas and Their Pod.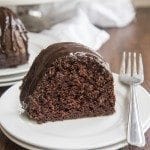 Chocolate Bundt Cake
These fig almond croissants are stuffed crescent rolls full of fig jam and almond paste, all rolled up together for an easy and amazing morning pastry, fig almond croissants.
Ingredients
For the Chocolate Cake:
1

cup

butter

(2 sticks)

1/3

cup

cocoa powder

1/2

tsp

salt

1

cup

water

2

cups

flour

1

cup

white sugar

3/4

cup

brown sugar

1 1/2

tsp

baking soda

2

large eggs

1/2

cup

sour cream

1

tsp

vanilla extract
For the Chocolate Glaze:
2

TBS

sugar

1/2

cup

heavy cream

4

oz

chopped semi sweet baking chocolate bar

(chocolate chips will work too)

2

TBS

corn syrup
Instructions
Preheat your oven to 350 degrees. Spray a bundt cake pan with non stick spray and sprinkle with cocoa powder.

Combine butter, cocoa powder, salt and water in a small saucepan over medium heat.

Cook until everything is just melted and remove from heat. Set aside.

Combine flour, sugars and baking soda in a large mixing bowl.

Add in half of cocoa powder mixture at a time, stirring until completely blended.

Add in the eggs, and stir until just combined.

Mix in the sour cream and vanilla and stir until completely smooth.

Pour into the prepared pan and bake for 40-50 minutes until an inserted toothpick comes out clean.

Let the cake cool in the pan for 15 minutes then invert onto a cooling rack to cool completely.

Heat the heavy cream and sugar in a small sauce pan over medium heat until the sugar is dissolved.

Put chocolate and corn syrup in a medium sized bowl and pour heavy cream over the top.

Allow to set for 2 minutes, before whisking until smooth.

Allow to cool until a little bit thickened, about 15 minutes. Then drizzle over the top of the cake to cover.
Recipe Notes
Drizzle ganache with cake on a cooling rack, and a pan underneath. Then if desired you can scoop up fallen ganache and drizzle over again.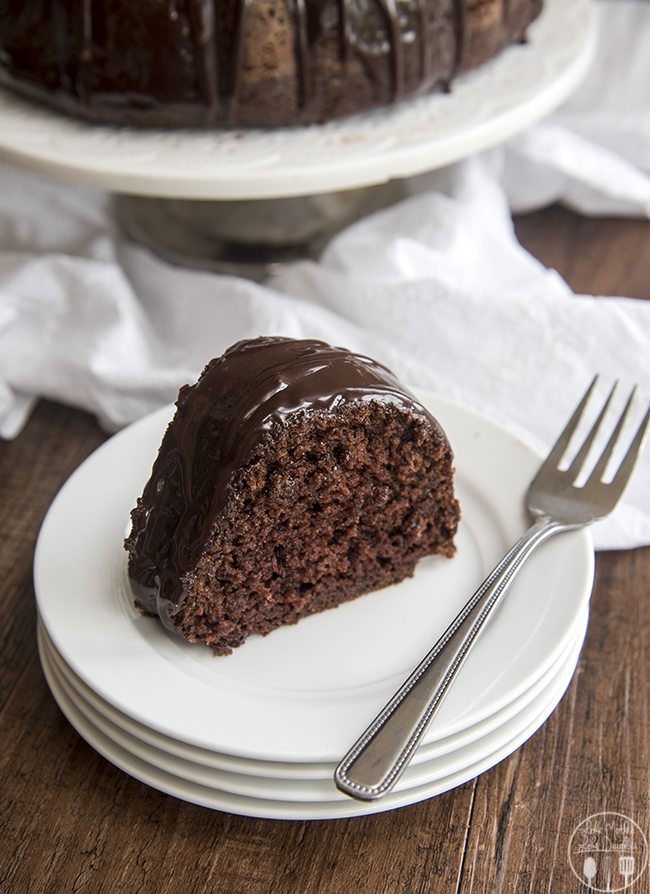 For more chocolatey goodness, try these: