This chocolate chip cookies for two recipe makes just four perfect chocolate chip cookies, with a crunchy outside, chewy and soft middle and loaded with chocolate chips. This is the perfect treat when you need a little something sweet!
Pin these chocolate chip cookies for two for later.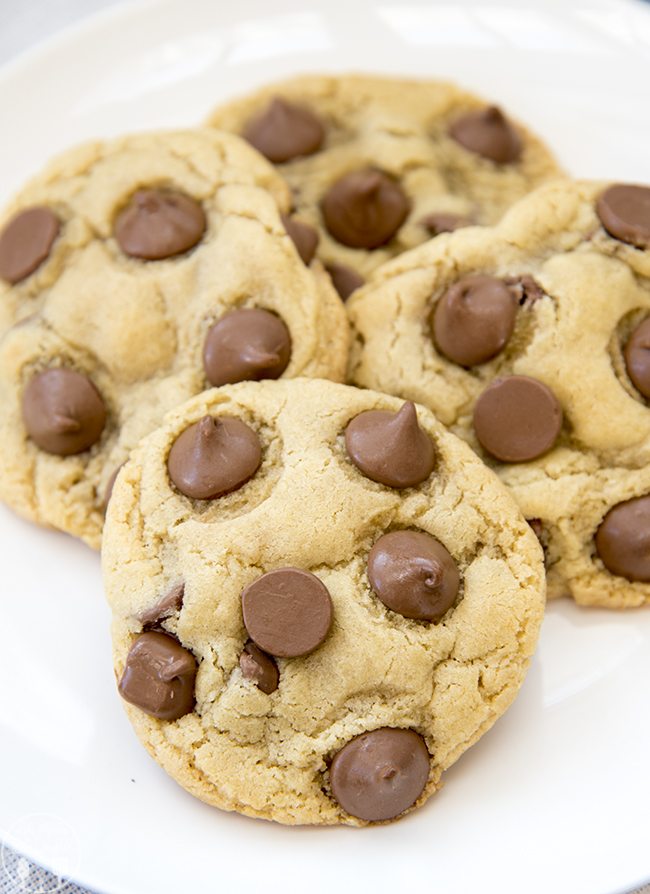 Photo Update: 1/26/16
Sometimes Nate gets mad at me for making a whole batch of cookies, I try to only eat a couple cookies (unless its my cheat day) and then we're left with a couple dozen cookies that need to be eaten. Although Nate's coworkers love sharing in the goodies I make, that make it to his work, sometimes the cookies don't make it there because he eats them. Or, lets be honest, I eat them.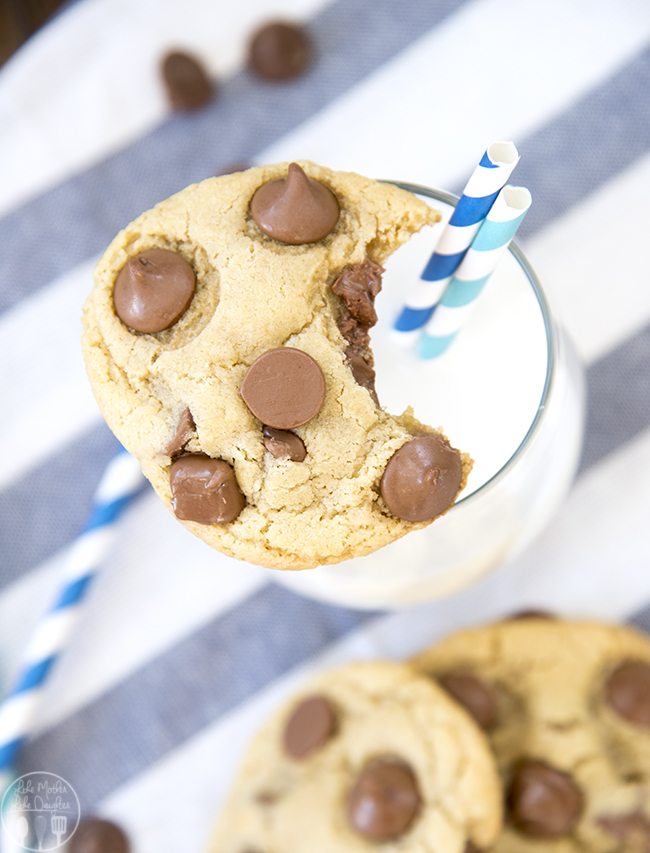 I found this recipe on pinterest and it is the perfect solution. This recipe makes either two giant chocolate chip cookies, or 4 normal sized cookies. And they are amazing too! Its pretty much the same ratios as my favorite chocolate chip cookie recipe, but instead of making about 2 1/2 dozen cookies this recipe makes just 4 cookies.
(Its great to use a toaster oven for this recipe if you have one because then you don't have to heat your whole oven for just 4 cookies, or throw these into your oven after you've made dinner in there and the oven is already hot)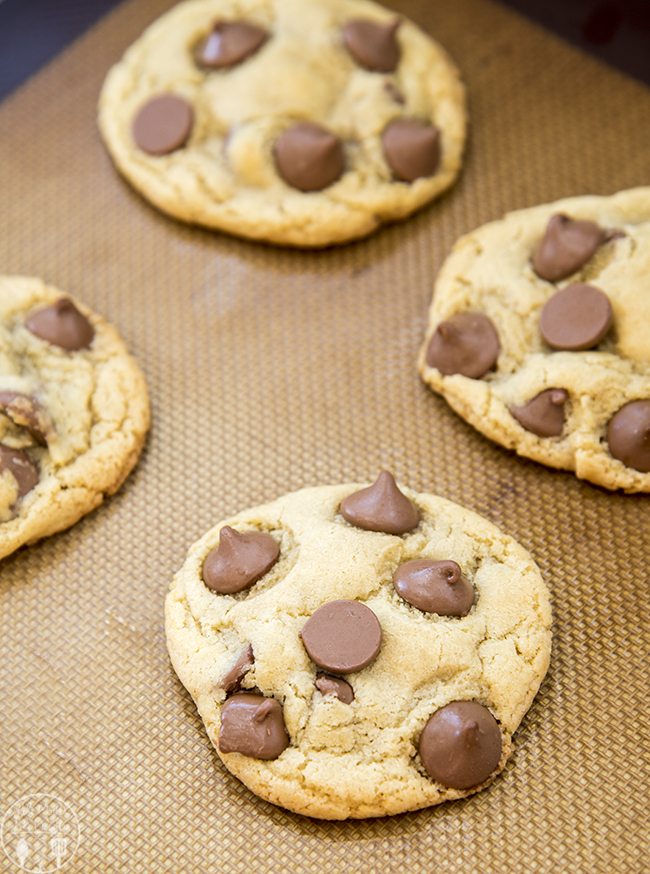 These cookies have the perfect chocolate chip cookie texture, with a slightly crispy outside, soft and chewy middle and they are loaded with chocolate chips through out. (The best kind is definitely Guittard Milk Chocolate Chips! — I tend to like a ratio of more cookie to chocolate unless I am using these chocolate chips, then I am happy to stuff my cookie full of their creamy milk chocolatey goodness.)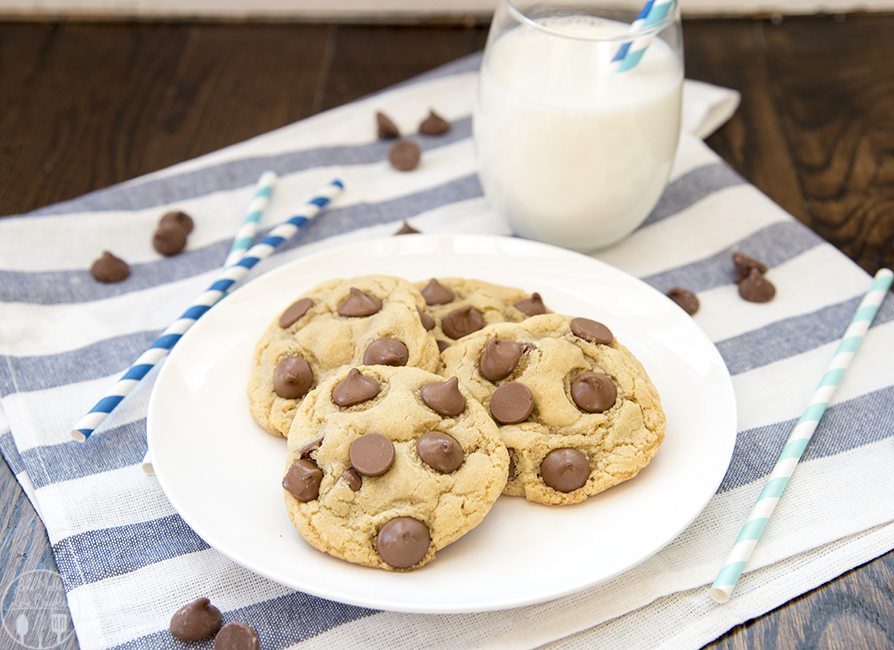 This recipe is perfect for sharing with a friend, your honey bunch, or just for eating yourself. Because lets be honest, there are plenty of days where I can eat 4 cookies on my own! Each cookie is about 147 calories, give or take a few calories depending on brands that you use – especially chocolate chip brands, or if you sneak a few extra chocolate chips on top of your cookie dough as its baking – because it gives it that perfect chocolatey top!
Perfect enjoyed with a big glass of milk!
Chocolate Chip Cookies for Two
Ingredients
2 TBS butter, softened
2 TBS brown sugar
1 TBS sugar
¼ tsp vanilla
1 large egg yolk
¼ tsp baking soda
¼ tsp salt
4-6 TBS flour **
¼ cup chocolate chips
**Try 4 first and add more flour if the dough is too thin, my egg was really large so I needed at least 2 more TBS flour.
Instructions
Preheat your oven (or toaster oven) to 350 degrees.
Blend your softened butter, brown sugar and white sugar together in a small bowl.
Add the egg yolk and vanilla and mix again till combined.
Add your baking soda, salt and flour to the bowl and stir till combined. Start with 4 tablespoons of flour and add more as needed.
Stir in chocolate chips.
Form cookie dough into 2 large or 4 normal sized balls and place on a pre sprayed baking sheet.
Bake for 8-9 minutes or until edges are golden. (or about 10-12 for large cookies)
Remove from oven and drop the baking sheet on the counter to give the cookies that perfect wrinkle.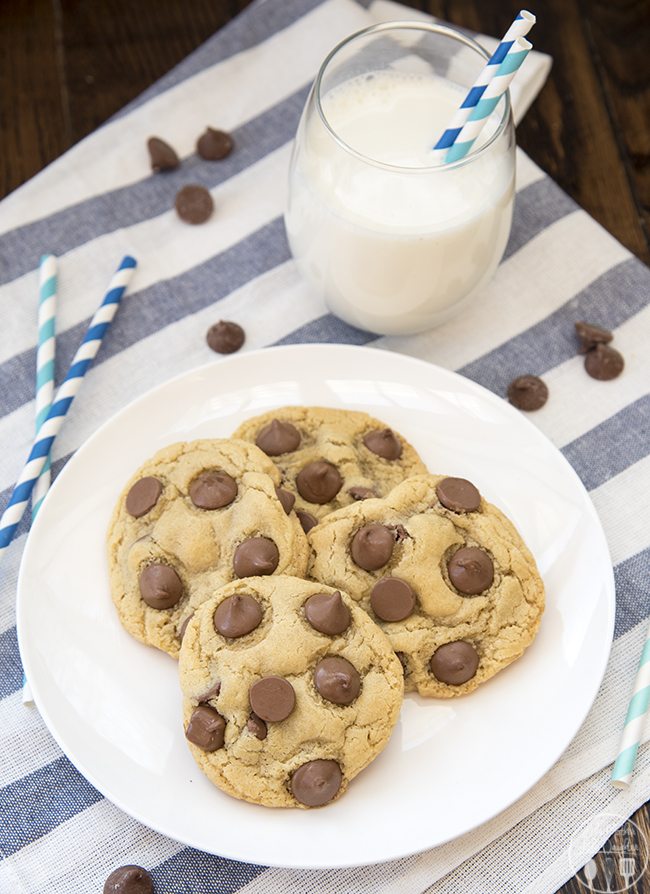 You might also like these:
chocolate chip cookies with sea salt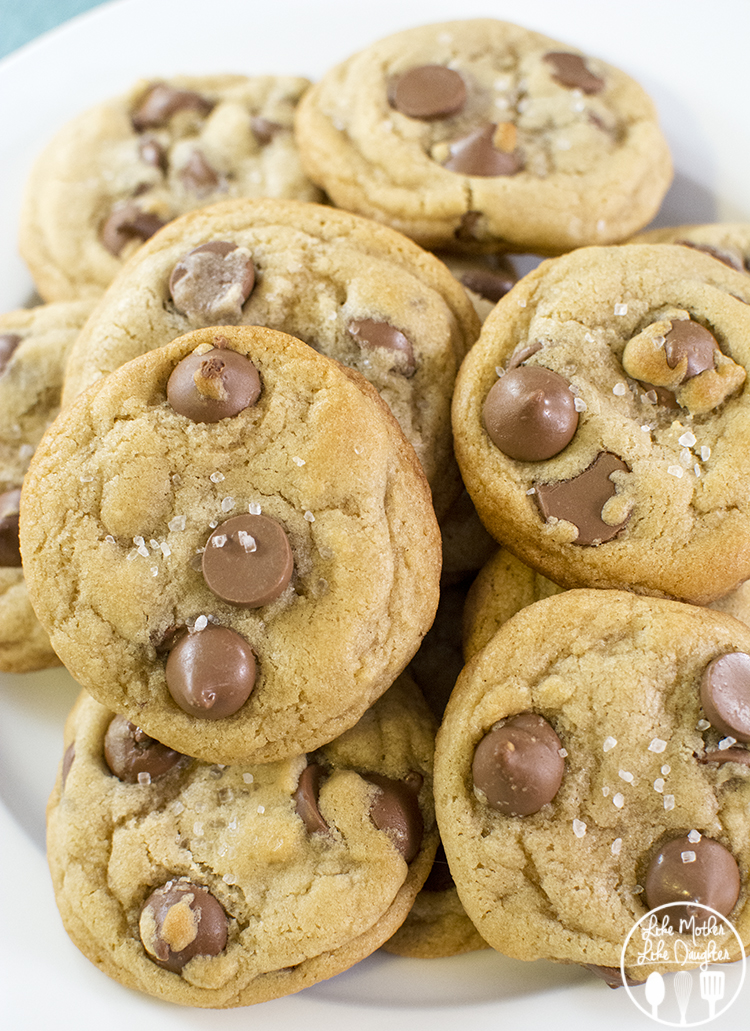 Peanut butter chocolate chip cookies for two